(Atlas Network, which funds 12 (was 13) groups in Canada, 140 in U.S.)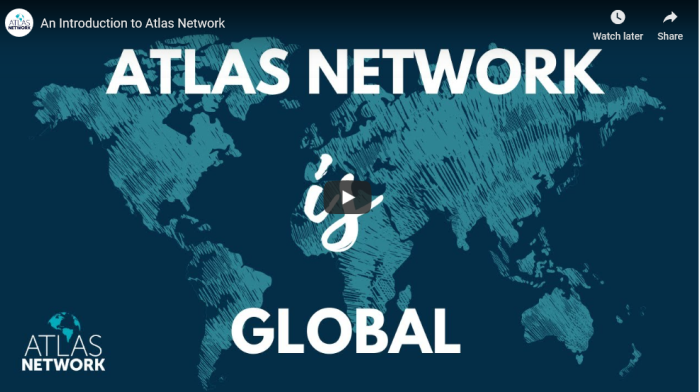 (Post Media, which owns most "conservative" media outlets in Canada)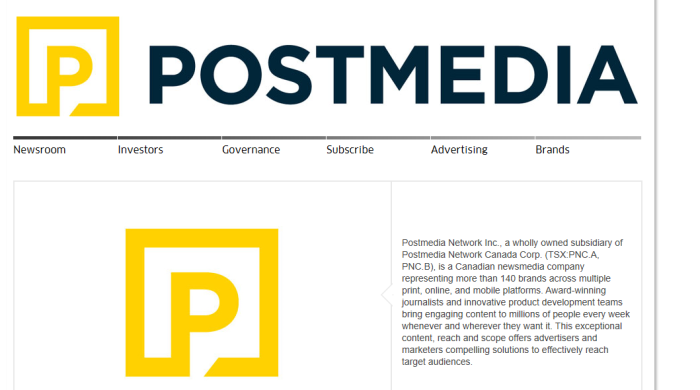 This is the second part. Buckle up.
1. Media Bias, Lies, Omissions And Corruption
(1) https://canucklaw.ca/unifor-denies-crawling-into-bed-with-government
(2) https://canucklaw.ca/full-scale-of-inadmissibles-getting-residency-permits-what-global-news-leaves-out/
(3) https://canucklaw.ca/post-media-controls-msm-conservative-alternative-media/
2. Important Links
(1) http://www.postmedia.com/
(2) http://www.postmedia.com/brands/
(3) http://archive.is/3XVkQ
(4) http://www.postmedia.com/brands/communities/
(5) http://archive.is/vnQHe
(6) http://www.postmedia.com/brands/specialty-publications/
(7) http://archive.is/na2pj
(8) http://www.postmedia.com/governance-2/governance/
(9) http://archive.is/kCJ2Q (current)
(10) http://archive.is/FcCBZ (3 years ago)
(11) http://www.postmedia.com/governance-2/senior-management/
(12) http://archive.is/dLjPY
(13) https://www.atlasnetwork.org/partners/global-directory/canada
(14) http://archive.is/3ytVX
(15) https://www.atlasnetwork.org/partners/global-directory/united-states/5
(16) http://archive.is/faeRd
(17) https://www.atlasnetwork.org/partners/global-directory/europe-and-central-asia/4
(18) http://archive.is/jn4ik
(19) https://www.atlasnetwork.org/partners/global-directory/east-asia-and-pacific/2
(20) http://archive.is/WhgMl
(21) https://www.atlasnetwork.org/partners/global-directory/latin-america-and-caribbean/3
(22) http://archive.is/OtI6o
(23) https://www.atlasnetwork.org/partners/global-directory/middle-east-and-north-africa
(24) http://archive.is/nwWR0
(25) https://www.atlasnetwork.org/partners/global-directory/africa
(26) http://archive.is/Rto7L
(27) https://www.atlasnetwork.org/partners/global-directory/south-asia
(28) http://archive.is/shhAo
(29) https://www.atlasnetwork.org/partners/global-directory/australia-and-new-zealand
(30) http://archive.is/fTPfH
2. Atlas Network's Canadian Partners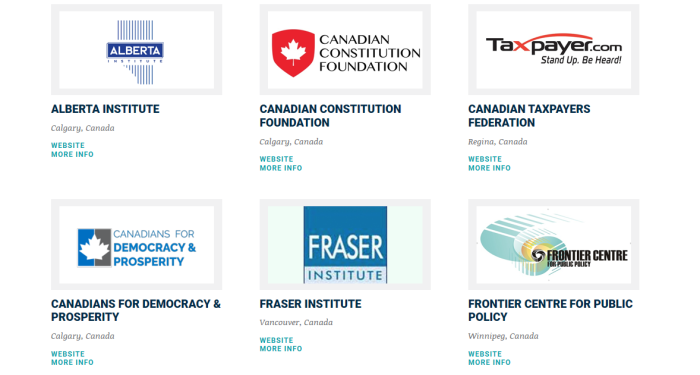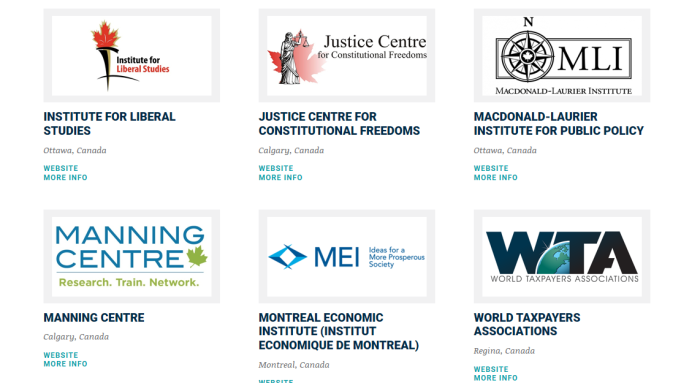 Alberta Institute
Canadian Constitution Foundation
Canadian Taxpayers Federation
Canadians For Democracy And Transparency
Fraser Institute
Frontier Center For Public Policy
Institute For Liberal Studies
Justice Center For Constitutional Freedoms
MacDonald-Laurier Institute For Public Policy
Manning Center
Montreal Economic Institute
World Taxpayers Federation
Why address Atlas Network? Because many of its operatives pretend to be objective and non-partisan in what they write and speak about.
While Atlas certainly does not have a monopoly on the paid shills in the media, there seem to be an awful lot of them who are connected. So let's take a look into it. Note: Not all will be conservative, but a lot of them are. Just shows they're all globalists.
3. Rebel Media's Ezra Levant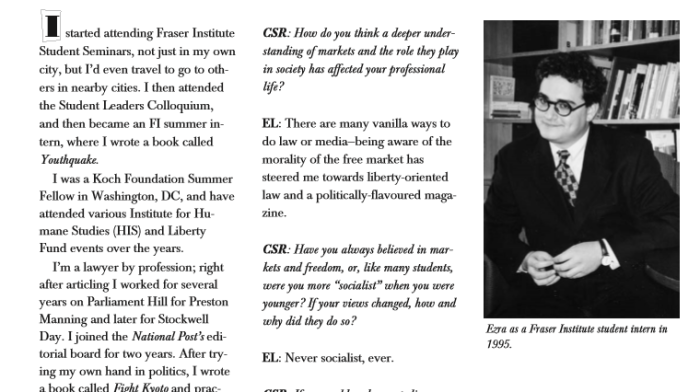 I started attending Fraser Institute Student Seminars, not just in my own city, but I'd even travel to go to others in nearby cities. I then attended the Student Leaders Colloquium, and then became an FI summer intern, where I wrote a book called Youthquake. I was a Koch Foundation Summer Fellow in Washington, DC, and have attended various Institute for Humane Studies (HIS) and Liberty Fund events over the years. I'm a lawyer by profession; right after articling I worked for several years on Parliament Hill for Preston Manning and later for Stockwell Day. I joined the National Post's editorial board for two years. After trying my own hand in politics, I wrote a book called Fight Kyoto and practiced law. Last January, with several other Fraser Institute alumni, I founded the Western Standard magazine, which publishes every two weeks in a classical liberal vein.
That's right. Ezra Levant cut his teethfor the Koch Foundation and the Fraser Institute. He then got involved in conservative politics and media outlets. One such venture was founding the Western Standard.
4. Derek Fildebrant: Western Standard Editor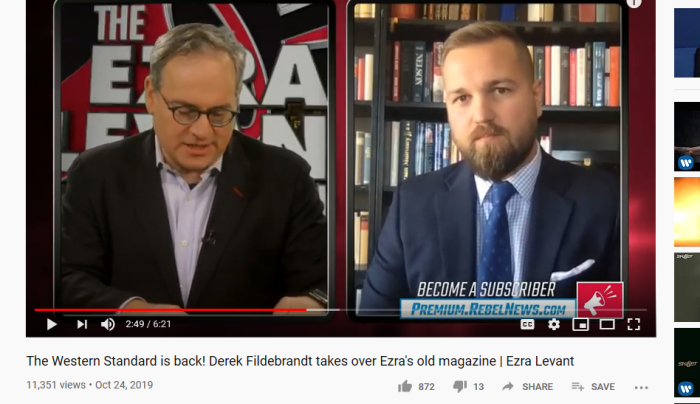 Fildebrandt used to be head of the Alberta Branch of the Canadian Taxpayer's Federation. However, people weren't happy when he used his training to privately sublet a publicly funded apartment. Now out of politics, he revived Ezra Levant's old publication, the Western Standard.
Interesting situation: Both Levant and Fildebrandt have ties to Atlas Network and Koch. Levant worked at Fraser Institute, Fildebrandt at the Canadian Taxpayer's Federation. One big happy family.
5. Tommy Robinson, Counter-Jihad Movement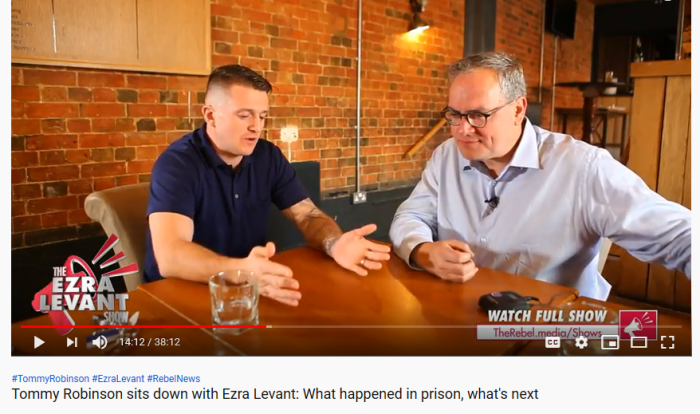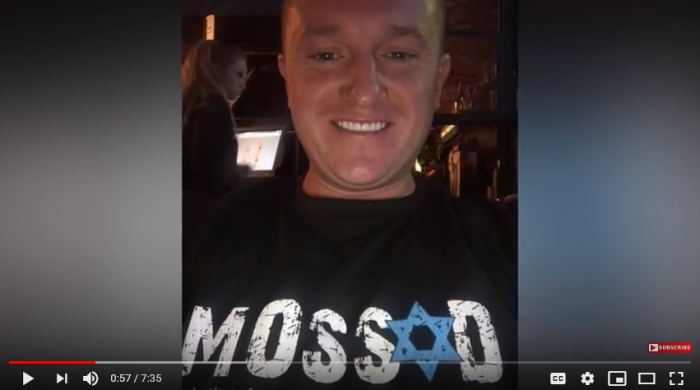 Tommy Robinson, whose real name is Stephen Christopher Yaxley-Lennon, was previously employed by Rebel under a position funded by Robert Shillman. He has also appeared many times since leaving. However, there was something not quite right with him. YouTuber Squatting Slav explains here, and also here what is wrong, better than I can. Yaxley-Lennon/Robinson repeatedly calls out Islamic extremism, but turns a blind eye to the groups who are pushing for mass migration of Muslims.
The approach that Yaxley-Lennon/Robinson of getting people in the UK to focus primarily on Islam, and the problems Muslim cause (and ignore other issues), is repeated in Canada with Rebel Media.
Although not part of Atlas Network, Robinson is pushing the agenda of Ezra Levant and others. Focus on the Muslims, ignore the bigger picture. Laura Loomer and Katie Hopkins also appear to follow the same path.
6. Rebel Media In Bed With The PPC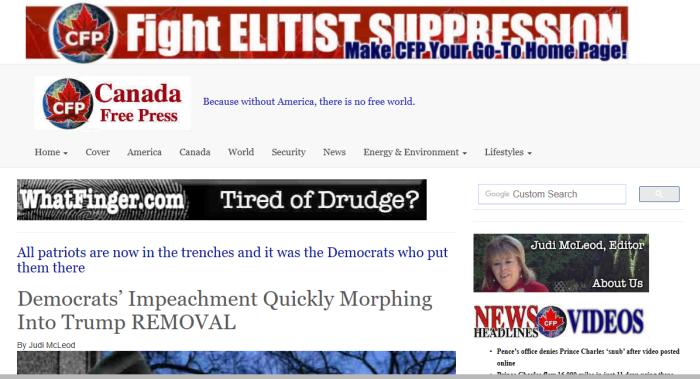 Aside from the very favourable coverage that Rebel Media gives to the People's Party of Canada, there are some connections that cannot be overlooked.
Maxime Bernier was Executive VP for Montreal Economic Institute
PPC Staffer Martin Masse also worked for MEI
PPC Staffer Maxime Hupe also worked for Fraser Institute
Rebel Media "Commander" Levant worked for Fraser Institute
Fraser Institute and MEI are both part of Atlas Network
An interesting topic that (to my knowledge) hasn't been brought up by Ezra or anyone at Rebel. MEI is chaired by Helene Desmarais, wife of Paul Desmarais Jr. And there are 2 other Berniers (Alexandre and Jean) who are still working for MEI.
http://archive.is/Zo6rk
http://archive.is/7KowS
http://archive.is/XKZhV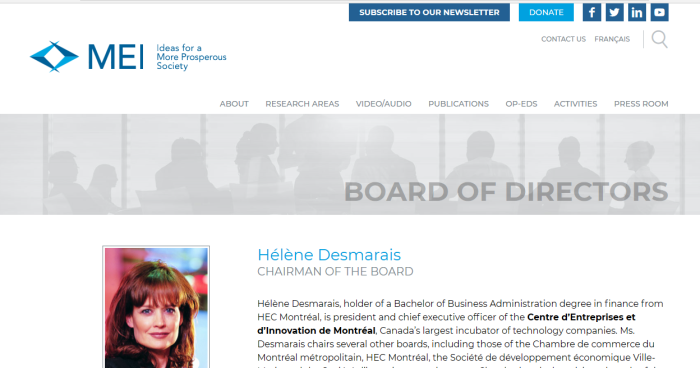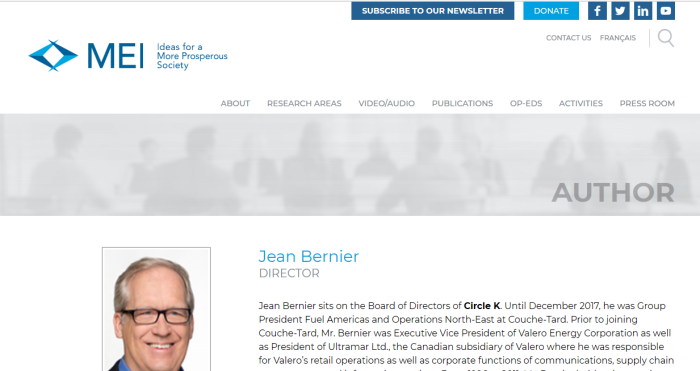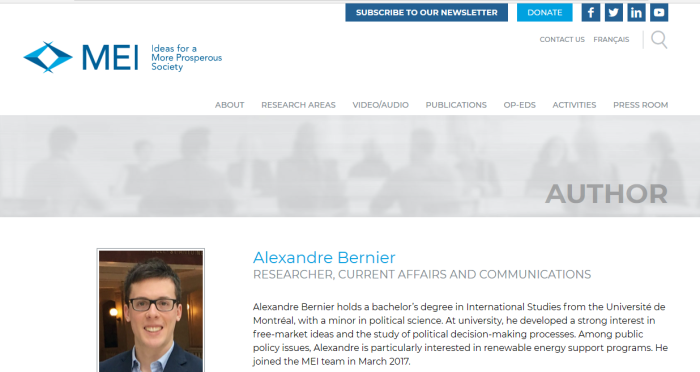 And this will come off as extremely petty and silly, but also needs to be asked: Doesn't the website for the People's Party look and awful lot like the Alberta Institute? AI is also part of Atlas Network.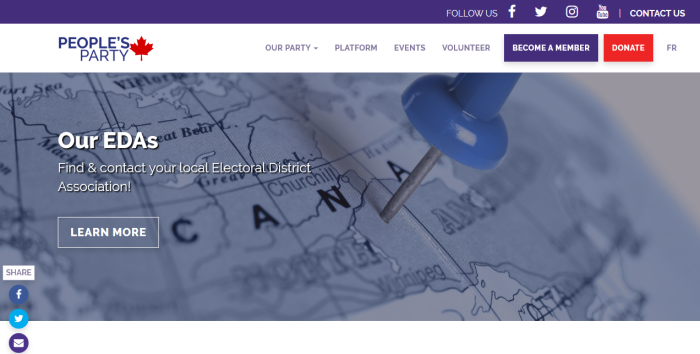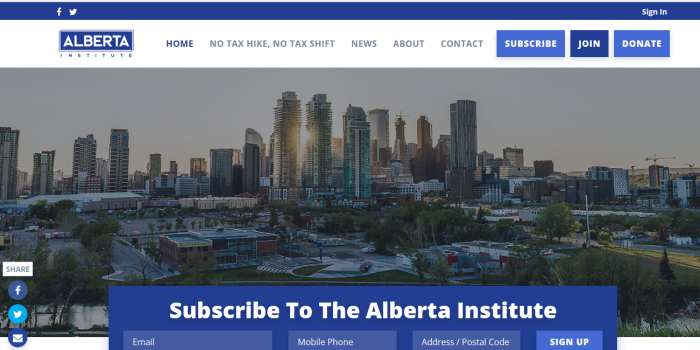 http://archive.is/RFguu
http://archive.is/gZRPu
If Rebel were an outfit aimed at getting to the truth in politics, Ezra Levant would be asking tough questions about PPC policy, how similar it is to CPC, as well as connections such as these. Instead, all of that is shoved off the table for some softballs.
How is NOT exposing obvious globalist ties in any way beneficial to the Canadian public? It's not, but Ezra works for the same organization, so they get a pass.
Ezra could also ask Bernier why he spends so much time talking about the DAIRY cartel, and never mentions the international BANKING cartel. But we know the answer to that.
7. Candice Malcolm: Koch, Fraser Institute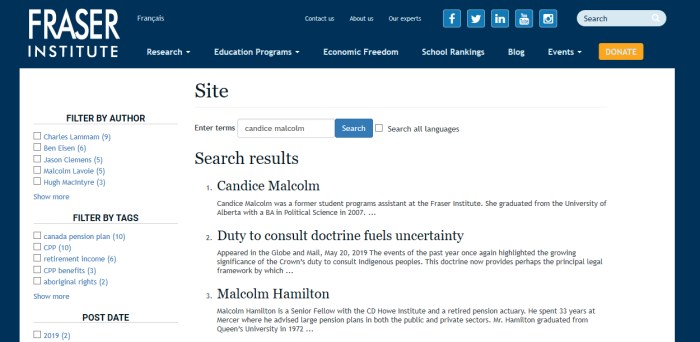 Candice worked for Koch and the Fraser Institute, before getting into journalism. She now runs True North Canada, which "identifies" as a non-profit group. Wonder who funds that.
8. Kasra Nejatian (Levinson), Candice's Husband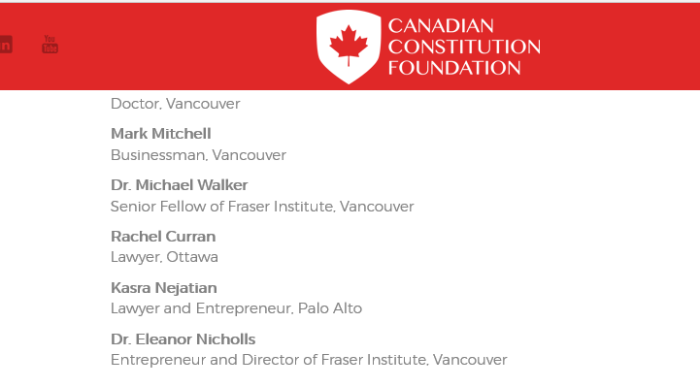 Interesting side note: Kasra Nejatian (a.k.a. Kasra Levinson) is Candice Malcolm's husband. He is a Director at the Canadian Constitution Foundation, which is also part of Atlas Network. He's part of the CCF, and she was part of Fraser and Koch Institute.
Also worth noting is that there are 2 other Directors at the CCF: Michael Walker and Elanor Nicholls, who are also part of the Fraser Institute. But again, they are all part of the same family.
9. Preston Manning, ex-MP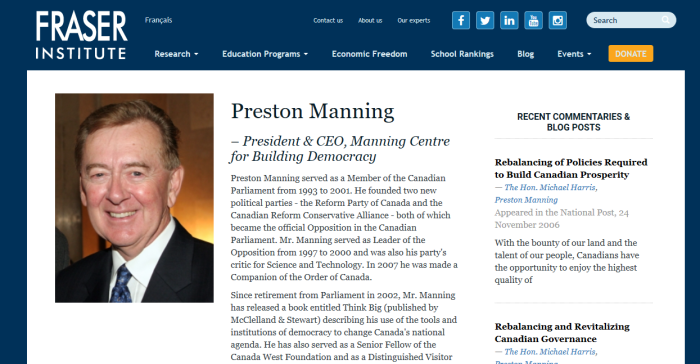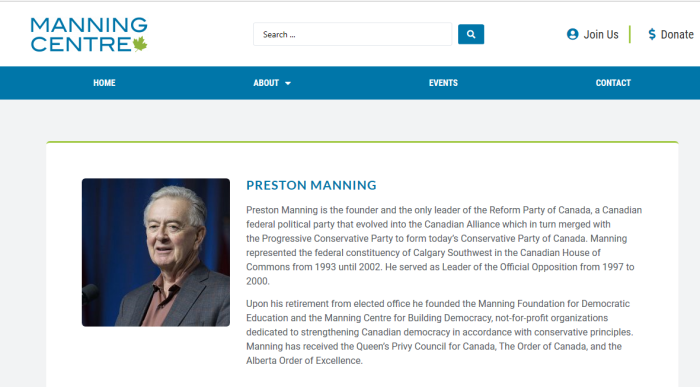 Former MP and head of the Reform Party, Preston Manning is both head of the Manning Institute (named after him), and part of the Fraser Institute. But let's not kids ourselves. They are both part of Atlas Network. He's also part of something called the Smart Prosperity Institute. He also publishes in various Canadian newspapers as a guest columnist.
10. Chuck Strahl, Joe Oliver, ex-MPs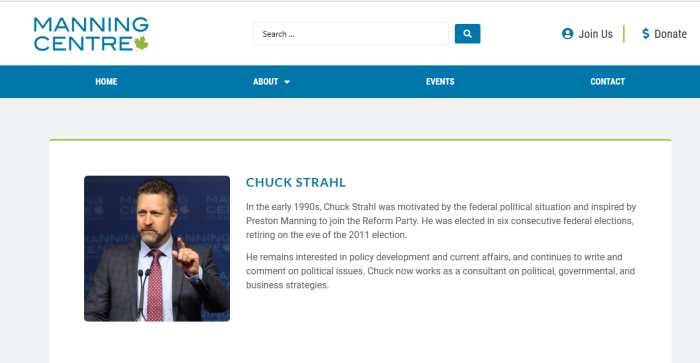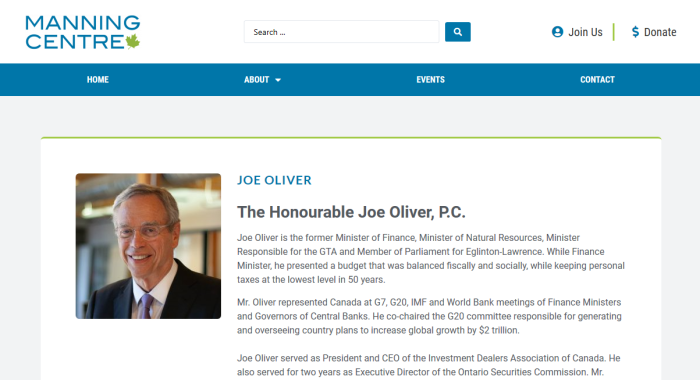 Also in the Manning Institute are Joe Oliver and Chuck Strahl. Both are former Members of Parliament, and both now call themselves consultants. They do occasionally speak publicly.
11. Tom Flanagan: Author, Campaign Manager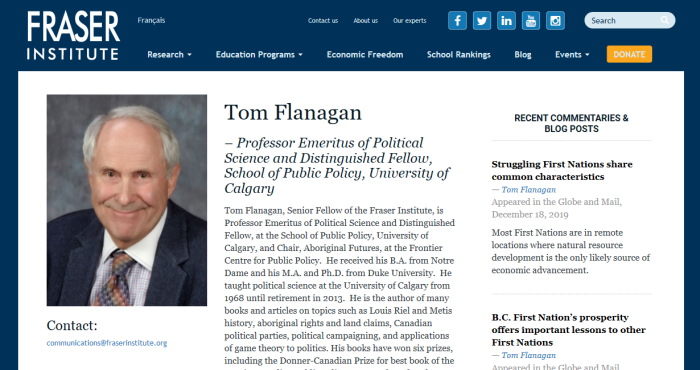 In the political realm, he managed Stephen Harper's campaigns for leadership of the Canadian Alliance and the Conservative Party of Canada, the 2004 Conservative national campaign, and the 2012 Wildrose Alberta provincial campaign.
When not involved in politics, Flanagan writes articles and books. Very prolific writer.
12. Danielle Smith: NewsTalk 770 Host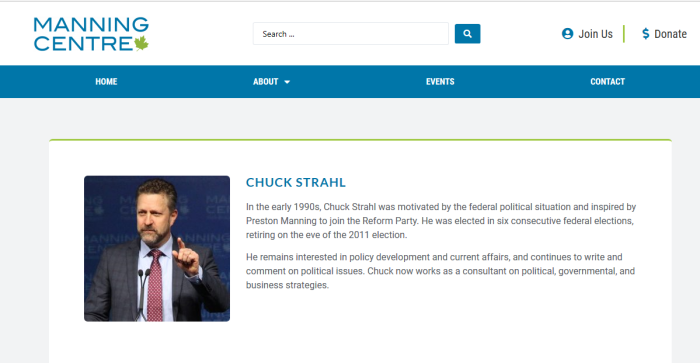 Smith interned for the Fraser Institute in 1996/1997. She also hosted Global Sunday and wrote for the Calgary Herald. After a stint in Alberta politics, she hosts an afternoon radio show.
13. Peter McCaffrey: Calgary Sun, HuffPo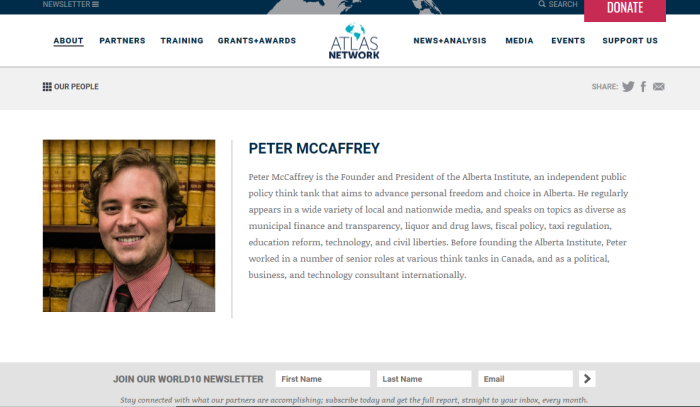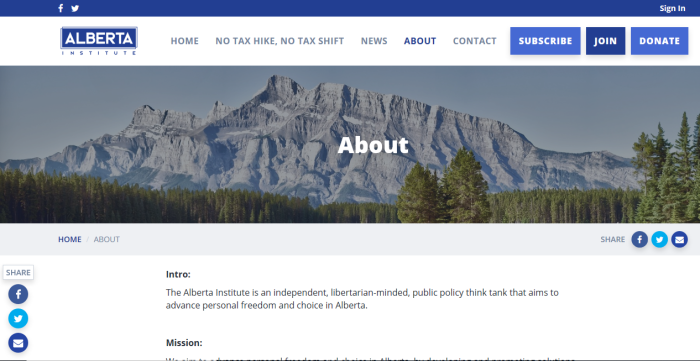 Intro:
The Alberta Institute is an independent, libertarian-minded, public policy think tank that aims to advance personal freedom and choice in Alberta.
.
Mission:
We aim to advance personal freedom and choice in Alberta, by developing and promoting solutions to public policy issues.
We focus on a wide variety of public policy issues at both the provincial and municipal level.
.
Independence:
We don't accept any government funding and we never will.
We think you should be free to choose, for yourself, which organizations to support.
We'd welcome your donation if you like what we do, but we won't force you to give us money if you don't!
So, the Alberta Institute claims not to accept any government funding whatsoever, and pledges never to do so. Sounds great, though it begs the obvious question: Exactly who does fund the Alberta Institute?
President Peter McCaffrey writes to several publications such as Calgary Sun, the Calgary Herald. But his organization is just another part of the Koch-funded Atlas Network.
14. Canadian Taxpayers' Fed: Canada Free Press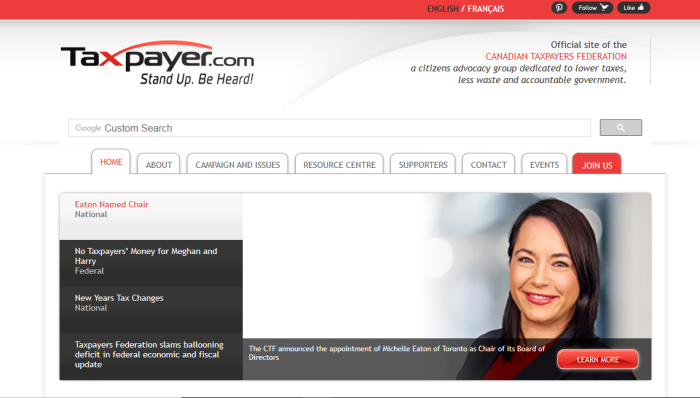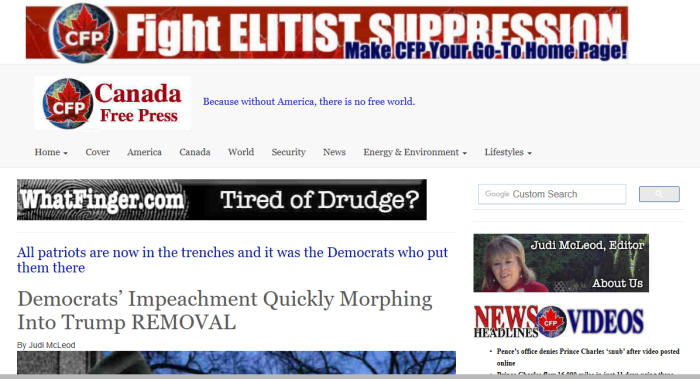 A surprisingly large number of articles from the appear published by the Canada Free Press. It's almost as if the online outlet was specifically catering to them.
15. Joel Wood: Professor & Lecturer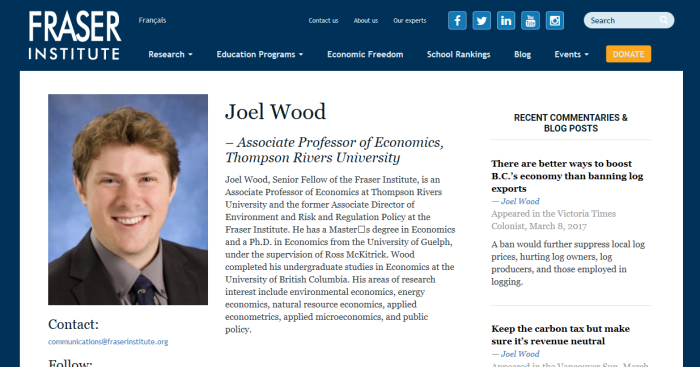 While many in the "Conservative Inc." movement condemn the carbon tax idea as wasteful, Woods looks at economic options that can come from such taxation. Keep in mind, he is no scientist, he still weighs options, for how the cash grab can be done. He is a university professor who moonlights as a public speaker.
Just another Koch/Fraser operative masquerading as an objective and impartial researcher.
16. Patrick Moore, Environmental Activist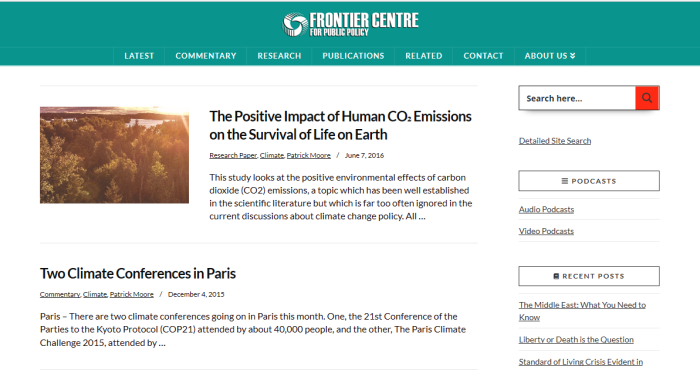 Patrick Moore has gone on many channels and podcasts to discuss the climate change hoaz, and that is appreciated. However, he is notorious for saying it was safe to drink glyphosate, but refusing to do it himself. Makes one wonder what else he doesn't really believe in. And given his employment in the Frontier Center for Public Policy, it is legitimate to ask where his interests lie.
17. Dave Rubin: The Rubin Report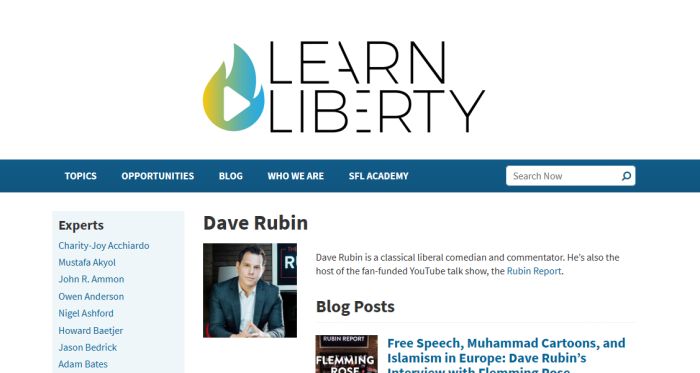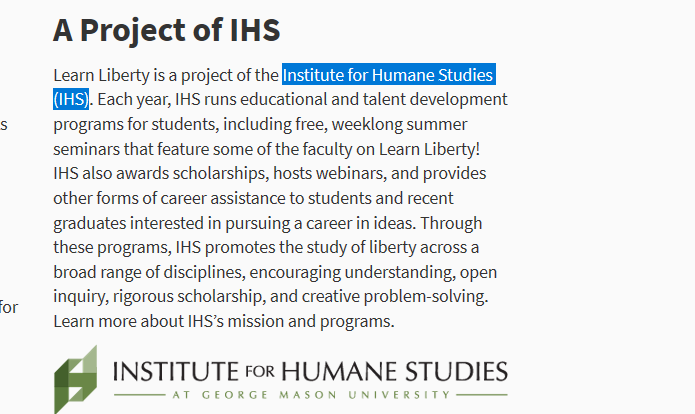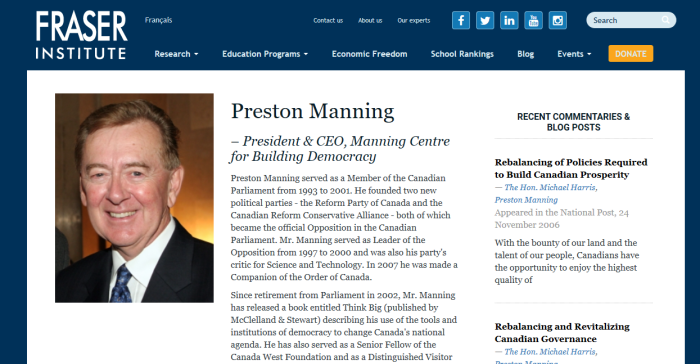 Although he is American, Rubin is worth discussing. He is fairly popular with the Canadian public in the alt-media scene. After leaving The Young Turks, Rubin partnered with Learn Liberty, which is a project of the Institute For Humane Studies. One of the Directors of IHS is none other than Charles Koch. Guess Koch pays better than Al-Jazeera, who funds TYT.
18. Honourable Mentions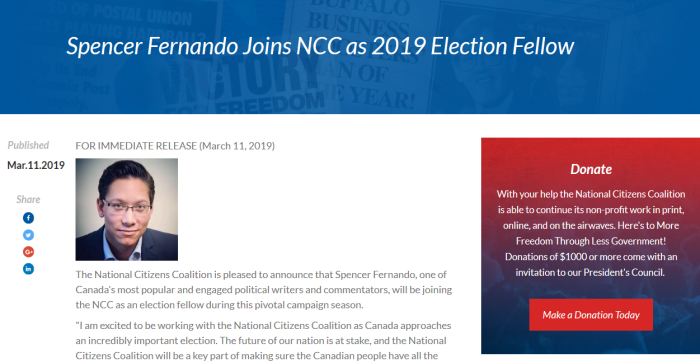 Fernando joined the National Citizen's Coalition, which is the organization Stephen Harper used to run. While presenting himself as an independent, his website now amounts to rehashing anti-Trudeau talking points. No surprise, considering who owns him now.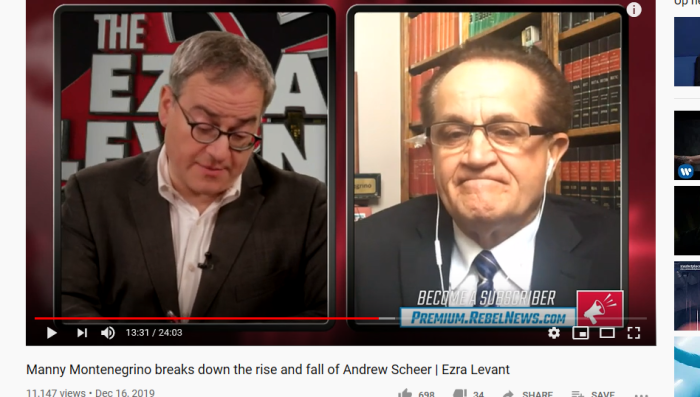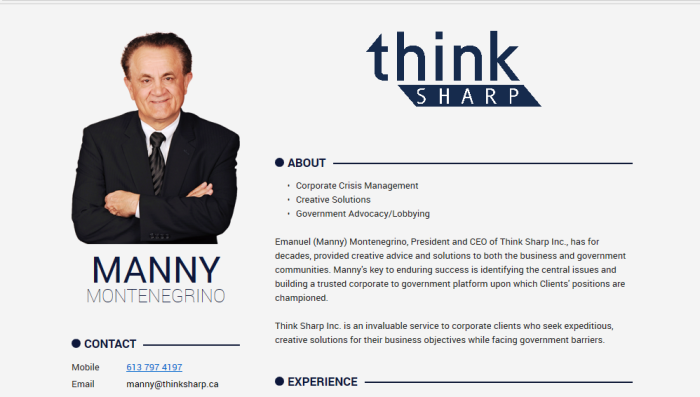 Manny works as a lobbyist, but comes on shows such as Rebel Media and promotes himself as a commentator. He is also an advisor for the Conservative Party of Canada.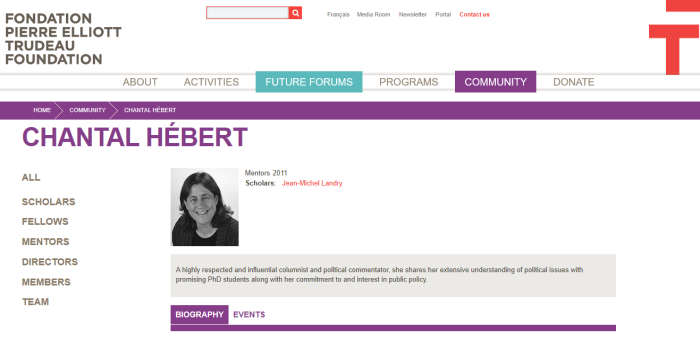 Quebec media figure Chantel Hebert is also a member of the Trudeau Foundation.
Chantal Hébert is a national affairs writer with the Toronto Star and a guest columnist for Le Devoir and L'Actualité. She is a weekly participant on the political panel At Issue on the CBC's The National as well as Radio-Canada's Les Coulisses du pouvoir.
Ms Hébert began her career in Toronto as a reporter for the regional newsroom of Radio-Canada in 1975 before moving on to Parliament Hill for Radio-Canada radio. She has served as parliamentary bureau chief for Le Devoir and La Presse.
Hébert is a graduate of Glendon College, York University. She is a Senior Fellow of Massey College at the University of Toronto and hold an honorary doctorate from Bishop's University. She is a recipient of two Asia-Pacific media fellowship (Malaysia and Japan). She is the 2005 recipient of the APEX Public Service Award. In 2006, she received the Hy Solomon award for excellence in journalism and public policy as well as York University's Pinnacle Achievement Bryden Alumni award. She is the author of a 2007 book titled French Kiss: Stephen Harper's Blind Date with Quebec.
Hébert is an Officer of the Order of Canada.
19. Truth About Canadian Media
We like to think that there are more open minded and trustworthy sources in right-leaning media. However, that it is not really the case. Too much of the media is controlled by agents who don't have Canadians' best interests at hearts.
Perhaps Ronald Reagan has the best idea: trust, but verify. Of course, that meant to dealing with the U.S.S.R. Or better yet, don't trust until you have verified.
While there are more names that can go on this list, this should give a pretty good idea what is going on. Remember, Post Media owns the bulk of the media in Canada (at least right-leaning media), both major and minor publications. And many of the "independents" are not who they appear to be.
Are there good reporters and journalists in Canada? Certainly, but they seem to be few and far between.