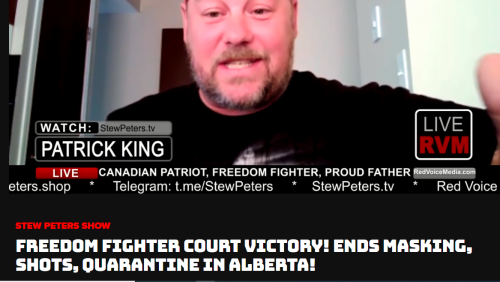 The case of Patrick King v. Alberta Health Services has been all over the alternative media lately. People are now thinking this is some landmark decision against the Kenney Government. That isn't really the case though. People are getting excited over a misunderstanding of the results. The measures remain in effect, though (update) it's not entirely clear from the video the result of his case. He does admit later that he lost. See 53:44.

King claims that he won a court case in Alberta, and that all restrictions in the Province have been removed. On the surface, this looks fine, or at least possible.
Problem is, that isn't what happened at all. King's trial began on May 4, 2021. He got an adjournment so that he could subpoena Deena Hinshaw, the Chief Medical Officer of Alberta. Later, it was discovered that, although a Justice of the Peace did sign one, it required the signature of a Judge. This was a procedural error, which would make it defective in the eyes of the Court. The Crown brought an application on July 16 to quash the subpoena, with a hearing date of July 19.
King, in the May 4th trial, had tried to challenge the constitutionality of the measures themselves, but never filed a Notice of Constitutional Question. He says he didn't know it had to be done in advance, which is quite plausible.
The Crown also claimed in their July Application that Hinshaw had no material evidence to offer, which is being taken to mean that there was no evidence at all. The Crown asserted that Hinshaw had nothing meaningful to say in this case. The Application to quash was successful.
King implies that his own $1,200 ticket was thrown out, but interestingly, the ruling isn't posted. He later admits that he lost and had to pay, but it's not obvious.
In fairness, King is right that the whole "pandemic" is a scam. However, the admission doesn't mean quite what he thinks it does.
King also has a point that the Judge was supposed to help out self represented litigants, at least to a degree. The 2017 case of Pintea v. Johns made that mandatory.
Now, there's no justification whatsoever to the assertion that King's win had any effect on the measures in Alberta being lifted. In fact, many of them were on July 1, previous to this appearance. However, King has been making the rounds claiming that freedom has been won for Albertans by this. Stew Peters interviewed him, but did little to no due diligence first.
Also, there is still no ruling posted on CanLII, and there doesn't seem to be a copy anywhere. Pretty strange if the Judge ended everything, but never bothered to write anything up.
King had asked for a transcript of his August hearing, to get in writing the admissions he wants. That's fair. But the transcripts floating around are from his May 4th appearance. These are not the same things. The transcript was attached as an Exhibit in Alberta's Application to quash.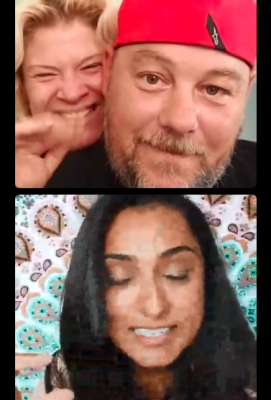 While King claims to be self representing, it appears that he's had some coaching from someone. And it's interesting, King is friends with Kelly Ann Wolfe. Also, the woman at the bottom looks very familiar. Where have we seen her before?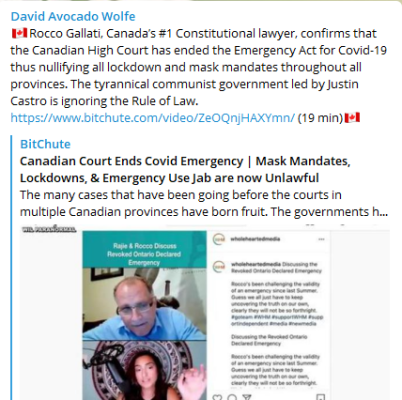 Oh right, this is WholeHearted Media, earlier talking with her co-host, Galati. This previous video by Awake Canada speaks of non-existent Court rulings ending all measures in Canada. That hoax was only a few weeks back. Of course, when a person is asked to provide an actual ruling, there's nothing to say.
Though unrelated to this matter, there was this floating around the other day: an obviously fake transcript of Calgary Mayor Nenshi. The King case may have been just a misunderstanding, but there's no doubt that this one is intentional deception.
It would have been nice to see a ticket thrown out (for whatever reason), but it wasn't. And these silly claims that all illegal measures have ended don't help. It makes it harder to take such things seriously.
Correction: it was wrongly thought the ticket was dismissed. That has been corrected
(1) https://www.redvoicemedia.com/video/2021/08/freedom-fighter-court-victory-ends-masking-shots-quarantine-in-alberta/
(2) https://www.instagram.com/p/CSH4pTNJ3zp/
(3) https://awakening.s3.amazonaws.com/wp-content/uploads/2021/08/05122457/transcriptofcourtcase.pdf
(4) Patrick King Application Service Of Documents
(5) Patrick King Application To Quash Subpoena
(6) https://www.bitchute.com/video/ZeOQnjHAXYmn/
(7) https://twitter.com/1777Roots/status/1423337680004206592
(8) http://www.lauralynn.tv/2021/08/dr-patrick-phillips-pat-king.html