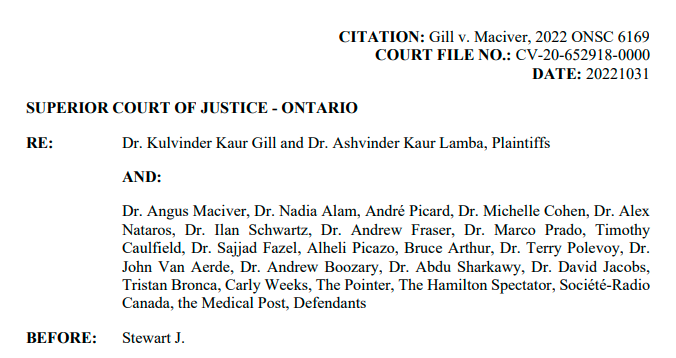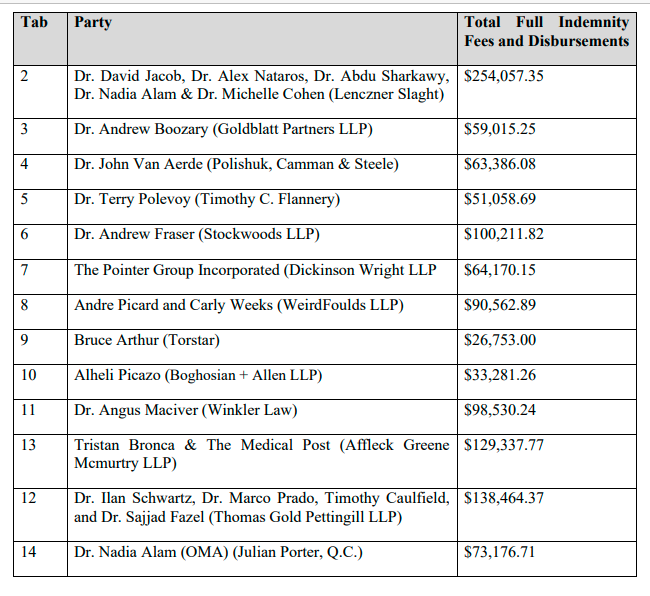 The long anticipated Appeal of Kulvinder Gill and Ashvinder Lamba is scheduled to be heard on December 12th, 2023. This comes nearly 2 years after a Judge threw out their defamation case as frivolous. For some background, see here and here.
A brief timeline of events:
December 2020, Kulvinder Gill and Ashvinder Lamba filed a $12.75 million defamation lawsuit against 23 individuals and media outlets, largely over a series of spats on Twitter. This was in the Toronto Branch of Ontario Superior Court.
September 2021, over the course of 3 days, several anti-SLAPP Motions were argued. The primary basis for these Motions was Section 137.1 of the Courts of Justice Act, which is designed to screen out litigation designed for "libel chill" or "gag proceedings".
February 2022, Justice Stewart dismissed the claims against all proceedings, on the grounds that the lawsuit was exactly the type of case that anti-SLAPP laws were designed to weed out.
March 2022, the Decision was appealed to the Ontario Court of Appeals.
May 2022, despite filing the Notice of Appeal and Evidence Certificate (a list of evidence to be used), Gill and Lamba find themselves without counsel. It appears from the badly redacted filings that they are rather upset about the mess that they're now in. If only someone had advised them that filing frivolous defamation claims in Ontario — which has strong anti-SLAPP laws — was a very dangerous and risky idea. Clearly, they got poor advice. (See Record)
July 2022, both Gill and Lamba retained new counsel, who tried to ward off the coming costs awards. In total, they were looking at over $1 million in costs. While this sounds excessive, they sued 23 Parties, which works out to an average of about $55,000 each.
October 2022, although the case had been appealed, the issue of costs hadn't been resolved. It finally was at the end of October, with Gill and Lamba (but mostly just Gill) owing over $1.1 million in Court fees. It must be pointed out that s.137.1(7) of the Courts of Justice Act sets "full indemnity", or 100% of costs, as the baseline. True, Judges don't have to award it, but that's considered the starting point.
Gill (and Lamba) accused of bringing Appeal in bad faith
Now we get to November 2023.
One of the Respondents/Defendants, The Pointer Group Inc., has caused an interesting complication. In a Motion seeking costs up front, it's accusing the Appellants of filing the Appeal in bad faith, in order to circumvent the cost award. There was a hearing before Justice Roberts on Wednesday November 1st.
From paragraph 28 of the Factum asking for costs:
Given the potentially extensive costs awards payable by Dr. Gill for the Action, her abandonment of her appeal as against 11 of the 22 respondents, her failure to identify any error made by Justice Stewart in granting The Pointer's SLAPP Motion, the delay in pursuing this appeal and The Pointer's limited resources, it is apparent that Dr. Gill has brought this appeal for the purpose of obtaining leverage in negotiations with The Pointer to avoid paying some or all of the costs awarded to The Pointer.
To summarize: The Pointer Group is alleging Gill and Lamba brought the Appeal as a tactical maneuver in order to avoid paying the full costs that are owed. It's stated that approximately half of the Defendants have already settled in return for abandoning the Appeal against them.
Put bluntly, this is claiming contempt of Court on their part, by attempting to do an end run around the October 2022 costs ruling.
The Pointer says that the Appeal doesn't address them in any meaningful way, and thus, there's no basis for the Appellate Court to overturn those findings.
It's interesting that this is the only party that's sought security for costs to date. Besides, it's strange to wait until so close to the main hearing date.
Updates will be posted closer to the December date. The Appeal will likely be dismissed, as anti-SLAPP laws were correctly applied here. The legislation is designed to prevent people from being able to bankrupt others on the basis of trivial matters. Additionally, the Appeal costs will likely be "full indemnity" as well This means Gill and Lamba could easily end up owing another $100,000 to $200,000, or more.
Gill has a separate anti-SLAPP Motion to be heard next October. It's with Amir Attaran and the University of Ottawa. Gill demanded $7 million because he called her an "idiot" online. That could easily cost another $25,000 to $50,000 that she doesn't have.
Side note: the Court of Appeals has been contacted for more documents, and they will be uploaded when they arrive. Both The Pointer and Gill's new counsel haven't responded for comment.
MOTION FOR SECURITY OF COSTS
(1) Gill V. Maciver Amended Notice of Motion – 26 Sept 2023
(2) Gill v Maciver – San Grewal's appeal for support M54554.MPF.PointerGroup – October 2023.PDF
(3) https://drive.google.com/file/d/1PbEewt3dAKqAT5Udp6BIIqrM9Y_AhPHv/view
KULVINDER GILL/ASHVINDER LAMBA CASE:
(1) Gill/Lamba Defamation Lawsuit December 2020
(2) https://www.canlii.org/en/on/laws/stat/rso-1990-c-c43/latest/rso-1990-c-c43.html#sec137.1_smooth
(3) Gill/Lamba Factum Of Medical Post Tristan Bronca
(4) Gill/Lamba Case Dismissed As A SLAPP
(5) https://www.canlii.org/en/on/onsc/doc/2022/2022onsc1279/2022onsc1279.html#par17
(6) Gill/Lamba Notice of Appeal and Appellants' Certificate
(7) Gill/Lamba Appeal – Notice of Intention to Dismiss Appeal for Delay, May 12, 2022
(8) Motion To Recuse – Badly Redacted -2022-06-17 – Notice
(9) Motion To Recuse – Badly Redacted -2022 – Motion Record
(10) Gill/Lamba July 15 Letter To Obtain New Counsel
(11) Gill/Lamba Case Conference Brief July 29, 2022
(12) Gill/Lamba Endorsement New Counsel Cost Submissions August 3, 2022
(13) Gill/Lamba Case $1.1 Million In Costs Ordered October 31, 2022