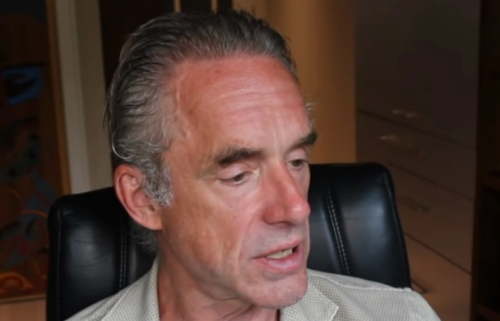 Turn to 1:22:00 in the original video to see the clip that is being referenced here. It should shock people, especially considering how Peterson rose to prominence.
Peterson became famous in 2016/2017 for resisting tyranny and promoting individual rights. He calls the LBGT lobby monsters, and the Alt-Right racist. He claims that collectivism is a means for imposing tyranny on the public.
But with medical tyranny, he's quite okay with that.
Peterson openly admits what's going on amounts to severe and repeated violations of basic civil rights.
In spite of this going on for over a year now, he asks for ANOTHER 6 months to see what happens
Peterson admits the precedent has already been set, and acknowledges that this could be used in the future for another "pandemic".
Peterson claims to have no special insight into what's going on. This comes despite hundreds, if not thousands of citizen journalists posting well sourced information all the time.
Peterson promotes mass vaccination, despite obvious concerns such as: (a) lack of long term testing; (b) not being approved, but instead given interim authorization; and (c) indemnification for manufacturers.
Peterson's "get the damn vaccine" comes across as gaslighting.
Peterson uncritically parrots the narrative that vaccination is the solution to going back to a normal life.
Peterson seems uninterested in the mountains of evidence suggesting that this entire "pandemic" was preplanned a long time ago.
Peterson seems uninterested in researching into the financial interests.
Peterson attempts to steer the narrative with his claim that infectious diseases are the real enemy of society.
Peterson ends the segment suggesting that authoritarianism may be BENEFICIAL in the future, if it can be used to combat future pandemics. It's like the WHO wrote his script.

Then again, Peterson has long been (at best) inconsistent with his views. In 2017, "Mr. Free Speech" apparently took no issue for deplatforming Faith Goldy from a free speech event. Her crime: associating uncritically with the wrong people.
He also worked for the United Nations for 3 years, trying to remove the "ideological clap trap" from the Sustainable Development Agenda, in order to make it easier to sell to the public. The UNSDA, or Agenda 2030, is essentially laying the ground work for the Great Reset. This is to radically remake society, under the guise of overall benefit.
This is probably why Peterson still gets promoted. He is controlled opposition, and is useful to steer the narrative when it's needed.
(1) https://www.youtube.com/watch?v=rY9X6a-xxFo
(2) https://www.youtube.com/watch?v=a8zLcMGCedA
(3) https://canucklaw.ca/un-high-level-panel-on-global-sustainability-jordan-peterson-co-authors/
(4) https://twitter.com/jordanbpeterson/status/1392838374013165574