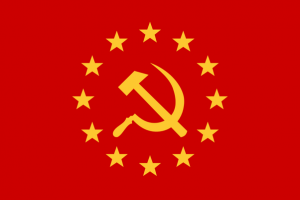 (Provocative, but you get the point)
September 12, 2018 — the European Union passed this law, the "Copyright Directive", in a 438-226 vote.
Other media on the subject can be found: here, here, here, and here.
The "Copyright Directive" was originally stopped in July of this year, primarily over concerns over Articles 11 and 13. And to a degree, the concerns were over the same thing. Responding to, or critiquing another's work is very common, and makes way for advancement of discussion of ideas. As long as there is some educational, critical or reporting use (and not blatant copyright), then using portions of a person or institution's work is fine. In fact, this very website, Chimeratsk.com, cites Canadian "Fair Dealing", and American "Fair Use" provisions.
Article 11, a.k.a. the "link tax", concerned ways for original content creators to get paid via taxes or royalties. In practice though, how would one know who the original content creator was? Perhaps the royalties would be going to someone who is at least in part responding to another person's work.
Article 13 had to do with platforms such as Facebook and YouTube being blocked from sharing protected content. Apparently there is to be a huge database on protected material, which by itself sounds creepy. To be fair though, the law says that encyclopedia-type platforms like Wikipedia will be exempt. However, as many images, text and music can sound similar, how would the original creator be identified?
Further, copyrighted material does not last forever. For example, the book "1984", written by George Orwell (a.k.a. Eric Arthur Blair was written in 1949, so after 1999, a Canuck should be free to use it freely. Under Canadian Copyright Law, 50 years after death, copyright protection would disappear. Yes, ironic to use the Orwewll book here. However, would this EU driven database(s) know when copyright on each image, unique, phrase, text, etc… lapse?
On a semi-related note: there is an academic database — turnitin.com which college and university students would upload digitial copies of essays and other papers. This is an anti-plagiarism site which was to ensure that students were handing in original work. The site would compare and contrast the student paper against millions of others and look for regions of overlap. Sounds great, except for problems those arose in this.
At its core, the Copyright Directive seems to nullify what may be considered Fair Dealing/Fair Use exemptions (by listing the original content creator as the copyright owner of any and all of its content, and responses. CLICK HERE, for an article on the proposed revisions of Article 11 and 13.
Some accidental incidents of censorship occurred here, here, and here.
While the E.U. has passed this Copyright Directive, there are reasons to be cautiously optimistic:
First, even if nothing is done, this seems absurd on its face to implement. (See the earlier criticism on logistical issues). Yes, content is still getting blocked, even the most innocuous stuff. While this is done under the guise of "protecting" creators, the complications that will arise will cause more and more headaches. Oddly, creators will "lose" money if research and ad revenue plummet.
Second, the law will undoubtedly face legal challenges and be tied up in the courts for years.
Third, each memberstate will implement their own version of this law, and that will likely not happen for a year or 2. Harder to enforce when the rules aren't uniform. And on a related note: what about the UK, who is leaving the E.U.? What about any other member who may leave? What happens if governments change and their successors don't agree with what they see? And won't any inconsistencies in member laws make it easier to challenge the law?
Fourth, what if any E.U. members decide to just ignore the directive altogether? The EU has shown itself to be rather toothless in enforcing its own rules and orders.
Fifth, how will this be enforced when using material from, or creating new content in countries that do not have these laws, or subscribe to this version of them?
Online creators decry this EU directive, and they do have reason to be worried. However, there are many options available to fight it, and many hurdles it will face.