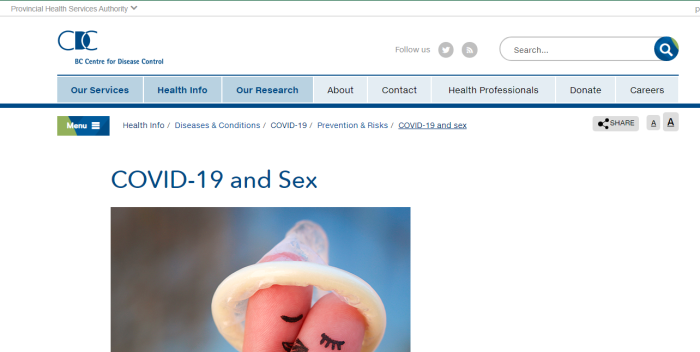 Hard to believe, but this actually material that is on the site of the BC Center for Disease Control (BC CDC). How to "safely" behave in immoral ways, while being "safe" from covid-19.
1. Other Articles On CV "Planned-emic"
There is much more on the series available here. To understand what is really going on, look into the lobbying, conflicts of interest, corruption, and evidence of premeditation. Also, check out the page on abortion. Aborted babies are used as raw material for vaccine development. Nothing is what is appears to be. Also, check out this series for more information on the infanticide agenda.
2. BC CDC Promotes Use Of "Glory Holes"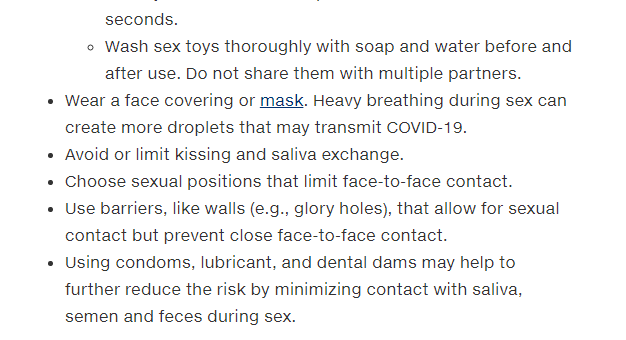 Steps to protect yourself during sex
Here are some ways to lower the risk of being exposed to COVID-19 during sex with others:
.
Ask your partner(s) if they're feeling unwell or have any symptoms of COVID-19.
Before and after sex:
-Wash your body with soap and water.
-Wash your hands with soap and water for at least 20 seconds.
-Wash sex toys thoroughly with soap and water before and after use. Do not share them with multiple partners.
–Wear a face covering or mask. Heavy breathing during sex can create more droplets that may transmit COVID-19.
-Avoid or limit kissing and saliva exchange.
-Choose sexual positions that limit face-to-face contact.
-Use barriers, like walls (e.g., glory holes), that allow for sexual contact but prevent close face-to-face contact.
Using condoms, lubricant, and dental dams may help to further reduce the risk by minimizing contact with saliva, semen and feces during sex.
One would think this is a parody, but it appears to be the actual BC CDC website. Recommending use of a "glory hole" or sex through a wall. Sounds gross and weird. (http://archive.is/oQtki)
Strangely, the BC CDC does recommend wearing a mask of face coverings in the meantime. Perhaps we need to draw the line somewhere. Or do they think couples will get turned on by it?
3. BC CDC Promotes Pornography As Alternative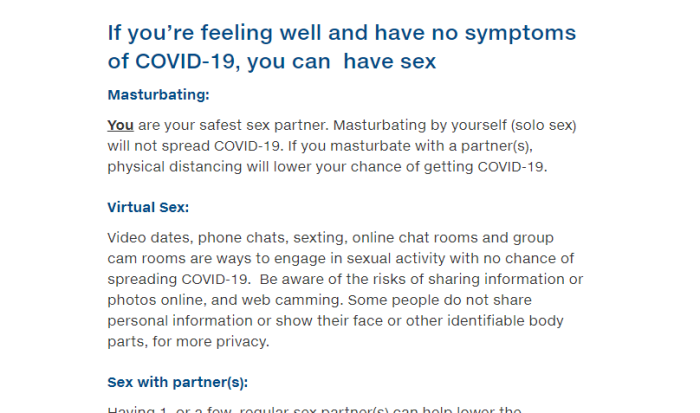 If you're feeling well and have no symptoms of COVID-19, you can have sex
.
Masturbating:
You are your safest sex partner. Masturbating by yourself (solo sex) will not spread COVID-19. If you masturbate with a partner(s), physical distancing will lower your chance of getting COVID-19.
.
Virtual Sex:
Video dates, phone chats, sexting, online chat rooms and group cam rooms are ways to engage in sexual activity with no chance of spreading COVID-19. Be aware of the risks of sharing information or photos online, and web camming. Some people do not share personal information or show their face or other identifiable body parts, for more privacy.
Hard to tell if this is promoted as a safe alternative, or is just meant to break down what is considered normal behaviour.
4. BC CDC Gives Advice On "Safe" Hooking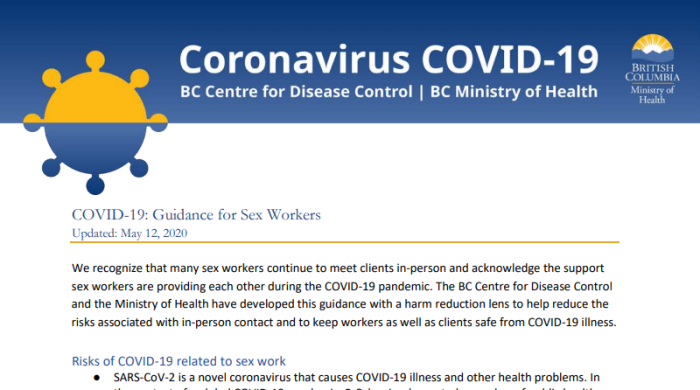 We recognize that many sex workers continue to meet clients in-person and acknowledge the support
sex workers are providing each other during the COVID-19 pandemic. The BC Centre for Disease Control
and the Ministry of Health have developed this guidance with a harm reduction lens to help reduce the
risks associated with in-person contact and to keep workers as well as clients safe from COVID-19 illness.
General Recommendations
● Wash hands regularly with plain soap and warm water for at least 20 seconds or use alcoholbased hand sanitizer with at least 60% alcohol content. Antibacterial soap is NOT required
● Cough into your elbow or cover your mouth and nose with a disposable tissue when you sneeze.
Immediately dispose of all used tissues in an appropriate waste bin and wash your hands right
away
● Do not touch your eyes, nose or mouth with unwashed hands
● Do not share food, drinks, unwashed utensils, cigarettes, vaping devices, joints, or bongs
● Do not work if you have flu-like symptoms, for example, cough, sneezing, fever, sore throat,
difficulty breathing
Interesting that in the recommendations, the BC CDC doesn't suggest STOPPING prostitution as a way to protect people's health.
5. BC CDC Guidelines On Mask Wearing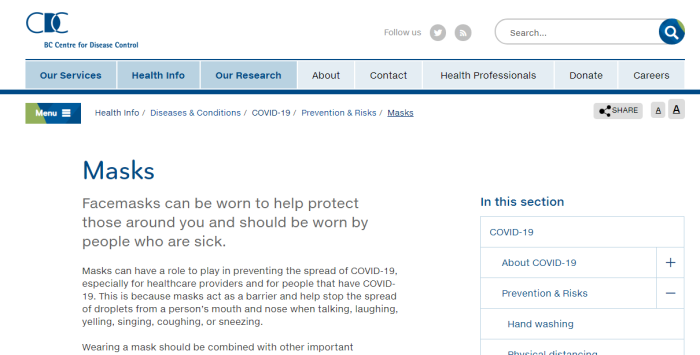 When to wear a mask
.
Wear a mask if you are sick
COVID-19 is spread through infected droplets from a sick person's mouth or nose. Wearing a mask when you are sick, helps protect people around you from the droplets that carry the virus. However, wearing a mask while sick does not change the need to stay home. If you cannot physically distance yourself from others at home, a mask can help prevent the spread of germs within the household.
.
Learn more about the precautions you should take if you are sick.
Wear a mask if you are caring for someone with COVID-19
It is recommended to wear a medical/surgical mask if you are caring for a person with symptoms of COVID-19, especially if you will be in direct contact with a sick person's droplets, saliva or body fluid.
.
If you do not have a medical/surgical mask, non-medical masks or facial coverings (e.g., homemade cloth masks, dust mask, bandanas) should be used by the person who is sick, as long as it does not make it more difficult to breathe, to reduce the spread of droplets containing the virus to others in the home. These non-medical masks may also be worn by any household member providing care to a person who is sick.
.
For more information see the guide for caregivers and household members of those with COVID.
Wearing a mask if you are healthy
If you are healthy, wearing a non-medical or cloth mask or face covering is a matter of personal choice and it might help to protect others. This is because some people can spread the virus when they have very mild symptoms or may not know that they are infected. In this case, wearing a mask can help protect others by containing your own droplets when talking, laughing, singing, coughing, or sneezing. Wearing a cloth mask might not protect you from COVID-19, but it is a good option in situations where you cannot keep a safe distance from others for an extended period of time, such as when you are on transit, getting a haircut or visiting someone indoors.
Apparently, the BC Center for Disease Control doesn't think that healthy people should be wearing masks. Although they do seem to think it should be worn during sex. And the BC CDC does recommend "alternvative" positions to avoid face to face contact.
6. Abortions Ongoing During Pandemic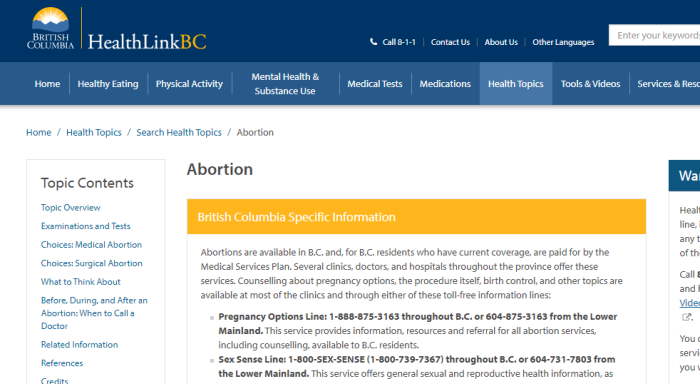 Don't worry, being in the middle of a pandemic won't eliminate your right to have an abortion. In fact, not only are abortions not stopping, they seem to be increasing. After all, if this isn't the best time to preserve and cherish life, then what is?
Of course, it's an open secret that aborted babies are used in the development of vaccines. Therefore, the people pushing the vaxx agenda would have a vested interest in seeing this increase.
7. BC CDC On Marriage Restrictions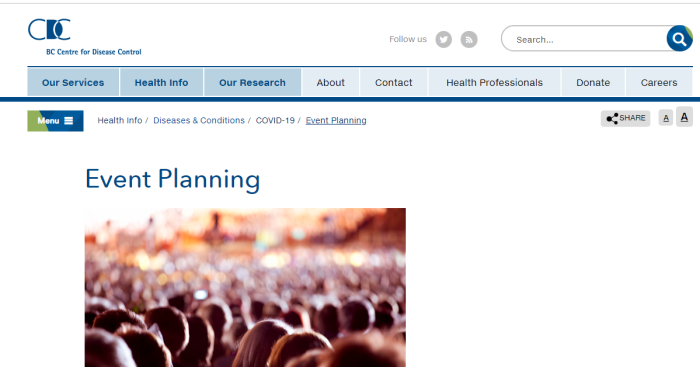 At this time, all event organizers are ordered to limit all public gatherings larger than 50 people. This includes indoor and outdoor sporting events, conferences, meetings, concerts, theatres, religious gatherings or other similar events. A new order from May 22, 2020 replaces the March 16, 2020 order and includes an amendment of no more than 50 vehicles for outdoor drive-in events. See the latest Order of the Provincial Health Officer on Mass gatherings.
The timing for a safe restart for activities requiring large gatherings is still to be determined as part of Phase four of BC's Restart Plan. Opening will be conditional on at least one of the following: wide vaccination, "community immunity" or broad successful treatments.
According to the BC CDC, large gatherings like weddings are off limits until there is wide spread vaccination. Just a suspicion though: this will only apply to straight couples. B.C. officials are very unlikely to refuse demands of accommodation by gays.
That's right, your right to assemble in large groups has been capped at 50 people. And as BC Provincial Health Offier Bonnie Henry repeatedly says, there's no science behind it (1:00 in video). One has to wonder if there will be any science behind the vaccines as well.
8. Control/Degeneracy Cloaked As Safety
For clarification, here is what is good:
Prostitution, if done safely
Pornography
Virtual Sex
Screwing through walls (glory holes)
Positions like anal
Abortion
Also, here is what is bad:
Marriages with very large families
Outings and family events
Religious gatherings of large people
Peaceful protests and assemblies
These are the public officials in charge of managing the Province, and they are some seriously screwed up priorities. This is not about public safety, and never has been. This is all about control.