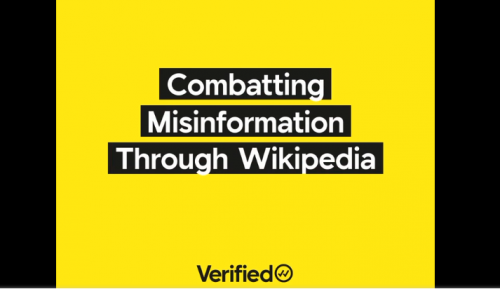 Not even Wikipedia is safe from being used as a staging ground to promote official narratives. Here, a volunteer brags about editing pages to be consistent with the "latest information".
This piece will contain some overlap with the work from Civilian Intelligence Network. Go check out their article for extra information.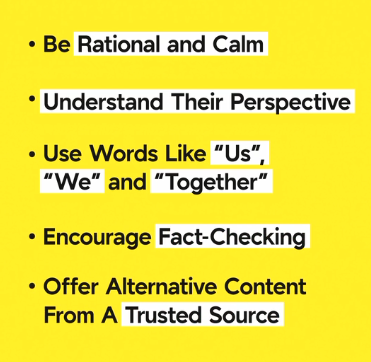 Share Verified works in a way that can be best described as emotional manipulation. In practice, the promote an appeal to authority, where only certain sources should be trusted. They attempt to dissuade real research by gaslighting such things as misinformation, but in a passive aggressive way.
As the world confronts its biggest challenge in living memory, there has never been a greater need for accurate, verified information. Like the virus itself, misinformation spreads from person-to-person, heightening the risk to health and spreading fear and division. The world cannot contain the disease and its impacts without access to trusted, accurate information that promotes science and real solutions – and builds solidarity within and between nations.
Verified is an initiative of the United Nations, in collaboration with Purpose, to provide content that cuts through the noise to deliver life-saving information, fact-based advice and stories from the best of humanity.
By promoting and sharing Verified content, everyday people can play a crucial role in the work of Verified by spreading reliable information about COVID-19 to their friends, families and social networks, with the goal of saving lives and countering misinformation. Organisations, businesses, civil society and media platforms partner with Verified to spread information that helps protect people, communities and forges connections across the planet.
Verified's team of communicators, creatives and researchers produce content based on the latest information and guidance from the United Nations, the World Health Organisation and other UN agencies. We work with leading experts on misinformation First Draft.
Verified works with the support of Luminate, IKEA Foundation and UN Foundation and partners all over the world.
An important detail to point out is that Share Verified (a UN initiative) is not working alone. It has partnered with many other NGOs to collaborate on this narrative.
Does anyone see anything wrong with a "medical doctor" spending her time online to edit pages on Wikipedia in order to influence the medical decisions of people who are not patients, and whom she has never examined? Really? Anyone?
The Vaccine Confidence Project, and the London School for Hygiene & Tropical Medicine receive funding from the Bill & Melinda Gates Foundation, and from drug companies. Just a thought, but perhaps they have an interest in pushing vaccines on the public.
Share Verified recommends pushing their talking points as a form of innoculation. They claim that people will be better able to sort through misinformation when the time comes.
In practice, in means prepping others with pre-set answers, so that questions or concerns (regardless of legitimacy) can be countered. A great way — although manipulative — to counter others is to simply attack the information as lies, but without addressing any key points.
Share Verified promotes the VCP, but who runs it?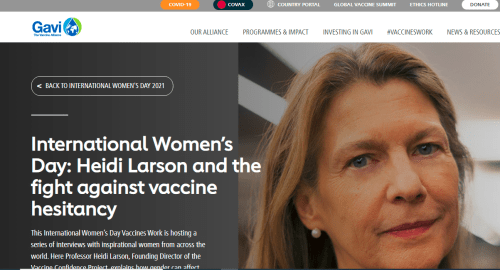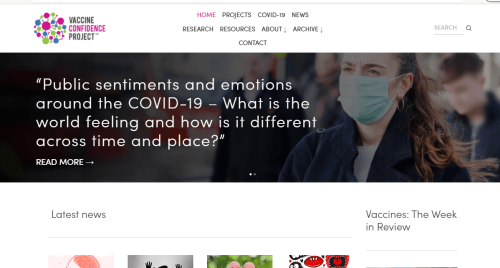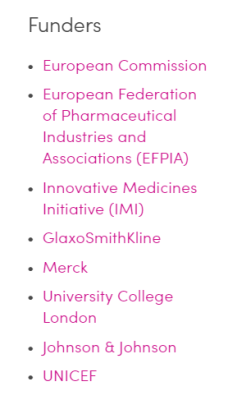 A bit of background information here. The VCP, Vaccine Confidence Program, is part of the LSHTM, or London School of Hygiene & Tropical Medicine. Both receive extensive funding from pharmaceutical companies, the Bill & Melinda Gates Foundation, the World Health Organization, and Governments.
Who else is worth noting?
Board member, Carlos Alban (AbbVie)
Board member, Bill Anderson (Roche)
Board Member, Gabriel Baertschi (Grünenthal)
Board member, Anders Blanck (LIF)
Board Member, Olivier Charmeil (Sanofi)
Board Member, Alberto Chiesi (Chiesi)
Board member, Frank Clyburn (MSD)
Board Member, Eric Cornut (Menarini)
Board member, Richard Daniell (Teva Pharmaceutical Europe)
Board member, Johanna Friedl-Naderer (Biogen)
Board Member, Murdo Gordon (Amgen)
Board member, Peter Guenter (Merck)
Board member, Angela Hwang (Pfizer)
Board member, Enrica Giorgetti (Farmindustria)
Board member, Dirk Kosche (Astellas)
Board member, Jean-Luc Lowinski (Pierre Fabre)
Board member, Catherine Mazzacco (LEO Pharma)
Board member, Johanna Mercier (Gilead)
Board member, Luke Miels (GSK)
Board member, Gianfranco Nazzi (Almirall)
Board member, Oliver O'Connor (IPHA)
Board Member, Stefan Oelrich (Bayer)
Board member, Giles Platford (Takeda)
Board member, Antonio Portela (Bial)
Board member, Iskra Reic (AstraZeneca)
Board Member, Susanne Schaffert (Novartis)
Board member, Stefan Schulze (VIFOR PHARMA)
Board Member, Kris Sterkens (Johnson & Johnson)
Board member, Han Steutel (vfa)
Board member, Alfonso Zulueta (Eli Lilly)
One of the major donors of the Vaccine Confidence Project is the European Federation of Pharmaceutical Industries and Associations (EFPIA). It's Board is made of up members representing major big pharma companies.
Another donor of VCP is the Innovative Medicine Institute. Salah-Dine Chibout is on the Governing Board of IMI, and also is the Global Head of Discovery and Investigational Safety at Novartis. Additionally, Paul Stoffels is the Chief Scientific Officer at Johnson & Johnson, Worldwide Chairman of Janssen Pharmaceutical Companies of Johnson & Johnson.
Share Verified promotes the VCP, which is funded by drug companies. Even the "independent" sponsors have ties to those same pharma organizations. Perhaps this is a serious conflict of interest.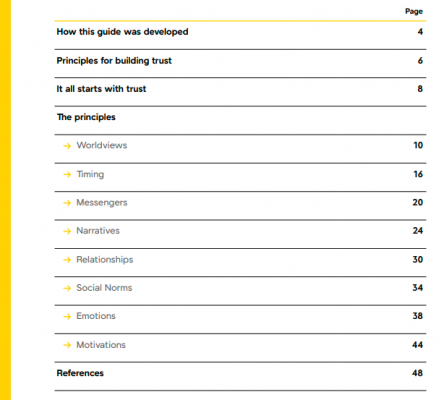 And if that isn't creepy enough, there is at least one (probably more) instruction manual on how to speak to people in order to get them to take vaccines. It gives plenty of tips on what type of emotional and psychological appeals to make, depending on the person.
Emotions to avoid

Sadness. Sadness can be helpful in gaining short-term engagement, but isn't helpful over the long term. We are motivated to maintain a positive sense of ourselves, and tend to ignore information that makes us feel bad about our choices or doesn't affirm our worldview.
Shame. It's tempting to shame people for not choosing to get the vaccine. But as we've seen with mask wearing, shame activates people's moral reasoning and they'll find reasons why their choice is the right one to avoid feeling bad about themselves.

Fear. Using fear appeals can be effective when there's a clear call to action, but in this case, it's more likely that fear appeals will immobilize people. Fear motivates people to assess information systematically, so we may pay more attention to information when we are afraid. Public health scholars have found a relationship between fear and perceptions of personal or group risk. If the risk doesn't seem relevant to an individual's life, they won't experience fear and are more likely to disengage from or discount the message. If people are seeing messages that suggest that the risks of COVID-19 are minimal, they're unlikely to engage. People can experience fear when the consequences of risk are uncertain and they feel like they do not have control over the outcome. So using a fear-based message could damage more constructive efforts to demonstrate how taking the vaccine offers control.
We don't want to shame people because they might thinking for themselves.
An interesting point: "FEAR MOTIVATES PEOPLE AT ASSESS INFORMATION SYSTEMATICALLY, SO WE MAY PAY MORE ATTENTION BECAUSE WE ARE AFRAID". In other words, it's recommended against using fear, but not out of human compassion. It's because scared people are more likely to do their own research.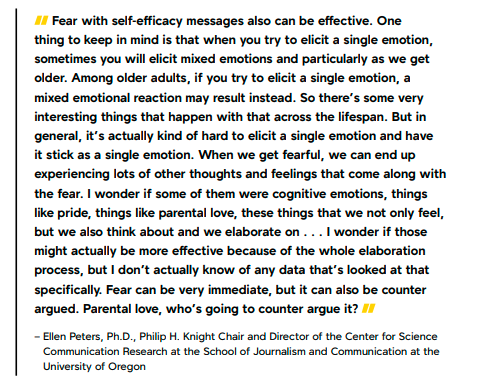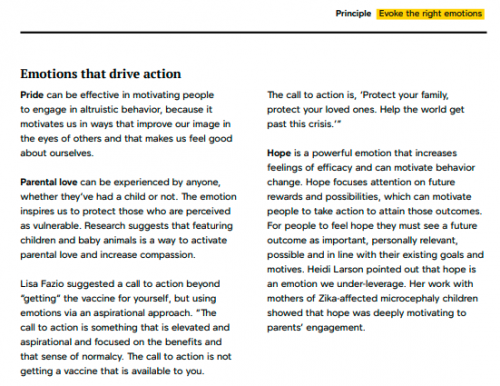 In case the term "emotional manipulation" may come off as hyperbolic, it's not. These quotes are from pages 39 to 41 in the instruction manual. It was published by the University of Florida College of Journalism and Communications in partnership with Purpose and the United Nations Verified initiative.
And of course, if that doesn't work, Dominic LeBlanc and other politicians seem to have no issues with just passing laws to ban whatever they call "misinformation". Of course, the WHO is on board with such measures.
What is the takeaway from all of this? It's that the pro-pandemic, pro-vaccine, pro-mask messages are a lot more planned, coordinated, and calculated that one might think. Now, go read the CIN article.
(1) https://civilianintelligencenetwork.ca/2021/05/30/global-public-relations-fountainhead-of-covid19-propaganda/
(2) http://shareverified.com
(3) https://content.shareverified.com/
(4) https://shareverified.com/en/about/
(5) https://vimeo.com/456733600
(6) https://vimeo.com/444943417
(7) https://vimeo.com/435078865
(8) https://canucklaw.ca/omidyar-group-luminate-reset-reset-australia-push-for-a-misinformation-ban/
(9) https://ikeafoundation.org/story/equal-access-to-covid-19-vaccines-and-hope/
(10) https://ikeafoundation.org/about/partners/
(11) https://firstdraftnews.org/
(12) https://firstdraftnews.org/about/
(13) https://www.un.org/en/coronavirus/%E2%80%98verified%E2%80%99-initiative-aims-flood-digital-space-facts-amid-covid-19-crisis
(14) https://www.vaccineconfidence.org/
(15) https://www.vaccineconfidence.org/team
(16) https://www.vaccineconfidence.org/partners-funders
(17) https://www.efpia.eu/about-us/who-we-are/
(18) https://www.imi.europa.eu/about-imi/governance/governing-board
(19) https://covid19vaccinescommunicationprinciples.org/?akid=198.9687.bN5LTs&rd=1&t=6
(20) https://covid19vaccinescommunicationprinciples.org/wp-content/uploads/2020/11/vaccine-principles_v16.pdf
(21) Guide To Covid Vaccine Communications