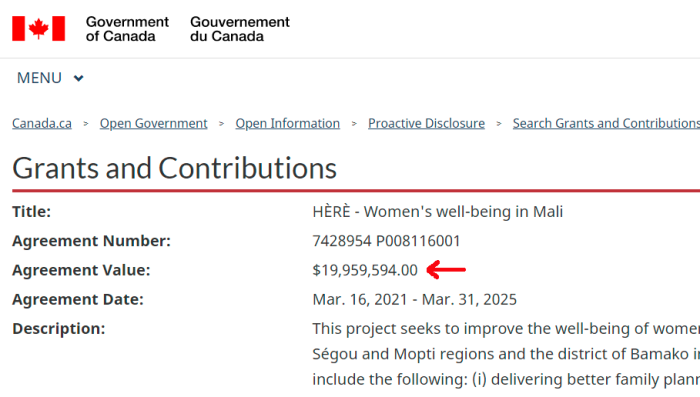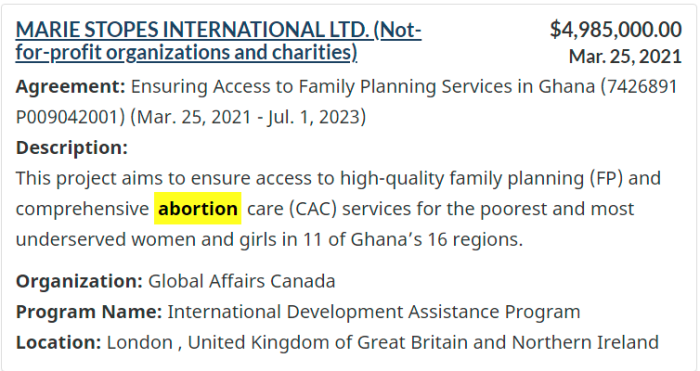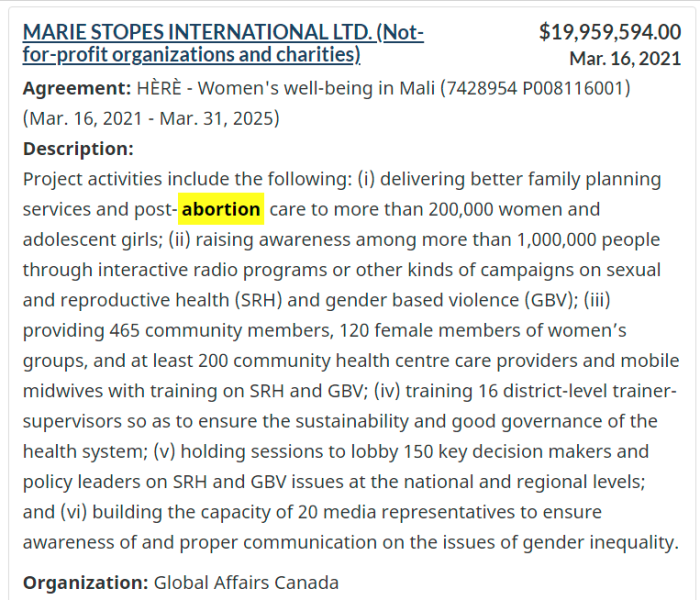 There are 2 entries listed for Canada on recent foreign abortion spending. One was for $19,959,594.00 in Mali, and the other was for $4,985,000.00 in Ghana. Together, these grants make up nearly $25 million. The records are publicly available.
At a time when we are (allegedly) in the middle of a global pandemic, killing African children abroad is apparently still a priority for this Government. Interesting. How come this hasn't been mentioned in the media, or by "opposition" parties? Are they unaware of this?
Marie Stopes International is a leading provider of family planning and reproductive healthcare globally. It works in 37 countries around the world delivering services to over 20 million women and men every year to ensure the rights of women to have children by choice, not by chance.
.
As a part of reproductive health services, MSI Reproductive Choices provides surgical abortions by using the safe and simple technique which called manual vacuum aspiration (MVA).
.
MS HEALTH PTY LTD is MSI wholly owned subsidiary in China and the exclusive distribution agent in China and overseas for Marie Stopes® MVA product line.
.
With mission to ensure women the rights of women to have children by choice, not by chance, MS Health is promoting the MVA products and other products on women reproductive health.
Marie Stopes International is an organization that provides birth control, but also has a significant enterprise in abortion. The terms of the Canadian grants specify that at least some of the money will be used for abortion. In 2018, Canadian taxpayers shelled out $15 million to this group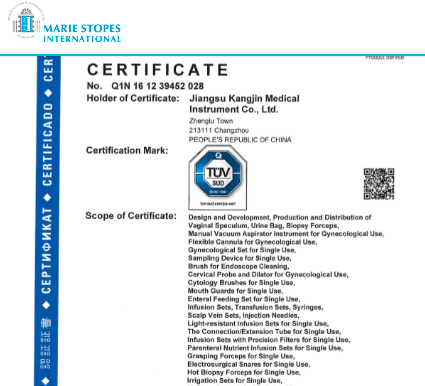 This organization holds several patents, including for equipment to perform abortions. It has been doing this for a very long time.
In 2009, Marie Stopes received a $50 million grant from the Bill & Melinda Gates Foundation. Gates Sr. is a former Head of Planned Parenthood in the U.S., so this ideologically lines up.
Marie Stopes would definitely be worth a deep dive, as she frequently gets compared to Margaret Sanger. However, that will have to be for another time.
And what are "conservatives" saying about this? It seems they don't actually oppose the killing of children ideologically. However, they do try to score points for claiming to oppose sex-selective abortion. In other words, snuffing out children is okay, just don't be a bigot.
(1) https://search.open.canada.ca/en/gc/
(2) https://search.open.canada.ca/en/gc/id/dfatd-maecd,064-2020-2021-Q4-00403,current
(3) https://search.open.canada.ca/en/gc/id/dfatd-maecd,064-2020-2021-Q4-00314,current
(4) https://search.open.canada.ca/en/gc/id/dfatd-maecd,GC-2018-Q4-00093,current
(5) http://www.mariestopeshealth.com/
(6) http://www.mariestopeshealth.com/about/
(7) https://www.gatesfoundation.org/ideas/media-center/press-releases/2009/06/unprecedented-scaleup-of-voluntary-male-circumcision-begins-in-swaziland-zambia
(8) https://www.hli.org/resources/who-was-marie-stopes/