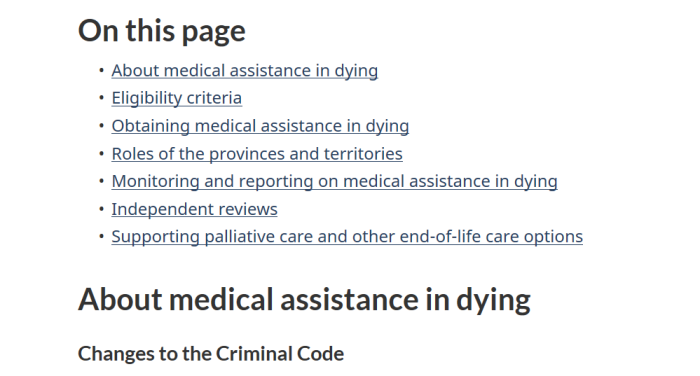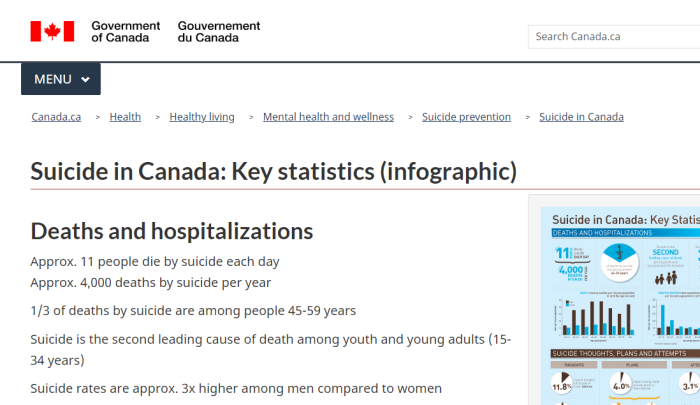 1. Important Links
(1) https://www.canada.ca/en/health-canada/services/medical-assistance-dying.html
(2) https://scc-csc.lexum.com/scc-csc/scc-csc/en/item/14637/index.do
(3) https://www.canlii.org/en/ca/scc/doc/1993/1993canlii75/1993canlii75.html
(4) https://laws-lois.justice.gc.ca/eng/Const/page-15.html
(5) https://laws-lois.justice.gc.ca/eng/acts/C-46/page-53.html#h-119931
(6) http://www.parl.ca/DocumentViewer/en/42-1/bill/C-14/royal-assent#EH3
C-14 British Columbia Humanist Association
C-14 Christian Legal Fellowship
C-14 Communication Disabilities Access Canada
C-14 Dying with Dignity Canada Nova Scotia Chapter
C-14 Euthanasia Prevention Coalition
C-14 Justice For Children And Youth
C-14 Life Canada
C-14 Protection Of Conscience Project
C-14 Quebec Association for the Right to Die with Dignity
C-14 Saskatchewan Pro-Life Association Inc
C-14 St. Catharines Right To Life Association</a
2. Law Against Assisted Suicide
Suicide
Marginal note:
Counselling or aiding suicide
241 (1) Everyone is guilty of an indictable offence and liable to imprisonment for a term of not more than 14 years who, whether suicide ensues or not,
(a) counsels a person to die by suicide or abets a person in dying by suicide; or
(b) aids a person to die by suicide.
Now there is more to be considered. See section 6.
3. Canadian Charter, Section 7
Guarantee of Rights and Freedoms
Marginal note:
Rights and freedoms in Canada
1. The Canadian Charter of Rights and Freedoms guarantees the rights and freedoms set out in it subject only to such reasonable limits prescribed by law as can be demonstrably justified in a free and democratic society.
Life, liberty and security of person
7. Everyone has the right to life, liberty and security of the person and the right not to be deprived thereof except in accordance with the principles of fundamental justice.
The 2015 decision ruled that the blanket ban violated the Section 7 Charter rights, and that there was no "saving" of it under Section 1.
4. SCC Orders Parliament To Fix Law
XIII. Conclusion
[147] The appeal is allowed. We would issue the following declaration, which is suspended for 12 months:
Section 241 (b) and s. 14 of the Criminal Code unjustifiably infringe s. 7 of the Charter and are of no force or effect to the extent that they prohibit physician-assisted death for a competent adult person who (1) clearly consents to the termination of life and (2) has a grievous and irremediable medical condition (including an illness, disease or disability) that causes enduring suffering that is intolerable to the individual in the circumstances of his or her condition.
The Supreme Court of Canada ruled that the prohibition against assisted suicide violated Section 7 of the Charter, which addresses security of the person.
The ruling is very long, and addressed the issue from a number of legal questions. It also addressed whether the Lower Courts should be bound by a 1993 ruling on much the same issues. It's too lengthy to go through in an article, but is worth a read.
5. Bill C-14, Assisted Dying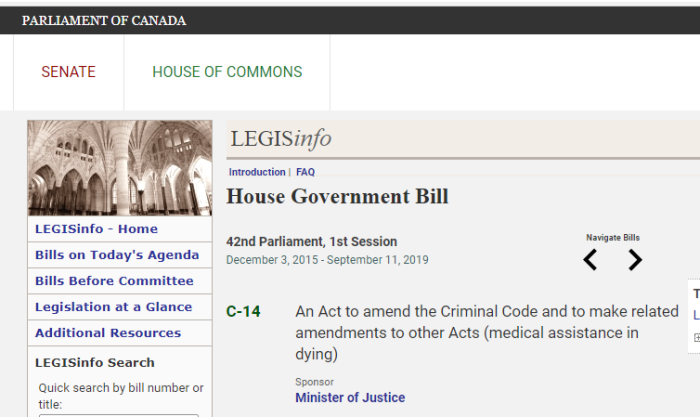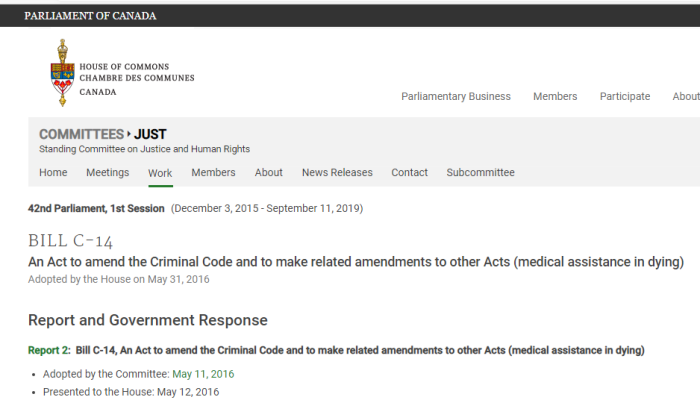 SUMMARY
.
This enactment amends the Criminal Code to, among other things,
(a) create exemptions from the offences of culpable homicide, of aiding suicide and of administering a noxious thing, in order to permit medical practitioners and nurse practitioners to provide medical assistance in dying and to permit pharmacists and other persons to assist in the process;
(b) specify the eligibility criteria and the safeguards that must be respected before medical assistance in dying may be provided to a person;
(c) require that medical practitioners and nurse practitioners who receive requests for, and pharmacists who dispense substances in connection with the provision of, medical assist­ance in dying provide information for the purpose of permitting the monitoring of medical assistance in dying, and authorize the Minister of Health to make regulations respecting that information; and
(d) create new offences for failing to comply with the safeguards, for forging or destroying documents related to medical assistance in dying, for failing to provide the required information and for contravening the regulations.
Following the Supreme Court ruling, the Federal Government was ordered to remedy the situation. Bill C-14 was introduced in 2016 to set out the guidelines for medically assisted death.
6. Medical Assistance Exemption
Eligibility for medical assistance in dying
241.2 (1) A person may receive medical assistance in dying only if they meet all of the following criteria:
(a) they are eligible — or, but for any applicable minimum period of residence or waiting period, would be eligible — for health services funded by a government in Canada;
(b) they are at least 18 years of age and capable of making decisions with respect to their health;
(c) they have a grievous and irremediable medical condition;
(d) they have made a voluntary request for medical assistance in dying that, in particular, was not made as a result of external pressure; and
(e) they give informed consent to receive medical assistance in dying after having been informed of the means that are available to relieve their suffering, including palliative care.
Grievous and irremediable medical condition
(2) A person has a grievous and irremediable medical condition only if they meet all of the following criteria:
(a) they have a serious and incurable illness, disease or disability;
(b) they are in an advanced state of irreversible decline in capability;
(c) that illness, disease or disability or that state of decline causes them enduring physical or psychological suffering that is intolerable to them and that cannot be relieved under conditions that they consider acceptable; and
(d) their natural death has become reasonably foreseeable, taking into account all of their medical circumstances, without a prognosis necessarily having been made as to the specific length of time that they have remaining.
To be fair, there are considerable safeguards written into the law to ensure that the person suffering is actually the one making the decision, and that it is voluntary and informed.
7. Where Does It Go From Here?
Currently, the law applies only to adults. But what happens when children decide that they want to make decisions over their own "health care"? Will minors be allowed to get it themselves? This is currently being considered.
The law allows for assisted suicide in the case of serious conditions which cause pain and is irreversible, and to get worse. How much will that get watered down over time? Perhaps this is just a foot-in-the-door technique to be able to end lives over more minor things.
What will happen to medical staff who refuse to participate in this? Will they become subject to sanctions for discrimination, or failing to fulfill a duty?
In fairness to Trudeau (it feels weird defending him), introducing this, or similar legislation, was forced by the 2015 Supreme Court ruling. Some bill had to be introduced at some point, so he doesn't own this one.
Personally, this is conflicting. People should have control over their own lives, yes, but trending down a slope where lives are valued less and less is very troubling. How we treat and care for people reflects the society we live in, and this is the wrong direction to head in.