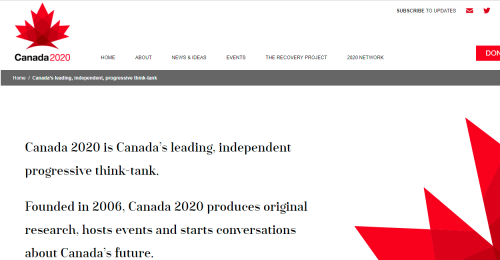 Canada 2020 calls itself Canada's leading, independent progressive think-tank. Keep the term "independent" in mind, as it will become important later on.
In the following sections, the group identifies as an active member of the Global Progress network, with a goal to build a community of progressive ideas and people that will move and shape governments. So, it is independent, or part of a network?
From the onset, there issues with this group, especially when the members are looked up. But who is running Canada 2020? From their own profiles:
Thomas (Tom) Pitfield is Co-Founder of Canada 2020, Canada's leading, independent, progressive think-tank. Prior to his appointment, Tom served as the Chief Digital Strategist for Prime Minister Justin Trudeau's federal election campaign, as well as his campaign for leadership of the Liberal Party of Canada. Previously, Tom served as Senior Policy Advisor to the Leader of the Government in the Senate, the Honourable Jack Austin. He also worked in China for the Canada Chinese Business Council and as a business strategy consultant, specializing in Corporate Governance, for IBM Canada. After co-founding IBM's Toronto Innovation Center, he worked as Policy Advisor to the Director of IBM's Business Partner Channel.
Jennifer Walsh was previously a Professor in International Relations at the University of Oxford, and co-director of the Oxford Institute for Ethics, Law and Armed Conflict. In 2013, she was appointed by the UN Secretary General to serve as his Special Adviser on the Responsibility to Protect. Prof. Welsh sits on the editorial boards of the journals Global Responsibility to Protect and Ethics and International Affairs, as well as the editorial board for the Cambridge University Press BISA series in International Relations. She has also served as a consultant to the Government of Canada on international policy, and acts as a frequent commentator in Canadian media on foreign policy and international relations.
From 2014-18, Anna Gainey served as President of the Liberal Party of Canada. Her leadership was key to growing and empowering grassroots organizing and innovative campaign technologies, which contributed to the election of the first Liberal majority government in 15 years. After Canada's 2015 election, Anna led the transformation to open up and modernize the party – including by eliminating all membership fees and redrafting the party's constitution to better suit 21st century organizing and campaigns. She has also been a leading Canadian advocate in support of more women's participation and leadership in our democracy, government, and economy. Anna is the founder of the Gainey Foundation, which provides funding for environmental and arts education programs for youth, and has been the Executive Director since 2008. She continues to sit on the national board of directors of the Liberal Party of Canada as Past President, as well as on the Board of WarChild Canada, Pointe-à-Callière Museum and the Montreal Heart Institute Foundation.
Matt Browne is a Visiting Fellow at American Progress, working on building trans-Atlantic and international progressive networks and studying trans-Atlantic policy issues. Previously, Matt was director of public affairs in APCO Worldwide's London office, where he ran the company's Europe, Middle East, and Africa government relations practice. Matt is also the former director of Policy Network—the international network founded by Tony Blair, Gerhard Schroeder, Goran Persson, and Giuliano Amato—and remains a member of the organization's governing board and advisory council. During his time at Policy Network, Matt worked closely with a host of progressive leaders, prime ministers' and presidents' offices across the globe, and international organizations such as the U.N. and WTO. Matt also ran the international press operation for New Labour's general election campaigns in 2001 and 2005.
Mira Ahmad is Canada 2020's Director of Communications and Operations. Mira has over six years of experience working as a political strategist and activist. She has served as the President of the Young Liberals of Canada, and currently sits on the Liberal Party of Canada's National Board of Directors as Vice President. Mira has provided strategic advice and managed campaigns for a number of candidates running for federal office. She has worked for the Jeanne Sauvé Foundation, a non-profit educational and leadership development organization in Montreal, as well as Data Sciences, a data analytics and digital marketing firm. Mira has a Bachelor's degree in Communication Studies from Concordia University. She has long been active in a number of volunteer causes and leadership initiatives, including the Climate Reality Project Canada, the Austrian Leadership Program and Big Brothers Big Sisters of Canada.
Kate [Graham] is an active community member and volunteer. She served as the Chair of the Pillar Nonprofit Network Board of Directors, on the Executive of the ReForest London Board of Directors, and as a volunteer for numerous community organizations. She was named one of London's Top 20 Under 40 in 2015. Kate has also dabbled in politics herself, including running in the 2018 Provincial Election in Ontario.
Far from being "independent" as their website claims, Canada 2020 is run by partisan hacks of the Liberal Party of Canada. They are insiders masquerading as a non-partisan group.
And who is funding Canada 2020? At the bottom of their website, the major donors are listed. Some interesting ones include: Facebook, Mastercard, Power Corporation and Shopify. Maclean's did a great piece a few years back on the myriad of connections.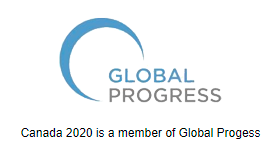 Recovery Project Build Back Better Agenda
Recovery Project Build Back Better Report
In September 2020, Canada 2020 and Global Progress hosted the Recovery Summit, with a goal to "Build Back Better" (the globalist catch phrase). It would also involve remaking society environmentally, socially, and financially. In short, there was an opportunity for a RESET.
In the early days of the pandemic, Canada 2020, Global Progress, and the Institute of Fiscal Studies and Democracy (IFSD) at the University of Ottawa launched The Recovery Project, an initiative designed to start conversations around social and economic recovery from COVID-19. Built on a foundation of evidence, sustained effort and common purpose, The Recovery Project aims to provide resources, insight and analysis for what comes next.
.
The Recovery Project brings together a large swath of people from a variety of different fields (business, academia, government, and more) to discuss five key themes in the context of recovery: Shared Prosperity, Democratic and Institutions, Sustainability, Global Public Health and Inclusive Societies. These conversations are presented to The Recovery Project's audience by way of livestream broadcasts, podcasts, research and analysis. The Recovery Project has convened leading international and domestic voices to share ideas on how to achieve global and lasting recovery from the pandemic. Notable contributors include former Canadian Prime Minister Paul Martin, former British Prime Minister Gordon Brown, former Irish President Mary Robinson, President and CEO of the International Rescue Committee David Miliband, Dutch Labour Party leader Lodewijk Asscher, CEO of New America, Dr. Anne-Marie Slaughter, former Danish Prime Minister Helle Thorning Schmidt, and Canadian Minister of Natural Resources Seamus O'Regan.
Shared Prosperity ==> Communism
Democratic Institutions ==> World Government
Sustainability ==> Eco-Gods Reign Supreme
Global Public Health –> Medical Tyranny
Inclusive Societies ==> Forced Multiculturalism
Not only is Canada 2020 run by Liberals, but they will by consulting with other Liberals in how to advance their agenda. Strange that "Conservatives" are silent on all of this.
On March 31, 2021, this NGO posted a video which included an interview with Canadian Heritage Minister Steven Guilbeault. The topic was around a proposed Bill to protect against online harms. While idea itself sounds well meaning, the details of implementation are still vague, and that's troubling.
The full video with Canada 2020 is here, and should be watched in full. None of the clips are of people being taken out of context.
Heritage Minister Steven Guilbeault admits that Canadians weren't consulted in the content of this bill, and he's okay with that. Instead, he points to foreign governments and NGOs with their own agendas as the source material. Strange that the people who would be most impacted aren't able to submit their concerns.
Under the proposed legislation, the Regulator would be able to tell social media companies what kind of content can be taken down, and in fact order certain things removed. Given the prospect of heavy fines, it seems very unlikely that any outlet will put up a fuss. After all, the users aren't paying for the service.
Guilbeault mentions that he finds the Australian model the most attractive. The bureaucrat in charge would have the power to enter into agreements with NGOs and social media companies. So while the legislation itself may not be too bad, it's implementation is open to interpretation.
A positive moment here: Guilbeault admits that adding "misinformation" into things that get blocked would be tricky, and open up all kinds of free speech considerations. That said he brags about using public money to fund groups to promote government talking points. That is already happening here, here, and here. In fact, subsidies are rampant in Canadian media. So while not directly banning certain ideas, he supports funding opposition to those ideas.
Is this group, Canada 2020, really pulling at least some of the strings of the Trudeau Government? At least as far as online freedoms, Guilbeault saw no need to consult with actual Canadians. He would rather get input from non-governmental organizations.
https://www.macleans.ca/politics/ottawa/inside-the-progressive-think-tank-that-really-runs-canada/
https://canada2020.ca/people/thomas-pitfield/
https://canada2020.ca/people/jennifer-welsh/
https://canada2020.ca/people/anna-gainey/
https://canada2020.ca/people/matt-browne/
https://canada2020.ca/people/mira-ahmad/
https://canada2020.ca/people/kate-graham/
https://recoveryproject.ca/the-recovery-summit/
https://recoveryproject.ca/about/
Misinformation Counters Run By Political Operatives
Grants Given To Groups Fighting "Misinformation"
Ottawa Colluding With Facebook On Permitted Content