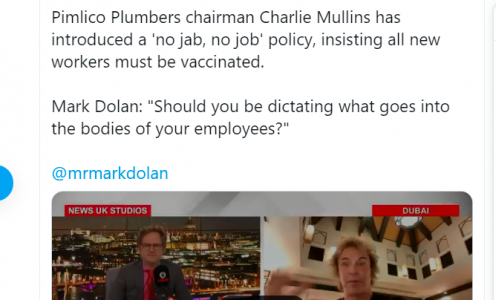 https://twitter.com/talkRADIO/status/1355245943826894850
We are told in the West that the free market and personal choice are what make some businesses thrive, all while others die off. It's time to really test that theory.
1. Disclaimer Against Physical Violence
This should go without saying, but will be anyway: This is NOT a call for physical violence, or breaking the law. Rather it is using the power as consumers to cripple businesses who engage in practices the public finds abhorrent. And forcing employees to take an experimental, mRNA vaccine to combat something with a 99% recovery rate is about as bad is gets. So let these places die off.
2. Bankrupt Companies Who Do This
The above video went viral (no pun intended), on Twitter. The man argues that this policy will be necessary for all new employees. Interestingly, the virus is so smart that legacy or grandfathered employees are not at risk. That alone guts any real argument that it's necessary
What he doesn't seem to realize is that those same "safety" arguments can be turned around against him. He may claim that it's required to protect the public. We could just as easily argue that bankrupting such businesses — and deterring others in the future — is in the public interest. These mRNA injections aren't really even vaccines, but more of a gene replacement therapy.
Is this coercion? Absolutely not! Businesses fail all the time because they charge do much, offer poor products of services, or get squeezed out by better competitors. It's the free market doing its thing. And by that logic, companies who DON'T pressure people into risking their lives are a superior alternative.
Yes, he (most likely) does have the right to stick that in an employment contract for new employees. And we, as consumers, have the right to cripple his business, and any other such business.
In the show "Game of Thrones", heads were put on spikes as a warning to others. It's possible to do the ECONOMIC equivalent here: ruin businesses who mandate these "vaccines" as a warning to others considering similar policies.
If imposing this requirement is personal choice, then so is the decision to shut down companies who are involved in it. In a way, this isn't much different than what some vegans do, but it's easier to rally people behind.
Refuse to shop there
Discourage friends and family to shop there
Publicize these companies
Prospective employees: file lawsuits, complaints
(To business owners), refuse to provide service to such people
Will companies facing bankruptcy feel that forcing poisonous injections is necessary? Probably not, as principles tend to fly by the wayside when money is involved.
3. Other Articles On CV "Planned-emic"
The rest of the series is here. Many lies, lobbying, conflicts of interest, and various globalist agendas operating behind the scenes, obscuring the vile agenda called the GREAT RESET. The Gates Foundation finances: the WHO, the US CDC, GAVI, ID2020, John Hopkins University, Imperial College London, the Pirbright Institute, the BBC, and individual pharmaceutical companies. The International Health Regulations are legally binding. The media is paid off. The virus was never isolated, PCR tests are a fraud, as are forced masks, social bubbles, and 2m distancing.