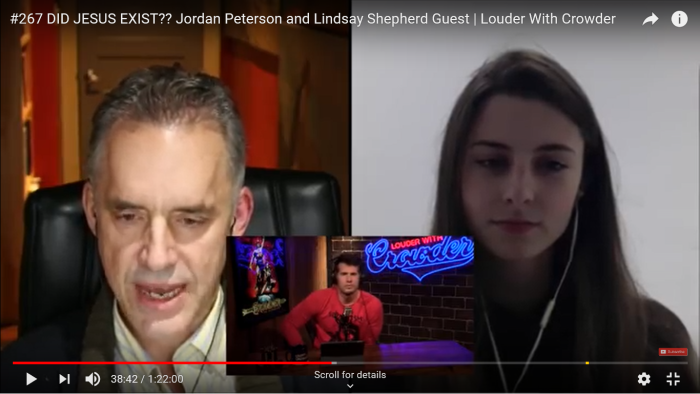 (Peterson interview after suing)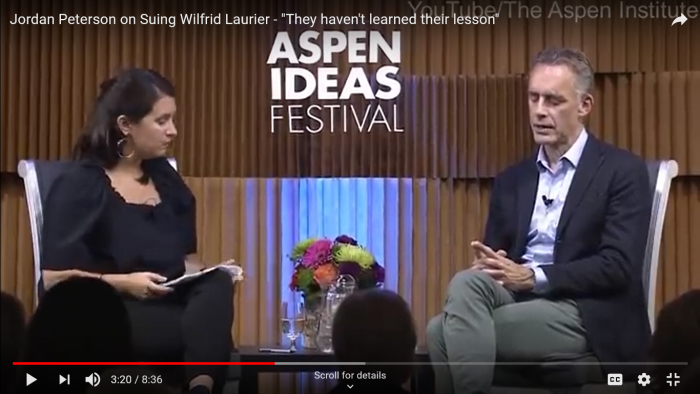 (Peterson announcing lawsuit to follow Shepherd)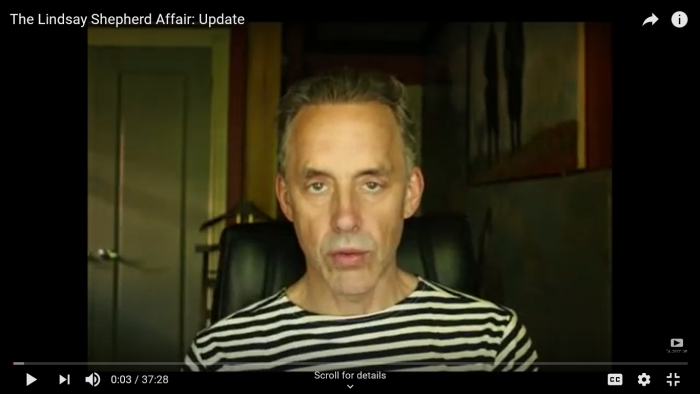 (Pedantic Shepherd, YouTube is beside the point)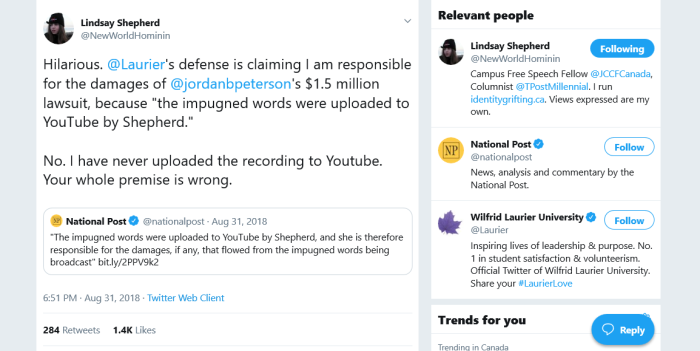 (Shepherd sues, then complains about being sued)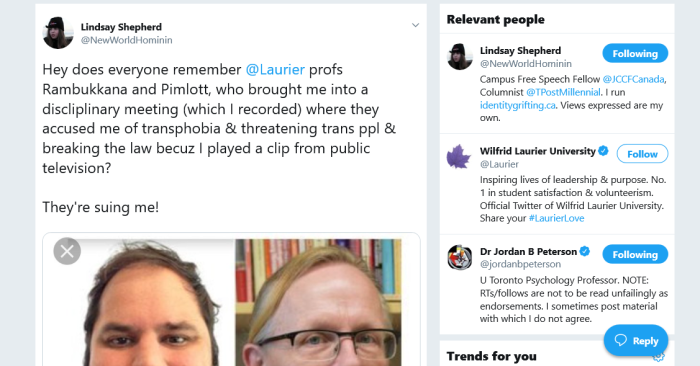 1. Important Links
CLICK HERE, for a prior review on Jordan Peterson.
CLICK HERE, for a prior review on Bill C-16 (gender identity)
CLICK HERE, for Louder With Crowder interview.
(See 49:00 and 50:20 for Peterson comments on OHRC policies)
CLICK HERE, for Peterson & Cathy Newman (cringe)
CLICK HERE, and HERE, for Peterson's cognitive dissonance deplatforming Faith Goldy at free speech event.
CLICK HERE, for Shepherd's site: identitygrifting.ca.
CLICK HERE, for Peterson announcing $1.5M lawsuit and Wilfrid Laurier University and 3 employees.
CLICK HERE, for Peterson interview on lawsuit (2:55)
CLICK HERE, for National Post article on WLU 3rd party defence.
CLICK HERE, for the Ontario Human Rights Code.
CLICK HERE, for Ontario Court forms index.
CLICK HERE, for Ontario Rules of Civil Procedure.
CLICK HERE, for Ontario Libel and Slander Act.
CLICK HERE, for Hill v. Church of Scientology, 1995.
CLICK HERE, for Ontario Bill 52, protecting expression in matters of public interest.
2. Background Information
The details of the Wilfrid Laurier University scandal (Lindsay Shepherd, the 3 staff members, and Jordan Peterson), is old news at this point. The article just focuses on the lawsuits brought against WLU and its staff by Peterson and Shepherd.
It is the opinion here that although the facts alleged are basically true, the claims are fraudulent. They are combined seeking 5 million dollars (Shepherd $3.6, Peterson $1.5M). This is an abuse of the court system, and a way to unjustly enrich themselves.
Keep in mind, Peterson's only claim to damages was that the tape defamed him (comparing him to Hitler, and other comments). His critics were vilified by the media. He suffered no actual damage, other than being named in a tape that Shepherd released.
Shepherd claims that not only was this 42 minute meeting difficult (surely it was), but that she was never treated the same way again. She cites a few examples, but nothing that would lead a reasonable person to think this would be worth millions in damages. Shepherd claims to be unemployable in academia, but her new love for media probably helped that.
Did WLU staff act like d*****bags? YES
Were inappropriate things said? YES
Was a tape of this leaked to the media? YES
Does any of this amount to millions in damages? NO
3. Complete Hypocrisy
During the Louder With Crowder interview, Peterson (at 50:20) criticizes the Ontario Human Rights Code for automatically making employers vicariously liable for things employees say. However, he has no issue with USING vicarious liability in order to name the University in his lawsuit.
Peterson claimed that it was libel for Rambukkana to compare him to Hitler, yet Peterson compares trans activists to Communists, who have caused the deaths of millions of people.
Peterson has come to fame claiming to be a free speech champion, but has no issue deplatforming speakers he doesn't agree with. Faith Goldy is a particularly bad example.
Shepherd and Peterson both claim to be free speech champions, but then sue over words they don't like.
4. Karma Is A B***h
In 2018, Shepherd launched a $3.6 million lawsuit against Wilfrid Laurier University and 3 of its staff (Nathan Rambukkana, Herbert Pimlott, and Adria Joel). Although the infamous meeting was cited, there were other problems occurring later which were cited in the statement of defense.
Jordan Peterson filed a $1.5 million lawsuit of his own, claiming that Laurier hadn't learned its lesson. Peterson claimed that the infamous tape had damaged his reputation.
Regarding Peterson's claim, the WLU filed a 3rd party claim (Form 29A). It stated that if Peterson actually had suffered damages, he should be suing Lindsay Shepherd, as she made the tape secretly and released it.
Shepherd was outraged. After filing a lawsuit against her university, she is shocked that they would use her as a defence in a related lawsuit. She brought this on herself.
WLU should consider Rule 2.1.01
5. Some Law On Frivilous Proceedings
Rule 2.1 General Powers to Stay or Dismiss if Vexatious, etc.
.
Stay, Dismissal of frivolous, vexatious, abusive Proceeding
Order to Stay, Dismiss Proceeding
2.1.01 (1) The court may, on its own initiative, stay or dismiss a proceeding if the proceeding appears on its face to be frivolous or vexatious or otherwise an abuse of the process of the court. O. Reg. 43/14, s. 1
Although litigation tends to drag on a long time, something like this should be used. The litigation (particularly Peterson's) is an abuse of process.
6. Ontario Libel & Slander Act
Definitions
1 (1) In this Act,
"broadcasting" means the dissemination of writing, signs, signals, pictures and sounds of all kinds, intended to be received by the public either directly or through the medium of relay stations, by means of,
.
(a) any form of wireless radioelectric communication utilizing Hertzian waves, including radiotelegraph and radiotelephone, or
(b) cables, wires, fibre-optic linkages or laser beams,
and "broadcast" has a corresponding meaning; ("radiodiffusion ou télédiffusion", "radiodiffuser ou télédiffuser")
"newspaper" means a paper containing public news, intelligence, or occurrences, or remarks or observations thereon, or containing only, or principally, advertisements, printed for distribution to the public and published periodically, or in parts or numbers, at least twelve times a year. ("journal") R.S.O. 1990, c. L.12, s. 1 (1).
Wilfrid Laurier and its 3 staff members did not do this. Shepherd did. She released the recording to the media, with the intent of making it widely distributed. So Rambukkana and Pimlott have a valid point. If Peterson did suffer damages, it was caused by Lindsay Shepherd.
Yes, Rambukkana and Pimlott were unprofessional for making the comments in the first place. However, it is clear they never meant to be recorded.
There is also some ambiguity as to the Statute of Limitations, whether it would be 3 months, or 2 years. If it is 3 months, then it has already lapsed.
7. Some Canadian Cases
Here is Hill v Church of Scientology of Toronto (1995), which dropped "actual malice" as a requirement.
Here is Grant v Torstar (2009), which created an exception for responsible journalism.
Here is Crookes v Newton (2011), which ruled that linking, or hyperlinking stories does not count as publishing.
However, all of this may be irrelevant, since it was Shepherd who SECRETLY recorded the meeting, and then chose to publish it WITHOUT THE KNOWLEDGE OR CONSENT of the other parties.
8. Ontario's Bill 52
Not sure if this would be relied on in the proceedings, but in 2015, the Ontario Government passed Bill 52 on this subject. Interesting is section 137.1
Dismissal of proceeding that limits debate
Purposes
Rejet d'une instance limitant les débats
Objects
137.1 (1) The purposes of this section and sections 137.2 to 137.5 are,
(a) to encourage individuals to express themselves on matters of public interest;
(b) to promote broad participation in debates on matters of public interest;
(c) to discourage the use of litigation as a means of unduly limiting expression on matters of public interest; and
(d) to reduce the risk that participation by the public in debates on matters of public interest will be hampered by fear of legal action.
9. Final Thoughts On This
The topic of tort reform is a popular one in recent years, particularly in the United States. Putting a cap on maximum damages, or making it harder to collect on bogus claims is a goal worth pursuing.
Any google or online search of "tort reform" will lead to an almost endless number of matches.
This is not at all to say that a person should "never" go to civil court. If an employer doesn't pay your wages, or your property is damaged, or bills are not paid, then litigation can be a very valid path. Admittedly, "reasonable" is very subjective. However, most people can agree that one must suffer actual damages to go to court.
However, Shepherd and Peterson have both laid million dollar lawsuits because people said mean things to them. (Shepherd's claim cites more detail). And hypocritically, both think nothing of mocking their detractors.
These 2 are not the free speech champions they pretend to be. Rather, they support free speech when it is convenient to do so. They are "free-speech grifters".
Hard to feel sorry for her anymore.