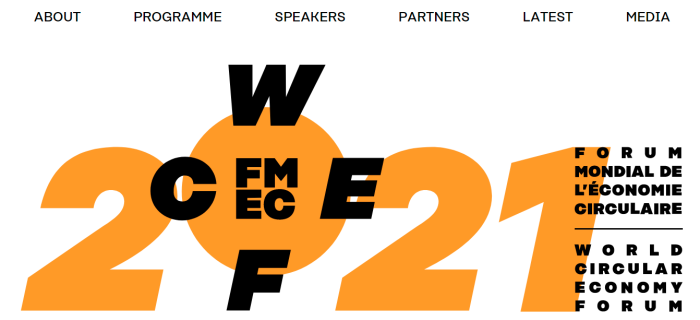 Have you heard about the World Circular Economy Forum? If not, let's take a look at what's going on over here. This is a collection of people who devise ways to make the economy function in a waste free world.
At first, this organization seems to present as a large scale recycling scheme, devoted to reducing garbage and pollution. While there is truth in that, it appears the goals are much larger.
The first forum took place in 2017, and the most recent one was hosted in 2021. That said, 2017 is an interesting year, since that's when the Canadian budget started pumping money into alternative protein sources.
It's a bit amusing that this group goes out of its way to have a name as close as possible to the World Economic Forum. Did they thing no one would notice? Or that no one would care? Anyhow, let's see who's supposedly running this thing.

Partners include:
African Circular Economy Alliance
Circular Economy Leadership Canada
City of Toronto
Ellen MacArthur Foundation
European Circular Economy Stakeholders Platform
European Union
Finnish Government
International Chamber of Commerce
Government of Canada
Government of the Netherlands
United Nations Environmental Program
Strangely, I don't recall any public figures campaigning on becoming part of such an organization. Nor does there seem to have been anything in the way of media coverage. But at least we aren't forced to help finance this "circular economy" fad, are we?
It turns out, that we will be. At least that's what this 2021 report makes pretty clear. Like other eco initiatives, this will require lots of start-up money.
[Page 3]
The current state of circular finance
.
Despite the lack of harmonized frameworks, taxonomies, and metrics, financial institutions are beginning to move forward with initiatives to advance circular finance solutions in various ways. Globally, some financial institutions have set multi-billion dollar targets for investing in circular deals. Large multilateral development banks are supporting financial institutions in developing structured frameworks to accommodate innovative financial solutions and advisory services. A report authored by Patrick Schröder and Jan Raes and published by Chatham House titled, "Financing an inclusive circular economy: De-risking investments for circular business models and the SDGs," highlights the importance of public investment and stimulus packages to de-risk and incentivize financial investments in circular models.
In order to get this going, billions of dollars will need to be pumped into it. Note: this doesn't refer to any accounting, just an idea in broad strokes. The report continues:
[Page 8]
Circular economy opportunities and priorities are increasingly intersecting with broader ESG considerations such as biodiversity, equity, diversity and inclusion, and climate action goals, although the intersections are not yet well understood. Investment in circular business strategies and operations can result in significant positive social, environmental, and economic benefits. Circular businesses are creating more resilient green jobs and skills that will be needed in a low-carbon future. For instance, the Share, Reuse, Repair Initiative's Just Circular Recovery and Transition project brings together circular innovators and community organizations to advance employment opportunities within marginalized communities. Additionally, circular businesses are prompting consumers to have conversations around lighter living and to make more sustainable choices.
[Page 8]
A study by the Ellen McArthur Foundation shows that 45% of greenhouse gas (GHG) emissions are associated with products and food. Achieving net-zero commitments will require reducing embodied carbon through circular strategies, such as designing for reuse and remanufacturing, product-as-a-service models, and advanced recycling. For instance, the Ellen McArthur foundation estimates that remanufacturing and reusing an engine reduces carbon intensity by 85%
This also ties in with the idea of "alternative" protein sources and eating bugs. After all, if traditional food sources are considered to not be environmentally friendly, they need to be phased out.
It turns out that taxpayer dollars are being used for the "circular economy" initiative, even if they aren't being directly given to this organization. Here are some of those grants: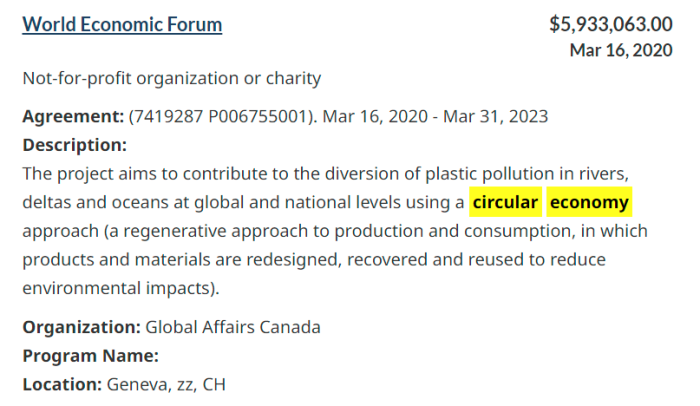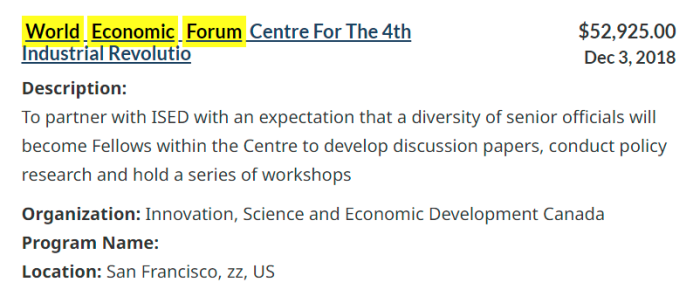 And in a turn of events, Canadian taxpayers is also giving large amounts of money directly to the World Economic Forum. In fact, there is a lot they are forced to finance.
| RECIPIENT | DATE | DATE |
| --- | --- | --- |
| Accelerating Sustainability Events Management Inc | Jul 28, 2021 | $175,000.00 |
| Carboncure Technologies Inc | Jan 8, 2021 | $2,026,500.00 |
| City Of Guelph | Mar 13, 2020 | $10,000,000.00 |
| Collège D'Enseignement Général Et Professionnel | Feb 6, 2020 | $2,000,000.00 |
| Conference Board Of Canada | Mar 31, 2021 | $390,000.00 |
| Council Of The Great Lakes Region | Mar 18, 2020 | $553,000.00 |
| Distillerie Maison Alfred Inc. | Dec 5, 2021 | $30,476.00 |
| Gabriola Island Recycling Organization | Mar 24, 2022 | $98,000.00 |
| Global Centre For Indigenomics | Oct 27, 2021 | $49,900.00 |
| Keddie, Leanne | Mar 15, 2022 | $234,045.00 |
| Leading Change For Young Professionals | Jul 28, 2021 | $299,875.00 |
| Natural Step (Canada) Inc. | Feb 21, 2019 | $299,875.00 |
| Ontario Genomics Institute | Oct 1, 2021 | $1,262,661.00 |
| Leadership Coalition, Natural Step Canada Inc | Mar 18, 2020 | $175,000.00 |
| Pivot Furniture Technologies Inc. | Feb 1, 2019 | $170,900.00 |
| Pivot Furniture Technologies Inc. | Sep 16, 2021 | $460,000.00 |
| Rethink Resource Inc. | May 31, 2021 | $30,000.00 |
| Rethink Resource Inc. | May 31, 2021 | $50,000.00 |
| Tgm Tours Inc. | Jan 25, 2021 | $143,000.00 |
| University Of British Columbia | Mar 18, 2022 | $1,040,000.00 |
| World Economic Forum | Dec 23, 2014 | $1,000,000.00 |
| World Economic Forum | Sep 29, 2015 | $6,000,000.00 |
| World Economic Forum | Dec 14, 2015 | $10,000,000.00 |
| World Economic Forum | Dec 3, 2018 | $52,925.00 |
| World Economic Forum | Apr 25, 2019 | $999,580.00 |
| World Economic Forum | Jan 17, 2020 | $500,000.00 |
| World Economic Forum | Mar 16, 2020 | $5,933,063.00 |
The University of British Columbia is a registered charity, so it already receives a favourable tax rate on its income.
This is eye-catching, this grant to the World Economic Forum, Center for 4th Industrial Revolution. Isn't that the name of one of Klaus Schwab's books? Isn't this all supposed to be just a conspiracy theory?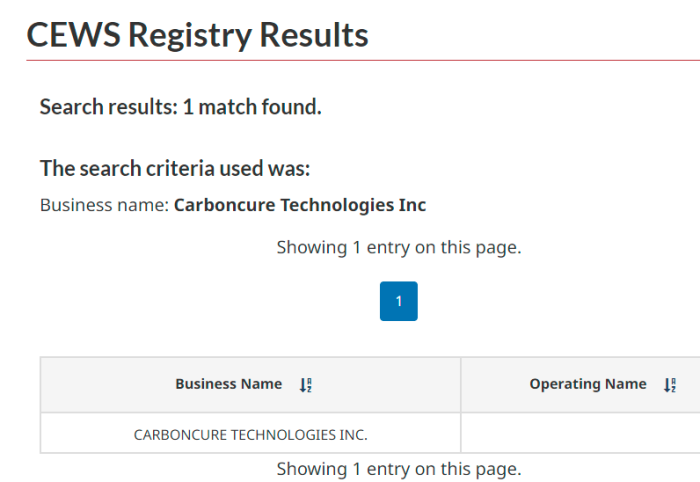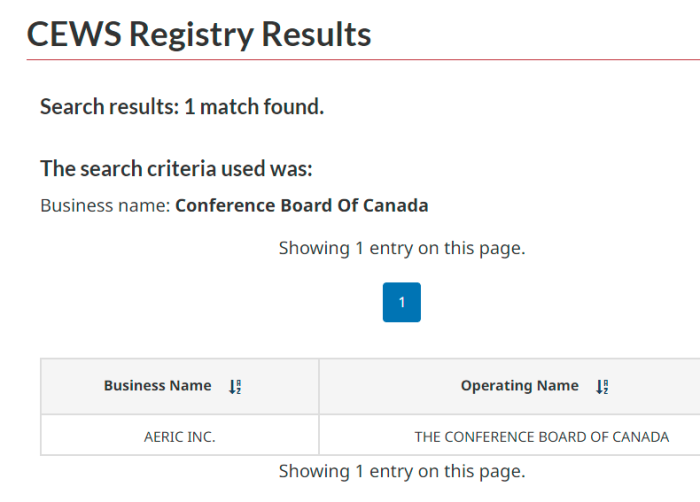 It's also worth mentioning that both Carboncure Technologies Inc. and the Conference Board Of Canada were receiving CEWS, the Canada Emergency Wage Subsidy, over the last few years. This is run by the C.R.A. and is used to help pay employees' wages.
There is a corresponding group here called Circular Economy Leadership Canada. Its partners include many well known chains. It states on its main page that:
"We're collectively committing to support the U.N. Sustainable Development Goal (SDG) 12 on responsible consumption and production, and to substantially reduce waste, in all of its forms, by 2030."
In other words, it's helping to implement parts of Agenda 2030. The organization just needs large amounts of financial assistance (continuously) to make this happen.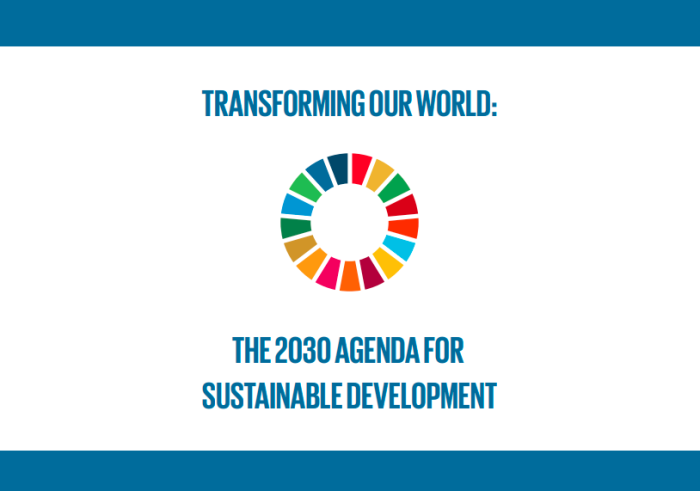 Goal #2 in the U.N. Sustainable Development Agenda is ending hunger in all its forms. One of the methods pushed is phasing out traditional agriculture with alternative protein sources, such as bugs.
Goal #13 in the UNSDA is preventing climate change. There is actually considerable overlap with #2. By stating that certain agricultural practices cause these changes, it provides a further excuse to further shut down farms.
Goal #12 ties in to both #2 and #13. This calls for creating "sustainable food and consumption patterns". By saying that current models do not suffice in feeding everyone, while asserting they cause climate change, this goal is able to solve the other two. It's another instance of causing the problem, getting a reaction, then proposing a solution.
A cynic may wonder just how literally the term "circular economy" is meant to be taken. After all, there are efforts to get people in the West eating bugs. After humans are dead and buried, presumably they'll be eaten by bugs themselves.
(1) https://www.wcef2021.com/
(2) https://www.wcef2021.com/about/
(3) https://circulareconomyleaders.ca/wp-content/uploads/2021/10/WCEF-Financing-the-Circular-Economy-What-We-Heard-Report-20211015-EN1.pdf
(4) https://search.open.canada.ca/grants/
(5) https://search.open.canada.ca/grants/record/ic,230-2018-2019-04-0189,current
(6) https://apps.cra-arc.gc.ca/ebci/habs/cews/srch/pub/bscSrch
(7) https://sustainabledevelopment.un.org/content/documents/21252030%20Agenda%20for%20Sustainable%20Development%20web.pdf
FOOD SERIES:
(A) https://canucklaw.ca/cricket-production-subsidies-aspire-food-group/
(B) https://canucklaw.ca/budget-2017-subsidizing-the-phase-out-of-meat-in-canada/
(C) https://canucklaw.ca/holomodor-2-0-coming-or-all-just-a-coincidence/
(D) https://canucklaw.ca/nacia-and-insect-consumption-alternative-protein-market/