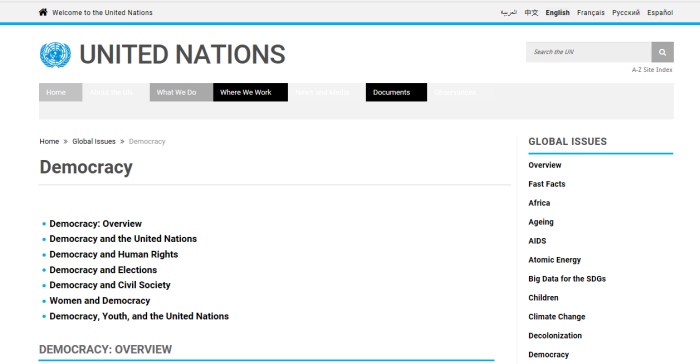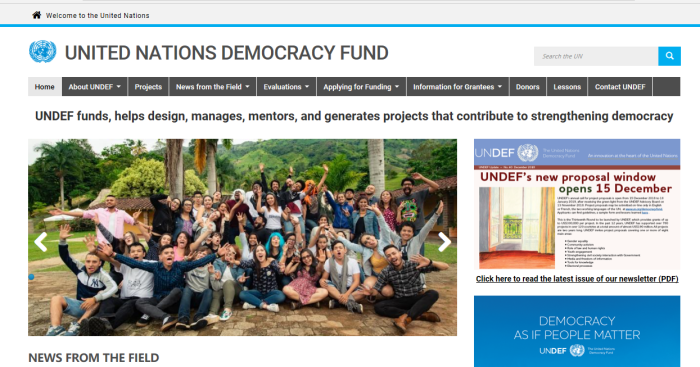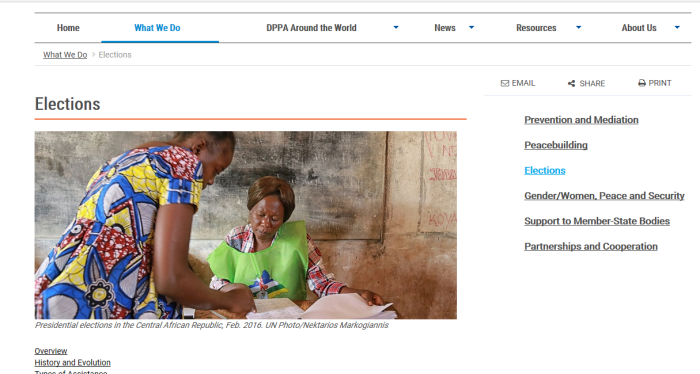 (1) http://www.un.org/en/sections/issues-depth/democracy/index.html
(2) https://www.un.org/democracyfund/
(3) https://www.un.org/en/charter-united-nations/index.html
(4) https://dppa.un.org/en/elections
(5) https://dppa.un.org/en/dppa-around-world
(6) http://www.ilo.org/wcmsp5/groups/public/—dgreports/—integration/documents/meetingdocument/wcms_079439.pdf
(7) https://www.ohchr.org/EN/HRBodies/HRC/Pages/Home.aspx
(8) http://www.un.org/ga/search/view_doc.asp?symbol=A/HRC/RES/19/36
The United Nations interferes in national governance all over the world. Here are just a few exerps.
2005 World Summit Outcome
I. Values and principles
1. We, Heads of State and Government, have gathered at United Nations Headquarters in New York from 14 to 16 September 2005.
2. We reaffirm our faith in the United Nations and our commitment to the purposes and principles of the Charter and international law, which are indispensable foundations of a more peaceful, prosperous and just world, and reiterate our determination to foster strict respect for them.
3. We reaffirm the United Nations Millennium Declaration, which we adopted at the dawn of the twenty-first century. We recognize the valuable role of the major United Nations conferences and summits in the economic, social and related fields, including the Millennium Summit, in mobilizing the international community at the local, national, regional and global levels and in guiding the work of the United Nations.
Quite the loyalty oath here….
6. We reaffirm the vital importance of an effective multilateral system, in accordance with international law, in order to better address the multifaceted and interconnected challenges and threats confronting our world and to achieve progress in the areas of peace and security, development and human rights, underlining the central role of the United Nations, and commit ourselves to promoting and strengthening the effectiveness of the Organization through the implementation of its decisions and resolutions.
7. We believe that today, more than ever before, we live in a global and interdependent world. No State can stand wholly alone. We acknowledge that collective security depends on effective cooperation, in accordance with international law, against transnational threats.
8. We recognize that current developments and circumstances require that we urgently build consensus on major threats and challenges. We commit ourselves to translating that consensus into concrete action, including addressing the root causes of those threats and challenges with resolve and determination.
9. We acknowledge that peace and security, development and human rights are the pillars of the United Nations system and the foundations for collective security and well-being. We recognize that development, peace and security and human rights are interlinked and mutually reinforcing. 10. We reaffirm that development is a central goal by itself and that sustainable development in its economic, social and environmental aspects constitutes a key element of the overarching framework of United Nations activities.
This all sounds lovely and flowery, but are nations actually swearing off independence and autonomy? It goes on and on, with "independent" nations swearing and affirming their commitment to being collectively governed.
"The UN General Assembly and democracy
Since 1988, the General Assembly has adopted at least one resolution annually dealing with some aspect of democracy. Democracy has emerged as a cross-cutting issue in the outcomes of the major United Nations conferences and summits since the 1990s and in the internationally agreed development goals they produced. Member States at the World Summit in September 2005 reaffirmed that "democracy is a universal value based on the freely expressed will of people to determine their political, economic, social and cultural systems and their full participation in all aspects of their lives
The Summit Outcome Document also stressed that "democracy, development and respect for human rights and fundamental freedoms are interdependent and mutually reinforcing," and pointed out that "while democracies share common features, there is no single model of democracy." Member States resolved to promote increased representation of women in Government decision-making bodies, including to ensure their equal opportunity to participate fully in the political process.
The World leaders pledged in the Millennium Declaration to spare no effort to promote democracy and strengthen the rule of law, as well as respect for human rights and fundamental freedoms. They resolved to strive for the full protection and promotion in all countries of civil, political, economic, social and cultural rights for all and to strengthen the capacity of all countries to implement the principles and practices of democracy and respect for human rights."
This all sounds good, but why does the UN see the need to meddle in everyone's elections? Is there anything the UN "won't involve itself in?
Of course, it wouldn't be complete without pandering to gender quotas
Here are some of the goals:
In 2000, the Commission recommended a series of important legislative, institutional and practical measures to consolidate democracy (resolution 2000/47); and in 2002, the Commission declared the following as essential elements of democracy:
-Respect for human rights and fundamental freedoms
-Freedom of association
-Freedom of expression and opinion
-Access to power and its exercise in accordance with the rule of law
-The holding of periodic free and fair elections by universal suffrage and by secret ballot as the expression of the will of the people
-A pluralistic system of political parties and organizations
-The separation of powers
-The independence of the judiciary
-Transparency and accountability in public administration
-Free, independent and pluralistic media

Since its establishment in 2006, the Human Rights Council (successor to the Commission) has adopted a number of resolutions highlighting the interdependent and mutually reinforcing relationship between democracy and human rights. Recent examples include resolutions 19/36 and 28/14 on "Human rights, democracy and the rule of law".
Keep in mind, that the Human Rights Council is made up of memberstates which don't believe in human rights. Also, the Council for the Status of Women contains memberstates which don't believe women are equal, or should have rights.
Promoting the idea of democracy sounds great, but also keep in mind some of the other ideas this globalist organization is behind:
1/ UN proposes a world government (UNPA)
2/ UN proposes internet regulation (digital cooperation)
3/ UN wants to ban criticism of Islam globally
4/ UN want global migration compact
5/ UN pushed Agenda 21
6/ UN pushed Agenda 2021
7/ UN pushed Agenda 2030
8/ UN promotes gender/language agenda
9/ UN promotes forestry control
10/ UN wants urban development control
11/ UN pushed Paris Accord
12/ UN pushed climate change scam
13/ UN promotes abortion as human right
The idea of building up democratic systems across the globe sounds very appealing. But considering how much the UN controls, it is difficult to not view any such government as a UN puppet.
The UN wants governments "democratically" elected, as long as those governments support UN agendas.