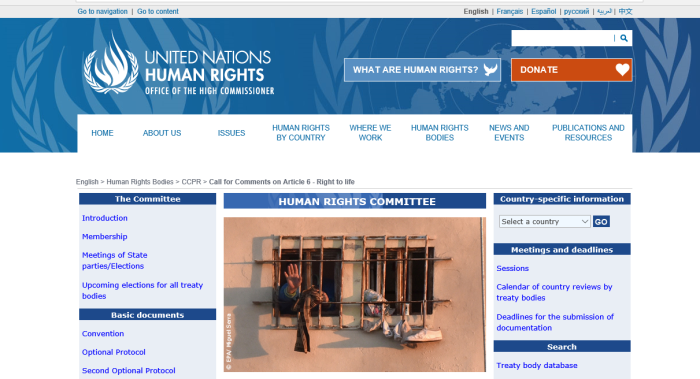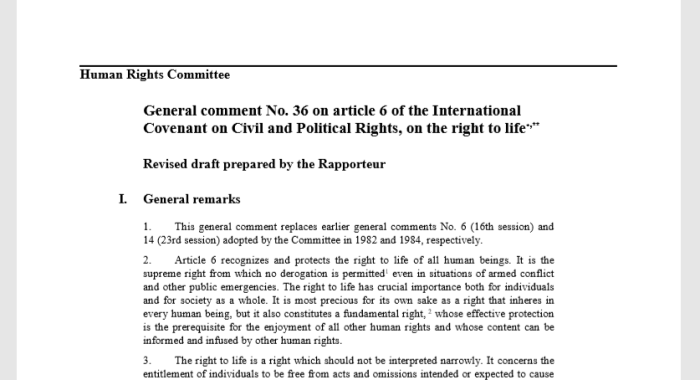 1. Other Articles on Abortion/Infanticide
(1) https://canucklaw.ca/canadian-universities-fighting-against-free-speech-and-free-association-in-court/
(2) https://canucklaw.ca/the-new-lindsay-shepherd-statistics-are-now-violence-infanticide-2/
(3) https://canucklaw.ca/infanticide-part-3-ny-virginia-to-legalise-up-to-birth-abortion/
(4) https://canucklaw.ca/infanticide-part-4-leave-no-survivors/
2. Important Links
(1) https://www.ohchr.org/en/hrbodies/ccpr/pages/gc36-article6righttolife.aspx
(2) https://www.ohchr.org/Documents/HRBodies/CCPR/GCArticle6/GCArticle6_EN.pdf
(3) International Convenant On Civil And Political Rights On Right To Life
3. General Comments
"2. Article 6 recognizes and protects the right to life of all human beings. It is the supreme right from which no derogation is permitted1 even in situations of armed conflict and other public emergencies. The right to life has crucial importance both for individuals and for society as a whole. It is most precious for its own sake as a right that inheres in every human being, but it also constitutes a fundamental right, 2 whose effective protection is the prerequisite for the enjoyment of all other human rights and whose content can be informed and infused by other human rights.
3. The right to life is a right which should not be interpreted narrowly. It concerns the entitlement of individuals to be free from acts and omissions intended or expected to cause their unnatural or premature death, as well as to enjoy a life with dignity. Article 6 guarantees this right for all human beings, without distinction of any kind, including for persons suspected or convicted of even the most serious crimes.
4. Paragraph 1 of article 6 of the Covenant provides that no one shall be arbitrarily deprived of his life and that the right shall be protected by law. It lays the foundation for the obligation of States parties to respect and to ensure the right to life, to give effect to it through legislative and other measures, and to provide effective remedies and reparation to all victims of violations of the right to life."
So far, this looks pretty good. The UN states very bluntly that it values life.
Individuals should not be subjected to acts or omissions which cause their premature death (a.k.a. murder), and that they should have dignity in their lives.
States of the UN are obligated to respect life. This applies even to people suspected or convicted of committing the most serious crimes. It seems we are going down the line of "serial killers are human too".
"6. Deprivation of life involves a deliberate3 or otherwise foreseeable and preventable life-terminating harm or injury, caused by an act or omission. It goes beyond injury to bodily or mental integrity or threat thereto, which are prohibited by article 9, paragraph 1.4 "
Nothing in this statement I can disagree with.
"8. Enforced disappearance constitutes a unique and integrated series of acts and omissions representing a grave threat to life and may thus result in a violation of the right to life.7 It also violates other rights recognized in the Covenant, in particular, article 9 (liberty and security of persons), article 7 (prohibition of torture or cruel, inhuman or degrading treatment or punishment) and article 16 (right to recognition of a person before the law). "
Nothing in this passage that is offensive either. Forced disappearances "do" cause an obvious threat to life and violate all sorts of regulations.
We will skip over 9, and come back to it.
"10. [While acknowledging the central importance to human dignity of personal autonomy, the Committee considers that States parties should recognize that individuals planning or attempting to commit suicide may be doing so because they are undergoing a momentary crisis which may affect their ability to make irreversible decisions, such as to terminate their life. Therefore,] States should take adequate measures, without violating their other Covenant obligations, to prevent suicides, especially among individuals in particularly vulnerable situations."
I would agree with this. Taking the effort to engage in intervention to protect potentially suicidal people is definitely worthwhile.
"12. States parties engaged in the use of existing weapons and in the study, development, acquisition or adoption of new weapons, and means or methods of warfare must always consider their impact on the right to life. "
Agree fully.
"14. States parties should monitor the impact on the right to life of less-lethal weapons which are designed for use by law-enforcement agents and soldiers charged with lawenforcement missions, including electro-muscular disruption devices (Tasers),29 rubbercoated metal bullets, and attenuating energy projectiles. The use of such weapons must be restricted only to law-enforcement agents who have undergone appropriate training, and must be strictly regulated in accordance with international protocols for their use."
Try not to kill suspects? Sure, good idea.
"20. The Covenant does not provide an enumeration of permissible grounds for deprivation of life. Still, article 6, paragraphs 2, 4 and 5 implicitly recognize that countries which have not abolished the death penalty and that have not ratified the Second Optional Protocol may continue to apply the death penalty with regard to the most serious crimes subject to a number of strict conditions. Other procedures regulating activity that may result in deprivation of life, such as conditions for use of lethal weapons by the police or protocols for new drug treatment, must be established by law, accompanied by effective institutional safeguards designed to prevent arbitrary deprivations of life, and be compatible with other provisions of the Covenant."
Limit the death penalty to the most serious crimes? Sure.
"28. Persons with disabilities, including psychosocial and intellectual disabilities, are entitled to special measures of protection so as to ensure their effective enjoyment of the right to life on equal basis with others. Such measures of protection shall include reasonable accommodation of public policies which are necessary to ensure the right to life, such as ensuring access of persons with disabilities to essential goods and services, and special measures designed to prevent excessive use of force by law enforcement agents against persons with disabilities."
People with physical and intellectual disabilities are also entitled to life and dignity. Agreed.
"42. Under no circumstances can the death penalty be imposed as part of a policy of genocide against members of a national, ethnical, racial or religious group. Article 6, paragraph 3 reminds all States parties who are also parties to the Genocide Convention of their obligations to prevent and punish the crime of genocide, which include the obligation to prevent and punish all deprivations of life, which constitute part of a crime of genocide."
So, where does the problem exist?
See paragraph #9.
"9. Although States parties may adopt measures designed to regulate terminations of pregnancy, (1) such measures must not result in violation of the right to life of a pregnant woman or her other rights under the Covenant, including the prohibition against cruel, inhuman and degrading treatment or punishment. Thus, (2) any legal restrictions on the ability of women to seek abortion must not, inter alia, jeopardize their lives or subject them to physical or mental pain or suffering which violates article 7. States (3) parties must provide safe access to abortion to protect the life and health of pregnant women, and in situations in which carrying a pregnancy to term would cause the woman (4) substantial pain or suffering, most notably where the pregnancy is the result of rape or incest or when the foetus suffers from fatal impairment. States parties may not regulate pregnancy or abortion in a manner that runs contrary to (5) their duty to ensure that women do not have to undertake unsafe abortions. [For example, they should not take measures such as (6) criminalizing pregnancies by unmarried women or applying criminal sanctions against women undergoing abortion or against physicians assisting them in doing so, when taking such measures is expected to significantly increase resort to unsafe abortions]. Nor should States parties (7) introduce humiliating or unreasonably burdensome requirements on women seeking to undergo abortion. The (8) duty to protect the lives of women against the health risks associated with unsafe abortions requires States parties to ensure access for women and men, and, in (9) particular, adolescents, to information and education about reproductive options, and to a wide range of contraceptive methods. States parties must also (10) ensure the availability of adequate prenatal and post-abortion health care for pregnant women."
Now we get to the real problem,
UNBORN CHILDREN DON'T HAVE THE RIGHT TO LIFE
4. About The Bolded Comments
1/ States can "regulate" abortion, but not if it means violating her rights, or anything she may find cruel, inhumane or degrading. Screw the child.
2/ No legal restrictions if it jeopardises the "mental" health of the mother. Not the physical health or life, but the mental health, which can mean anything.
3/ States must provide access to abortion if it endangers health, and yes, that means mental health. I guess as long as the child in an inconvenience.
4/ Again, they consider "suffering" to be mental as well.
5/ States have to provide abortion to ensure that women won't "unsafely" kill their children
6/ Remove any penalties for abortion, if it would lead to "unsafe" abortions.
7/ Unreasonably burdensome? Would a therapist or medical exam be considered burdensome? Would telling the mother to think it over be too much?
8/ Again, since women may engage in "unsafe" abortions, states are obligated to provide it.
9/ Why the hell are we giving children advice on reproductive options?
10/ Kill the child or birth it, we still have to give the same care to the mother?!?!
UN doesn't seem to see how inconsistent this attitude is with other provisions of the same document.
22. The second sentence of paragraph 1 provides that the right to life "shall be protected by law". This implies that States parties must establish a legal framework to ensure the full enjoyment of the right to life by all individuals. The duty to protect the right to life by law also includes an obligation for States parties to take appropriate legal measures in order to protect life from all foreseeable threats, including from threats emanating from private persons and entities.
24. States parties must enact a protective legal framework which includes effective criminal prohibitions on all forms of arbitrary deprivations of life by individuals, including intentional and negligent homicide, disproportionate use of firearms, infanticide, "honour" killings, lynching, violent hate crimes, blood feuds, death threats, terrorist attacks and other manifestations of violence or incitement to violence that are likely to result in a deprivation of life. The criminal sanctions attached to these crimes must be commensurate with their gravity, while remaining compatible with all provisions of the Covenant.
UN prohibits infanticide, unless it is being done by the mother.
Abortions for everyone.
Abortions for children.