(UN Office on Drugs and Crime)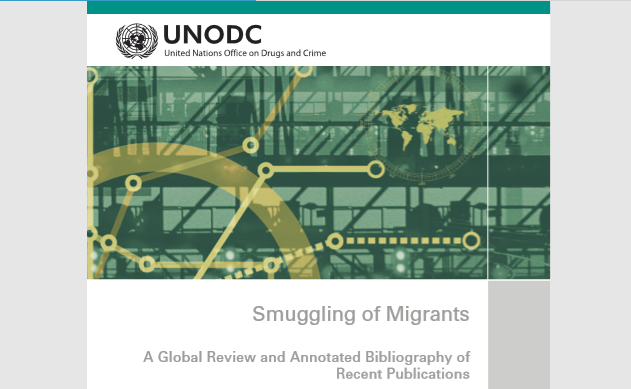 (There is a connection between smuggling and "irregular migration")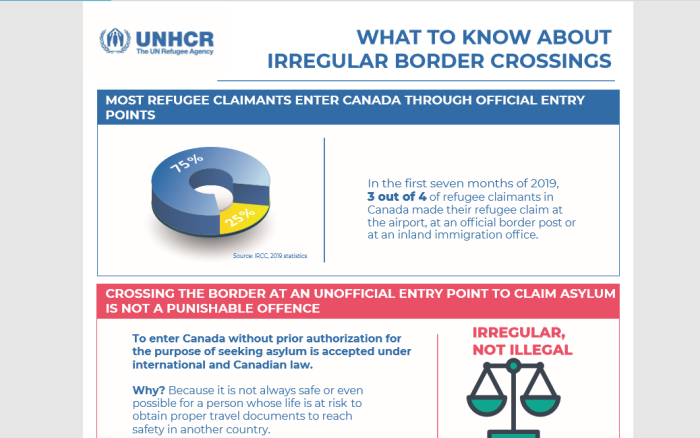 The United Nations has done a surprising amount of research on people being smuggled illegally across international borders. But there seems to be little interest in curbing the problem.
1. UN Review On Smuggling Migrants
(Page 11)
1. Introduction
The purpose of this thematic review is to survey existing sources and research papers on smuggling of migrants and to provide a gap analysis of existing knowledge from a global perspective. Indeed, despite the fact that smuggling of migrants has attracted great media and political attention over the last two decades, there has not been any comprehensive analysis of the state of expert knowledge. Great confusion still prevails about what smuggling of migrants is within the global context of irregular migration.
To be honest, I wonder that myself. "Irregular migrants", which are really illegal aliens, are being who have entered a country illegally, or who entered legally, but remained when their status changed. This could simply be trying to make a distinction where none exists.
Article 6 of the Smuggling of migrants Protocol, requires States to criminalize both smuggling of migrants and enabling a person to remain in a country illegally in order to obtain, directly or indirectly, a financial or other material benefit, as well as to establish as aggravating circumstances acts that endanger the lives or safety or entail inhuman or degrading treatment of migrants. By virtue of article 5, migrants are not liable to criminal prosecution for the fact of having been smuggled. It is therefore understood that the Protocol aims to target smugglers, not the people being smuggled
So, are we to give a pass to the people being smuggled and only focus on the smugglers? What happens if the people being smuggled are a willing part of it?
From a sociological perspective, smuggling of migrants may then include every act on a continuum between altruism and organized crime. Doomernik defines smuggling of migrants as "every act whereby an immigrant is assisted in crossing international borders whereby this crossing is not endorsed by the government of the receiving state, neither implicitly nor explicitly".
(Page 12)
To the extent that the literature available allows a distinction to be made, the issues of irregular migration and trafficking in persons are deliberately not covered per se by this thematic review, despite the fact that these phenomena are closely connected with smuggling of migrants in practice.
They are not immigrants, but aliens.
Again, it seems to be searching for a difference where none exists. Illegal aliens (or "irregular migrants" in UN duck-speak) are people who enter other countries illegally. People who knowingly aid these illegal aliens are people smugglers. The UN engages in this mangling of the language in order to attempt to separate the two.
(Page 15)
2.1.1 Irregular migration
The relationship between irregular migration and smuggling of migrants has been discussed in the literature, with most authors acknowledging the crucial role of smuggling of migrants in facilitating irregular migration.
The legal definition of smuggling of migrants finds wide acceptance among the academic community, which usually refers to articles 3 and 6 of the Smuggling of migrants Protocol. Contrary to the concept of smuggling, the notion of irregular migration does not have a universally accepted definition; however, most academics and experts refer to the definition provided by IOM, which highlights that the most common forms of irregular migration are illegal entry, overstaying and unauthorized work.
In looking at the relationship between the two concepts, Friedrich Heckmann stresses that smuggling of migrants plays a crucial role in facilitating irregular migration, as smugglers may provide a wide range of services, from physical transportation and illegal crossing of a border to the procurement of false documents
Finally, we are getting some real honesty. Smuggling helps to facilitate so called "irregular migrants", who are really illegal aliens. Smugglers transport these aliens, and often obtain false documents for them.
Why doesn't irregular migration have a universally accepted definition? Is it done deliberately to obscure what is going on?
(Page 15)
2.1.2 Trafficking in persons
Smuggling of migrants must also be differentiated from the concept of trafficking in persons, defined under article 3 of the Protocol to Prevent, Suppress and Punish Trafficking in Persons, especially Women and Children, supplementing the United Nations Convention against Transnational Organized Crime (Trafficking in Persons Protocol) as: The recruitment, transportation, transfer, harbouring or receipt of persons, by means of the threat or use of force or other forms of coercion, of abduction, of fraud, of deception, of the abuse of power or of a position of vulnerability or of the giving or receiving of payments or benefits to achieve the consent of a person having control over another person, for the purpose of exploitation. exploitation shall include, at a minimum, the exploitation of the prostitution of others or other forms of sexual exploitation, forced labour or services, slavery or practices similar to slavery, servitude or the removal of organs
This is actually true. There is a difference between voluntarily arranging to come to another nation illegally, and being forced or coerced into doing so. This is a valid distinction.
(Page 18)
2.2 Conceptualization of smuggling of migrants
2.2.1 Smuggling as an illegal migration business
The conceptualization of smuggling as a migration business was formally developed by Salt and Stein in 1997, even if one may find reference to this theory in earlier literature. This new interpretation of the smuggling phenomenon had a great influence on academic circles, and the concept was then borrowed by many academics. In a critical analysis of this concept, Herman stresses that the focus of expert discussions then revolved around the notion of a migration industry and its professionalization, in which migrants are seen as "products" and "people who aid migrants are called 'smugglers', and are portrayed as illegal 'entrepreneurs'
Salt and Stein suggested treating international migration as a global business that has both
legitimate and illegitimate sides. The migration business is conceived as a system of institutionalized networks with complex profit and loss accounts, including a set of institutions, agents and individuals each of which stands to make a commercial gain.
The model conceives trafficking and smuggling as an intermediary part of the global migration business facilitating movement of people between origin and destination countries. The model is divided into three stages: the mobilization and recruitment of migrants; their movement en route; and their insertion and integration into labour markets and host societies in destination countries. Salt and Stein conclude their theory by citing the need to look at immigration controls in a new way, placing sharper focus on the institutions and vested interests involved rather than on the migrants themselves.
Aranowitz puts forward a similar view and claims that smuggling could not have grown to such proportions if it were not supported by powerful market forces. Furthermore, Aranowitz argues that smugglers exhibit entrepreneur-like behaviour and circumvent legal requirements through corruption, deceit and threats. They specialize either in smuggling or in trafficking services, and the profit generated varies accordingly.
This is surprisingly well written. Smuggling and trafficking are businesses, and the people are the commodity. That being said, if the people are consenting to being smuggled, they are accomplices and not victims.
(Page 21)
The network theory also departs from the migration business theory by looking at the migrant as an actor in the migration process and not merely as an object, as in the organized crime theory. Van liempt and Doomernik have questioned the assumption that smuggled migrants are recruited by criminals and have little to say within the migration process. In their view, the relationship between the smugglers and the smuggled is more complex.
Looking at migrants as actors in the migration process, de Haas also insists on the need to depart from prejudiced views against smuggled migrants. According to him, rather than a desperate response to destitution, migration is generally a conscious choice made by relatively well-off individuals to enhance their livelihoods. Detailed discussions of migrants' profiles and relationships with their smugglers are in chapters 5 and 7.
2.3 Conclusions
Sources reviewed reveal a strong interest among the academic community in analysing the phenomenon of smuggling of migrants from a conceptual perspective. In particular, experts have debated the link between smuggling of migrants and other forms of transnational movement of persons—in particular irregular migration and trafficking in persons. Recent literature has also attempted to improve concrete understanding of smuggling of migrants through the conceptualization of the phenomenon as a migration business, a security threat or a family (network) business.
Some useful points:
Smuggling is not usually that of desperate people, but rather well-off individuals looking for a better life. The refugee system is being gamed.
Also, there is a clear link between these illegals (no they are not "irregular") and the smuggling that facilitates this. To suggest otherwise is to blur reality.
The book is some 148 pages, and is far too long to go through in a single article, but do have a read.
2. UN Hypocrisy On People Smuggling
This cannot be overstated. It is extremely hypocritical for the UN to condemn human smuggling, while promoting and excusing so-called "irregular migration". It is well known that many of these illegals come to the West by means of smuggling.
If smuggling itself is to be rejected by society as a whole, then why is it okay for the accomplices of these smugglers to reap the rewards that come from it?
The UN also insists that nations have an obligation to allow terrorists to return home. Needless to say this endangers the public greatly. You can't simultaneously expect this, and for nations to have safe borders.
This same behaviour also happens on the U.S./Mexico border. In 2018, the UN facilitated large "caravans" of economic migrants with the intention of bringing them up through Central America and overwhelming the U.S. border. How does this respect national sovereignty in any way at all?
3. Organizing "Irregulars" is Smuggling
As much as the UN would like to blur the line, arranging for migrants to enter other nations without permission is smuggling.
The UN insists that all migrants (even if in these countries illegally) are entitled to basic services. As such, the UN advocates for smuggling. The only reasonable conclusion is that having all these amenities will lead to more people trying to enter illegally.
As much as they try to engage in mental gymnastics, the UN is directly involved in people smuggling. They promote policies that only ensure the smuggling (and trafficking) will continue indefinitely.
The UN document claimed that migration is a huge industry. They were absolutely right about that.
(1) https://www.unodc.org/documents/human-trafficking/Migrant-Smuggling/Smuggling_of_Migrants_A_Global_Review.pdf
(2) UN Guide Circumventing the Canada/U.S. Safe 3rd Country Agreement.
(3) ttps://www.unhcr.org/en-us/5952a3c54.pdf
(4) https://www.cbc.ca/radio/asithappens/as-it-happens-tuesday-edition-1.4884043/canada-has-a-legal-obligation-to-repatriate-citizens-who-left-to-fight-for-isis-says-un-rapporteur-1.4884562
(5) https://news.un.org/en/story/2018/11/1024882