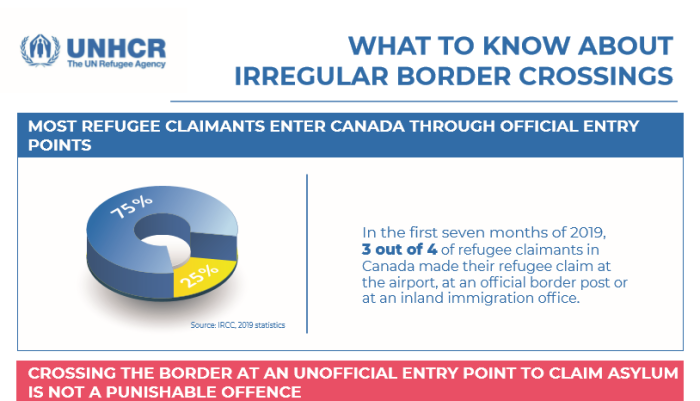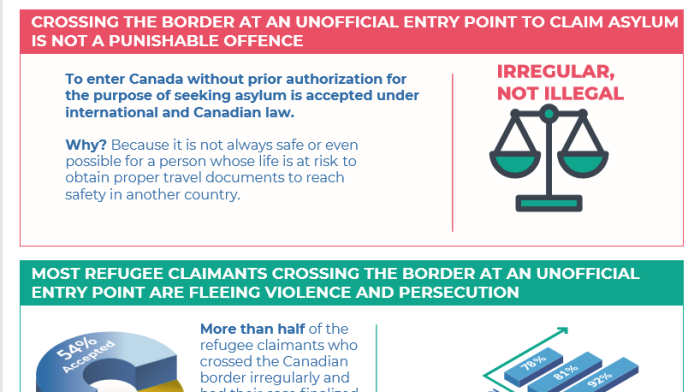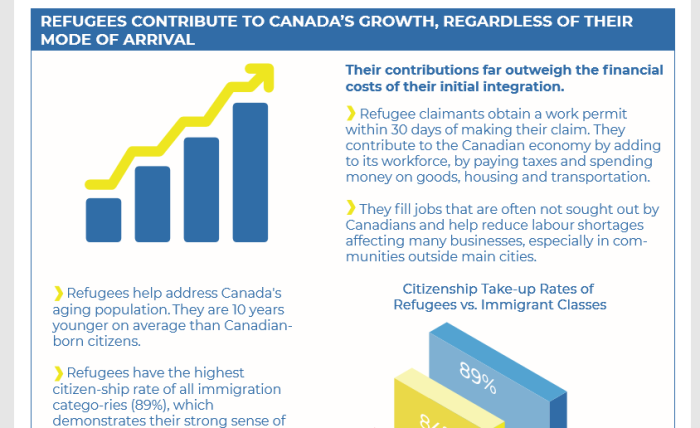 (UNHCR: United Nations High Commission on Refugees, has released another guide in how to circumvent the Canada/U.S. border)
It's rather difficult to have any real sense of a border between Canada and the U.S. when neither country has full control over their affairs. An obvious example is the Safe Third Country Agreement.
1. The Loopholes Written Into S3CA
EMPHASIZING that the United States and Canada offer generous systems of refugee protection, recalling both countries' traditions of assistance to refugees and displaced persons abroad, consistent with the principles of international solidarity that underpin the international refugee protection system, and committed to the notion that cooperation and burden-sharing with respect to refugee status claimants can be enhanced;
ARTICLE 1
In this Agreement,
"Country of Last Presence" means that country, being either Canada or the United States, in which the refugee claimant was physically present immediately prior to making a refugee status claim at a land border port of entry.
ARTICLE 4
Subject to paragraphs 2 and 3, the Party of the country of last presence shall examine, in accordance with its refugee status determination system, the refugee status claim of any person who arrives at a land border port of entry on or after the effective date of this Agreement and makes a refugee status claim.
The "land border port of entry" is clear. However, in practice it is becoming such that if you simply bypass the official border ports, you can actually take advantage of it. Poor wording, but it has become a real headache.
From the Government of Canada website, we find the following.
Where the Agreement is in effect
The Safe Third Country Agreement applies only to refugee claimants who are seeking entry to Canada from the U.S.:
-at Canada-U.S. land border crossings
-by train or
-at airports, only if the person seeking refugee protection in Canada has been refused refugee status in the U.S. and is in transit through Canada after being deported from the U.S.
This clearly was not meant to reward people for illegally crossing the border, provided they do so anywhere other than a port of entry. If this really was just poor drafting, then it would be really easy to fix. The fact that there's no effort to is very revealing.
2. More Loopholes In S3CA
Refugee claimants may qualify under this category of exceptions if they have a family member who:
-is a Canadian citizen
-is a permanent resident of Canada
-is a protected person under Canadian immigration legislation
-has made a claim for refugee status in Canada that has been accepted by the Immigration and Refugee Board of Canada (IRB)
-has had his or her removal order stayed on humanitarian and compassionate grounds
-holds a valid Canadian work permit
-holds a valid Canadian study permit, or
-is over 18 years old and has a claim for refugee protection that has been referred to the IRB for determination. (This claim must not have been withdrawn by the family member, declared abandoned or rejected by the IRB or found ineligible for referral to the IRB.) citizens, permanent residents, or various other statuses, you qualify for an exception to the rule. The "family members" list include: the spouse, sons, daughters, parents, legal guardians, siblings, grandparents, grandchildren, aunts, uncles, nieces, and nephews.
Unaccompanied minors exception
Refugee claimants may qualify under this category of exceptions if they are minors (under the age of 18) who:
-are not accompanied by their mother, father or legal guardian
-have neither a spouse nor a common-law partner, and
-do not have a mother, a father or a legal guardian in Canada or the United States.
Document holder exceptions
Refugee claimants may qualify under this category of exceptions if they:
-hold a valid Canadian visa (other than a transit visa)
-hold a valid work permit
-hold a valid study permit
-hold a travel document (for permanent residents or refugees) or other valid admission document issued by Canada, or
-are not required (exempt) to get a temporary resident visa to enter Canada but require a U.S.–issued visa to enter the U.S.
Public interest exceptions
Refugee claimants may qualify under this category of exceptions if:
they have been charged with or convicted of an offence that could subject them to the death penalty in the U.S. or in a third country. However, a refugee claimant is ineligible if he or she has been found inadmissible in Canada on the grounds of security, for violating human or international rights, or for serious criminality, or if the Minister finds the person to be a danger to the public.
Source is here. Okay. Are there is any cases that DON'T meet any of these exceptions?
3. UNHCR Is A Party To S3CA
CONVINCED, in keeping with advice from the United Nations High Commissioner for Refugees (UNHCR) and its Executive Committee, that agreements among states may enhance the international protection of refugees by promoting the orderly handling of asylum applications by the responsible party and the principle of burden-sharing;
ARTICLE 8
(1) The Parties shall develop standard operating procedures to assist with the implementation of this Agreement. These procedures shall include provisions for notification, to the country of last presence, in advance of the return of any refugee status claimant pursuant to this Agreement.
(2) These procedures shall include mechanisms for resolving differences respecting the interpretation and implementation of the terms of this Agreement. Issues which cannot be resolved through these mechanisms shall be settled through diplomatic channels.
(3) The Parties agree to review this Agreement and its implementation. The first review shall take place not later than 12 months from the date of entry into force and shall be jointly conducted by representatives of each Party. The Parties shall invite the UNHCR to participate in this review. The Parties shall cooperate with UNHCR in the monitoring of this Agreement and seek input from non-governmental organizations.
Source is here. Serious question: why have Canada and the United States signed an agreement that quite clearly gives the UN a seat at the table?
There has never been a full and proper debate on this Treaty either in the U.S., or in Canada. While the document sounds great, it has so many loopholes that it's close to worthless.
(1) From The UN High Commission On Refugees
(2) https://www.unhcr.org/en-us/5952a3c54.pdf
(3) https://news.un.org/en/story/2018/11/1024882
(4) https://www.canada.ca/en/immigration-refugees-citizenship/corporate/mandate/policies-operational-instructions-agreements/agreements/safe-third-country-agreement/final-text.html
(5) https://canucklaw.ca/abuse-of-s3ca-coming-to-canada-under-false-pretenses/
(6) https://canucklaw.ca/world-border-congress-meets-in-morrocco-march-19-21/
(7) https://canucklaw.ca/migrant-caravan-lawyers-sue-for-right-to-legally-invade-u-s/
(8) https://canucklaw.ca/sanctuary-cities-an-end-run-around-having-borders/
(9) https://canucklaw.ca/true-scale-of-illegals-in-us-22-million-more-amnesty-coming/
(10) https://canucklaw.ca/canada-pathway-to-permanent-residence-for-illegals-their-families/