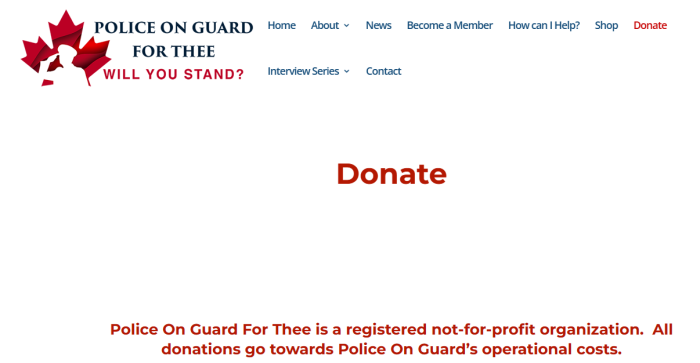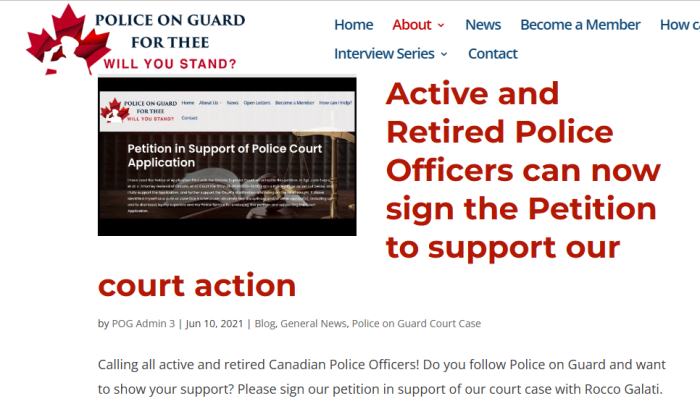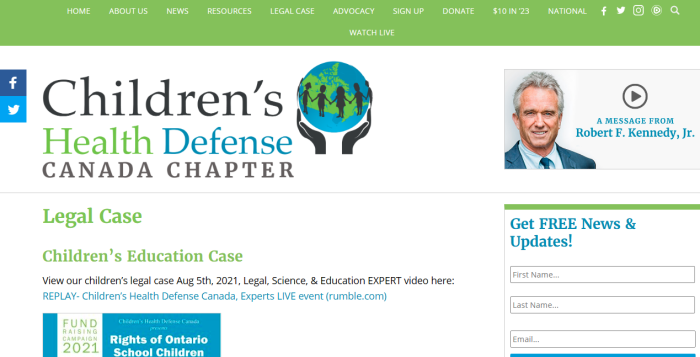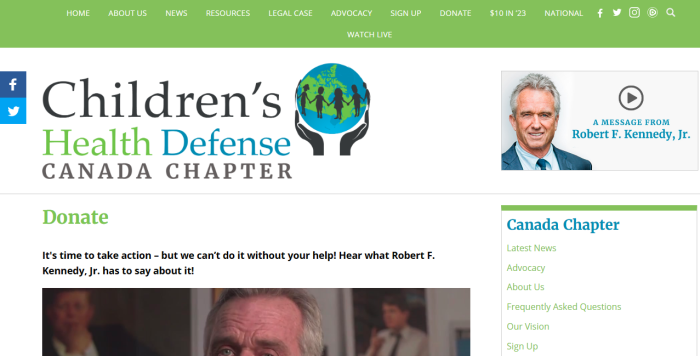 Today, we're going back to a few lesser known lawsuits against lockdown measures. Both were filed in April 2021 (a full 2 years ago), and neither have had a single Court appearance. These are: (a) a police challenge promoted by the group "Police On Guard"; and (b) a challenge for students led by Children's Health Defense Canada.
Both groups are still soliciting donations, while giving the impression that they have cases actively moving through the system.
So, what are the problems?
1. POG/CHDC Cases Filed In Wrong Ontario Court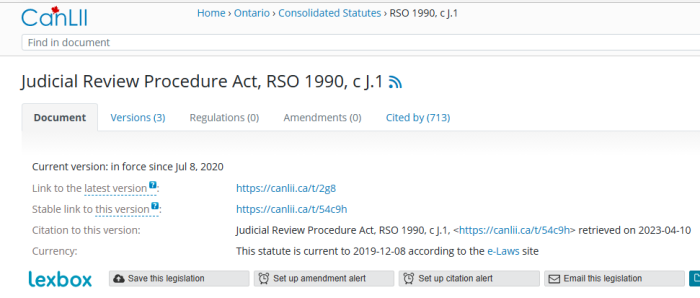 To understand just how deep this goes, let's take a look into the issue of jurisdiction. Filing in the wrong one is typically fatal to a case.
Applications for judicial review
2 (1) On an application by way of originating notice, which may be styled "Notice of Application for Judicial Review", the court may, despite any right of appeal, by order grant any relief that the applicant would be entitled to in any one or more of the following:
.
1. Proceedings by way of application for an order in the nature of mandamus, prohibition or certiorari.
2. Proceedings by way of an action for a declaration or for an injunction, or both, in relation to the exercise, refusal to exercise or proposed or purported exercise of a statutory power.
Application to Divisional Court
6 (1) Subject to subsection (2), an application for judicial review shall be made to the Divisional Court.
Application to judge of Superior Court of Justice
.
(2) An application for judicial review may be made to the Superior Court of Justice with leave of a judge thereof, which may be granted at the hearing of the application, where it is made to appear to the judge that the case is one of urgency and that the delay required for an application to the Divisional Court is likely to involve a failure of justice.
According to Sections 2 and 6 of the Judicial Review Procedure Act, litigation involving a mandamus (compulsion order), or a prohibition (ban), must be an Application for Judicial Review. It also needs to be filed in Divisional Court, unless leave (permission) is granted.
The Police On Guard case asks for a prohibition (page 13).
The Children's Health Defense Canada case asks for a prohibition (page 14), and also for a mandamus (page 15).
It doesn't appear that permission was ever obtained (or ever sought) in order to try these cases in Superior Court, as opposed to Divisional. Consequently, they would probably be thrown out for lack of jurisdiction if they were ever challenged.
Of course, it has to be asked why they haven't yet been challenged. Perhaps there's an agreement among the parties to just let these sit.
2. POG/CHDC Cases Haven't Had Single Court Appearance


It's easy to SEARCH ONLINE for the latest updates. Neither case has been in Court, and again, we must ask why. There has been no effort to advance either one.
There was a Rule 2.1.01(6) request to have the Children's Health Defense Canada case thrown out. This is simply filing a letter asking for it to be done. Only in truly incoherent cases is this granted.
Instead, it was misrepresented in alt-media circles to mean that a formal Motion to Strike has been filed, and then dismissed. That didn't happen. So, why hasn't the Attorney General made any real effort to get either case tossed? Was there some kind of agreement?
3. POG/CHDC Cases Recycle Previously Struck Content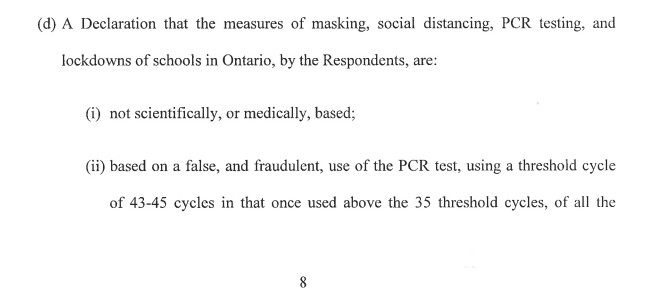 Both Applications are asking the Court to make declarations as to "what the science is". These exact remedies have already been ruled as inappropriate both in the Action4Canada case, and the more recent Federal vaccine passport ruling. Both Judges said that these are not the types of questions that should be brought.
There's also the problem that both Applications are pleaded very poorly, and would likely be struck for non-compliance with the Rules of Civil Procedure. See the Vaccine Choice critique, as the flaws are nearly identical.
Worth pointing out: the Police On Guard and Children's Health Defense pleadings are virtual clones. It's as if one was directly cut and pasted to form the basis of the other.
4. Police On Guard Is A Lobbying/Fundraising Group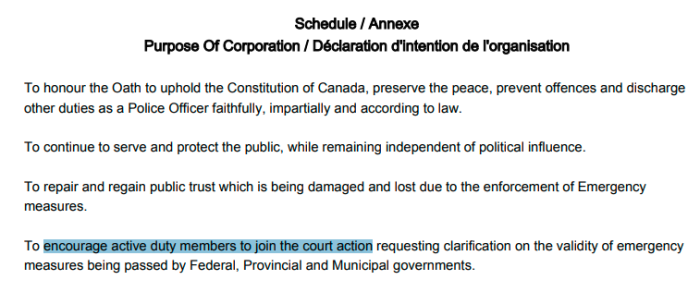 From their Certificate of Incorporation, it appears that one of the major purposes of Police on Guard is to convince officers to join the ongoing Court action. Yes, its function (at least in part), is to act as a recruitment and lobbying tool to drive potential applicants and donations.
It's not a stretch to label Police on Guard as a fundraising arm.
5. CHD Canada Case Has Major Conflicts On Interest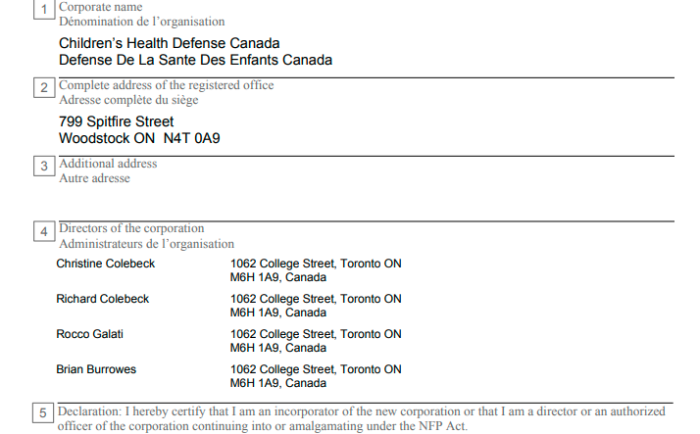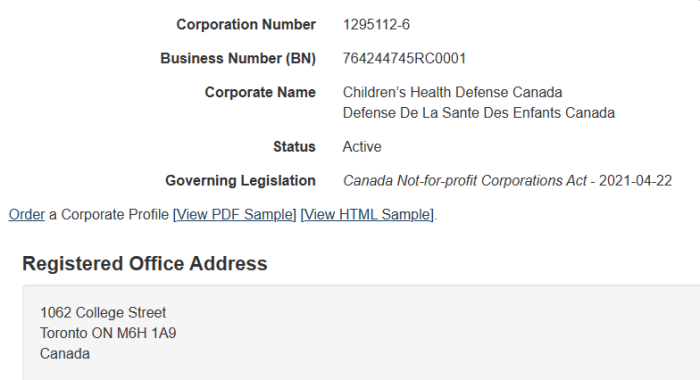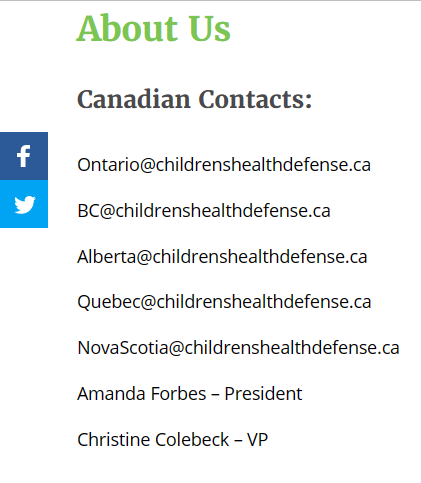 Supposedly, Children's Health Defense Canada is run by Amanda Forbes. That's very interesting, considering that the documents from Corporations Canada don't list her at all.
It gets weirder, as Galati, counsel for the CHD Canada lawsuit is listed as a Director. Considering that CHD Canada is listed as an Applicant, that would essentially make Galati a self-representing litigant. Was this ever disclosed?
Moreover, the addresses for all the Directors are that of his Toronto law office. So, is CHD Canada just a shell corporation?
Does Robert Kennedy know that his name and brand are being used for this?
Anyone can search and download Police On Guard and CHD Canada corporate documents.
There's a public interest in knowing what's going on. These lawsuits were filed 2 years ago, challenging various lockdown measures. They were publicly advertised, and public donations have been solicited. There's nothing private about any of this.
Also, Court documents are public records, but the point has been made.
It's past time to ask some hard questions, isn't it?
(1) https://policeonguard.ca/category/police-on-guard-court-case/
(2) https://policeonguard.ca/donate/
(3) https://childrenshealthdefense.ca/legalcase/
(4) https://childrenshealthdefense.ca/about-us/donate/
(5) https://childrenshealthdefense.ca/about-us/
(6) https://ised-isde.canada.ca/cc/lgcy/fdrlCrpDtls.html?corpId=13140873&V_TOKEN=null&crpNm=police%20on%20guard&crpNmbr=&bsNmbr=
(7) https://ised-isde.canada.ca/cc/lgcy/fdrlCrpDtls.html?corpId=12951126&V_TOKEN=null&crpNm=children%27s%20health&crpNmbr=&bsNmbr=
(8) https://www.canlii.org/en/on/laws/stat/rso-1990-c-j1/latest/rso-1990-c-j1.html
(9) https://www.ontario.ca/page/search-court-cases-online
POLICE ON GUARD/OFFICERS:
(1) Notice Of Application — April 20, 2021
POLICE ON GUARD CORPORATE DOCUMENTS:
(1) Police On Guard Incorporation
(2) Police On Guard Registered Office & Directors
(3) Police On Guard Directors
(4) Police On Guard Bylaws
(5) Police On Guard Directors Later
ONTARIO STUDENTS/CHDC:
(1) Notice Of Application — April 20, 2021, Masks On Students
(2) Schools – Rule 2.1.01 Decision
(3) Schools — Notice Of Appearance Robert Kyle
(4) Schools — Notice Of Appearance Halton Durham
CHD CANADA CORPORATE DOCUMENTS:
(1) Childrens Health Defense Canada Registered Office
(2) Childrens Health Defense Canada Incorporation
(3) Childrens Health Defense Registered office & Directors
(4) Childrens Health Defense Canada Annual Return