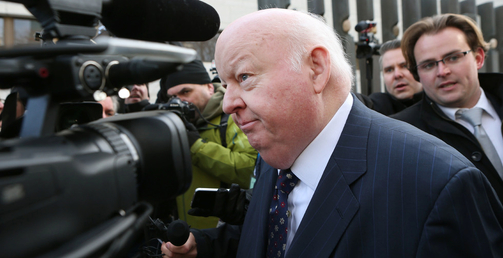 ("P.E.I" Senator Mike Duffy, textbook case of "pig at the trough")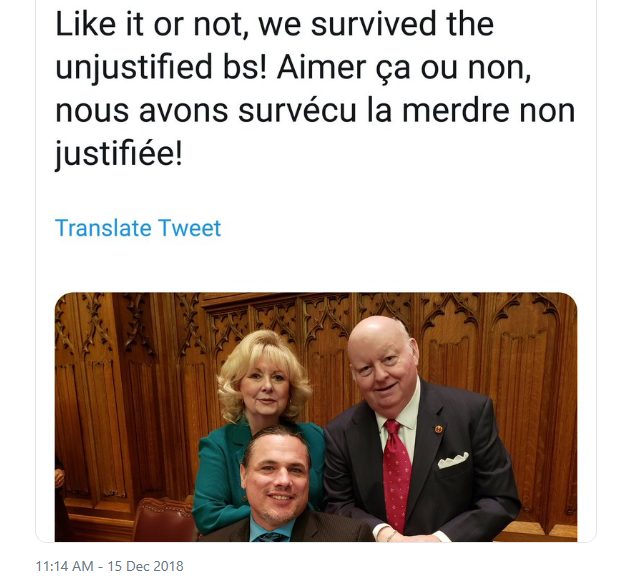 (Pamela Wallin, Patrick Brazeau, Mike Duffy, all temporarily suspended from the Canadian Senate)
An Ontario Judge has ruled that Mike Duffy cannot sue the Senate for a decision that caused him to be suspended without pay for almost 2 years.
CLICK HERE, for the actual ruling from Justice Sally Gomery. (Quotes in bold/italics. Commentary in regular font).
CLICK HERE, for the original verdict, acquitting Duffy.
[1] Senator Michael Duffy is suing the Senate of Canada for over $7 million in damages.
[2] On November 5, 2013, the Senate voted to suspend Senator Duffy based on a report from its standing committee on Internal Economy, Budgets and Administration (the "CIBA"). This CIBA report concluded that he had violated rules on living and travel expenses. Senator Duffy was later criminally charged with breach of trust, fraud and accepting a bribe. On April 21, 2016, after a trial that lasted more than a year, he was acquitted of all charges. Justice Vaillancourt, the judge who heard the criminal trial, concluded that the Prime Minister's Office ("PMO") directed one or more senators to interfere with an audit of Senator Duffy's expenses. 2018 ONSC 7523 (CanLII) He also concluded that, in making living expense claims, Senator Duffy "committed no prohibited act, violated no Senate rules", and neither engaged in criminal fraud nor intended to do so.
[3] In his lawsuit, Senator Duffy claims that the CIBA report and the Senate's decision to suspend him were politically motivated, unconstitutional, procedurally unfair and contrary to his rights under the Canadian Charter of Rights and Freedoms1. Given the judge's findings when he was acquitted of criminal charges, Senator Duffy argues that actions by various senators and the Senate as a whole were clearly wrong and unlawfully deprived him of salary, allowances and pension contributions. He also says that, since he was acquitted and the suspension was lifted, the Senate has once again unfairly denied him reimbursement for further legitimate expenses. He seeks compensation for the amounts he says he is entitled to as well as compensatory and punitive damages.
[4] This matter is before me now because the Senate says that Senator Duffy's action should be dismissed. The Senate contends that the lawsuit cannot proceed because the actions that Senator Duffy seeks to challenge fall squarely within the scope of parliamentary privilege. Determining the questions that arise in Senator Duffy's lawsuit would accordingly require a court to do exactly what parliamentary privilege is designed to prevent.
An interesting approach. While Duffy was ultimately acquitted on the criminal charges, the Trial Judge didn't exactly exonerate him completely. More on that later. And this deflection and projection does not change the fact that there was considerable grounds for the suspension. This reads like an attempt to cash in.
[7] For the purpose of a motion like this one, I must assume that all of the factual allegations in Senator Duffy's statement of claim are true. He makes many allegations about the improper motivations of various senators and the denial of any due process. But the core allegation, what he says entitles him to damages, is that the decisions by the CIBA and the Senate to suspend him and to deny his claims for compensation were unlawful and unfair. I must determine whether these decisions are protected by parliamentary privilege and therefore shielded from any review by this court.
This is an important distinction to make here: the Judge is saying that it must be "assumed" for the purposes of the motion that the factual allegations are true. This is not to claim that they actually are.
[8] I conclude that they are. The Senate enjoys certain categories of privilege by virtue of the Constitution Act, 1867. 6 Four types of privilege prevent a court from reviewing the actions by the Senate at issue in this case.
[9] First, parliamentary privilege extends to decisions by the Senate to discipline its own members. The privilege clearly applies to decisions about whether a senator should be suspended or expelled. In some cases, a court may review disciplinary decisions with respect to employees of a legislative body, if the management of such employees does not fall within the scope of what is necessary to protect the independent functioning of that body. There is however no question that the privilege prevents judicial review of discipline or suspension of a member of the legislature itself.
[10] Second, parliamentary privilege applies to the Senate's management of its internal affairs, including the allocation and use of parliamentary resources. This privilege extends to decisions on the approval of expenses claimed by senators. I find that the privilege applies to decisions by an internal committee of senators, such as the CIBA, with respect to the allocation or withholding of parliamentary resources to a senator.
[11] Third, Parliament has exclusive control over, and privilege with respect to, its own debates and proceedings.
[12] Finally, parliamentary privilege protects freedom of speech in the Senate. Allegations in a statement of claim about what was said in parliament must be struck, because statements in parliament cannot be reviewed by a court. Neither a senator nor a third party can be compelled to testify in court about anything they said or did in the course of Senate proceedings. Transcripts of proceedings, and reports produced by or commissioned for the Senate, can likewise not be produced in court proceedings. The Senate's failure to object to disclosure of some evidence that might have been subject to privilege during Senator Duffy's criminal trial does not mean that it has relinquished its right to invoke privilege in this case.
The Judge is setting out the reasons here: The Senate is allowed under the law to discipline its own members. The ruling will go on to cite many examples and circumstances, but this will suffice for now.
[13] Senator Duffy contends that the application of parliamentary privilege in this case leaves him without any meaningful remedy. He says that he cannot hope to get justice from the very body that has treated him so badly in the past, and that the courts should not allow Charter violations to go unchecked, particularly in circumstances where those violations arise from interference by one branch of government (the PMO) with another (the Senate).
[14] I am however obliged to respect constitutional imperatives. Allowing a court to revisit the Senate's decisions at issue here would interfere with the Senate's ability to function as an independent legislative body, equal to other branches of government. These decisions, as well as the Senate record relevant to them, are protected by parliamentary privilege and are accordingly immune from judicial review or reconsideration. Since the actions at issue fall within those actions protected by parliamentary privilege, I cannot give any consideration to whether they were wrong or unfair or even contrary to Senator Duffy's Charter rights. All of these are determinations that the Senate, and the Senate alone, can make. The Senate's motion to dismiss Senator Duffy's action against it is therefore granted.
Interesting, that Duffy has been in the Senate since 2009, but seems to know so little about how it works.
From the Ontario Rules of Civil Procedure, 21 and 25.11:

21.01 (1) A party may move before a judge,
(a) for the determination, before trial, of a question of law raised by a pleading in an action where the determination of the question may dispose of all or part of the action, substantially shorten the trial or result in a substantial saving of costs; or
(b) to strike out a pleading on the ground that it discloses no reasonable cause of action or defence,
and the judge may make an order or grant judgment accordingly. R.R.O. 1990, Reg. 194, r. 21.01 (1).

STRIKING OUT A PLEADING OR OTHER DOCUMENT
25.11 The court may strike out or expunge all or part of a pleading or other document, with or without leave to amend, on the ground that the pleading or other document,
(a) may prejudice or delay the fair trial of the action;
(b) is scandalous, frivolous or vexatious; or
(c) is an abuse of the process of the court. R.R.O. 1990, Reg. 194, r. 25.11.

The Senate invokes 2 sections of the Ontario rules, claiming that since Parliamentary privilege applies that the Senate should not be a defendant in the case.
[25] Over time, the concept of parliamentary privilege was expanded to protect not only speech and procedures, but any action within parliament over which it must necessarily have exclusive control, as an independent and coequal branch of government. Parliamentary privilege is accordingly:
the necessary immunity that the law provides for Members of Parliament … in order for these legislators to do their legislative work. It is also the necessary immunity that the law provides for anyone while taking part in a proceeding in Parliament … Finally, it is the authority and power of each House of Parliament … to enforce that immunity.
Section 18 of the 1867 Constitution Act states:

Privileges, etc., of Houses
18. The privileges, immunities, and powers to be held, enjoyed, and exercised by the Senate and by the House of Commons, and by the members thereof respectively, shall be such as are from time to time defined by Act of the Parliament of Canada, but so that any Act of the Parliament of Canada defining such privileges, immunities, and powers shall not confer any privileges, immunities, or powers exceeding those at the passing of such Act held, enjoyed, and exercised by the Commons House of Parliament of the United Kingdom of Great Britain and Ireland, and by the members thereof

In one context, it is nice that the Court here does apply and uphold some separation between branches of government.
However, from a taxpayer who likes accountability from public officials, there is another viewpoint. Many would like to see the truth of the matter fleshed out, something that hasn't really happened. However, this seems to be a case of "procedure over facts".
It will be interesting to see what happens with the RCMP, as they will be all too happy to throw Duffy under the bus to show they acted properly.
Backstory Events Leading Up to Lawsuit Against RCMP and Senate
In November 2013, Conservative Senators: 1/ Patrick Brazeau; 2/ Pamela Wallin' and 3/ Mike Duffy were all suspended from the Canadian Senate for 2 years without pay, over illegal spending.
Mike Duffy faced 31 criminal charges, including: 15 counts of fraud, 15 counts of breach of trust, and 1 count of bribery, (for allegedly receiving $90,000 gift to pay back expenses).
Brazeau and Liberal Senator Mac Harb were charged with breach of trust and fraud, (sections 122 and 380 of the criminal code)

Bribery of judicial officers, etc.
119 (1) Every one is guilty of an indictable offence and liable to imprisonment for a term not exceeding fourteen years who
(a) being the holder of a judicial office, or being a member of Parliament or of the legislature of a province, directly or indirectly, corruptly accepts, obtains, agrees to accept or attempts to obtain, for themselves or another person, any money, valuable consideration, office, place or employment in respect of anything done or omitted or to be done or omitted by them in their official capacity, or
(b) directly or indirectly, corruptly gives or offers to a person mentioned in paragraph (a), or to anyone for the benefit of that person, any money, valuable consideration, office, place or employment in respect of anything done or omitted or to be done or omitted by that person in their official capacity.

Breach of trust by public officer
122 Every official who, in connection with the duties of his office, commits fraud or a breach of trust is guilty of an indictable offence and liable to imprisonment for a term not exceeding five years, whether or not the fraud or breach of trust would be an offence if it were committed in relation to a private person.
R.S., c. C-34, s. 111.

Fraud
380 (1) Every one who, by deceit, falsehood or other fraudulent means, whether or not it is a false pretence within the meaning of this Act, defrauds the public or any person, whether ascertained or not, of any property, money or valuable security or any service,
(a) is guilty of an indictable offence and liable to a term of imprisonment not exceeding fourteen years, where the subject-matter of the offence is a testamentary instrument or the value of the subject-matter of the offence exceeds five thousand dollars; or
(b) is guilty
(i) of an indictable offence and is liable to imprisonment for a term not exceeding two years, or
(ii) of an offence punishable on summary conviction,
where the value of the subject-matter of the offence does not exceed five thousand dollars.

Pamela Wallin was never actually charged, but forced to pay back for her actions, despite over $100,000 in illegal expenses. In a bizarre twist, it cost $127,000 to audit Wallin's spending.
Duffy was acquitted in a very bizarre ruling in 2016. More on that later.
This most likely influenced the decision to drop the charges against Harb in May 2016, and later Brazeau in July 2016.
Although Duffy was eventually acquitted of criminal wrongdoing, him returning to the Senate has left a bad taste in many people's mouths.
Nonsensical Acquittal by Vaillancourt At Trial
CLICK HERE, for the text of the ruling.
That is actually its own article, CLICK HERE. It is too long to do properly here.