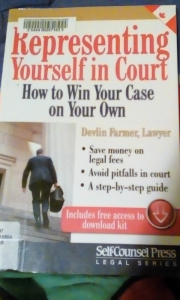 (How to Win Your Own Case, by Devlin Farmer)
This is basically an instructional book written in 2015 for those wishing to represent themselves in court.
Unlike An Advocacy Primer, covered in September, the Farmer book contains much more basic information, and is much more simplified. It assumes that the readers have little to no knowledge about how the court proceedings work, and is a lot more reader friendly.
An interesting Supreme Court ruling, Pintea v. Johns, came out in 2017. It codified the obligations of Justices, Judges, Masters, and Deputy Judges to ensure that self-represented litigants are getting fair treatment in court. In fairness to the author, it was 2 years after the book was published.
A Brief Outline of The Book
Part 1: Alternatives to court
Part 2: Learning the law
Part 3: Filing
Part 4: Lawyers
Part 5: Discovery
Part 6: Motions and temporary orders
Part 7: Pre-trial prep
Part 8: Trial proceedings
Part 9: Witnesses
Part 10: Exhibits
Part 11: Closing arguments
Part 12: Intro to appeals
By no means does the book actually prepare someone for the court. However, by explaining what is happening and why, the self-rep is able to prepare him/herself and more thoroughly understand the process.
The book is written a very basic level, yet contains a wealth of information necessary for a potential self-represented litigant to face the court. It also avoid legalese and jargon. As such, it is very readable to anyone with adult reading skills.
This book stays away from specific forms and names, which in this case is a blessing. Better to understand the process more than to be bogged down with memorization.
The book is published by "Self-Counsel Press", which releases many self-help and how-to books on a range of topics. Overall, they are very readable. They are not tedious or intimidating at all. This publisher releases some very good content.
If you are facing (or initiating) a court case, this book will do well to helping the average reader understand what is happening. At a minimum, if you do choose to get legal counsel at some point, reading this book beforehand will enable you to make better choices. Also, you are less likely to be gouged for fees.
Overall, this is a highly recommended read for anyone with any interest in court procedures.