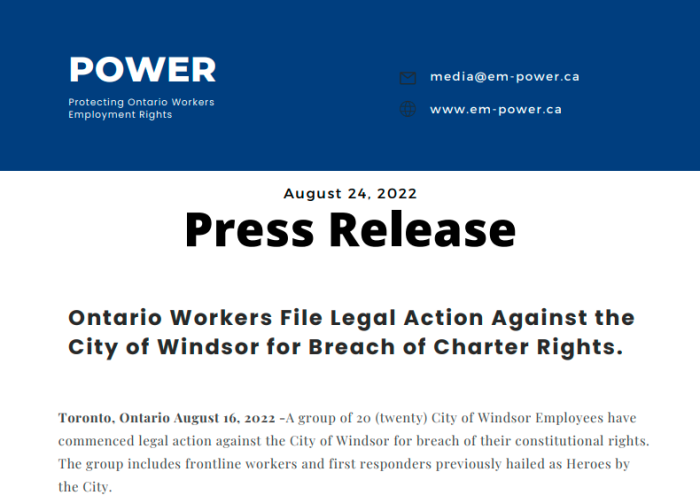 A group of former city workers in Windsor, Ontario, is waiting to see if their lawsuit will be thrown out in the preliminary stages, or whether it will be able to proceed to Trial.
This is another case of people taking legal action as a result of being forced out of their employment in 2021 and 2022 due to so-called "vaccine passports".
August 2022, former employees City (or Corporation) of Windsor — 20, at the time — brought their Statement of Claim. It alleges that all Plaintiffs were either fired or forced to resign for refusing to take the injections.
Now for the bad news….
The City of Windsor is bringing a Motion to throw out the lawsuit on a number of grounds. Foremost, Windsor claims that all of the Plaintiffs are unionized, or subject to some sort of collective bargaining agreement, which mandates alternative dispute measures. This is the grievance process, which often ends in arbitration.
The Motion also states that all of the major issues here have been litigated and decided before, and thus, there's nothing new to look at.
February 2023, their Motion Record — collection of documents was sent.
March 2023, the Responding Motion Record was filed.
May 2023, an Amended Statement of Claim was filed. It both added new Plaintiffs, and expanded on the information laid out in the original Claim. However, that may be an issue considering the Claim was changed after the Motion was filed.
The Motion won't be heard until July of 2024, which is several months away. In the meantime, there are still other procedural steps to be done, and other documents to be filed.
This is hardly the first such case to be filed. Unfortunately, there has been little success so far in convincing the Courts that the unions are not acting in good faith, or that the collective bargaining process is corrupted. We'll have to see what becomes of this case.
Expect a follow-up as things develop.
ABOUT THE GROUP
(1) https://www.em-power.ca/
(2) https://twitter.com/em_POWER_on
(3) Empower – Press Release
COURT DOCUMENTS
(1) Empower – Statement Of Claim
(2) Empower – Amended Statement Of Claim
(3) Empower – Moving Party Motion Record
(4) Empower – Respondents Motion Record