(article from Christian Legal Fellowship)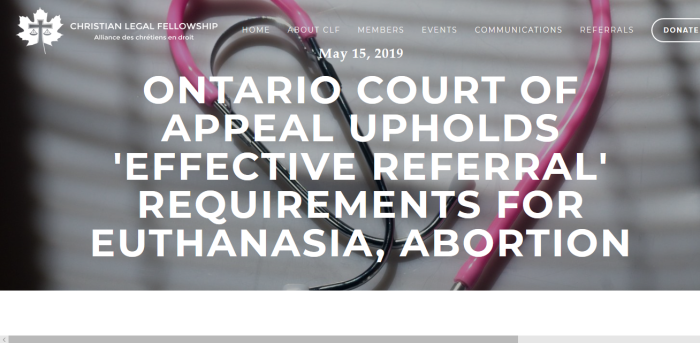 (Lifesite news also covered this)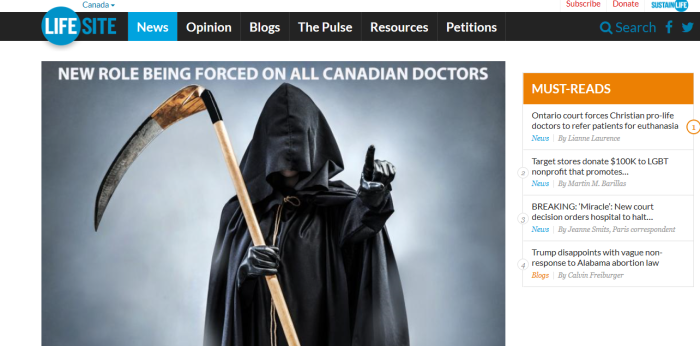 1. Other Articles on Abortion/Infanticide
(1) https://canucklaw.ca/canadian-universities-fighting-against-free-speech-and-free-association-in-court/
(2) https://canucklaw.ca/the-new-lindsay-shepherd-statistics-are-now-violence-infanticide-2/
(3) https://canucklaw.ca/infanticide-part-3-ny-virginia-to-legalise-up-to-birth-abortion/
(4) https://canucklaw.ca/infanticide-part-4-leave-no-survivors/
(5) https://canucklaw.ca/infanticide-5-un-endorses-abortion-as-human-right-even-for-kids/
(6) https://canucklaw.ca/infanticide-6-fallout-and-some-pushback/
2. Important Links
CLICK HERE, for Ontario Court of Appeals ruling, May 15, 2019.
CLICK HERE, for the Ontario Divisional Court ruling, January 31, 2018.
CLICK HERE, for R.v. Oakes (balancing test)
CLICK HERE, for Carter v. Canada (struck down assisted suicide laws).
CLICK HERE, for Ontario Human Rights Code.
CLICK HERE, for the Canadian Charter.
CLICK HERE, for some Charter cases.
CLICK HERE, for Housen v. Nikolaisen, 2002 (standard for review)
Miscellaneous Articles
CLICK HERE, for woman who tries to drown newborn gets only 1 year.
CLICK HERE, for a Maclean's article on "assault on women's rights".
CLICK HERE, for Roe (as in Roe v Wade), becomes anti-abortion activist.
3. Brief Introduction

The case above is one of Ontario doctors refusing to provide certain "reproductive health services" (a.k.a. abortion), and "medical assistance in dying" MAiD (a.k.a. euthanasia). Not only did they refuse to provide these services, they refused to help with the referrals procedures to others who would.
The Appellants refused on religious grounds. They claimed that requiring them to participate in these "medical services" violated their consciences and religious convictions. To be fair, we are talking about killing unborn children, eldery, and terminal patients. The other extreme would be more disturbing.
Their regulatory body, the College of Physicians and Surgeons of Ontario, says if they won't perform such "health care services", then they must help the patients get referred to doctors who will.
The Ontario Divisional Court agreed that this was the case. And now the Ontario Court of Appeals has upheld that ruling. Will this go to the Supreme Court of Canada? We will see.
4. Court of Appeal Exerps
E. Issues
[57] The appeal raises the following issues:
(1) What is the applicable standard of review and is the Doré/Loyola framework or the Oakes framework applicable to this case?
(2) Do the effective referral requirements of the Policies infringe the appellants' s. 2(a) freedom of conscience and religion?
(3) Do the effective referral requirements of the Policies infringe the appellants' s. 15(1) equality rights?
(4) If there is an infringement of the appellants' Charter rights and/or freedoms, is it justified under s. 1 of the Charter?
Standard Of Review
[59] The normal rules of appellate review of lower court decisions, articulated in Housen v. Nikolaisen, 2002 SCC 33 (CanLII), [2002] 2 S.C.R. 235, apply on this appeal. Questions of law are reviewed on a correctness standard, and questions of fact and mixed fact and law are reviewed on a standard of palpable and overriding error: Housen, at paras. 8, 10, 36-37. The Divisional Court's selection and application of the correctness standard to the Policies is a question of law and is accordingly reviewed by this court on a correctness standard.
If it is a question of fact, the standard is "overriding palpable error". In essence, Appeals Courts tend to "give deference" to the Trial Judge since he/she is in a much better position to actually judge the case.
In questions of law, the standard is the correctness of the law itself.
In questions of mixed law and fact are viewed more towards "overriding palpable error".
Religious Freedom
[62] In Law Society of British Columbia v. Trinity Western University, 2018 SCC 32 (CanLII), [2018] 2 S.C.R. 293, at para. 62, the Supreme Court adopted the definition of religious freedom expressed in R. v. Big M Drug Mart Ltd., 1985 CanLII 69 (SCC), [1985] 1 S.C.R. 295, at p. 336:
[T]he right to entertain such religious beliefs as a person chooses, the right to declare religious beliefs openly and without fear of hindrance or reprisal, and the right to manifest religious belief by worship and practice or by teaching and dissemination.
[63] At para. 63, the court set out the requirements of the test:
[F]irst, that he or she sincerely believes in a practice or belief that has a nexus with religion; and second, that the impugned state conduct interferes, in a manner that is more than trivial or insubstantial, with his or her ability to act in accordance with that practice or belief.
This was the test applied by the Divisional Court, referring to Syndicat Northcrest v. Amselem, 2004 SCC 47 (CanLII), [2004] 2 S.C.R. 551, at para. 56. See also Alberta v. Hutterian Brethren of Wilson Colony, 2009 SCC 37 (CanLII), [2009] 2 S.C.R. 567, at para. 32.
[64] The sincerity of belief and interference are conceded. But the College contends that the interference is trivial and insubstantial and does not contravene s. 2(a).
[65] I disagree. To explain my reasons, it is necessary to examine the appellants' beliefs and their objections to performing or referring patients for the procedures at issue.
All parties agree the beliefs are sincere. The College says it is trivial, while the Panel disagrees.
Section 15 and Equality
[87] The Divisional Court referred to the two-part test for establishing a breach of s. 15(1) articulated in Taypotat, at paras. 19-20: (1) whether, on its face or in its impact, a law creates a distinction on the basis of an enumerated or analogous ground; and (2) whether the impugned law fails to respond to the actual capacities and needs of the members of the group and instead imposes burdens or denies benefits in a manner that has the effect of reinforcing, perpetuating or exacerbating their disadvantage.
[88] The focus of the inquiry is "whether a distinction has the effect of perpetuating arbitrary disadvantage on the claimant because of his or her membership in an enumerated or analogous group" such that it is a "discriminatory distinction": Taypotat, at paras. 16, 18; and Quebec (Attorney General) v. A., 2013 SCC 5 (CanLII), [2013] 1 S.C.R. 61, at para. 331
[89] Applying this test, the Divisional Court dismissed the appellants' claim that the Policies infringe their equality rights under s. 15(1) of the Charter. Without deciding whether the Policies create a distinction on the basis of religion, the Divisional Court held that the Policies do not have the effect of reinforcing, perpetuating or exacerbating a disadvantage or promoting prejudice against religious physicians. Nor do they restrict access to a fundamental social institution or impede full membership in Canadian society.
To put it mildly, the Courts have decided that not all "equality rights" are treated equally. In other words, it is okay to discriminate on the basis of "protected grounds" as long as it falls within certain guidelines.
Allowed Under Section 1?
[97] The onus at this stage is on the College to establish, on a balance of probabilities, that the infringement of the appellants' freedom of religion is a reasonable limit, demonstrably justified in a free and democratic society: Multani, at para. 43.
[98] In Oakes, at pp. 135 and 138-39, Dickson C.J. articulated a framework for the s. 1 analysis, which can be summarized as follows:
(a) the Charter-infringing measure must be "prescribed by law";
(b) the objective of the impugned measure must be of sufficient importance to warrant overriding a constitutionally protected right or freedom;
(c) the means chosen must be reasonable and demonstrably justified – this is a "form of proportionality test" which will vary in the circumstances, but requires a balancing of the interests of society with the interests of individuals and groups and has three components:
(i) the measure must be rationally connected to the objective – i.e., carefully designed to achieve the objective and not arbitrary, unfair or based on irrational considerations;
(ii) the means chosen should impair the Charter right or freedom as little as possible; and
(iii)there must be proportionality between the salutary and deleterious effects of the measure.
This is a fairly lengthy section, but this lays out the groundwork for determining whether Charter violations can otherwise be "saved". Are there justifiable public interests in the breaches that are affirmed? Ultimately, the Court of Appeals said yes. These violations were justified on other grounds.
[186] The Fact Sheet identifies options that are clearly acceptable to many objecting physicians. Those who do not find them acceptable may be able to find other practice structures that will insulate them from participation in actions to which they object. If they cannot do so, they will have to seek out other ways in which to use their skills, training and commitment to patient care. I do not underestimate the individual sacrifices this may require. The Divisional Court correctly found, however, that the burden of these sacrifices did not outweigh the harm to vulnerable patients that would be caused by any reasonable alternative. That conclusion is not undermined by the fresh evidence before this court. Even taking the burden imposed on physicians at its most onerous, as framed by the appellants, the salutary effects of the Policies still outweigh the deleterious effects.
[187] As the Divisional Court observed, the appellants have no common law, proprietary or constitutional right to practice medicine. As members of a regulated and publicly-funded profession, they are subject to requirements that focus on the public interest, rather than their interests. In fact, the fiduciary nature of the physician-patient relationship requires physicians to act at all times in their patients' best interests, and to avoid conflicts between their own interests and their patients' interests:
5. Closing Thoughts

This is the heart of the conclusion:
(A) Doctors have other options
(B) Doctors can alter their practice
(C) Public interest comes first
(D) Medicine is a publicly regulated profession.
One thing needs to be pointed out though: just because something is LEGAL, doesn't make it MORAL. Abortion and euthanasia are killing. Period.
Although both abortion and assisted suicide have no criminal penalties against them, there are still huge scientific and moral arguments against both. This will be a topic for a coming piece.
If a person believes that carrying out just "health care services" amounts to murder, that is okay. But wouldn't referrals of such procedures make a doctor an accessory to murder? Although one degree removed, the moral objection would be the same.
Bottom line: provide the service, or refer to someone else who will. You're here to serve the public.