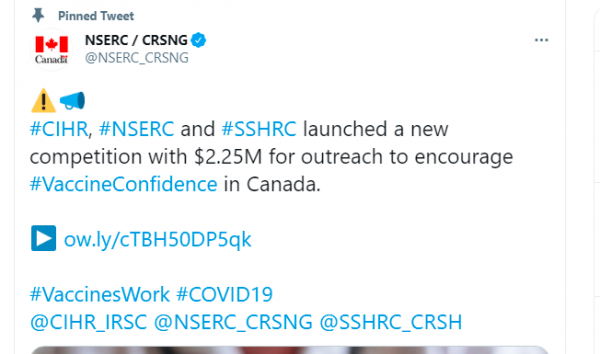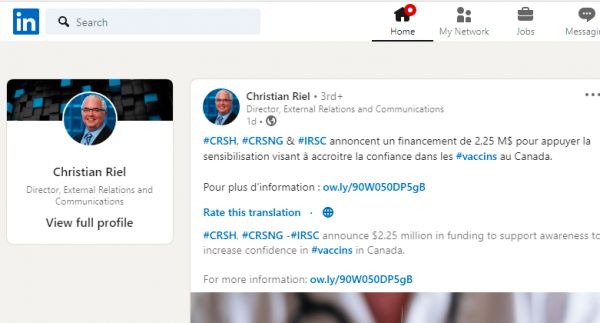 The Canadian Government is offering organizations up to $50,000 each to promote "vaccine confidence", and to convince people that they should be taking it. It's being organized jointly by the NSERC, the SSHRC, and the CIHR.
To be clear, this isn't 1 grant of $2.25 million. It is 45 grants of $50,000 each, or potentially more than 45, if amounts less than this are awarded.
1. Grants To Promote "Vaccine Confidence"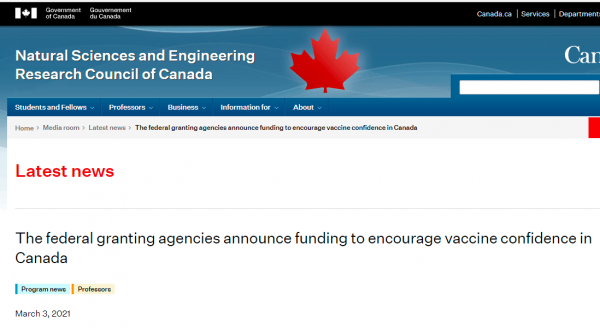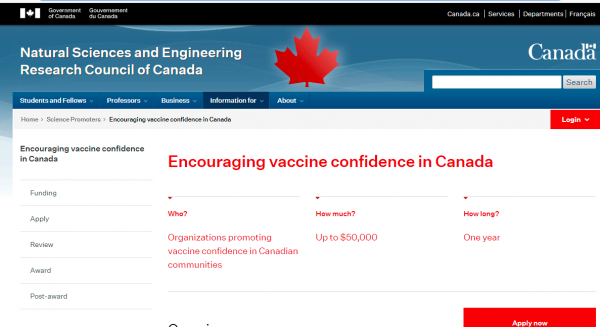 The Canadian Institutes of Health Research (CIHR), the Natural Sciences and Engineering Research Council of Canada (NSERC), and the Social Sciences and Humanities Research Council (SSHRC) are pleased to launch a special $2.25 million funding opportunity to support activities that promote vaccine confidence in Canada. The agencies expect these activities will improve public understanding of vaccines and help Canadians to make evidence-based decisions, especially among populations that are hesitant about vaccines.
The new funding is targeted at Canadian non-profit organizations, non-federal museums and science centres, and academic institutions with a strong track record of science and/or health promotion. Researchers from all fields with an expertise in combating vaccine-related misinformation may apply either individually through their institutions or in collaboration with science, social sciences, humanities, and/or health promotion organizations.
NSERC will host information webinars to discuss the funding opportunity's goals and selection criteria, how to prepare an application, and to answer questions. Interested applicants can attend the French session on March 8, 2021 at 1:30 PM Eastern and/or the English session on March 9, 2021 at 12:30 PM Eastern.
This is serious. SSHRC/NSERC/CIHR are working together to launch a program that will award up to $50,000 each for an institution to promote "vaccine confidence", in order to convince Canadians that these vaccines are safe. Presumably the CV shots are the primary target.
Note: none of these grants are aimed at ENSURING vaccines are safe, such as with additional testing. Instead, the goal is to CONVINCE people that they already are.
2. Marketing/Advertising, Not Science At Play

Examples of eligible activities include:
.
-providing scientifically sound information about vaccines via social media, hotlines, webinars, forums or websites in a way that addresses beliefs and fears
–developing, translating and disseminating easy-to-understand and engaging materials on vaccine acceptance and adoption of public health measures in a culturally appropriate way
-delivering workshops to train community leaders on promoting vaccine confidence and sharing best practices for evidence-based decision making
-mobilizing social sciences and humanities knowledge to address cultural and societal determinants of vaccine hesitancy in order to better ensure vaccine confidence
-sharing historical perspectives on pandemics and vaccine development to build trust and confidence in the community
-providing techniques for identifying reliable sources of information versus misinformation pertaining to vaccines
These activities have nothing to do with science. Instead, they are about using the perceived legitimacy of scientific institutions in order to promote the Government narratives. In short, these institutions would become propaganda outlets, much like the media in Canada.
3. Study Into MANDATORY Vaccines In Canada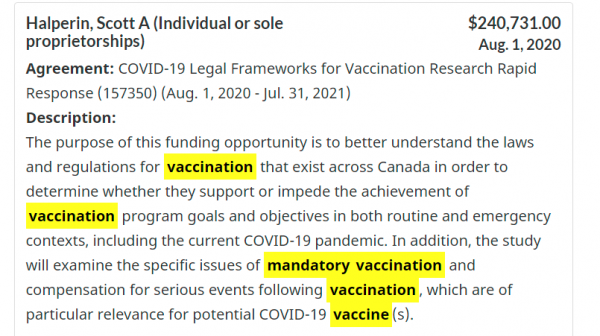 Remember how, just 6 months ago, people who spoke of mandatory vaccinations were called "conspiracy theorists"? Turns out, that at least $240,000 of public money has been spend looking into exactly that issue. And there are probably more of these grants.
The Government is enlisting institutions which appear to be neutral in order to prop up its agenda. Seriously, how much is integrity worth these days? It's bad enough that almost the entire Canadian media is in on it, but scientific institutions at least claim to be neutral truth seekers.
4. Important Links
https://twitter.com/CIHR_IRSC
https://twitter.com/NSERC_CRSNG
https://twitter.com/SSHRC_CRSH
NSERC Grant Postings, For "Vaccine Confidence"
https://archive.is/QRJAW
Event Information Describing The Grant Program
https://archive.is/8QaUT
$240,000 Spent To Study MANDATORY Vaccines
https://archive.is/5xA4e
RE: CANUCK LAW ON "VACCINE HESITANCY"
(A) Canada's National Vaccination Strategy
(B) The Vaccine Confidence Project
(C) More Research Into Overcoming "Vaccine Hesitancy"
(D) Psychological Manipulation Over "Vaccine Hesitancy"
(E) World Economic Forum Promoting More Vaccinations
RE: CANUCK LAW ON MEDIA SUBSIDIES, DONATIONS
(a) Subsidization Programs Available For Media Outlets (QCJO)
(b) Political Operatives Behind Many "Fact-Checking" Groups
(c) DisinfoWatch, MacDonald-Laurier, Journalists For Human Rights
(d) Taxpayer Subsidies To Combat CV "Misinformation"
(e) Postmedia Periodicals Getting Covid Subsidies
(f) Aberdeen Publishing (BC, AB) Getting Grants To Operate
(g) Other Periodicals Receiving Subsidies
(h) Still More Media Subsidies Taxpayers Are Supporting
(i) Media Outlets, Banks, Credit Unions, All Getting CEWS