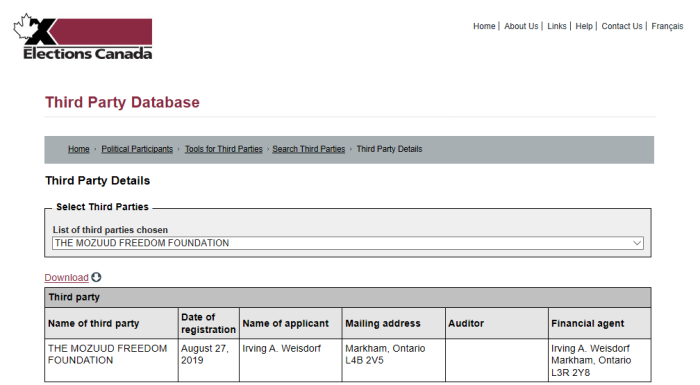 1. Important Links
Previous Articles
(1) https://canucklaw.ca/foreign-interference-in-canadas-democracy-centre-for-israel-and-jewish-affairs/
(2) http://archive.is/wtNQ9
(3) https://canucklaw.ca/centre-for-israel-and-jewish-affairs-an-assault-on-free-speech-and-democracy-in-canada/
(4) http://archive.is/PyhKT
(5) https://canucklaw.ca/centre-for-israel-and-jewish-affairs-information-about-this-non-profit/
(6) http://archive.is/Oi65q
Corporate Documents
cija.01.directors
cija.02.directors
cija.03.director.changes
cija.04.Form4006
cija.05.Form4022.annual.return
cija.06.Form4006.changes.among.directors
cija.07.bylaws.and.governance
cija.08.certificate.of.continuance
Political Connections
cija.02.directors
2. Context For This Article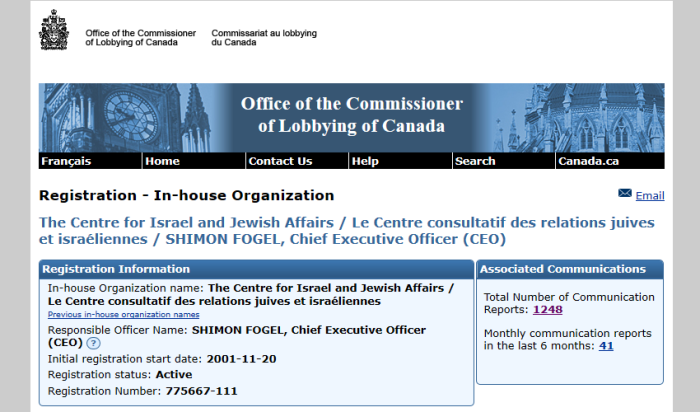 In the first piece, we looked at the extended pattern of political lobbying by CIJA, including Senators, and MPs in the House of Commons from all parties. Over 1200 "communications reports" took place over the last 20 years, or about 1 every 6 days.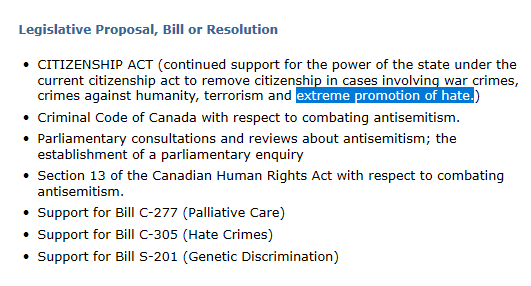 Period (2019-09-01 to 2020-01-14)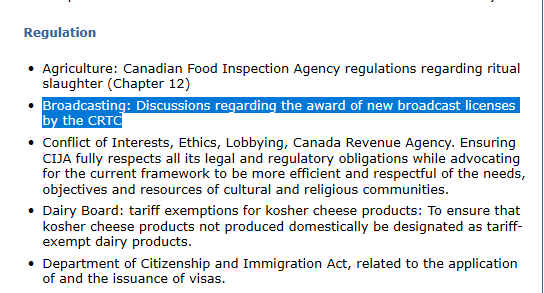 The second article covered the agenda that CIJA was pushing. Beyond generic business interests, CIJA is pushing an anti-free speech agenda. "Hate speech" according to this group, is essentially anything Jews don't like and can claim to be offended by.
In fact, CIJA has, for many years, been lobbying the Federal Government to make licensing of media personalities mandatory. This is so the Israeli lobby can claim "hate speech" to shut down people and views that they disagree with. It can also be used to silence those who speak uncomfortable truths.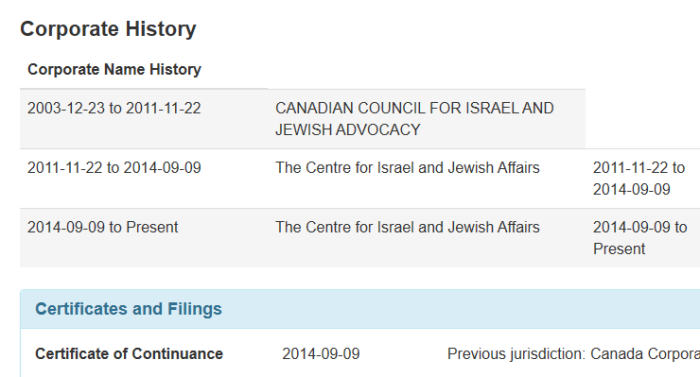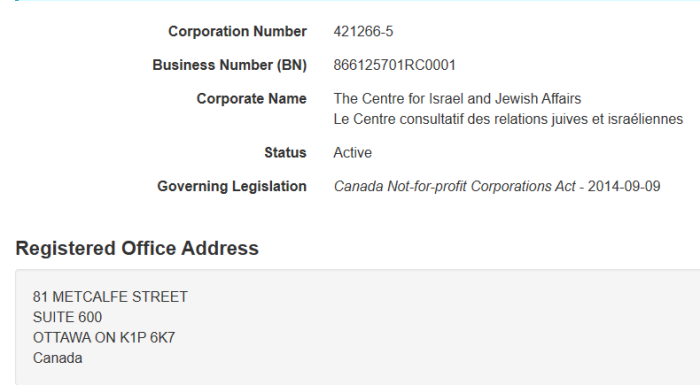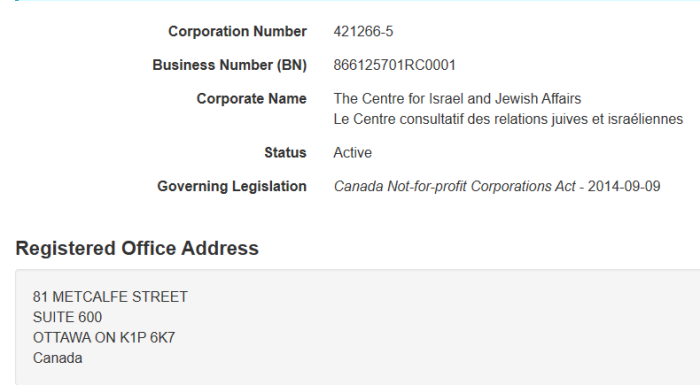 The third article got into the "nuts and bolts" of the organization, including looking at its corporate documents. It's the paperwork that typical corporations have, but that are not readily available if you don't know where to look.
Now let's get into the political and financial ties. While it is obvious that CIJA isn't the only Jewish organization in play here, they do still play a prominent role.
3. Mozuud Freedom Foundation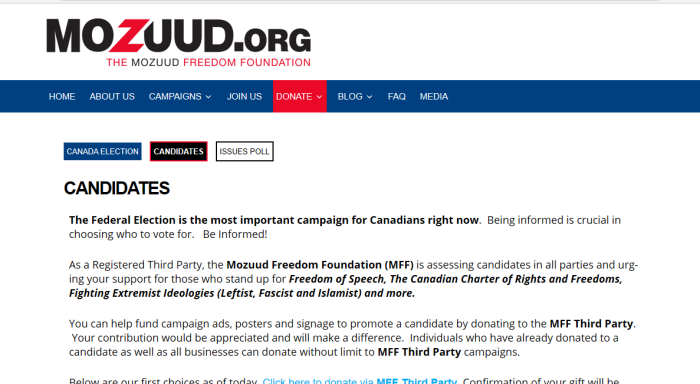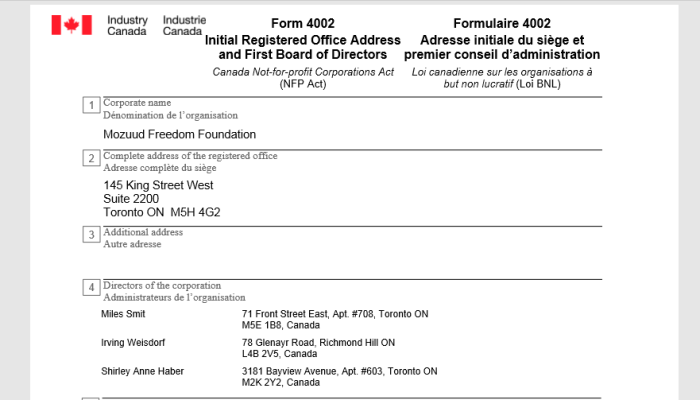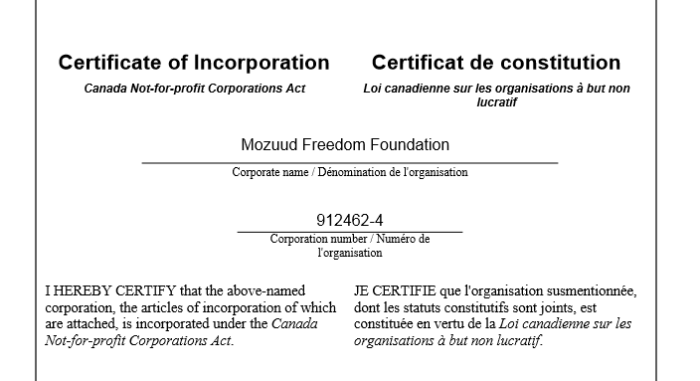 mozuud.3rd.party.return
mozuud.directors
mozuud.certificate.of.incorporation
mozuud.form.4022
The Mozuud Freedom Foundation started out as a human rights organization that advocated for free speech, democracy, the rule of law and support of Israel. It recently decided to enter the political fray, mostly on the side of small-c conservative candidates and parties.
Salim Mansur's name came up often in a telephone interview with Weisdorf. Mansur, a professor of political science at the University of Western Ontario and an immigrant from the Punjab region, is vying for a parliamentary seat in the riding of London North Centre for the People's Party of Canada (PPC).
Mozuud is in the process of arranging an appearance in Toronto by PPC Leader Maxime Bernier, the former Conservative leadership candidate who left the Tories to create a new party.
"I don't disagree with any of Bernier's planks. His policies – I think he's essentially on the right track," Weisdorf said.
To get their message out, Mozuud will send email blasts, place ads on radio and in print, and employ other means to influence the campaign.
Weisdorf, who described himself as a "Harper Conservative," said he'd like to see candidates address a number of issues, such as the BDS campaign against Israel, anti-Zionism on campus, which has morphed into anti-Semitism, the funding of UNRWA, the UN agency that has been accused of siding with Hamas, media subsidization, which Mozuud believes is anti-democratic, and M-103, the parliamentary motion condemning Islamophobia, which Mozuud believes restricts free speech.
This group was awarded third party status by Elections Canada, meaning that they are free to promote their "Israel first" agenda in Canadian politics.
Check out their 3rd Party financials
mozuud.3rd.party.return
If Salim Mansur is such a pro-Israel Muslim, it could explain why Muslim groups don't want him around. They see him as an infiltrator.
Also interesting that they would be eager to see Maxime Bernier, who now "identifies" as a populist. You can't be Canada-First and shill for Israel at the same time.
4. Project Abraham (Previously Mozuud)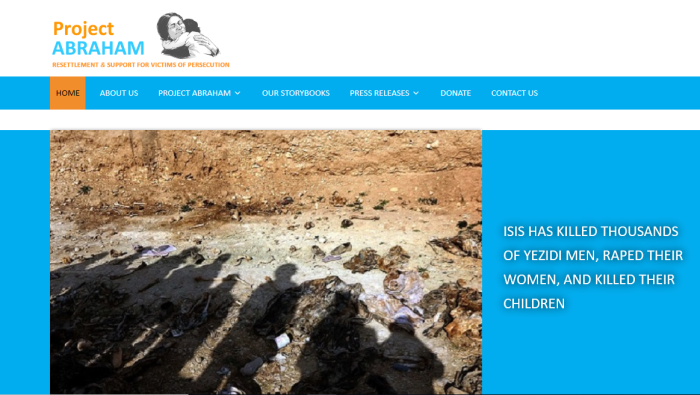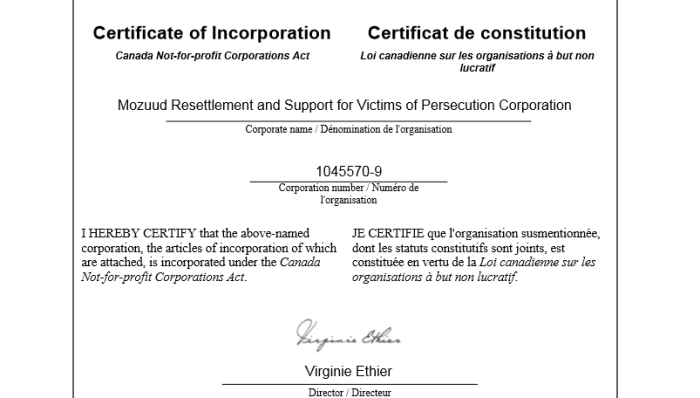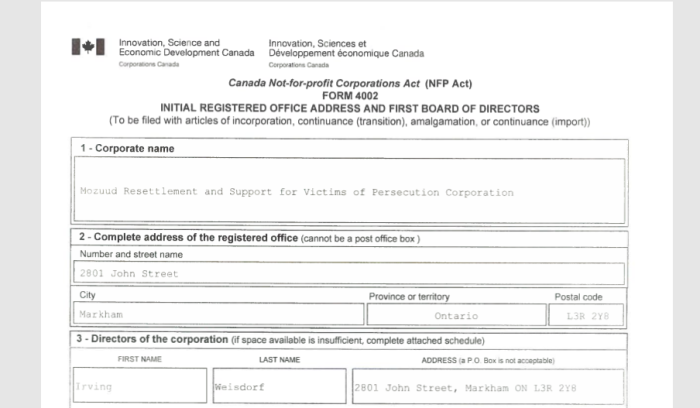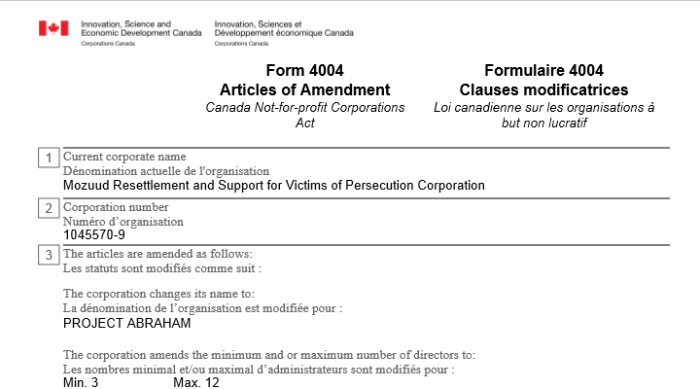 <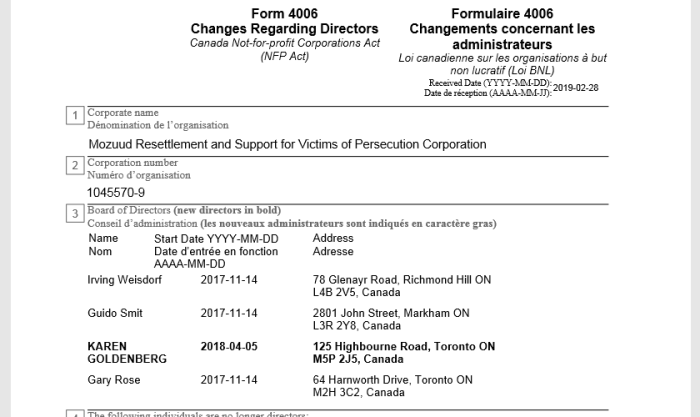 Project Abraham, previously the Mozuud Resettlement and Support for Victims of Persecution, is a Jewish group aiming to being people to the West.
abraham.certificate.incorporation
abraham.director.change
abraham.initial.address.directors
abraham.name.change
5. Mozuud's Political Preferences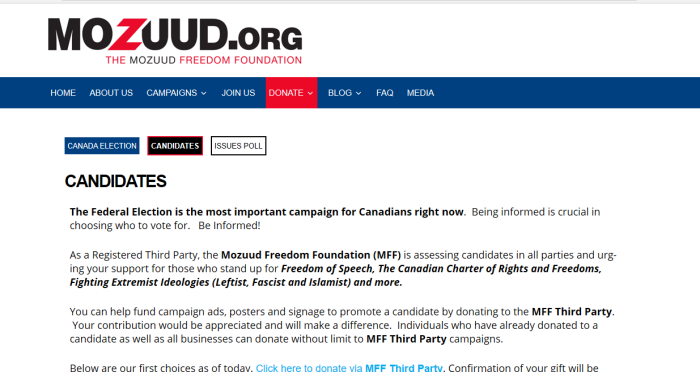 Salim Mansur. London North Centre, Ontario (PPC)– Salim Mansur has been on the front line against extremists for many decades now. As a well-respected professor of political science at Western University, Dr. Mansur has written several books on the threat of Islamism including Islam's Predicament: Perspectives of a Dissident Muslim and The Qur'an Problem and Islamism: Reflections of a Dissident Muslim. Dr. Mansur is an outspoken advocate for freedom of speech both on campus and in the public arena.
Chani Aryeh-Bain. Eglinton-Lawrence, Ontario (CPC)– Chani Aryeh-Bain is a school teacher, small business owner, community activist and life-long resident of Eglinton-Lawrence where she is raising five children along with her husband David. As a small business owner, Chani understands the important role small business play in bringing jobs and prosperity to out neighbourhoods. Through her work supporting local charities Chani is passionate about the need to increase affordability for families and seniors. With your support she hopes to be able to provide a voice for our community in Ottawa.
Garnett Genuis. Sherwood Park- Fort Saskatchewan, Alberta (CPC)– It is because of Garnett Genuis that a motion passed in parliament to recommend that the Islamic Republic's Revolutionary Guard (IRGC) be declared a terrorist organization. Although the motion got bipartisan support, the IRGC has not yet been added to the list of terrorist organizations. The Islamic Republic is the world's leader in state-sponsored terrorism, sent through the arms of the IRGC's Quds Force. Hamas, Hezbollah, Houthi rebels in Yemen, militants in Nigeria, Bosnia, Sudan and elsewhere have been traced back to the Iranian regime's ideological paramilitary organization. While some in the media are trying to push the "Iran Deal" and normalization of the Islamic Republic as apolitical good, MPs like Garnett Genuis are greatly needed.
Tahir Gora. Mississauga-Malton, Ontario (PPC)– Tahir Gora, a Muslim of Pakistani origin, has been one of the most important voices against Islamist extremists in Canada. He played an integral role in defeating Sharia courts in Ontario. From 2003-2006, when Ontario was debating whether or not to allow Sharia courts to set up inside the Muslim communities, it was Tahir and his TV station TAGtv that gave a voice to the moderates and liberals within the Muslim community, fighting back against the Islamist push to rule over them. For his work, Tahir has shown the resilience to stand up to multiple threats, including one from the Pakistani ISI made against him.
David Haskell. Cambridge, Ontario (PPC)– When Lindsay Shepard, a teaching assistant at Laurier University, was brought in front of a panel of far-Left inquisitors for the crime of showing a YouTube clip of Jordan Peterson's appearance on public television, the entire faculty turned their back on her and free speech. All except David Haskell. Haskell was the only professor at Laurier to stand up for the value of free expression, despite the opposition of his peers. Canadian politics needs people willing to stand up for Canadian values, even if it makes them unpopular to certain elites.
Ghada Melek. Mississauga-Streetsville, Ontario (CPC)– Ghada Melek is currently under fire for the crime of criticizing Islamists. Certain organizations are mad that when the Islamic Circle of North America (ICNA) put up bus stop adds promoting the hijab, Melek offered the other point of view. This being, that the hijab is not a tool of female empowerment. In the Sharia state of Iran, women are beaten or imprisoned for the refusal to wear it. It is strange that no one motioned the questionable actions of the ICNA, like the fact that they endorsed Al Qaeda's chief recruiter Anwar al-Awlaki up until 2010, and the fact that they currently have literature on their website promoting sexual slavery. http://icnacanada.net/wp-content/uploads/2012/08/Syllabus-for-the-Month-of-March-for-MGAs-and-Workers.pdf
Pierre Poilievre. Carleton, Ontario (CPC)– Too often in politics an MP will back down at the slightest fear of media pressure from a fabricated "controversy". When Poilievre stated the obvious, that terrorists were responsible for terrorism, not American society, as Justin Trudeau had suggested over the Boston Bombers being made to feel "left out of society", he was attacked by the mainstream media. Instead of backtracking, he called out the "Liberal pseudo-intellectuals" who contrived this fake controversy against him. For quick proof of his point, could you imagine the reaction if someone said that the primary motivation for the terrorist in Christchurch who massacred the worshipers at the mosque, wasn't the terrorist or his White Supremacist ideology, but instead New Zealand society for making him feel "left out".
Interesting that this third party organization supports both CPC and PPC candidates, depending on their views. Can we assume that they are all very much pro-Israel and pro-Zionist?
6. Ex-PM Stephen Harper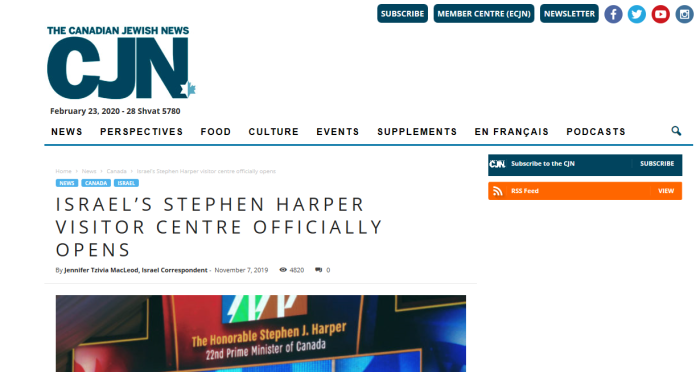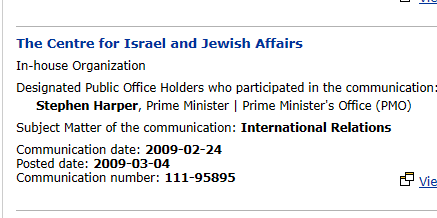 Former prime minister Stephen Harper may be a fading star in Canadian politics, but when it comes to Israel, he's still burning as brightly as ever. He was honoured on Nov. 6, at the official opening of the long-awaited Stephen J. Harper KKL-JNF Hula Valley Visitor and Education Center in the northern Galilee.
Speaking at the event, Harper quoted his late father, who told him that, "No group of people, for its size, has contributed as much (to) humanity, and in so many fields, as have the Jewish people."
In 2013 the Jewish National Fund (JNF) of Canada thanked him for his unwavering support for Israel and the Jewish people at its annual Negev Dinner in Toronto. According to JNF Canada's president, Wendy Spatzner, that event was the largest dinner honouring a Canadian prime minister in history. The event raised millions for the Hula Valley visitor centre.
Yes, Stephen Harper is so beloved in ISRAEL, that they built the "Stephen Harper Center" in his honour.
7. Piece By Times Of Israel
This piece by the Times of Israel is a good place to start. Let's see who will shill for shekels and put Canada last.
The candidates to look out for in the Conservative Party include long-time MPs Peter Kent, Erin O'Toole, and David Sweet. All three have been supporters of Israel and the Jewish community throughout their tenures as MPs and I do not imagine they will stop their much-appreciated advocacy. All have made very positive statements regarding Israel, whenever there is a time that Israel is in some sort of conflict.
Additionally, Garnett Genuis has just served his first term as an MP, however, he also has been outspoken about his support for Israel and the need for peace in the Middle East as a whole. A brand new candidate to keep an eye out on is David Tordjman, who is running in Mount Royal. While he has no experience in federal political office (he does at the municipal level), he too understands the issues facing Israel and the Jewish community.
8. Top CPC Completely Supports Israel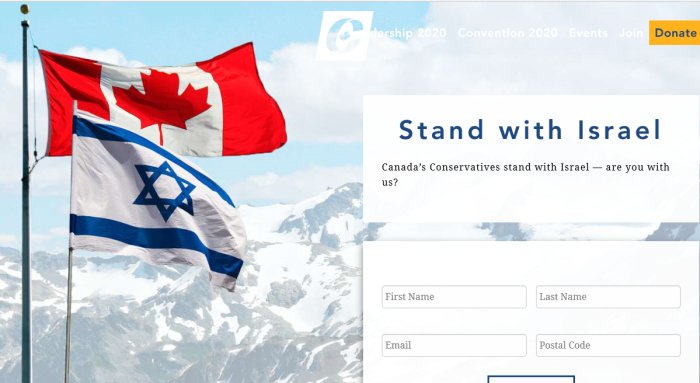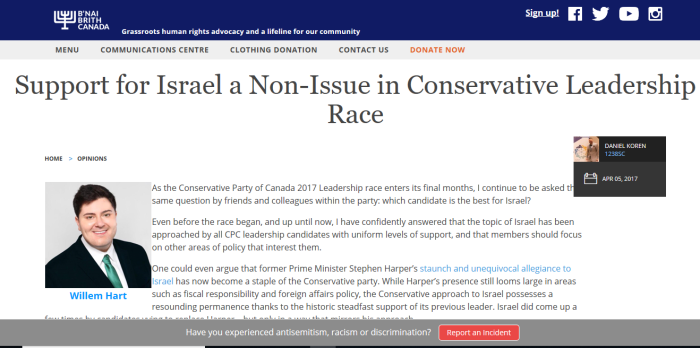 From this B'nai Brith article, it seems that all of the main candidates in the 2016/2017 CPC leadership race all strongly supported Israel.
Even before the race began, and up until now, I have confidently answered that the topic of Israel has been approached by all CPC leadership candidates with uniform levels of support, and that members should focus on other areas of policy that interest them.
One could even argue that former Prime Minister Stephen Harper's staunch and unequivocal allegiance to Israel has now become a staple of the Conservative party. While Harper's presence still looms large in areas such as fiscal responsibility and foreign affairs policy, the Conservative approach to Israel possesses a resounding permanence thanks to the historic steadfast support of its previous leader. Israel did come up a few times by candidates vying to replace Harper – but only in a way that mirrors his approach.
Of the top seven candidates – those who have the profile, financial backing and momentum in opinion polling that indicates some likelihood of winning this race – Kevin O'Leary, Maxime Bernier, Kellie Leitch, Andrew Scheer, Michael Chong, Lisa Raitt and Erin O'Toole have each expressed their support of Israel, albeit in different ways.
No real difference here. All of these CPC politicians are cucking for Israel. Did they forget that they are supposed to represent Canada?
Kevin O'Leary
Maxime Bernier
Kellie Leitch
Andrew Scheer
Michael Chong
Lisa Raitt
Erin O'Toole
9. John Baird: Director Of CIJA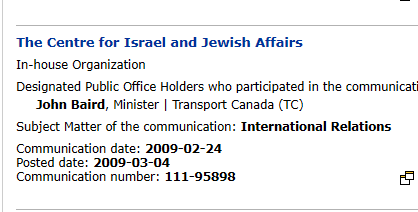 This was addressed previously, but John Baird is currently a (non-voting) Director for CIJA. Sure, no conflict of interest here
10. Andrew Scheer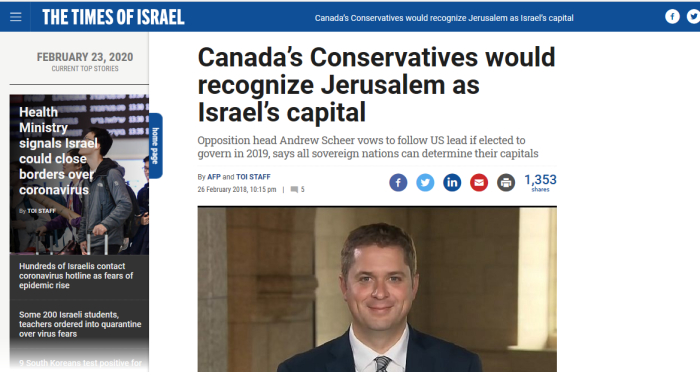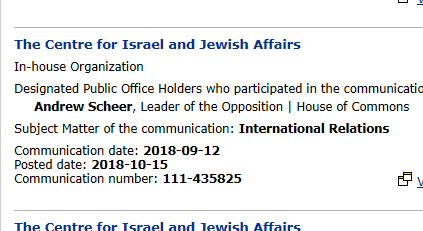 OTTAWA, Canada — Canada's opposition Conservatives said Monday they would follow the US lead and recognize Jerusalem as the capital of Israel if they beat Prime Minister Justin Trudeau's Liberals in the next election in 2019.
"Canada's Conservatives recognize the obvious fact that Israel, like every other sovereign nation, has a right to determine where its capital is located," the party said on its website.
As such, a Tory government led by Andrew Scheer "will recognize Jerusalem as Israel's capital when we form government in 2019," it said.
CPC Leader Andrew Scheer also panders to Israel, saying he will support the embassy move if he won the 2019 election.
11. Maxime Bernier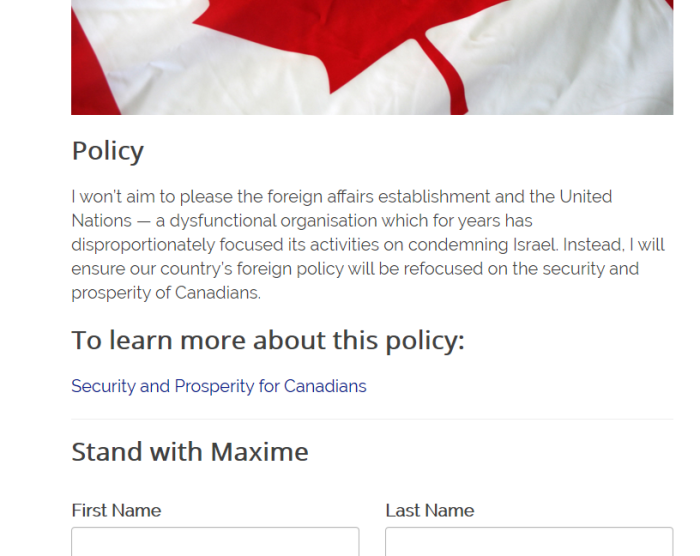 Not very "populist", is it?
12. Erin O'Toole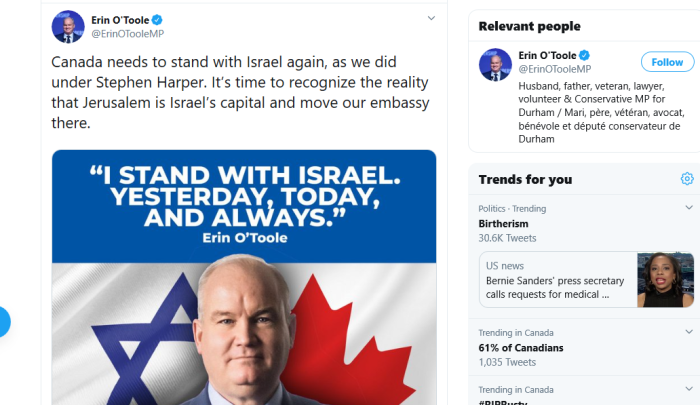 Ontario MP Erin O'Toole, a former party foreign affairs critic and MacKay's rival for the leadership, wasted little time in staking out his position on the subject.
"Under Stephen Harper, Canada stood out as a resolute friend of Israel. Sadly, under Justin Trudeau this strong support has weakened. We need a principled Conservative leader who will make Canada a true friend of Israel once again," O'Toole said in a statement posted to Facebook on the same day as MacKay's tweet.
"I have been absolutely clear about this and my views have not changed. Jerusalem is the capital of Israel. The strong presence of the Jewish people there is thousands of years old. But the modern era of Israel – the Knesset is in Jerusalem, the Supreme Court, most of the foreign affairs and government ministries in West Jerusalem.
At a moment when it seemed unclear how much Peter MacKay would pander to Israel, Canada-Last candidate Erin O'Toole made it perfectly clear that Israel is his priority.
13. Peter MacKay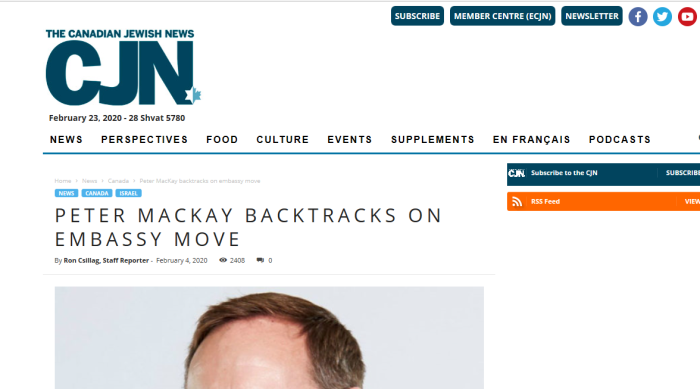 Canada's Jewish community "knows that the Conservative Party stands shoulder to shoulder with them," MacKay tweeted. He said that when he was minister of defence, "I made it clear (that) a threat to Israel is a threat to Canada. I will always stand with one of Canada's closest allies."
It will be important, MacKay went on, "to consult our diplomatic officials at our embassy in Israel to make the necessary preparations for the move."
The statement seemed to signal a change of heart, as only the day before, the Montreal-based online publication the Post Millennial quoted MacKay as saying he needed to consult and learn more before deciding whether to move Canada's embassy from Tel Aviv.
Yes, MacKay will also cuck for Israel, and put Canada last.
14. Garnett Genuis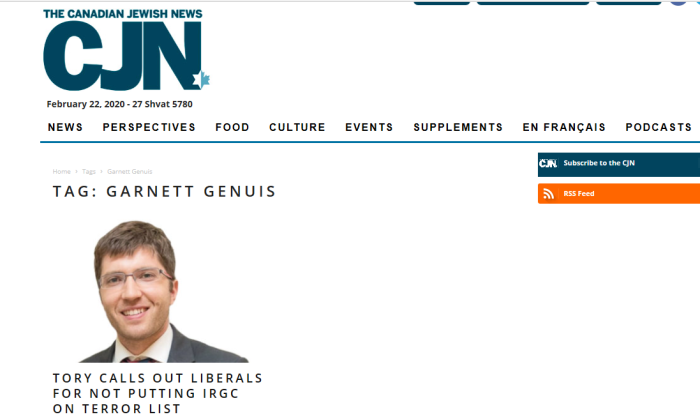 Garnett Genuis is apparently well loved by the Canadian Jewish News. He called out the Liberals for not putting the IRGC (Iranian Revolutionary Guard Corps), on the terrorism watch list.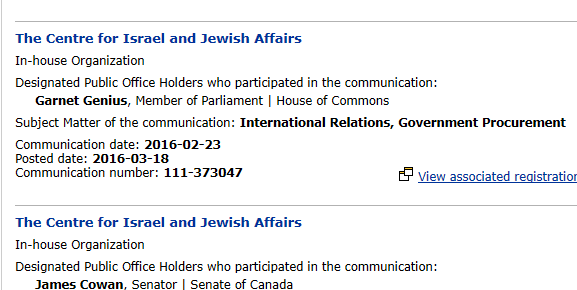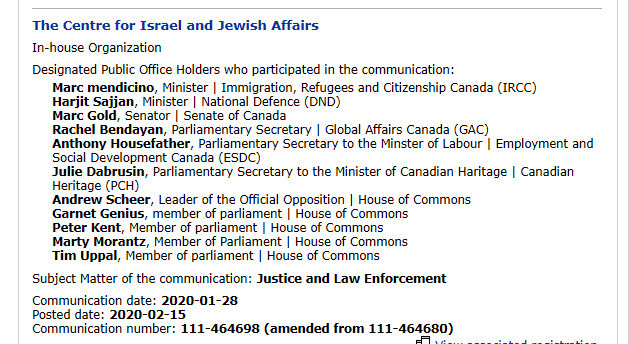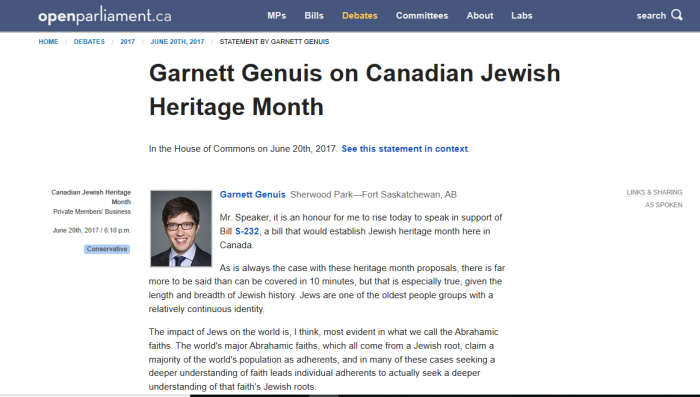 In 2018, Genuis attended an 18 person delegation to Israel. And from that experience Genuis wrote:
I recently joined an 18-strong all-party delegation of the Canada-Palestine Parliamentary Friendship Group on a trip to the West Bank. We arrived on March 31st, the day after the first march on the Israel/Gaza border, so the trip was timely and important. The delegation included: Green Party leader Elizabeth May; former Bloc Québécois interim leader Mario Beaulieu; prominent New Democrat MPs Guy Caron, Ruth-Ellen Brosseau, and Peter Julian; a group of (more than usually) left-leaning Liberal MPs; and me – a self-identifying Zionist, the grandson of a Holocaust survivor, and a proud Conservative.
Genuis has also introduced a motion to condemn Iran, and previously introduced a motion to condemn Hamas.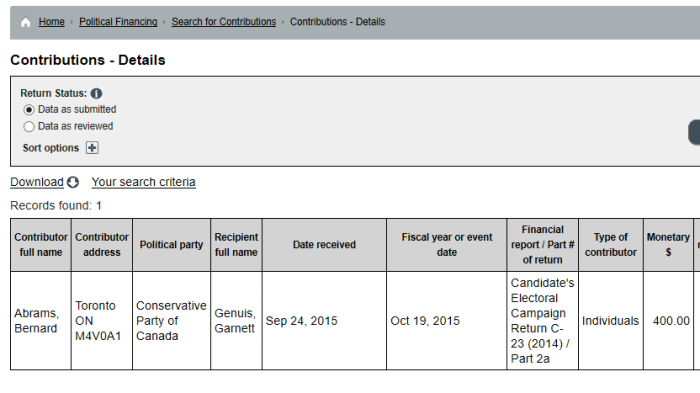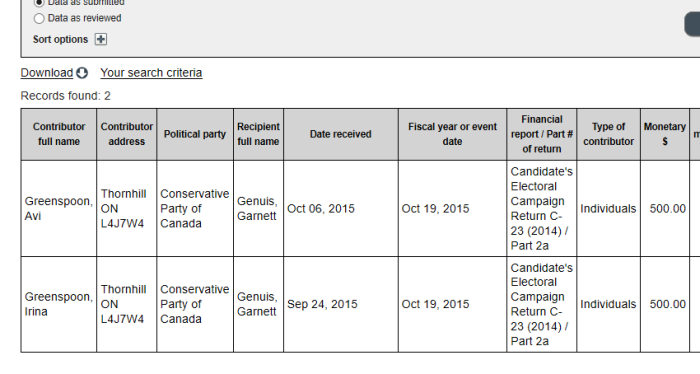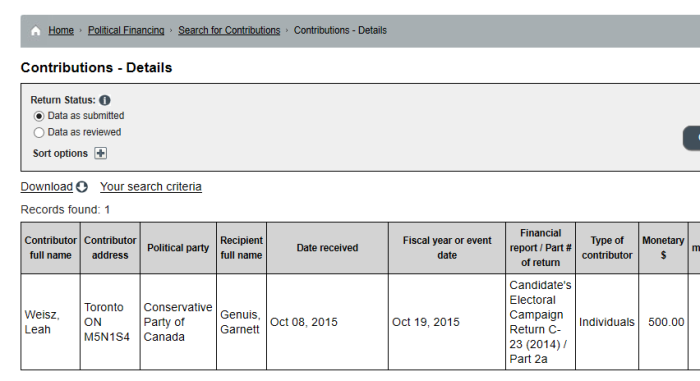 Interesting that a Toronto media personality is supporting an unknown Alberta political candidate. Likewise that a Toronto corporate lawyer would show such an interest.
15. Salim Mansur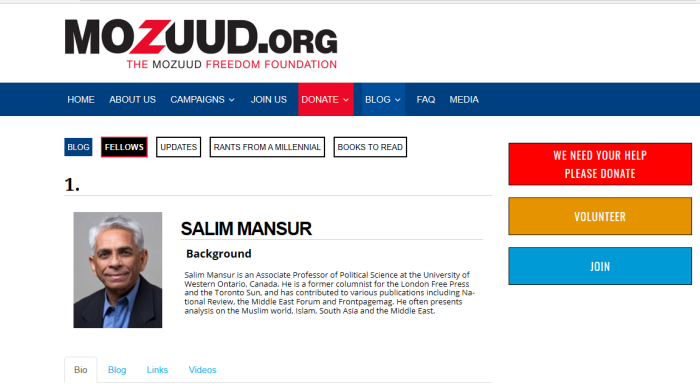 Salim Mansur is an Associate Professor of Political Science at the University of Western Ontario, Canada. He is a former columnist for the London Free Press and the Toronto Sun, and has contributed to various publications including National Review, the Middle East Forum and Frontpagemag. He often presents analysis on the Muslim world, Islam, South Asia and the Middle East.
This is why Muslim groups don't want Mansur around: because they recognize that he is a Zionist working for Israel. Interesting to note: Middle East Forum, (and Gatestone Institute), are 2 outlets that also are bankrolling Tommy Robinson.
16. Tom Quiggin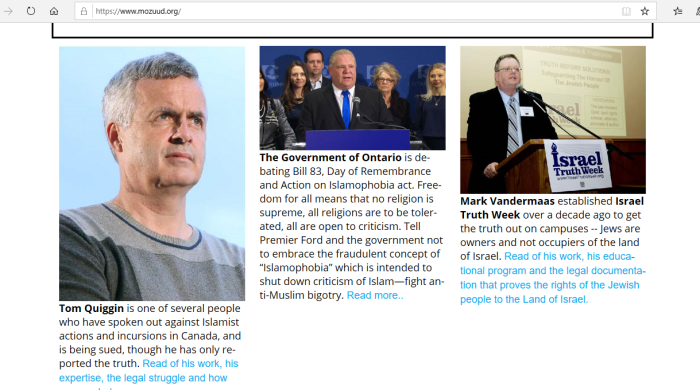 Although Quiggin isn't a politician, this deserves an honourable mention. One might wonder why a Zionist group would be supporting this terrorism expert. It's not difficult to understand when you actually listen to his work. Quiggin is able to nail Islamists for what they do, but he AVOIDS criticising Israel in the process. One might wonder if he is just a puppet.
17. All Parties Shill For Israel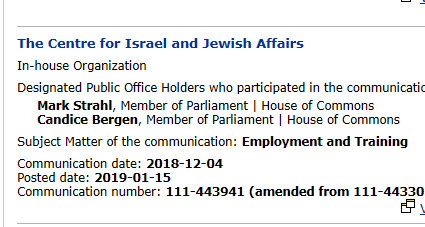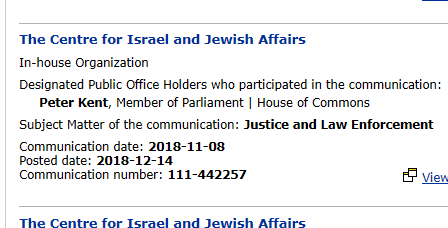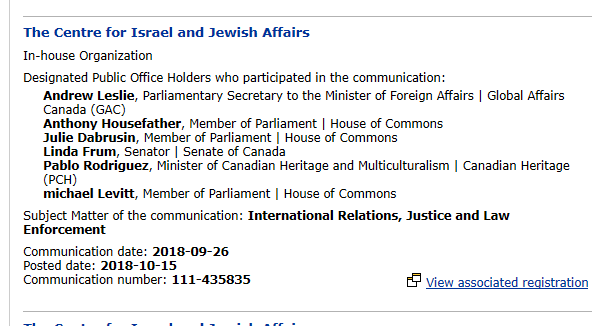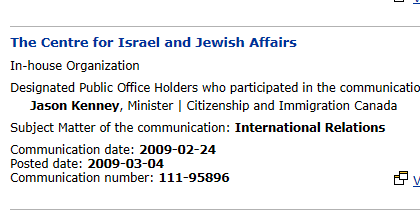 To be fair, it isn't exclusively the CPC that shills and cucks for foreign nations. Other parties are guilty of betraying Canadians as well.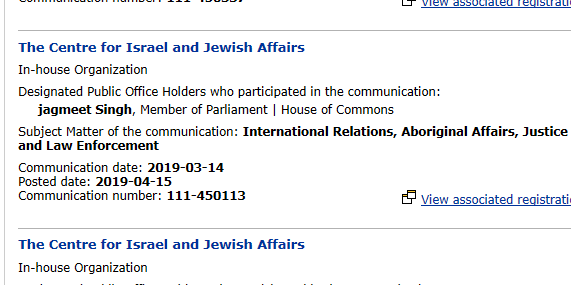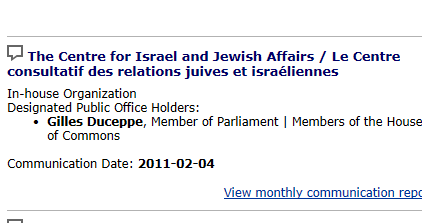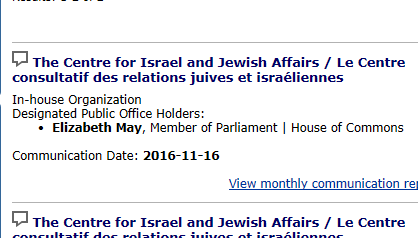 Indeed, one way to ensure you get your way is to control the opposition. That seems to be the case here.
18. None Will Stand Up For Canada
This is repulsive. Foreign nations (well, one anyway) have our politicians on strings. But this isn't being talked about by the media.
See the full scale of CIJA lobbying in Canada.