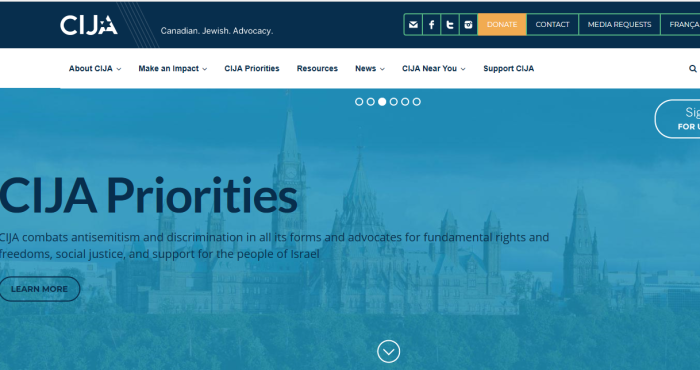 1. Important Links
(1) https://canucklaw.ca/foreign-interference-in-canadas-democracy-centre-for-israel-and-jewish-affairs/"
(2) https://cija.ca/
(3) https://lobbycanada.gc.ca/app/secure/ocl/lrs/do/vwRg?cno=111&regId=895791&blnk=1
(4) http://archive.is/NR9tZ
(5) https://lobbycanada.gc.ca/app/secure/ocl/lrs/do/clntCmmLgs?cno=111&regId=895791
(6) http://archive.is/czbFk
(7) https://www.holocaustremembrance.com/working-definition-antisemitism
(8) http://archive.is/4tjCw
(9) https://laws-lois.justice.gc.ca/eng/acts/h-6/section-13-20021231.html
(10) http://archive.is/lMLRz
2. Context For The Article
The last piece focused mainly on the extensive lobbying efforts that CIJA was involved in doing, namely who and when it was taking place.
Now we get to the "what". What exactly is CIJA lobbying for, and what do they want? If an organization spends that kind of time and money, they must be serious about it.
3. CIJA's Prolific Lobbying Efforts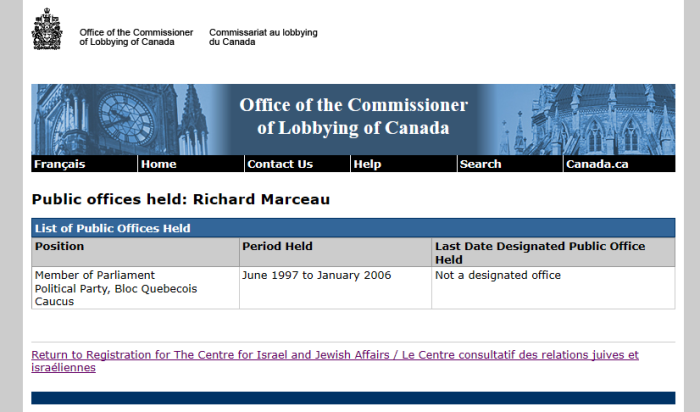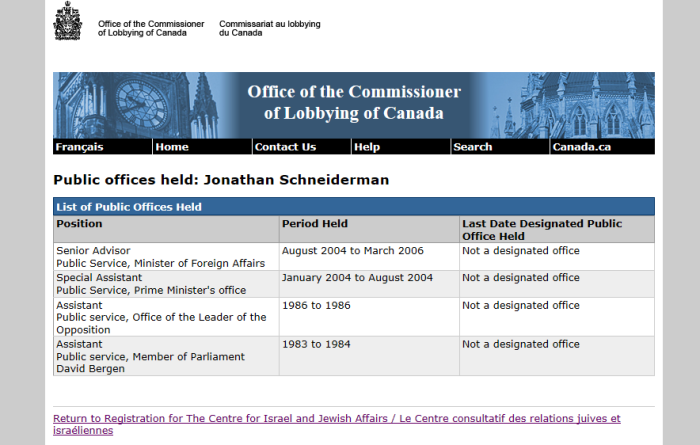 As was covered in the previous article, CIJA, the Center for Israel and Jewish Affairs has been heavily involved in lobbying the Federal Government for decades. Now, let's take a deeper look into what they actually are lobbying for.
4. CIJA's Stated Goals
What makes CIJA different from other Jewish organizations?
.
CIJA is the only registered lobbyist for the Jewish community. It is the sole advocacy agent of Canada's Jewish Federations, focusing much of its work on communications with the non-Jewish community. Its approach to advocacy is strategic, based on research, polling, and analysis. CIJA is the only organization to bring – literally – hundreds of Canadian influencers and decision-makers to Israel on educational missions every year.
Based on information provided in the FAQ, CIJA openly states its goal is to influence policy, and states it brings hundreds of Canadians to Israel annually to help achieve that.
5. IHRA Definition of Anti-Semitism
About the IHRA
The IHRA is the only intergovernmental organization mandated to focus solely on Holocaust-related issues, so with evidence that the scourge of antisemitism is once again on the rise, we resolved to take a leading role in combatting it. IHRA experts determined that in order to begin to address the problem of antisemitism, there must be clarity about what antisemitism is.
The IHRA's Committee on Antisemitism and Holocaust Denial worked to build international consensus around a working definition of antisemitism, which was subsequently adopted by the plenary. By doing so, the IHRA set an example of responsible conduct for other international fora and provided an important tool with practical applicability for its Member Countries. This is just one illustration of how the IHRA has equipped policymakers to address this rise in hate and discrimination at their national level.
The Working Definition of Antisemitism
In the spirit of the Stockholm Declaration that states: "With humanity still scarred by …antisemitism and xenophobia the international community shares a solemn responsibility to fight those evils" the committee on Antisemitism and Holocaust Denial called the IHRA Plenary in Budapest 2015 to adopt the following working definition of antisemitism.
On 26 May 2016, the Plenary in Bucharest decided to:
Adopt the following non-legally binding working definition of antisemitism:

"Antisemitism is a certain perception of Jews, which may be expressed as hatred toward Jews. Rhetorical and physical manifestations of antisemitism are directed toward Jewish or non-Jewish individuals and/or their property, toward Jewish community institutions and religious facilities."
And if this sounds too vague, don't worry. The International Holocaust Remembrance Alliance will get much, MUCH more detailed in what fits this definition.
Contemporary examples of antisemitism in public life, the media, schools, the workplace, and in the religious sphere could, taking into account the overall context, include, but are not limited to:
-Calling for, aiding, or justifying the killing or harming of Jews in the name of a radical ideology or an extremist view of religion.
-Making mendacious, dehumanizing, demonizing, or stereotypical allegations about Jews as such or the power of Jews as collective — such as, especially but not exclusively, the myth about a world Jewish conspiracy or of Jews controlling the media, economy, government or other societal institutions.
-Accusing Jews as a people of being responsible for real or imagined wrongdoing committed by a single Jewish person or group, or even for acts committed by non-Jews.
-Denying the fact, scope, mechanisms (e.g. gas chambers) or intentionality of the genocide of the Jewish people at the hands of National Socialist Germany and its supporters and accomplices during World War II (the Holocaust).
-Accusing the Jews as a people, or Israel as a state, of inventing or exaggerating the Holocaust.
-Accusing Jewish citizens of being more loyal to Israel, or to the alleged priorities of Jews worldwide, than to the interests of their own nations.
-Denying the Jewish people their right to self-determination, e.g., by claiming that the existence of a State of Israel is a racist endeavor.
-Applying double standards by requiring of it a behavior not expected or demanded of any other democratic nation.
Using the symbols and images associated with classic antisemitism (e.g., claims of Jews killing Jesus or blood libel) to characterize Israel or Israelis.
-Drawing comparisons of contemporary Israeli policy to that of the Nazis.
-Holding Jews collectively responsible for actions of the state of Israel.
.
Antisemitic acts are criminal when they are so defined by law (for example, denial of the Holocaust or distribution of antisemitic materials in some countries).
.
Criminal acts are antisemitic when the targets of attacks, whether they are people or property – such as buildings, schools, places of worship and cemeteries – are selected because they are, or are perceived to be, Jewish or linked to Jews.
.
Antisemitic discrimination is the denial to Jews of opportunities or services available to others and is illegal in many countries.
Yes, this IHRA definition of anti-Semitism means any such behaviour listed above should be criminalized.
Also note: it has the wording "include, but not limited to". This means that the extensive list of "anti-Semitic behaviour" may be expanded on as time passes.
Language that seems dehumanizing? That also is extremely vague, and seems ripe for abuse. And Jews are greatly overrepresented in government, academia, banking and the media. How is pointing out these facts considered bias?
Even questioning even the scale of the Holocaust is considered a hate crime according to these people?
And Israel DOES practice a double standard when it comes to managing its affairs. Israel has strong border walls, strict immigration, and is extremely ethno-centric when it comes to determining who it should allow to live there. But if you question the hypocrisy, you are an anti-Semite.
Is all of this an academic exercise? Hardly.
6. Pushing IHRA Definition on Others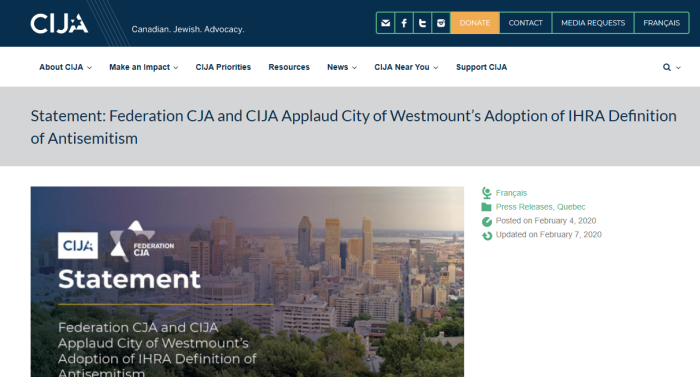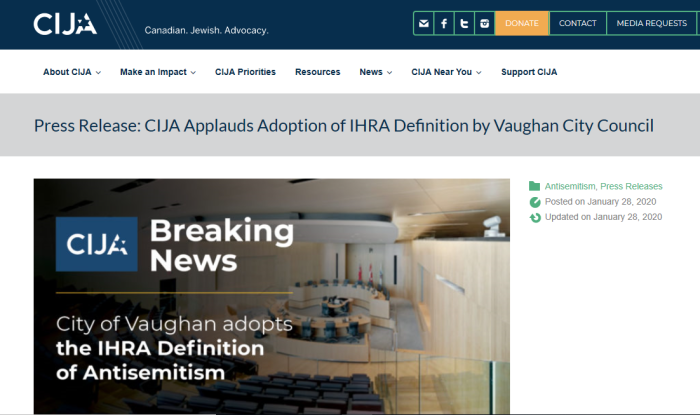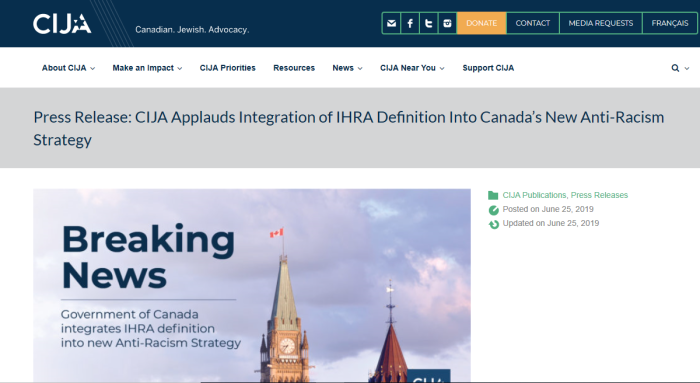 CIJA has been successful in getting Westmount (Montreal), and Vaughn, and Toronto, to adopt the IHRA definition of anti-Semitism, which is basically anything Jews don't like.
As a political tactic, this is proving to be very effective.
Looking at this in terms of silencing potential critics: how is this different from the Motion M-103 which Iqra Khalid previously got passed in the House of Commons? The effect is the same — using the claim of victimhood to silence free speech.
7. Changing Human Rights Code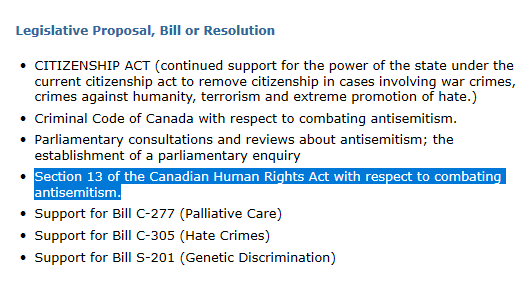 Hate messages
13 (1) It is a discriminatory practice for a person or a group of persons acting in concert to communicate telephonically or to cause to be so communicated, repeatedly, in whole or in part by means of the facilities of a telecommunication undertaking within the legislative authority of Parliament, any matter that is likely to expose a person or persons to hatred or contempt by reason of the fact that that person or those persons are identifiable on the basis of a prohibited ground of discrimination.
Marginal note:
Interpretation
(2) For greater certainty, subsection (1) applies in respect of a matter that is communicated by means of a computer or a group of interconnected or related computers, including the Internet, or any similar means of communication, but does not apply in respect of a matter that is communicated in whole or in part by means of the facilities of a broadcasting undertaking.
Marginal note:
Interpretation
(3) For the purposes of this section, no owner or operator of a telecommunication undertaking communicates or causes to be communicated any matter described in subsection (1) by reason only that the facilities of a telecommunication undertaking owned or operated by that person are used by other persons for the transmission of that matter.
CIJA wants to bring back Section 13 of the Canada Human Rights Act, which was repealed in 2013. The idea is to make it easier to claim anti-Semitism by pointing to electronic communications.
8. (Internet) Hate Speech, Criminal Penalties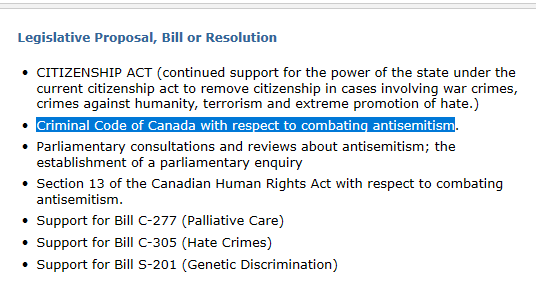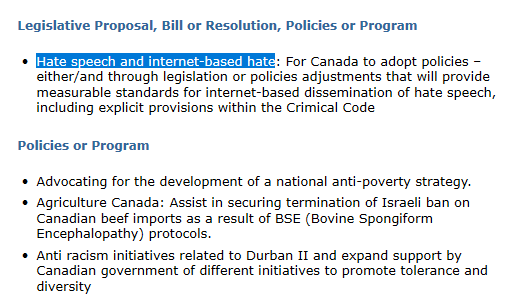 The previous section dealt with "online hate" via the Canada Human Rights Act, but here, CIJA wants to push for it to be "criminally punishable" as well. That's right, not only would this be a human rights violation, but potentially a criminal offence as well.
Of course, CIJA supports the extremely broad and excessive definition of "anti-Semitism" as laid out by the International Holocaust Remembrance Alliance. Don't worry, this won't trample on your free speech or anything.
9. Deportations For "Hate Speech"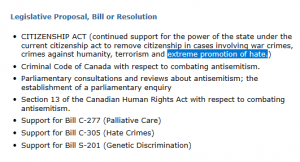 One of CIJA's stated goals is to influence policy to make it easier to remove citizenship of Canadians for a variety of reasons, including what it calls: extreme promotion of hate.
Presumably — although it doesn't specify — this would only apply to people who immigrate to Canada and later become citizens. One can also assume — but again, it doesn't state — that after the citizenship is revoked the person would then be deported.
While removing people who commit terrorism and crimes against humanity is certainly a reasonable goal, it is disturbing to see "hate speech" included as well. This is especially true since CIJA doesn't really believe in free speech to begin with.
It would be interesting (at least in some academic sense), to see how this plays out. Under Bill C-6, we no longer pull the citizenship of actual terrorists. Yet we are now supposed to do so for hate speech?
10. Holocaust Training Obligations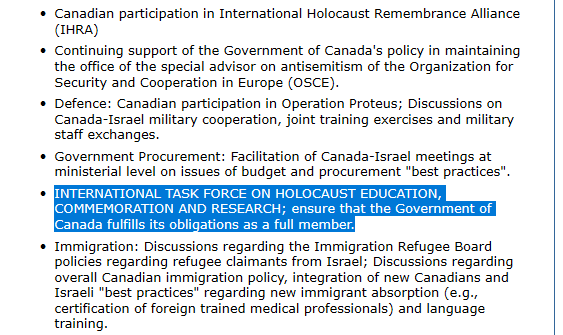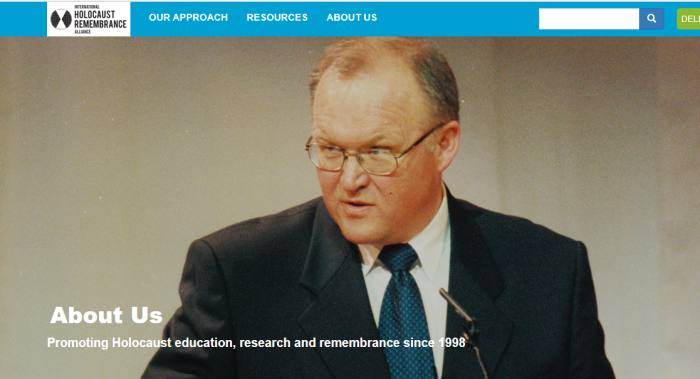 The International Holocaust Remembrance Alliance unites governments and experts to strengthen, advance and promote Holocaust education, research and remembrance and to uphold the commitments to the 2000 Stockholm Declaration.
The IHRA (formerly the Task Force for International Cooperation on Holocaust Education, Remembrance and Research, or ITF) was initiated in 1998 by former Swedish Prime Minister Göran Persson. Today the IHRA's membership consists of 34 member countries, each of whom recognizes that international political coordination is imperative to strengthen the moral commitment of societies and to combat growing Holocaust denial and antisemitism.
The IHRA's network of trusted experts share their knowledge on early warning signs of present-day genocide and education on the Holocaust. This knowledge supports policymakers and educational multipliers in their efforts to develop effective curricula, and it informs government officials and NGOs active in global initiatives for genocide prevention.
Yes, this is very productive: constantly reminding Canadians that Jews are victims.
Interesting to note: IHRA wants to criminalize it (everywhere) to deny or even question the Holocaust, but it is only "this" one that is off limits. Every other alleged atrocity is fair game to dissect and analyse. Perhaps the cover story is falling apart after all these years, so the skeptics must be silenced.
11. CIJA And Durban II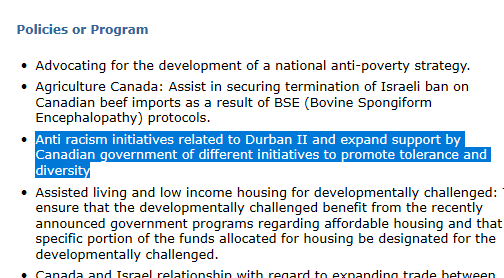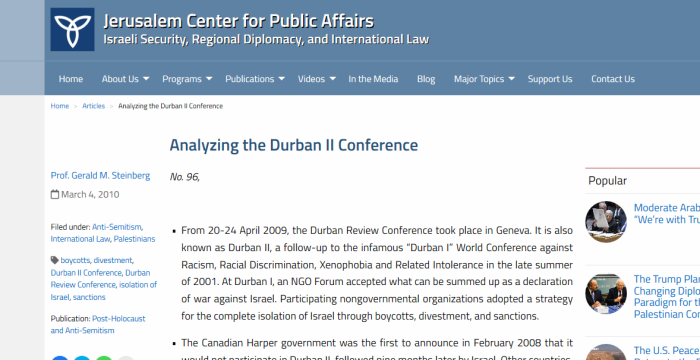 From 20-24 April 2009, the Durban Review Conference took place in Geneva. It is also known as Durban II, a follow-up to the infamous "Durban I" World Conference against Racism, Racial Discrimination, Xenophobia and Related Intolerance in the late summer of 2001. At Durban I, an NGO Forum accepted what can be summed up as a declaration of war against Israel. Participating nongovernmental organizations adopted a strategy for the complete isolation of Israel through boycotts, divestment, and sanctions.
The Durban I is seen as waging war on Israel. So CIJA is trying to lobby Canada and other nations to act as a counter-weight against future proposals or movements.
12. CIJA Behind Media Licensing Req
Period (2012-05-10 to 2012-07-19)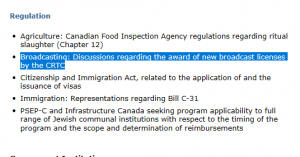 Period (2015-02-02 to 2015-06-10)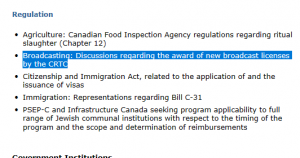 Period (2016-03-01 to 2016-03-18)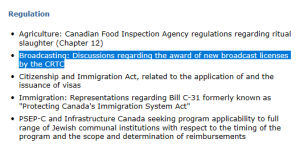 Period (2017-06-15 to 2017-08-04)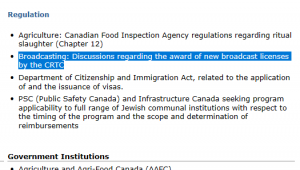 Period (2019-09-01 to 2020-01-14)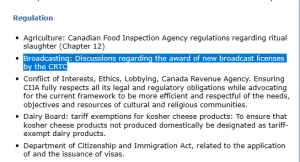 Do you get the picture? For years, the Center for Israel and Jewish Affairs has been lobbying the Federal Government about the issuances of broadcast licenses.
This is not a one time thing, but has been going on for several years, at least. Any wonder why we now have a government that openly calls for all media outlets (regardless of size), to be regulated? This is a deliberate attempt to give control to the government to deplatform anyone who is deemed to be anti-Semitic, or involved in hate speech.
That is correct. The ISRAELI group has spent years lobbying the CANADIAN Government over how media licenses should be issued. This is straight up foreign interference in our affairs.
The CRTC has recently made many recommendations, including forcing those in the media to get licenses. Understandably, the Minister, Steven Guilbeault, and the Federal Government are taking a lot of flak over this. People may have believed it to be the Islamic groups that led to this, and that certainly is a reasonable suspicion. However, the fact is that CIJA has lobbying specifically for this for many years.
13. More Than Just Free Speech
Of course, there are many other things CIJA advocates for.
One is increasing markets for kosher food, that is food killed in barbaric and inhumane ways (much like Islamic halal). Looks like animal rights don't matter as long as it is cloaked in culture and diversity.
This group also pushes for increased trade and for changes to the tax code that presumably Jews would personally benefit from.
CIJA also wants to see more immigration with easier pathways. But of course, this only applies to people coming to Canada. Israel can remain an ethno-state. CIJA further wishes to entangle Canada in its military and political obligations.
So there is no denying that this group — which has filed 1248 "communications reports" has been busy trying to change Canada's laws. But the worst one in the eyes of many is its continuous assault on free speech in Canada.
White Westerners are told that identity politics is evil and wrong. But CIJA, and groups like it, endlessly play JEWISH identity politics in order to get their way. Seems hypocritical.