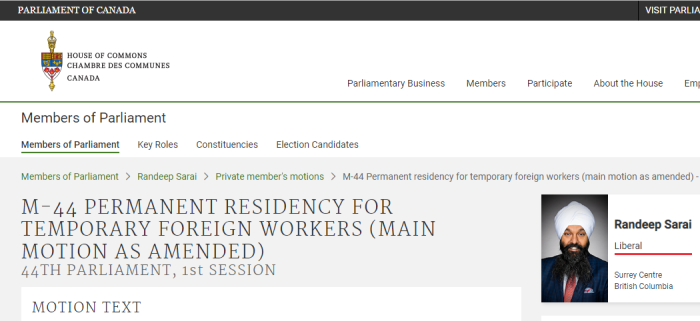 Motion M-44 has recently passed. The House of Commons voted to demand that the Trudeau Government come up with new ways to accelerate the transition of "temporary" foreign workers and international students into Permanent Residents.
The legislation was advanced by Liberal Randeep Sarai. This isn't at all surprising, considering the largest group coming to Canada in recent years has been Indians.

The final vote was 324-0. This means each Member of Parliament who voted did so in favour of this Motion, regardless of partisan affiliation. Every single "Conservative" voted in favour of speeding up demographic replacement by supporting this.
Even worse: they condemn the truthful description of what's happening as racist conspiracy theories.
It's interesting that there's no hurry by Federal politicians to get rid of masks or vaccine passports. However, all of Parliament agreed that there should be a plan within the next 4 months to expand and speed up pathways to creating more Permanent Residents.
MOTION TEXT
That, in the opinion of the House, the government should develop and publicly release within 120 days following the adoption of this motion a comprehensive plan to expand the economic immigration stream to allow workers of all skill levels to meet the full range of labour needs and pathways to permanent residency for temporary foreign workers, including international students, with significant Canadian work experience in sectors with persistent labour shortages, and such plan should incorporate the following elements:
.
(a) amending eligibility criteria under economic immigration programs to give more weight to significant in-Canada work experience and expand the eligible occupational categories and work experience at various skills levels;
.
(b) examining evidence and data gathered from recent programs such as Temporary Resident to Permanent Resident Pathway, Atlantic Immigration Program (AIP), Rural and Northern Immigration Program (RNIP), and Agri-Food Pilot, and Provincial Nominee Process (PNP);
.
(c) incorporating data on labour market and skills shortages to align policy on immigrant-selection with persistent labour gaps;
.
(d) assessing ways to increase geographic distribution of immigration and encourage immigrant retention in smaller communities, as well as increase Francophone immigration outside Quebec;
.
(e) identifying mechanisms for ensuring flexibility in immigration-selection tools to react quicker to changes in labour market needs and regional economic priorities; and
.
(f) specifically considering occupations and essential sectors that are underrepresented in current economic immigration programs, such as health services, caregivers, agriculture, manufacturing, service industry, trades, and transportation.
What specific sectors will be targeted? Included are: health services, caregivers, agriculture, manufacturing, service industry, trades, and transportation. Of course, it's much easier to support a family if they are living in a country with a much lower cost of living.
Sure, one could argue that it's just to demand a plan. However, Trudeau is extremely accommodating when it comes to finding new ways to bring people into Canada.
Another development saw the Government extend the work visas for graduates get extended by 18 months. Now, students who complete a diploma or degree are typically eligible for a 3 year open work visa (via the Post Graduate Work Program). For those involved, it effectively makes those permits 4 1/2 years. It's unclear if this is just a one-off.
In 2020, the Government quietly made changes to allow people on student visas to work an unlimited amount of hours — while still in school. This policy existed to ensure that students were in fact focused on studying, and not just using it as a backdoor work permit. See page 12 of 2021 Report. Guess we'll see if it ever goes back.
It seems unlikely that the average Canadian has any idea just how many students and "temporary" workers come to Canada. This should demonstrate the trend, at least for recent years.
Year
Stu
TFWP
IMP
Total
2003
61,293
82,151
–
143,444
2004
56,536
90,668
–
147,204
2005
57,476
99,146
–
156,622
2006
61,703
112,658
–
174,361
2007
64,636
165,198
–
229,834
2008
79,509
192,519
–
272,028
2009
85,140
178,478
–
263,618
2010
96,157
182,276
–
278,433
2011
98,383
190,842
–
289,225
2012
104,810
213,573
–
318,383
2013
111,865
221,310
–
333,175
2014
127,698
95,086
197,924
420,078
2015
219,143
73,016
175,967
468,126
2016
265,111
78,402
207,829
551,342
2017
317,328
78,788
224,033
620,149
2018
356,876
84,229
255,034
696,139
2019
402,427
98,310
306,797
807,534
2020
256,740
84,609
242,130
583,452
Stu = Student Visa
TFWP = Temporary Foreign Worker Program
IMP = International Mobility Program
Data for this table was compiled from the Annual Immigration Reports to Parliament, from 2004 through 2021. These cover the years 2003 to 2020. Keep in mind, this is just what's on the books.
How many of them actually stay? It's hard to say. Either the Government doesn't keep data on this this, or they do, but just don't make it easily available.
About the change from 2013 to 2014: the Harper Government got a lot of flack for flooding Canada with TFWs. The solution they came up with was not to reduce the number of them. Instead, they broke up the program into different areas to better conceal what was happening. This has been addressed elsewhere on this site.
Simply beyond pumping up the people who are getting PR status, the Canadian Parliament has also been holding hearings since February on the topic of boosting the number of international students coming in the first place.
More people coming + more staying = faster rate of change
The lie has been heavily promoted that it's only 300,000 or 400,000 people coming to Canada per year. It's not. Whether it's ignorance or malice, very few report the truth, including those in alternative media. Here's a recent review of the numbers in Canada. It's shocking, or at least it should be.
While politicians here facilitate open borders, it's worth mentioning that over 4.2 million babies have been aborted since 1970. Then of course, they're feminism and the globohomo agenda doing a number on birth rates. The solution then becomes to bring more people over, to compensate for a declining population.
Are things starting to make sense now?
A little self promotion: Borderless Canada is still available online. Learn about what's been going on in this country. Virtually all issues can be directly tied to immigration and border security, and it's not racist to discuss hard truths.
(1) https://www.ourcommons.ca/members/en/89339/motions/11528727
(2) https://www.ourcommons.ca/members/en/randeep-sarai(89339)
(3) https://www.ourcommons.ca/Members/en/votes/44/1/85
(4) https://www.ourcommons.ca/Committees/en/CIMM/StudyActivity?studyActivityId=11473703
(5) https://kitchener.citynews.ca/national-news/federal-government-will-let-international-graduates-stay-in-canada-another-18-months-5291183
(6) https://www.cp24.com/news/tory-leadership-candidate-pierre-poilievre-denounces-white-replacement-theory-1.5906421
2004.annual.immigration.report.to.parliament
2005.annual.immigration.report.to.parliament
2006.annual.immigration.report.to.parliament
2007.annual.immigration.report.to.parliament
2008.annual.immigration.report.to.parliament
2009.annual.immigration.report.to.parliament
2010.annual.immigration.report.to.parliament
2011.annual.immigration.report.to.parliament
2012.annual.immigration.report.to.parliament
2013.annual.immigration.report.to.parliament
2014.annual.immigration.report.to.parliament
2015.annual.immigration.report.to.parliament
2016.annual.immigration.report.to.parliament
2017.annual.immigration.report.to.parliament
2018.annual.immigration.report.to.parliament
2019.annual.immigration.report.to.parliament
2020.annual.immigration.report.to.parliament
2021.annual.immigration.report.to.parliament