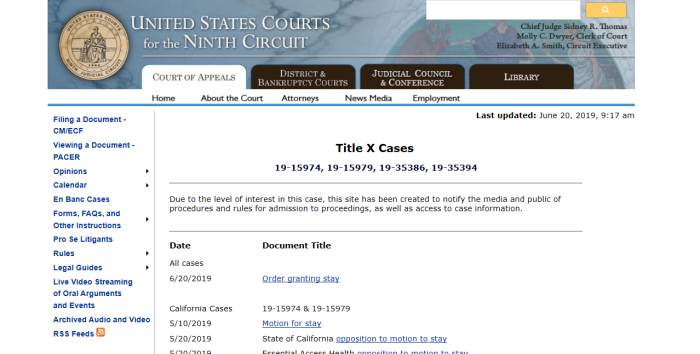 (David Daleiden Fined $195,000 Exposed PP Selling Aborted Baby Parts)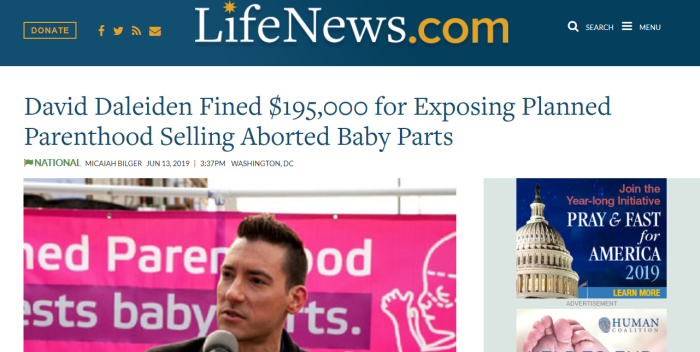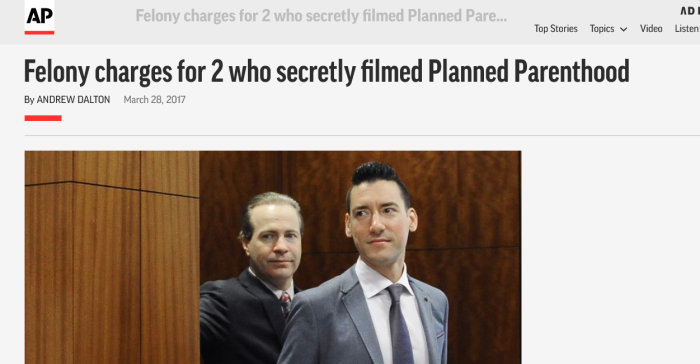 (
Interview With David Daleiden
)
1. Other Articles on Abortion/Infanticide
CLICK HERE, for #1: universities fighting against pro-life groups.
CLICK HERE, for #2: citing abortion stats now considered violence.
CLICK HERE, for #3: up to birth abortion now legal in VA/NY.
CLICK HERE, for #4: letting babies who survive abortion die.
CLICK HERE, for #5: UN supports abortion rights, even for kids.
CLICK HERE, for #6: fallout and some pushback on abortion.
CLICK HERE, for #7: ONCA rules docs must provide service or referral.
CLICK HERE, for #8: hypocrisy in summer jobs grant, purity tests.
CLICK HERE, for trafficking, smuggling, child exploitation series.
2. Important Links

CLICK HERE, for the 9th Circuit ruling.
CLICK HERE, for an article on Planned Parenthood. PP would stand to lose $50-$60 million a year from defunding.
CLICK HERE, for PP suing Idaho over new reporting requirements.
CLICK HERE, for Idaho's House Bill 638.
CLICK HERE, for a Politico article which covers ongoing cases
CLICK HERE, for Planned Parenthood & Ohio.
CLICK HERE, for Planned Parenthood challenging a ban on aborting fetuses with Down's Syndrome.
CLICK HERE, for Kentucky banning abortions based on race, sex or disability, which Planned Parenthood and ACLU plan to challenge.
CLICK HERE, for Ohio Senate Bill 23 "Heartbeat Bill". (Hearts beat 45 days into pregnancy).
CLICK HERE, for Ohio Senate Bill 27, Medical Tissue Disposal Bill.
CLICK HERE, for Planned Parenthood challenging Indiana law requiring the remains of aborted babies to be either cremated or buried.
CLICK HERE, for an article on selling aborted baby parts.
CLICK HERE, for David Daleiden fined $195,000.
CLICK HERE, for Daleiden charged for illegal recordings.
3. Quotes From Ruling
BACKGROUND:
In 1970, Congress enacted Title X of the Public Health Service Act ("Title X") to create a limited grant program for certain types of pre-pregnancy family planning services. See Pub. L. No. 91-572, 84 Stat. 1504 (1970). Section 1008 of Title X, which has remained unchanged since its enactment, is titled "Prohibition of Abortion," and provides: None of the funds appropriated under this subchapter shall be used in programs where abortion is a method of family planning.
Pretty straightforward. Title X was never meant to be a means which to funnel money to fund abortions.
In ruling on a stay motion, we are guided by four factors: "(1) whether the stay applicant has made a strong showing that he is likely to succeed on the merits; (2) whether the applicant will be irreparably injured absent a stay; (3) whether issuance of the stay will substantially injure the other parties interested in the proceeding; and (4) where the public interest lies." Nken v. Holder, 556 U.S. 418, 434 (2009) (internal quotation marks omitted). Although review of a district court's grant of a preliminary injunction is for abuse of discretion, Southwest Voter Registration Education Project v. Shelley, 344 F.3d 914, 918 (9th Cir. 2003), "[a] district court by definition abuses its discretion when it makes an error of law," Koon v. United States, 518 U.S. 81, 100 (1996).
This is the 4 part test to decide on a motion to stay a ruling. Is the applicant likely to succeed? Is there public interest? What harm will come to the parties?
As a threshold matter, we note that the Final Rule is a reasonable interpretation of § 1008. Congress enacted § 1008 to ensure that "[n]one of the funds appropriated under this subchapter shall be used in programs where abortion is a method of family planning." 42 U.S.C. § 300a-6. If a program promotes, encourages, or advocates abortion as a method of family planning, or if the program refers patients to abortion providers for family planning purposes, then that program is logically one "where abortion is a method of family planning." Accordingly, the Final Rule's prohibitions on advocating, encouraging, or promoting abortion, as well as on referring patients for abortions, are reasonable and in accord with § 1008. Indeed, the Supreme Court has held that § 1008 "plainly allows" such a construction of the statute. Rust, 500 U.S. at 184 (upholding as a reasonable interpretation of § 1008 regulations that (1) prohibited abortion referrals and counseling, (2) required referrals for prenatal care, (3) placed restrictions on referral lists, (4) prohibited promoting, encouraging, or advocating abortion, and (5) mandated financial and physical separation of Title X projects from abortion-related activities). The text of § 1008 has not changed.
This makes a great deal of sense. If abortion was never intended to be covered as "family planning" under Title X, then organizations that openly promote, encourage, or otherwise facilitate it shouldn't be allowed to receive federal monies. It would do an end run around rules.
Notwithstanding any other provision of this Act, the Secretary of Health and Human Services shall not promulgate any regulation that—
(1) creates any unreasonable barriers to the ability of individuals to obtain appropriate medical care;
(2) impedes timely access to health care services;
(3) interferes with communications regarding a full range of treatment options between the patient and the provider;
(4) restricts the ability of health care providers to provide full disclosure of all relevant information to patients making health care decisions;
(5) violates the principles of informed consent and the ethical standards of health care professionals; or
(6) limits the availability of health care treatment for the full duration of a patient's medical needs.
Pub. L. No. 111-148, title I, § 1554 (42 U.S.C. § 18114) ("§ 1554"). These two provisions could render the Final Rule "not in accordance with law" only by impliedly repealing or amending § 1008, or by directly contravening the Final Rule's regulatory provisions
So these limitations would not be violate, specifically because § 1008 would need to be repealed or amended. Or the "Final Rule's" provisions would have to be violated.
Plaintiffs admit that there is no irreconcilable conflict between § 1008 and either the appropriations rider or § 1554 of the ACA. E.g., California State Opposition to Motion for Stay at p. 14; Essential Access Opposition to Motion for Stay at p.14. And we discern no "clear and manifest" intent by Congress to amend or repeal § 1008 via either of these laws—indeed, neither law even refers to § 1008. The appropriations rider mentions abortion only to prohibit appropriated funds from being expended for abortions; and § 1554 of the ACA does not even mention abortion.
The US Congress has no intent to rewrite or amend § 1008. And § 1554 of the ACA (Affordable Care Act) does not even mention abortion. It looks pretty weak to attempt an end run around what the law explicitly forbids.
Although the Final Rule does require the provision of referrals to non-abortion providers, id. at 7788–90, such referrals do not constitute "pregnancy counseling." First, providing a referral is not "counseling." HHS has defined "nondirective counseling" as "the meaningful presentation of options where the [medical professional] is not suggesting or advising one option over another," 84 Fed. Reg. at 7716, whereas a "referral" involves linking a patient to another provider who can give further counseling or treatment, id. at 7748. The Final Rule treats referral and counseling as distinct terms, as has Congress and HHS under previous administrations. See, e.g., 42 U.S.C. § 300z-10; 53 Fed. Reg. at 2923; 2928–38 (1988); 65 Fed. Reg. 41272–75 (2000). We therefore conclude that the Final Rule's referral requirement is not contrary to the appropriations rider's nondirective pregnancy counseling mandate.2
It is not "counselling" to refer a woman for abortion procedures. Counselling, as repeatedly held, is explaining options to a person.
Because HHS and the public interest would be irreparably harmed absent a stay, harms to Plaintiffs from a stay will be comparatively minor, and HHS is likely to prevail in its challenge of the preliminary injunction orders before a merits panel of this court (which is set to hear the cases on an expedited basis), we conclude that a stay of the district courts' preliminary injunction orders pending appeal is proper. The motion for a stay pending appeal is GRANTED.
4. PP Sued Idaho Over Reporting Rules

Chapter 95: Abortions Complications Reporting Act
(f) Abortion and complication reporting do not impose undue burdens on a woman's right to choose whether she terminates pregnancy. Specifically, the "collection of information" with respect to actual patients is a vital element of medical research, so it cannot be said that the requirements serve no purpose other than to make abortions more difficult.
This raises a valid point. If abortions, or any particular technique were leading to health complications later down the road, then it would be useful to know that information.
Here is Planned Parenthood's response when filing suit.
This law require providers in the state to report on more than 37 new "complications," ranging from medical conditions that have no link to abortion, like breast cancer, to the inability to come in for a follow-up appointment, which is not a medical condition. The reporting requirement doesn't exist for any other medical procedure. The bill was signed into law by Governor C.L. "Butch" Otter in March.
Yet none of this actually prevents abortions from going on. It is a bit confusing. Does PP "not" want the patients (specifically), or the public (generally) to know what kinds of health and follow-up issues are going on?
5. PP Sued Ohio Over Heartbeat Bill
(1) At least twenty-four hours prior to the performance or inducement of the abortion, a physician meets with the pregnant woman in person in an individual, private setting and gives her an adequate opportunity to ask questions about the abortion that will be performed or induced. At this meeting, the physician shall inform the pregnant woman, verbally or, if she is hearing impaired, by other means of communication, of all of the following: (a) The nature and purpose of the particular abortion procedure to be used and the medical risks associated with that procedure; (b) The probable gestational age of the embryo or fetus; (c) The medical risks associated with the pregnant woman carrying the pregnancy to term. The meeting need not occur at the facility where the abortion is to be performed or induced, and the physician involved in the meeting need not be affiliated with that facility or with the physician who is scheduled to perform or induce the abortion.
(3) If it has been determined that the unborn human individual the pregnant woman is carrying has a detectable fetal heartbeat, the physician who is to perform or induce the abortion shall comply with the informed consent requirements in section 2919.192 2919.194 of the Revised Code in addition to complying with the informed consent requirements in divisions (B)(1), (2), (4), and (5) of this section
While "controversial", this bill (and similar ones) make a very valid point. How is it not "alive" if there is an actual heart beating?
All of this talk about the right to an abortion, but no concern over the life of the unborn child. Why?
Perhaps Senate Bill 27 will explain it. Planned Parenthood not only sues to make abortion "more accessible", but it opposes efforts to "force the disposal" of the bodies either by burial or by cremation. Those aborted babies are worth a lot of money, if you harvest the organs.
6. Real Reason PP Is So Pro-Abortion

Let's connect the dots here
PP supports abortion with federal funds.
PP supports aborting babies with Down's Syndrome.
PP supports abortion based on sex, race, or disability.
PP supports abortion up to (and beyond) birth.
PP opposes abortion complication reporting requirements.
PP opposes laws mandating burial or cremation of fetus.
While all of these are troubling, it is the last point that explains it: Planned Parenthood doesn't want States mandating the disposal of fetal tissue, because there is a lot of money to be made in that.
From the Washington Examiner:
When pro-life activist David Daleiden and his team at the Center for Medical Progress released the tapes in 2015, Planned Parenthood leaned heavily on the defense that the videos were unfairly doctored. This defense was parroted immediately by a servile press, despite that Planned Parenthood never explained what additional context would have exonerated its senior director of medical services saying on tape that the group was "doing a little better than" breaking even for donated organs (it is illegal to profit from the donation of fetal tissue. It is also illegal under federal law to perform partial birth abortions).
From the Christian Post article:
The undercover journalist who in 2015 exposed Planned Parenthood's baby body parts selling operation is fighting a nearly $200,000 fine amid an ongoing court battle.
The Ninth Circuit Court of Appeals declined to hear an appeal from David Daleiden of the Center for Medical Progress last week, an appeal of a $195,000 imposed on him for using video footage which supposedly violated a gag order imposed by a lower court judge.
"The federal judge presiding over related civil lawsuits, District Judge William Orrick, had held that criminal defense counsel's use of the videos violated a gag order he imposed in one of the federal civil actions. Daleiden and his defense counsel appealed, arguing that Orrick had improperly imposed a criminal contempt penalty without granting the accused due process and that the federal civil injunction should not apply to Daleiden's state criminal proceeding," according to a statement from the Thomas More Society, which is representing Daleiden.
While the court proceedings are likely not over, David Daleiden performed a much needed service by exposing what really goes on. Aborted (a.k.a. murdered) children are worth a lot of money dead, as their organs can be harvested and sold.
It also explains why Planned Parenthood has such an unwavering pro-abortion stance. These are not babies, but raw supplies. It further makes clear why PP doesn't want aborted babies buried or cremated. Not much of a business model if you final products are required to be thrown out.
Aborted babies are essentially in a chop-shop for spare parts. Nothing humane or compassionate about it.