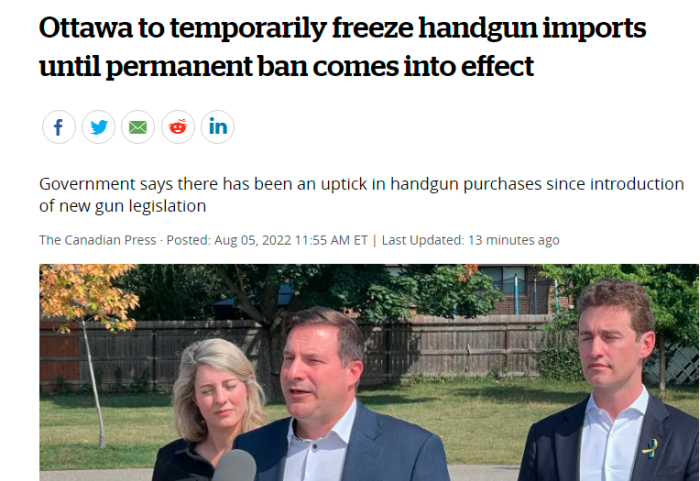 The Canadian Government announced on August 5th that a national ban on the importation of handguns would take effect on the 19th, which is two weeks away. The full video is available from CPAC's website.
There would supposedly be a small number of exceptions for the importation ban. However, it's fair to assume that the retailers would no longer have access to new ones.
According to Ottawa, Bill C-21 would have 3 main effects:
National handgun "freeze", meaning no more purchases, sales, or transfers
Red and yellow flag laws, to make seizures of firearms easier
"New tools" which apparently include stiffer sentences and new wiretapping powers
As with everything, the devil is in the details. For example, what new wiretapping powers would the police receive? They're already allowed to apply for warrants to monitor suspected criminal activities.
Also, given this Administration's pattern of reducing penalties for criminal offences, it seems unlikely that any changes here will be a deterrent against committing firearm offences.
Bill C-21 would be the so-called freeze on handgun movements, but apparently, the Federal Government doesn't really want to wait for that. Banning imports would effectively shut down the market immediately. It's troubling to see the democratic process subverted by just making an order.
Bill C-21 was introduced in the previous session, and died when the 2021 election was called. However, it's been brought back, with some changes.
If handguns cannot be imported, sold, transferred, or gifted, how long until they are subjected to a mandatory buyback? After all, that's what happening with what the Government calls "assault style" weapons.
(1) https://www.cpac.ca/episode?id=38406422-ecdb-494b-8439-a1fbdeaf4e28
(2) https://calgary.citynews.ca/2022/08/05/canada-temporary-ban-handgun-imports/
(3) https://www.cbc.ca/news/politics/temporary-ban-import-handguns-canada-1.6542492
(4) https://www.parl.ca/legisinfo/en/bill/44-1/c-21
(5) https://www.parl.ca/legisinfo/en/bill/43-2/c-21