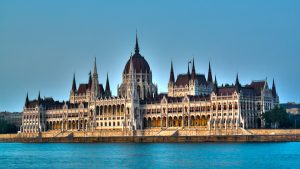 Hungarian Parliament Building
(September 12, 2018), The European Union has triggered Article 7 of the Lisbon Treaty.
Many reasons were given, but it is widely believed that the main one has to do with immigration. Hungary has blatantly refused to accept forced migration quotas, and has run on a "Hungary for Hungarians" platform. While Victor Orban's policy is extremely popular, and helped his re-election in April, the E.U. is angered at the open defiance.
Nationalism is alive and well in Europe. Hungary, Poland, Slovakia and the Czech Republic are 4 central European nations known as the "Visegrad 4". They are against open borders. Sebastian Kurz in Austria and Matteo Salvini in Italy recently won on populist platforms. Hungary is hardly alone.
While the E.U. professes outrage, Orban is actually running on the agenda he specifically set out to do. He sealed Hungary's borders and stopped 99% of the illegal immigration. He has also stopped all funding for illegal migrants, and banned NGOs from aiding and abetting. While claiming these to be "human rights abuses", it seems there is little the E.U. can do about it.
To give some perspective, there are many more legal hurdles to clear before anything actually happens. Poland, for example, had Article 7 triggered against it in December 2017, almost a year ago, see here, and also see here. Yet nothing has actually happened.
But ultimately, Hungary could lose its voting rights within the E.U. (as could Poland). Should this happen, they would be subjected to laws which they have no say in enacting or repealing.
Critics have loudly advised Hungary and Poland should just leave the European Union altogether. In 2016, the UK invoked Article 50 of the Lisbon Treaty in order to begin to leave the EU. Nigel Farage of the UK, and Marine Le Pen of France openly mock the E.U. as violating the will of sovereign European nations.
More insight to the European Union and their laws will be given on a future article.
: From my perspective as a Canadian tourist, an integrated Europe and common currency does make travel, movement, and purchasing easier. However, it is disappointing to see how much sovereignty is eroded in the name of "unity". A nation should be able to control its own borders, currency, language, culture, economy and way of life. While this union may have at one time been useful, it is undermining the autonomy and independence of the host countries.