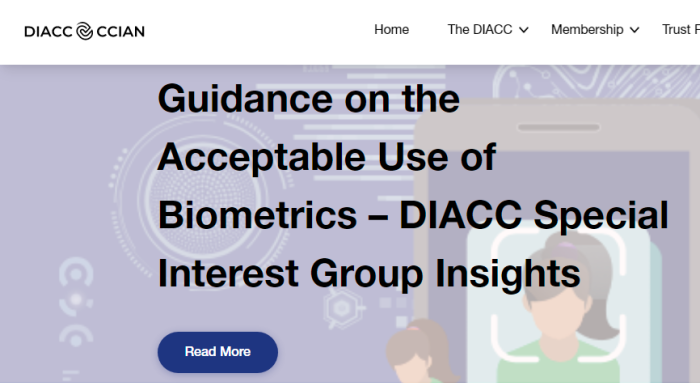 Remember voting for either of the Digital ID & Authentication Council Of Canada (DIACC), or the Pan-Canadian Trust Framework? Recall any public discussion or debate on these issues? If not, you probably aren't alone.
This campaign is a private-public partnership, and done without any real consultation. Interestingly, it started in 2016, which is when GAVI, Microsoft and Rockefeller launched ID2020.
Now, what is it that DIACC is looking to do? Here's why they are in consultations with the Canadian Government.
According to their "strategic goals" section, the plan is to:
Create, publish, and evolve the Pan-Canadian Trust Framework and identify the legislative needs to support the vision.
Accelerate interoperability by securing adoption of the Pan-Canadian Trust Framework by businesses and governments.
Design, develop, launch a certification program aligned with market needs.
Raise profile of Canada's digital identity innovation via the DIACC as Canada's digital identity forum.
Create Canadian expertise and intellectual property for excellence in digital identity.
It isn't really explained how any of this would actually be accomplished, nor does it seem very reassuring that the data couldn't be hacked, sold, or traded. Other than data-mining or research, it's hard to see what economic benefits are expected.
And while there are vague references to economic benefits, there's little mention of what Canadians think. That could be because there weren't consultation.
Legislative Proposal, Bill or Resolution
–Budget 2022 as it relates to the Pan-Canadian Trust Framework and digital identification
-The government's Digital Charter Implementation Act as it relates to prioritizing digital identification and public sector data
Policies or Programs
-Collaborate with policy makers to develop policies and programs that support the pan-canadian digital ID and authentication framework and the incorporation of digital ID and authentication considerations into government -programs and initiatives.
-Raising awareness on the need to implement a digital identity system that empowers Canadians to control their data that is held by the federal government.
The part about "raising awareness on the need to implement a digital identity system" comes across as a call to engage in propaganda efforts, to ensure Canadians don't understand what's really happening.
| GOVERNMENT BRANCH | DATE | AMOUNT |
| --- | --- | --- |
| Canada Post Corporation (CPC) | 2021-08-31 | $50,000 |
| Canada Revenue Agency (CRA) | 2020-08-31 | $2,750 |
| City of Toronto | 2021-08-31 | $10,000 |
| Gouvernement du Quebec | 2021-08-31 | $50,000 |
| Government Chief Information Officer, Province of BC | 2021-08-31 | $50,000 |
| Land and Title Authority of British Columbia | 2021-08-31 | $10,000 |
| Ministry of Government Services, Province of Ontario | 2021-08-31 | $50,000 |
| Service New Brunswick, Province of New Brunswick | 2021-08-31 | $50,000 |
| Treasury Board Of Canada Secretariat (TBS) | 2020-08-31 | $50,000 |
| Treasury Board Of Canada Secretariat (TBS) | 2021-08-31 | $50,000 |
The Federal Lobbying Registry sheds some light on the grants that DIACC has been getting in the last few years. DIACC isn't also listed on the Canada Emergency Wage Subsidy page, but perhaps the rental subsidy is the $2,750 they received from the CRA.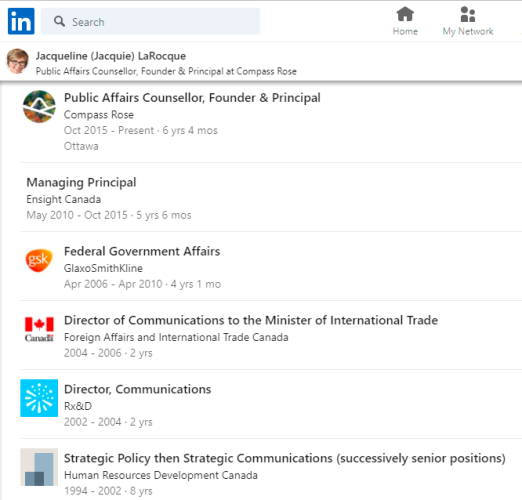 The lobbyist pushing this, at least in Ottawa, is Jacqueline LaRocque. She has been involved in the Government from 1994 to 2004, which aligns with the years of Jean Chretien and Paul Martin. Her Linkedin profile is even more interesting, as she reveals having been a lobbyist for GlaxoSmithKine — the drug manufacturer — for 4 years after leaving government.
Keep in mind, in 1993 to 2006, Canada was run by the Liberals. They are once again. Many of the same partisan operatives from those days are still around now. Granted, there's little difference between the parties, but that's a discussion for another time.
What makes this even more settling is that there are a few Directors of DIACC who are currently involved in Government affairs. This includes the Canadian, Ontario, New Brunswick and B.C. Governments.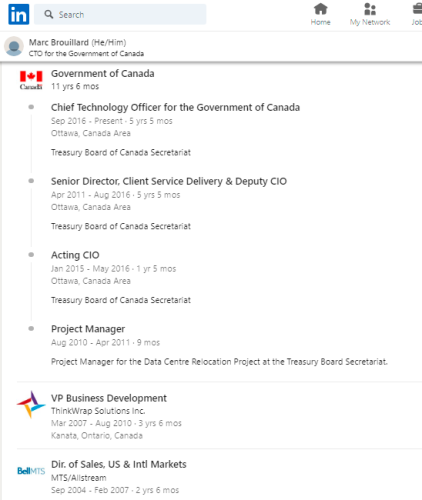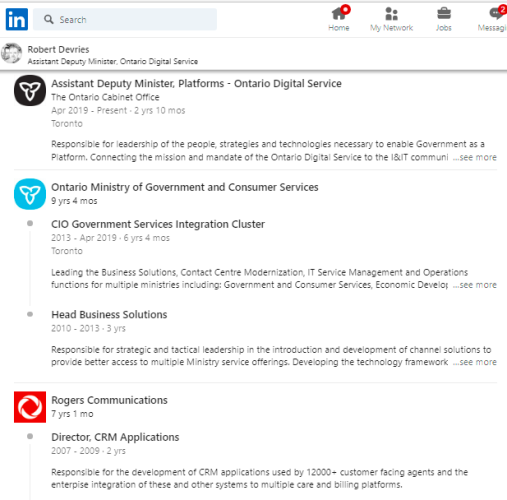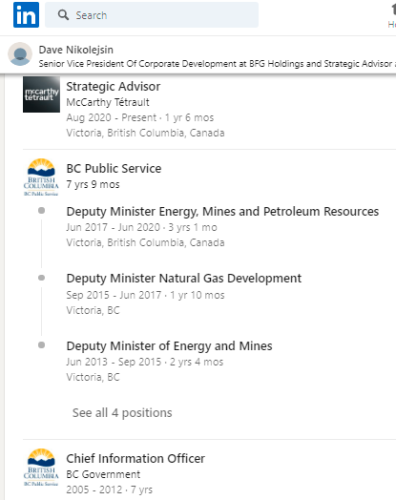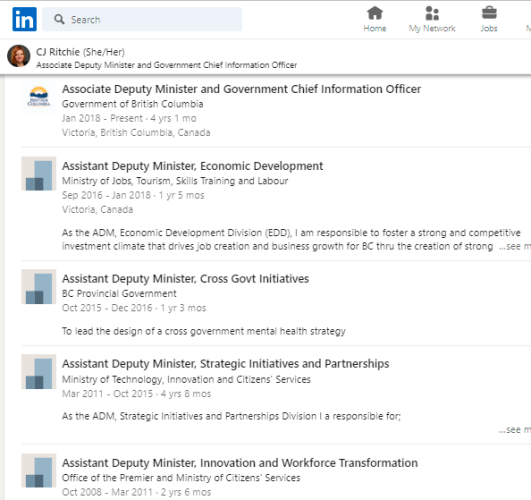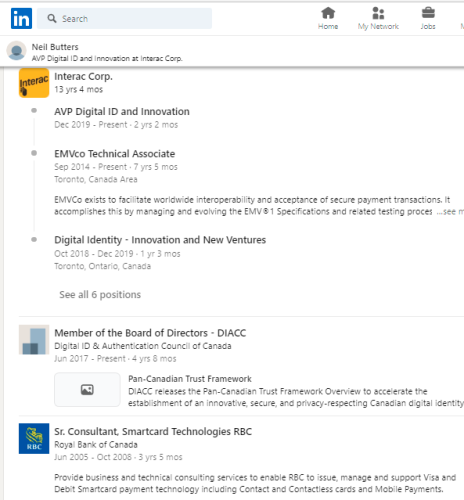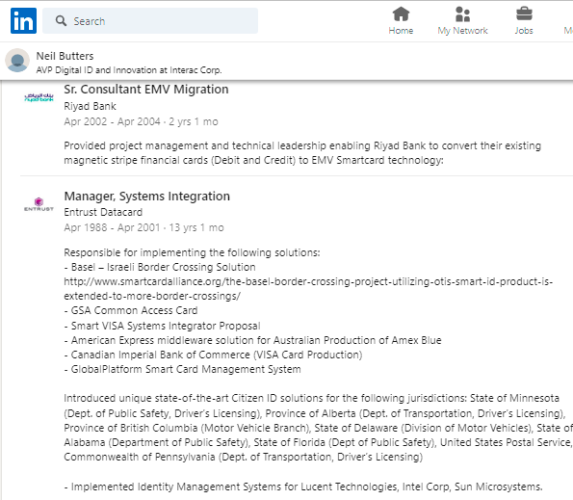 What we have here is sitting members of various Governments running a group to implement digital identification across Canada, partnered with private interests who stand to benefit from this. Again, no one ever voted for any of this, and it's unlikely there were ever any widespread consultations.
Many directors at DIACC also have past and present connections to financial institutions. We have to ask what is the real motivation driving this digital ID push?
Perhaps the most interesting member is Neil Butters. He has worked on these kind of systems in the United States, and helped develop a smart card system for border crossings for Israel. Now, given the rampant surveillance undertaken in the U.S. and Israel, do Canadians have to worry about these digital systems being backdoored? Given the power that this kind of information has, can it really been dismissed out of hand?
Canadian Finance Minister Flaherty appointed the Task Force for the Payments System Review in 2010, made up of representatives from the public and private sectors, privacy commissioners offices, and consumer advocates. One of the key outcomes was recognition that digital ID and authentication are integral to the success of digital payments and to Canada's digital economy.
The DIACC was created in 2012 to continue the activities of the Electronic Payments Task Force and achieve their vision for a robust, secure, scalable, and privacy-enhancing structure for transacting online.
As a self-governing and not-for-profit council, the DIACC brings together public and private sector members to collaborate and advance Canada's digital identification and authentication ecosystem. This is accomplished by delivering a digital trust framework that will unlock digital economy opportunities for every Canadian.
DIACC establishes Expert Committees (ECs) to move high-impact projects forward. Chaired by members of the council, the committees run strategic projects and create valuable resources.
In its "principles" section, it explains that the Task Force for the Payments System Review was created in 2010 by then Finance Minister, Jim Flaherty. So this was actually started with the Conservatives were in power, and the Liberals seem to have carried on as normal. DIACC was launched in 2012 as a continuation.
Worth noting: while Jim Flaherty helped push digital identity (Federally) a decade ago, his wife, Christine Elliott, is now the Health Minister of Ontario. That Province is expected to fully adopt digital identity.
In their lobbying section, DIACC referenced the old Bill C-11, which died when the last election was called. For some extra information, Bill C-11 had concerns about facial recognition technology being used, and the safety of medical data. This isn't addressed, at least not on their site.
For people concerned about their information, and who has access, the lack of specific detail is concerning. How will this be used, and what safeguards will be put in place? What remedies are available when the inevitable data breaches occur?
(1) https://diacc.ca/
(2) https://diacc.ca/trust-framework/
(3) https://diacc.ca/the-diacc/strategic-goals/
(4) https://diacc.ca/the-diacc/principles/
(5) https://lobbycanada.gc.ca/app/secure/ocl/lrs/do/vwRg?cno=368714&regId=917592#regStart
(6) https://id2020.org/alliance
(7) https://www.linkedin.com/in/jonibrennan/
(8) Joni Brennan _ LinkedIn
(9) https://www.linkedin.com/in/jacqueline-jacquie-larocque-57816713/details/experience/
(10) Experience _ Jacqueline (Jacquie) LaRocque _ LinkedIn
(11) https://www.linkedin.com/in/robert-devries-165b721/
(12) Robert Devries _ LinkedIn
(13) https://www.linkedin.com/in/dave-nikolejsin-b4b1273/
(14) Dave Nikolejsin _ LinkedIn
(15) https://www.linkedin.com/in/cjritchie/
(16) CJ Ritchie _ LinkedIn
(17) https://www.linkedin.com/in/marcbrouillard/
(18) Marc Brouillard _ LinkedIn
(19) https://www.linkedin.com/in/colleen-boldon-47732a12/
(20) Colleen Boldon _ LinkedIn
(21) https://www.linkedin.com/in/neilbutters/
(22) Neil Butters _ LinkedIn