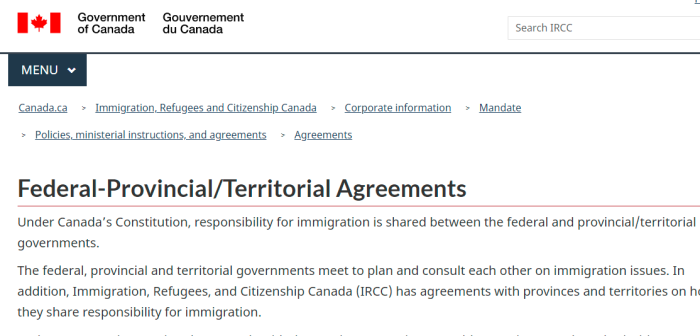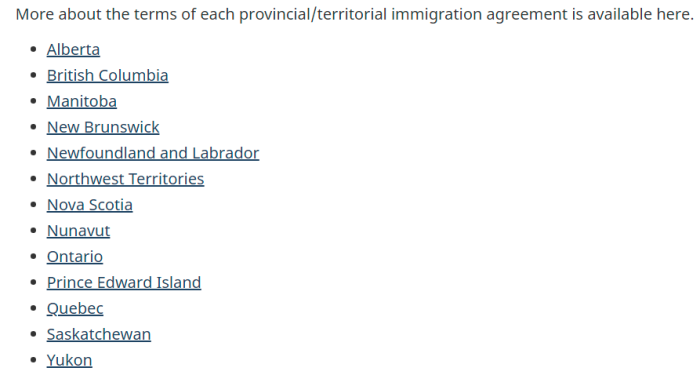 The open borders into Canada is an issue that doesn't get addressed nearly enough. A specific detail within that subject is who's actually responsible for it. Yes, there are plenty of NGOs and special interest groups, but that's a discussion for another time.
Trudeau (rightly) gets a lot of flack for promoting the replacement agenda. Harper and Mulroney, although more polished, were doing much the same thing. While they definitely deserve condemnation, this doesn't tell the complete story.
What's very rarely mentioned is the fact that Ottawa has Treaties with all 13 Provinces and Territories over immigration rates and categories. The terms differ somewhat. However, the basic principle is that they are agreements based on estimates of how many people they wish to import.
There are also efforts underway to enact Municipal Nominee Programs to let individual cities determine how many people come into the country.
As an analogy: consider a worker who grabs takeout food for 10 of his colleagues on a lunch break. While the cashier may have dealt only with him, the overall order was placed on behalf of everyone. The food that he brings back to the office will (largely) be what his co-workers asked for.
According to Section 95 of the Constitution, the Provinces have the authority to make their own laws with respect to immigration. By contrast, it says that Ottawa may "from time to time" make their own laws. This suggests that the true power over mass entry into Canada really lies with the Provinces.
Agriculture and Immigration
Marginal note: Concurrent Powers of Legislation respecting Agriculture, etc.
.
95 In each Province the Legislature may make Laws in relation to Agriculture in the Province, and to Immigration into the Province; and it is hereby declared that the Parliament of Canada may from Time to Time make Laws in relation to Agriculture in all or any of the Provinces, and to Immigration into all or any of the Provinces; and any Law of the Legislature of a Province relative to Agriculture or to Immigration shall have effect in and for the Province as long and as far only as it is not repugnant to any Act of the Parliament of Canada.
It's not facetious to look at the Federal immigration policy as merely a compilation of the 13 Treaties that have been signed with the Provinces and Territories. They inform Ottawa what they want, and Ottawa puts together a policy. Yes, this Ministry is managed Federally, and legal challenges go to the Federal Court, but the policy details are hammered out with the lower levels of Government.
Even if the Federal Government (in theory) were to challenge a Provincial immigration rule, the broad scope of Section 92 (Provincial jurisdiction) would make it difficult. A Judge could very well throw out any challenge as being ultra vires, or outside Ottawa's scope.
Much of the political class, and many of the pundits don't seem to have any understanding about how this works. That includes writers who do this professionally.
The Provinces have their own Nominee Programs, and others, such as Agricultural or Regional. They hold tremendous influence in determining the number of people who enter Canada on visas.
Keep in mind, the additional strain on social services like schools and hospitals must also be taken into account when these Treaties are made and renewed. These services are, of course, run by the Provinces.
While it would be nice to blame the Trudeau Liberals (and successive "Conservative" administrations), it's misplaced to dump it all on them. Who's demanding to bring in more people lately? Well, it's Ontario, Saskatchewan, Alberta, and New Brunswick. All of those Premiers claim to be conservatives. Yes, the Feds do compile the Annual Reports to Parliament, but the contents are drafted in collaboration with the Provinces and Territories.
Have you ever heard Jason Kenney, Scott Moe, or Doug Ford asking to put the brakes on immigration?
(1) https://www.canada.ca/en/immigration-refugees-citizenship/corporate/mandate/policies-operational-instructions-agreements/agreements/federal-provincial-territorial.html
(2) https://www.canada.ca/en/immigration-refugees-citizenship/corporate/transparency/consultations/2020-consultations-immigration-levels-and-municipal-nominee-program/discussion-guide.html
(3) https://laws-lois.justice.gc.ca/eng/const/page-3.html#h-24
(4) https://spencerfernando.com/2021/01/21/why-the-conservatives-should-make-decentralization-their-core-idea/
(5) https://canucklaw.ca/immigration-annual-reports-to-parliament/