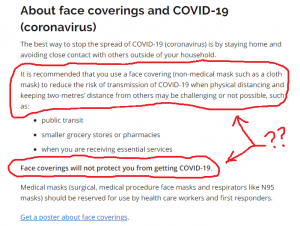 https://www.ontario.ca/page/face-coverings-and-face-masks
https://www.ontario.ca/page/covid-19-stop-spread#section-1
Supposedly, the masks are not to stop people from getting infected, but from spreading it. However, the recommendations are that EVERYONE wear it, and almost any form of mask will do. They claim masks are useless for preventing someone from catching this virus, but are essential in ensuring it's not spread. Sure….
1. Other Articles On CV "Planned-emic"
The rest of the series is here. See the lies, lobbying, conflicts of interest, and various globalist agendas operating behind the scenes. There is a lot more than most people realize. For examples: The Gates Foundation finances many things, including, the World Health Organization, the Center for Disease Control, GAVI, ID2020, John Hopkins University, Imperial College London, the Pirbright Institute, and individual pharmaceutical companies.
2. PHO Admits No Evidence For Healthy People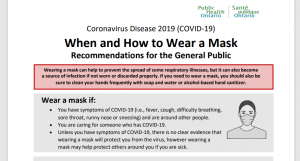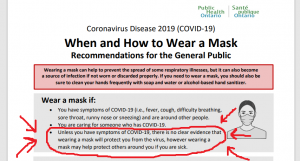 https://www.publichealthontario.ca/-/media/documents/ncov/factsheet/factsheet-covid-19-how-to-wear-mask.pdf?la=en
ontario.admits.masks.dont.work
Wear a mask if:
• You have symptoms of COVID-19 (i.e., fever, cough, difficulty breathing,
sore throat, runny nose or sneezing) and are around other people.
• You are caring for someone who has COVID-19.
• Unless you have symptoms of COVID-19, there is no clear evidence that wearing a mask will protect you from the virus, however wearing a mask may help protect others around you if you are sick.
Wear a mask if you are caring from someone with covid-19? But wait, I thought these masks weren't effective at preventing someone from catching it, only spreading it.
3. Canada Public Health Recommends Masks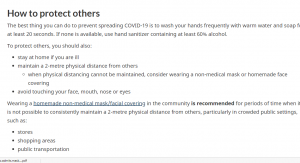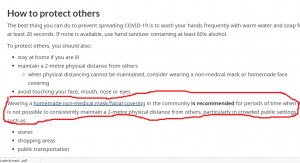 Canada Public Health recommends the use of non-medical masks. This is despite Ontario Public Health saying elsewhere that there is no evidence they actually work. http://archive.is/TWYRq
4. Ontario Admits Overwhelming Recovery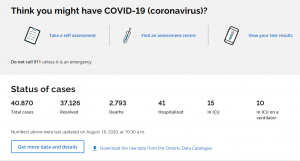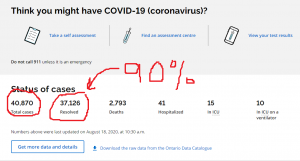 Ontario Public Health admits that over 90% of the people infected have already recovered. So why exactly the huge push for a vaccine? And who can forget Toronto Public Health, and Ontario Health Minister Christine Elliott lying about how deaths are calculated.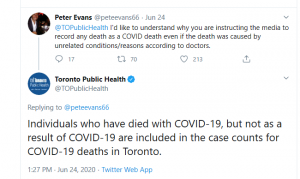 https://www.youtube.com/watch?v=wwwHBpIHEpM
https://twitter.com/TOPublicHealth/status/1275888390060285967
5. Ontario Recommends Masks On Transit Anyway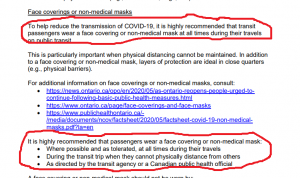 https://files.ontario.ca/mto-guidance-public-transit-agencies-and-passengers-covid-19-en-2020-06-11-v3.pdf
ontario.transit.mask.recommendations
Ontario recommends masks on all people in all stages on transit, despite Ontario Public Health clearly admitting that they don't work.
Defenders claim these policies were never meant to prevent people from catching it, but to stop sick people from spreading it. Okay, but why would masks be useless in the first situation, but effective in the second? It's still the same recirculated air.
It's actually a pretty good technique for controlling people. Claim that it's not SELF protection, but for the benefit of OTHERS. Easier to mandate or guilt trip into compliance.
6. WHO Admits Masks Don't Work
This was addressed in Part 37. The World Health Organization openly admitted on April 6 and June 5 that masks don't work, but recommends them anyway. It's also unclear where this 2 metres actually comes from, given WHO only references 1 metre.
7. PCR Tests Get 50% False Positive Rate
In Part 43, it was discussed how Ontario Deputy Medical Officer, Barbara Yaffe admitted that these PCR tests can give up to a 50% false positive, but it was important to test anyway. When called out on it, Ontario Premier Doug Ford danced around the issue.