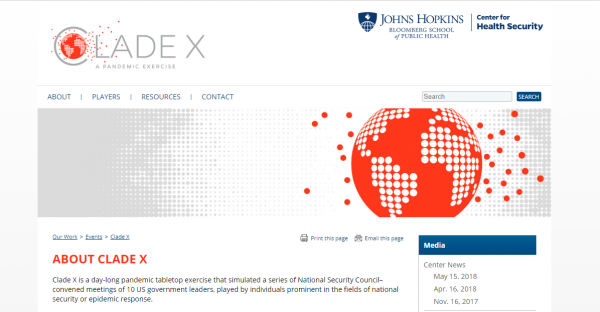 1. Other Articles On CV "Planned-emic"
Governments across the world are attempting to further crack down on freedoms and civil rights. Of course, this always done under the pretense of safety and security. Read more on this series to fully understand what exactly is going on, and why.
2. Context For This Piece
Evidence is piling up that this "pandemic" had been scheduled long in advance. This article refers to 3 "simulations" that the Gates funded Johns Hopkins undertook in the last 2 decades. This is on top of what has already been covered.
Gates provides $750M for GAVI startup (1999)
Dark Winter (2001)
Atlantic Storm (2005)
Rockefeller's Lockstep Narrative (2010)
Theresa Tam & "Outbreak" (2010)
Gates/Pirbright & CV patents (2015)
Raj Saini & M-132 (2017)
GAVI lobbying Ottawa (2018-2020)
Clade X (2018)
Event 201 (2019)
But sure, it is just a wild conspiracy theory that the current pandemic has been preplanned. Nothing to see here, people. Move along.
3. About Dark Winter (2001)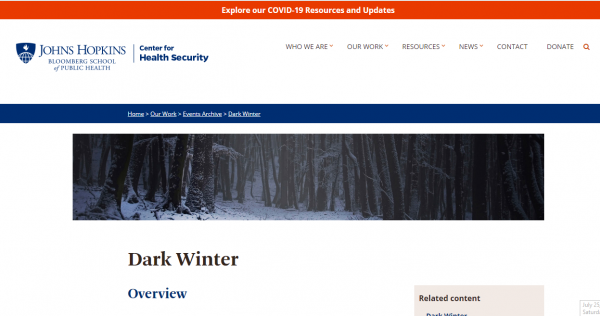 The Dark Winter exercise, held at Andrews AFB, Washington, DC, June 22-23, 2001, portrayed a fictional scenario depicting a covert smallpox attack on US citizens. The scenario is set in 3 successive National Security Council (NSC) meetings (Segments 1, 2 and 3) that take place over a period of 14 days. Former senior government officials played the roles of NSC members responding to the evolving epidemic; representatives from the media were among the observers of these mock NSC meetings and played journalists during the scenario's press conferences.
Key Players
-President: The Hon. Sam Nunn
-National Security Advisor: The Hon. David Gergen
-Director of Central Intelligence: The Hon. R. James Woolsey
-Secretary of Defense: The Hon. John White
-Chairman, Joint Chiefs of Staff: General John Tilelli (USA, Ret.)
-Secretary of Health & Human Services: The Hon. Margaret Hamburg
-Secretary of State: The Hon. Frank Wisner
-Attorney General: The Hon. George Terwilliger
-Director, Federal Emergency Management Agency: Mr. Jerome Hauer
-Director, Federal Bureau of Investigation: The Hon. William Sessions
-Governor of Oklahoma: The Hon. Frank Keating
-Press Secretary of Gov. Frank Keating (OK): Mr. Dan Mahoney
-Correspondent, NBC News: Mr. Jim Miklaszewski
-Pentagon Producer, CBS News: Ms. Mary Walsh
-Reporter, British Broadcasting Corporation: Ms. Sian Edwards
-Reporter, The New York Times: Ms. Judith Miller
-Reporter, Freelance: Mr. Lester Reingold
The Dark Winter exercise was the collaborative effort of 4 organizations. John Hamre of the Center for Strategic and International Studies (CSIS) initiated and conceived of an exercise wherein senior former officials would respond to a bioterrorist induced national security crisis. Tara O'Toole and Tom Inglesby of the Johns Hopkins Center for Civilian Biodefense Studies and Randy Larsen and Mark DeMier of Analytic Services, Inc., (ANSER) were the principal designers, authors, and controllers of Dark Winter. Sue Reingold of CSIS managed administrative and logistical arrangements. General Dennis Reimer of the Memorial Institute for the Prevention of Terrorism (MIPT) provided funding for Dark Winter.
This is a little unsettling. Members of the ACTUAL government are playing fake government officials, and ACTUAL members of the media are playing fake journalists for this scenario. Does no journalist question the current "pandemic" and whether it is just a simulation?
4. About Atlantic Storm (2005)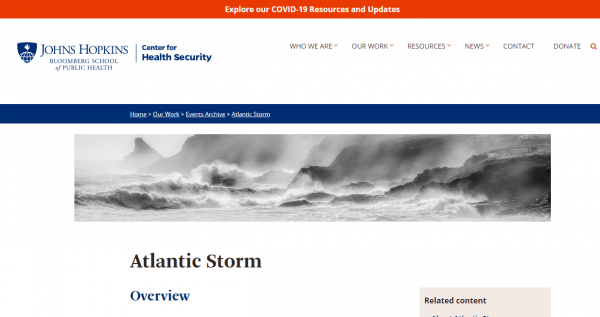 How would world leaders manage the catastrophe of a fast-moving global epidemic of deadly disease? Atlantic Storm was a ministerial table-top exercise convened on January 14, 2005 by the Center for Biosecurity of the University of Pittsburgh Medical Center, the Center for Transatlantic Relations of the Johns Hopkins University, and the Transatlantic Biosecurity Network. The exercise used a fictitious scenario designed to mimic a summit of transatlantic leaders forced to respond to a bioterrorist attack. These transatlantic leaders were played by current and former officials from each country or organization represented at the table. There was an audience of observers from governments on both sides of the Atlantic as well as from the private sector, but the venue was designed to focus all attention on the summit principals and their discussions around the table.
Take a ringside seat with Atlantic Storm Interactive: The interactive presentation brings the event to life as you watch the news, learn the facts, read the briefings, and listen to excerpts of the players' discussions–from the ringside perspective of an observer, or from the hot seat perspective of a world leader facing a global outbreak of a deadly infectious disease. Atlantic Storm Interactive walks you through the day, unveiling events, materials, and developments in the same sequence in which they were unveiled to the players. You can listen to audio that highlights the most important moments in the players' deliberations, watch videos that brought the scenario to life for the players, and use an interactive timeline to move back and forth through the day. Go to Atlantic Storm Interactive now.
The BBC (British Broadcasting Corporation) has known about Atlantic Storm the entire time. Did none of the old timers think to make the connection this time around? Or were they willfully blind to what is going on?
5. About Clade X (2018)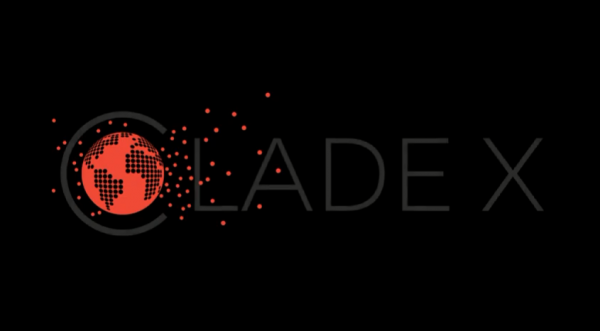 ABOUT CLADE X
Clade X is a day-long pandemic tabletop exercise that simulated a series of National Security Council–convened meetings of 10 US government leaders, played by individuals prominent in the fields of national security or epidemic response.
.
Drawing from actual events, Clade X identified important policy issues and preparedness challenges that could be solved with sufficient political will and attention. These issues were designed in a narrative to engage and educate the participants and the audience.
.
Lessons learned were distilled and shared broadly following the exercise.
PURPOSE
Faced with a rapidly evolving biological threat landscape, government leaders in the United States and abroad are eager to identify long-term policy commitments that will strengthen preparedness and mitigate risk. Clade X illustrated high-level strategic decisions and policies needed to prevent a severe pandemic or diminish its consequences should prevention fail.
.
Similar to findings from the Center's two previous exercises, Dark Winter and Atlantic Storm, key takeaways from Clade X will educate senior leaders at the highest level of the US government, as well as members of the global policy and preparedness community and the general public. This is distinct from many other forms of tabletop exercises that test protocols or technical policies of a specific organization.
.
In addition, exercises like Clade X are a particularly effective way to help policymakers gain a fuller understanding of the urgent challenges they could face in a dynamic, real-world crisis.
In watching the video, one can't help but notice Clade X repeatedly goes on about the need and urgency for a vaccine. This is predictive programming, but people aren't picking up on it.
6. About Event 201 (2019)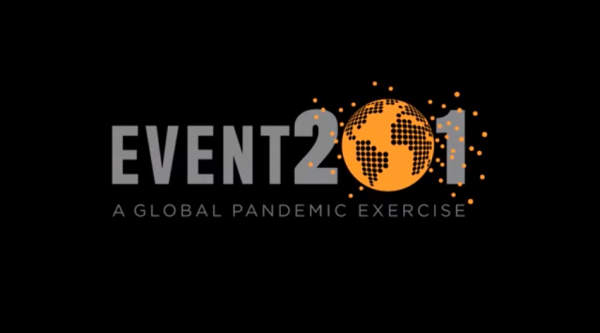 Most people already know about Event 201, sponsored by the World Economic Forum and Bill & Melinda Gates Foundation. Consider this a reminder. For those who don't, take this as another step showing a pattern of planning and premeditation.
7. Gates Foundation Finances Johns Hopkins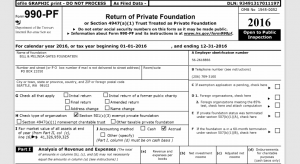 Link to search IRS charity tax records:
https://apps.irs.gov/app/eos/
BILL & MELINDA GATES FOUNDATION
EIN: 56-2618866
gates.foundation.taxes.2016.pdf
gates.foundation.taxes.2017.pdf
gates.foundation.taxes.2018.pdf
BILL & MELINDA GATES FOUNDATION TRUST
EIN: 91-1663695
gates.foundation.trust_.taxes.2018.pdf
For 2016 taxes, start on page 279
| Year | Amount | Purpose |
| --- | --- | --- |
| 2016 | $1,500,000 | Family Planning |
| 2016 | $700,000 | Pneumonia |
| 2016 | $265,408 | Family Planning |
| 2016 | $948,306 | Vaccine Delivery |
| 2016 | $700,000 | K-12 Education |
| 2016 | $679,281 | Sanitation, Nutrition, Water |
| 2016 | $10,149,464 | Family Planning |
| 2016 | 407,929 | Diarrheal Diseases |
| 2016 | $4,018,969 | Family Planning |
| 2016 | $1,435,240 | Pneumonia |
| 2016 | $1,501,812 | Neonatal/Child Health |
Is this all of them? No, this is just a few contributions from 2016. The Bill & Melinda Gates Foundation is a regular contributor to Johns Hopkins, and donates in large amounts. When Johns Hopkins publishes or produces something, always be mindful of where their financing comes from.
8. From Gates Foundation Tax Records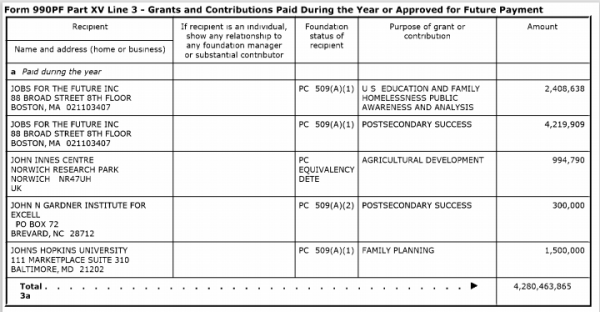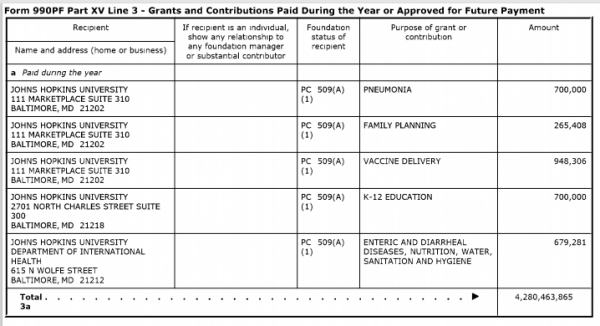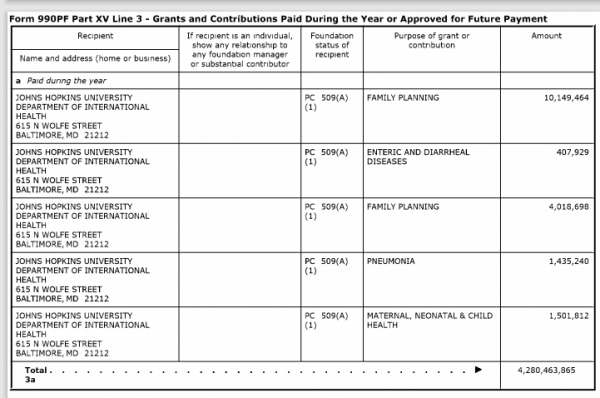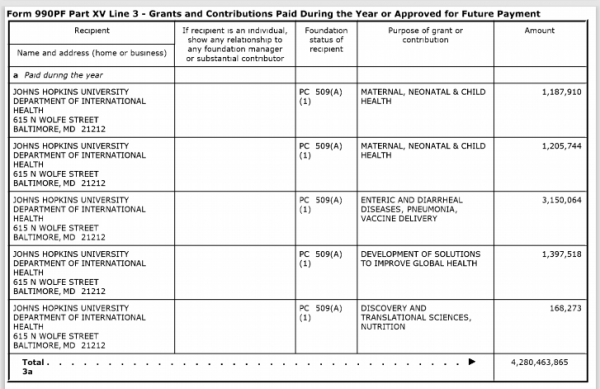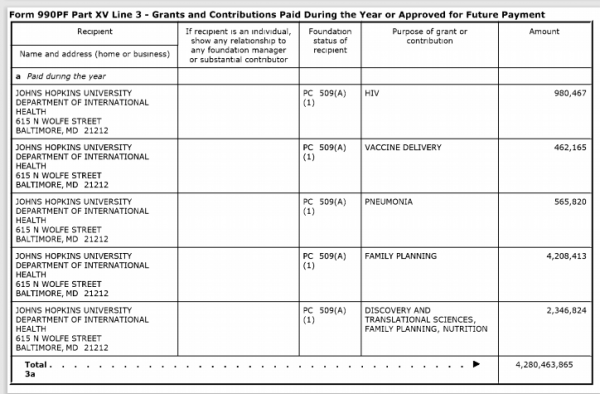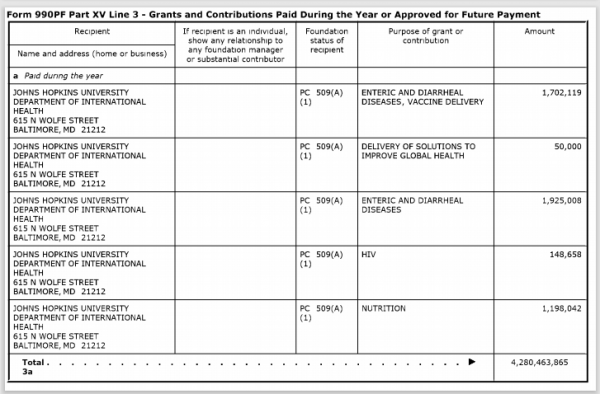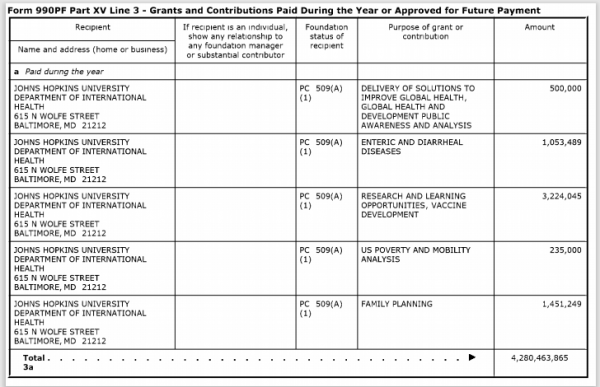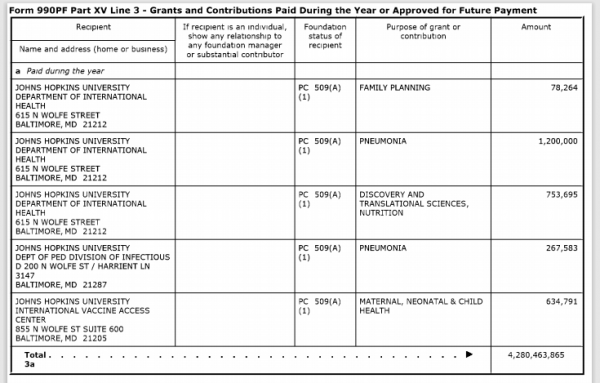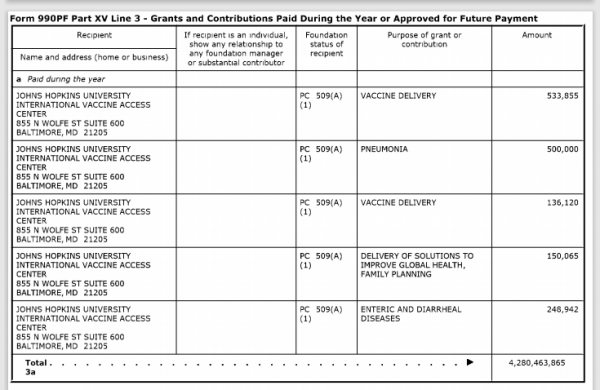 That was just in the 2016 tax returns.