Vaccines are coming into Canada from Pfizer and others. This was recently been announced on the CBC. For some context, remember that:
-The virus survival rate is over 99% (if it even exists)
-PCR tests are useless as diagnostic tools (again, if it even exists)
-People have to be tested to know they have it
-Vaccines were cooked up in the last few months, side effects unknown
-Things like masks will continue afterwards
1. Rempel Isn't Who She Pretends To Be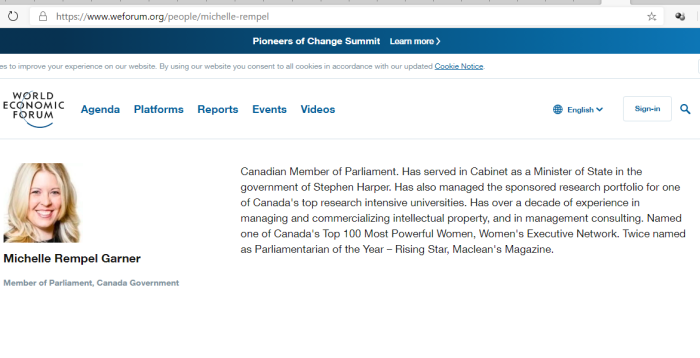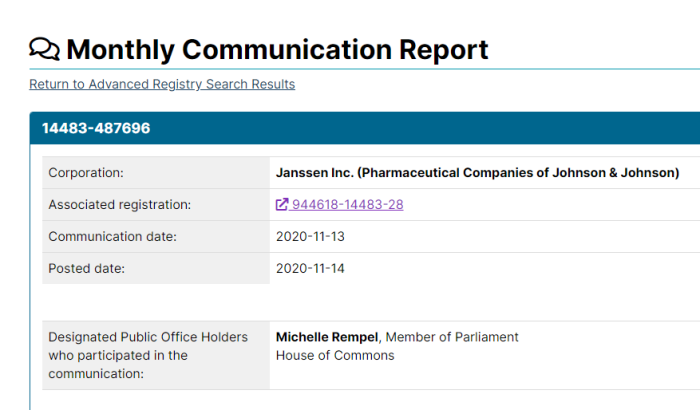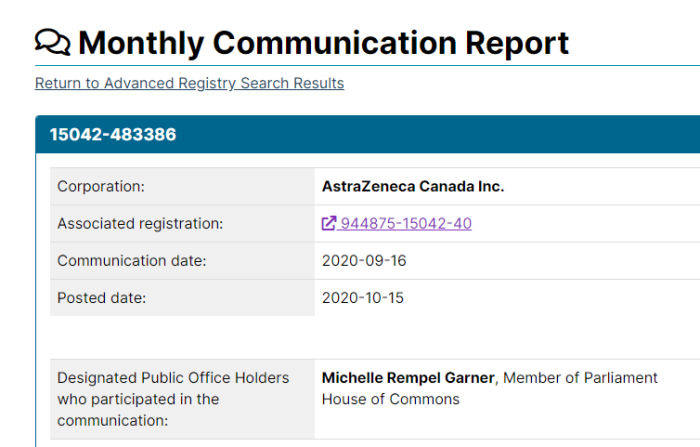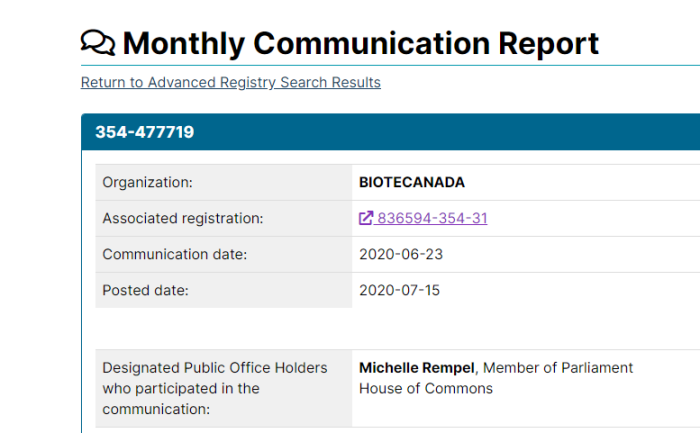 In the video with Michelle Rempel-Garner (discussing Derek Sloan's petition), it's interesting that she shrugs off the very valid concerns of unproven drugs. She also doesn't question the wisdom behind lockdowns themselves. Want your freedom? Shut up and get the vaccine. This is typical of "conservative" politicians in Canada.
Rempel isn't who she appears to be. And why exactly does she keep looking to her right in the video? Is there someone else in the room?
2. Pfizer Lobbying Ottawa Regularly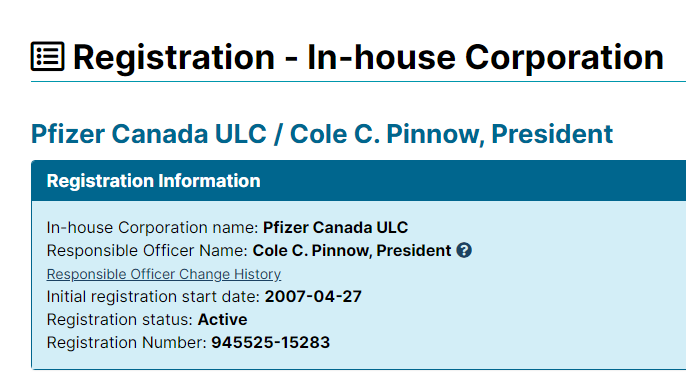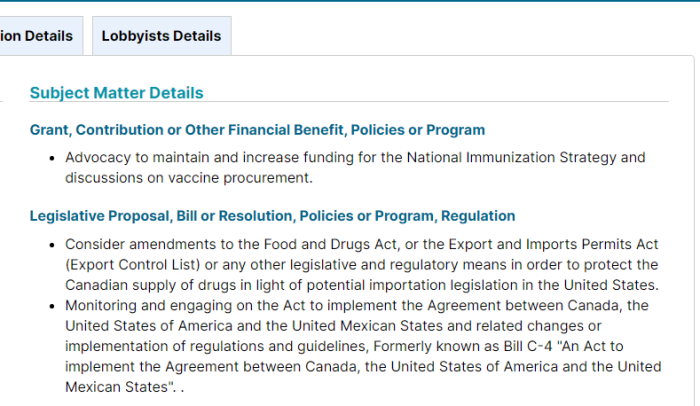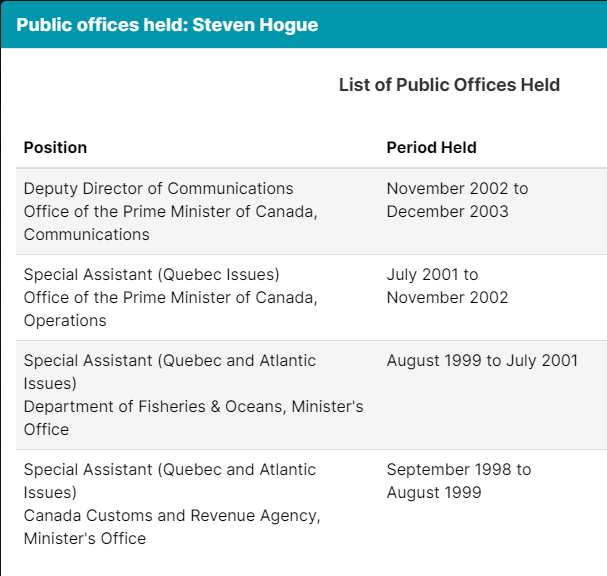 Pfizer has lobbied the Federal Government 153 times since becoming a registered lobbyist in 2007. Of course, that doesn't include any discussions that may be "off the books". One of Pfizer's lobbyists, Steven Hogue, used to work in the Prime Minister's Office when Jean Chretien was in office.
3. Goldy Hyer Ex-Pfizer Lobbyist In Ottawa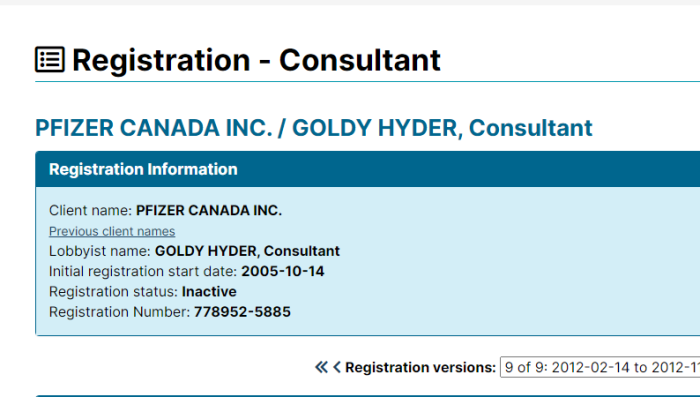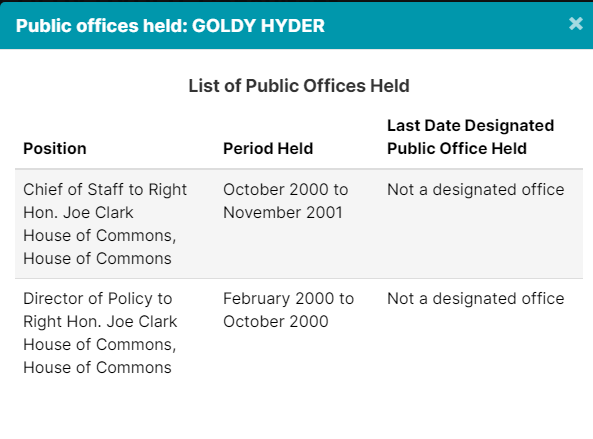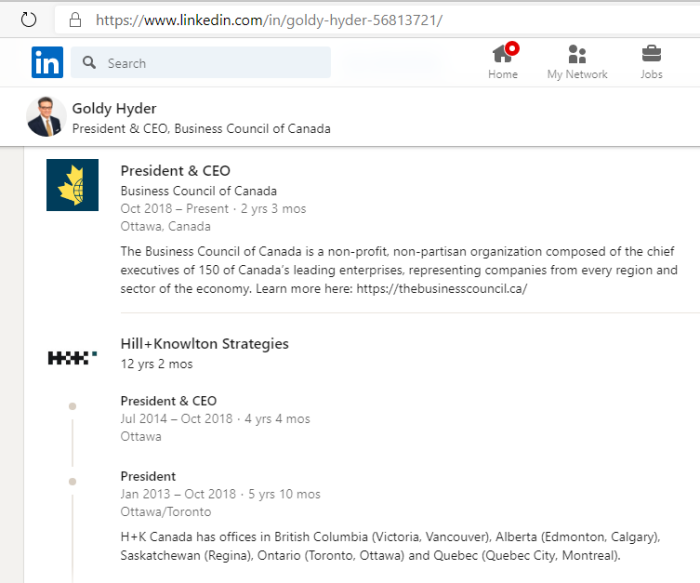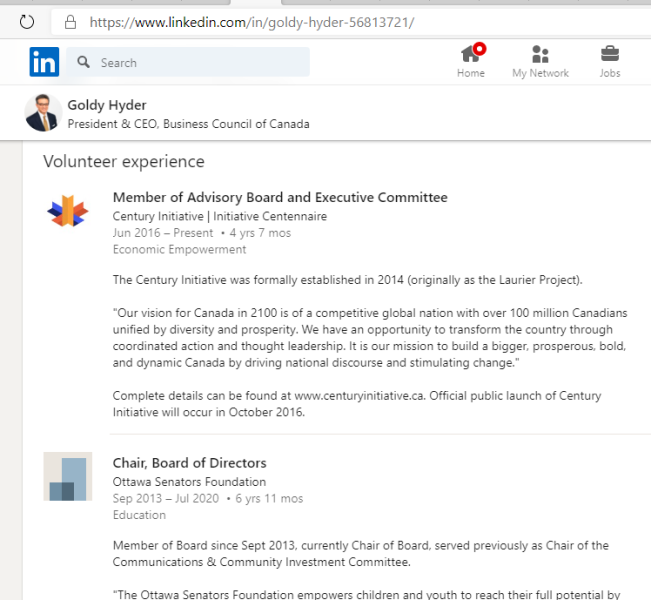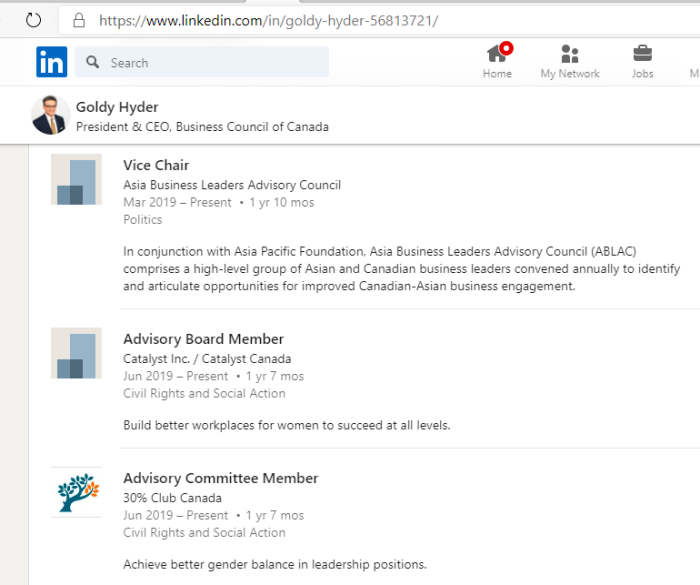 Goldy Hyer was at a time the Chief-of-Staff for Joe Clark, then Leader of the Progressive Conservative Party of Canada. He is also involved with:
(a) The Century Initiative
(b) Asia Business Leaders Advisory Council
(c) Catalyst Inc. / Catalyst Canada
(d) 30% Club Canada
4. Pfizer Lobbied M-132 Committee Vice-Chairs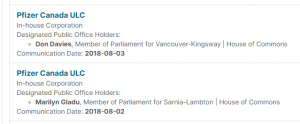 Motion Text
That the Standing Committee on Health be instructed to undertake a study on ways of increasing benefits to the public resulting from federally funded health research, with the goals of lowering drugs costs and increasing access to medicines, both in Canada and globally; and that the Committee report its findings and recommendations to the House no later than one year from the time this motion is adopted.
M-132 was filed in late 2017, by Raj Saini. It was a motion to finance pharmaceuticals, and pharmaceutical research, both in Canada and abroad. See here and here. Marilyn Gladue, and Don Davies, (both lobbied by Pfizer), were the Vice-Chairs on that Committee.
5. Pfizer Lobbying In Ontario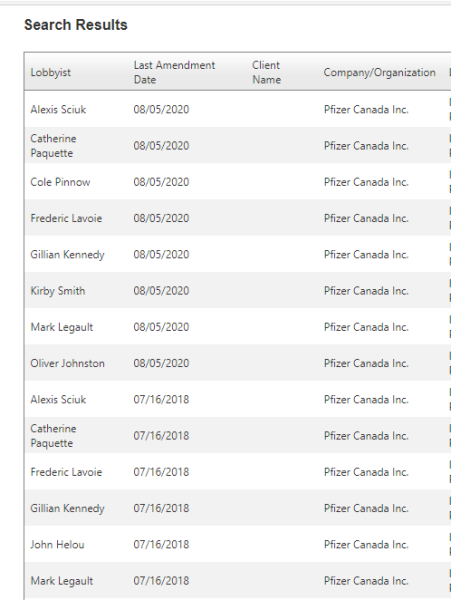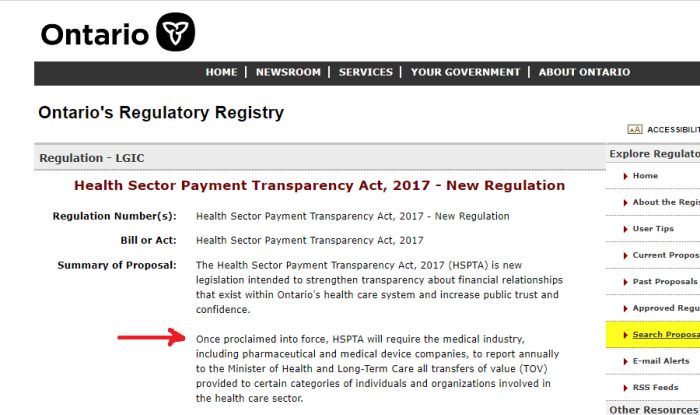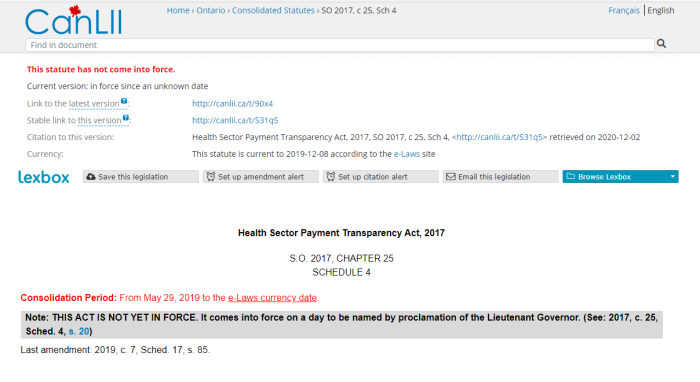 Pfizer has also been busy lobbying Ontario since 2002 over pharmaceutical interests. It's worth noting, that both Kathleen Wynne and Doug Ford never fully implemented Bill 160. This Bill would have mandated disclosure, (rather than it being optional), of payments made to health care providers to sell certain drugs.
Since Bill 160 isn't really the law, there's no requirement hospitals or health care staff to disclose the financing they may get to push certain remedies.
8. Pfizer Lobbying In Manitoba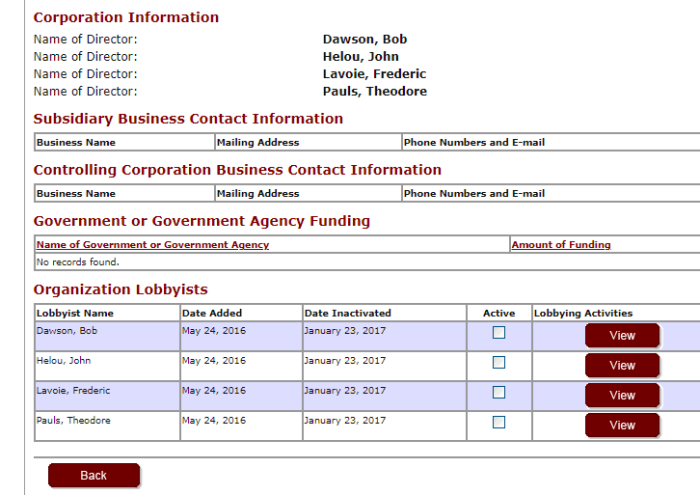 Manitoba has had lobbyists from Pfizer in the past, but none active since 2017. Perhaps they have moved on to Ottawa.
7. Pfizer Lobbying In Alberta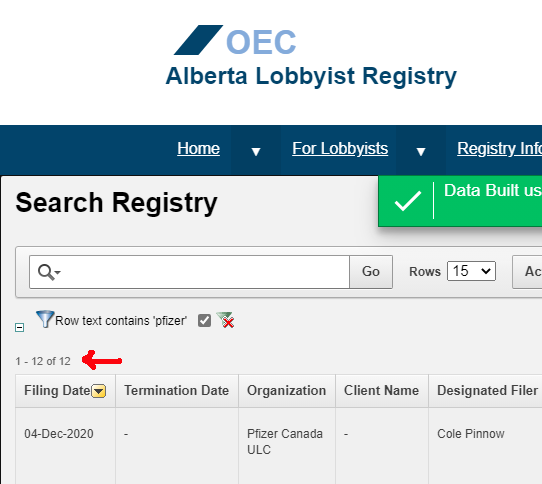 A search in the Alberta Lobbyist Registry shows 12 meetings since 2018 between Government officials, and Pfizer. The last one was just the other day. Jason Kenney isn't doing quite the "hard sell" that Ford does, but he is still fully on board with the agenda.
Of course, there is other lobbying going on, and in other Provinces as well. These examples provided are hardly exhaustive of what's going on, but should provide a decent sample.
8. Hajdu Order To Approve Untested Vaccines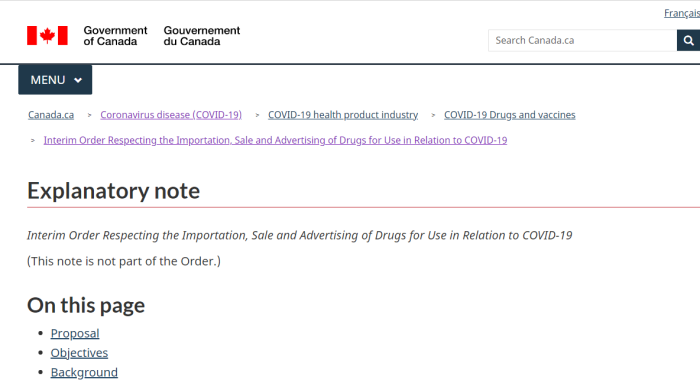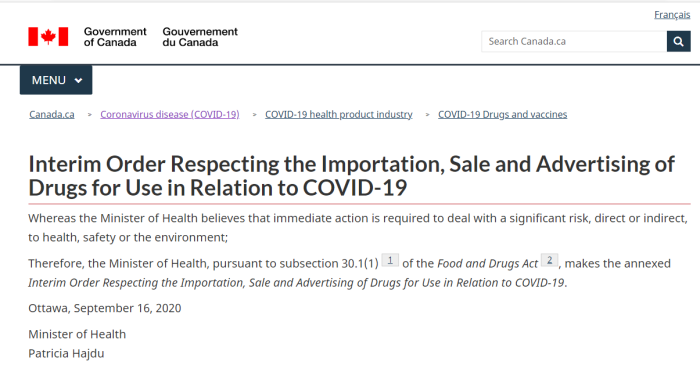 Interim Orders
Marginal note:Interim orders
.
30.1 (1) The Minister may make an interim order that contains any provision that may be contained in a regulation made under this Act if the Minister believes that immediate action is required to deal with a significant risk, direct or indirect, to health, safety or the environment.
.
Marginal note: Cessation of effect
.
(2) An interim order has effect from the time that it is made but ceases to have effect on the earliest of
.
(a) 14 days after it is made, unless it is approved by the Governor in Council,
.
(b) the day on which it is repealed,
.
(c) the day on which a regulation made under this Act, that has the same effect as the interim order, comes into force, and
.
(d) one year after the interim order is made or any shorter period that may be specified in the interim order.
On September 16, 2020, Health Minister Patty Hajdu signed an Interim Order allowing for approval of vaccines in an expedited manner, even if they were fully tested. Section 30.1 of the Food and Drug Act allows that. It must be pointed out, however, that Hajdu is not a doctor, and has no medical background at all.
9. UK Approves Pfizer/BioNTech Vaccine, Dec. 2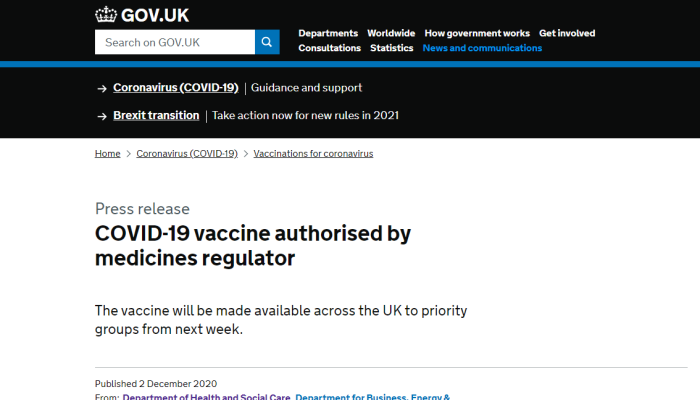 Tens of thousands of people will receive an effective and high-quality COVID-19 vaccine from next week, as the UK becomes the first country in the western world to authorise a vaccine.
Following rigorous clinical trials involving thousands of people and extensive analysis of the vaccine's safety, quality and effectiveness by experts from the Medicines and Healthcare products Regulatory Agency (MHRA), Pfizer/BioNTech's vaccine has been authorised for use in the UK.
Now authorisation has been granted, Pfizer will deliver the vaccine to the UK. In making the recommendation to authorise supply, the MHRA will decide what additional quality assurance checks may be required before a vaccine can be made available. Pfizer will then deliver the vaccines to the UK as soon as possible.
The NHS has decades of experience in rolling out successful widespread vaccination programmes and has put in place extensive deployment plans.
In line with the recommendations of the independent Joint Committee for Vaccination and Immunisation (JCVI), the vaccine will be rolled out to the priority groups including care home residents and staff, people over 80 and health and care workers, then to the rest of the population in order of age and risk, including those who are clinically extremely vulnerable.
Isn't this great? Pfizer/BioNTech got their approval to start distributing vaccines in the UK. Surely, with all these rigorous tests, they are certain that the product is safe, right?
10. UK: Vaccine Damage Payments Scheme
In advance of a rollout of an authorised COVID-19 vaccine and in line with other immunisation programmes, the government is taking the precautionary step to ensure that, in the very rare possibility where someone is severely disabled as a result of taking a COVID-19 vaccine, they can access financial assistance through the Vaccine Damage Payments Scheme (VDPS).
No safety concerns have been reported in vaccines authorised for use following rigorous clinical trials involving tens of thousands of people and extensive analysis of the vaccine's safety, quality and effectiveness by experts from the Medicines and Healthcare products Regulatory Agency (MHRA).
Pfizer/BioNTech's vaccine is now the first COVID-19 vaccine to be authorised for use in the UK, and the MHRA will keep safety under continual review.
Adding diseases to the VDPS is not new and numerous diseases have been added as successive governments have rolled out more immunisation programmes, such as HPV and Meningitis B. In response to the H1N1 (swine flu) pandemic, the previous government added swine flu to the VDPS on 10 October 2009.
Generally, only those who were administered vaccines as part of a childhood immunisation programme are covered under the VDPS. However, because COVID-19 vaccines will be rolled out to a large proportion of the adult population, the government will amend the eligibility requirements, ensuring adults who are administered a COVID-19 vaccine in the UK or Isle of Man, or as part of an armed forces medical treatment, will be covered by the scheme too.
The VDPS is a safety net to help ease the burden on individuals who have in extremely rare circumstances experienced harm due to receiving a government-recommended vaccine. It is not a compensation scheme. Rather, it provides a one-off, tax-free lump sum – currently £120,000 – for those suffering a severe disability as a result of a vaccine against a disease listed under the Vaccine Damage Payments Act.
Background information
Currently, in order to qualify for the payment, it must be accepted, on the balance of probability, that there is a causal link between the vaccine and the claimed disability and that the resulting disability amounts to severe (ie at least 60%) disablement.
.
Claims are assessed and paid where successful by the Department for Work and Pensions.
The UK Government only the day before announces approval for Pfizer/BioNTech's vaccine. Almost immediately afterwards, the UK reveals that taxpayers will be on the hook for any injuries that result from these vaccines.
The amount is capped at £120,000, and even then, it's only with very serious disability. Capitalized profits, socialized compensation. Of course, the implication of having a vaccine compensation scheme means that the companies themselves will be off the hook for whatever death and injury results.
11. Pfizer And Violation Tracker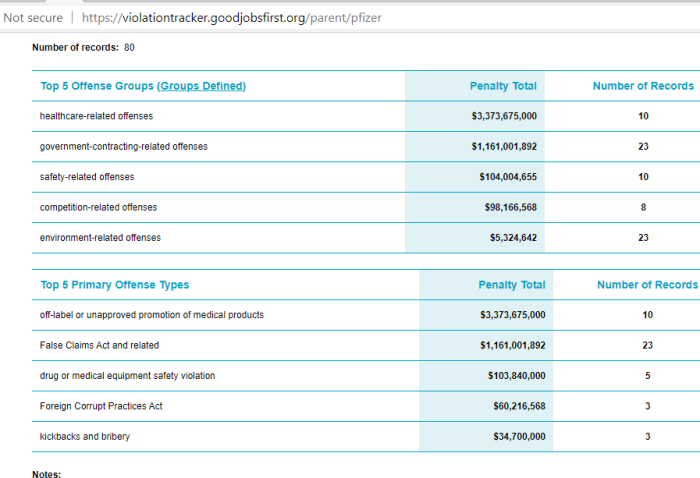 Of course, Pfizer isn't too willing to share some of it's more troubling history, such as this provided by Violation Tracker. Well worth a long read. Everything from false claims, to bribery, to kickbacks are cited.
12. Gates A Recent Pfizer Donor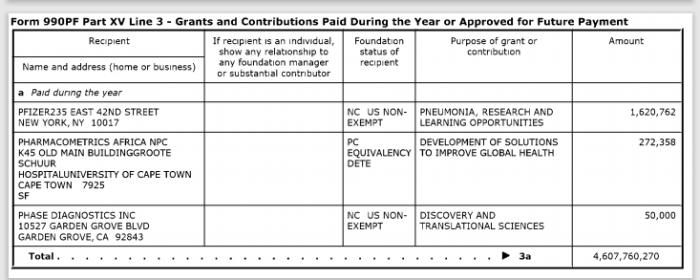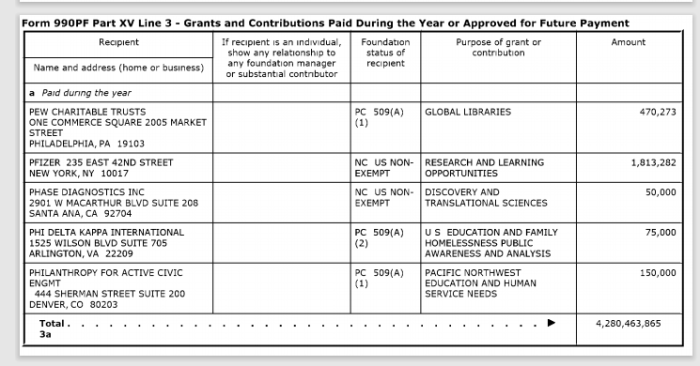 In addition to making contributions to Pfizer, the Bill & Melinda Gates Foundation owns over $1.7 million in stock from the pharmaceutical company.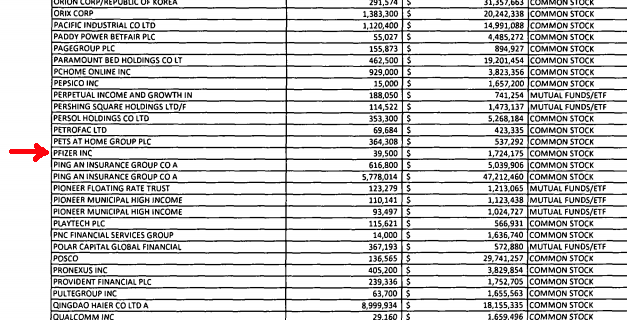 BILL & MELINDA GATES FOUNDATION
EIN: 56-2618866
gates.foundation.taxes.2016
gates.foundation.taxes.2017
gates.foundation.taxes.2018
BILL & MELINDA GATES FOUNDATION TRUST
EIN: 91-1663695
gates.foundation.trust.taxes.2018
Take a look at the documents for yourself. The full list can be found here, just search for the Bill & Melinda Gates Foundation. Those 2 organizations will pop up.
The above screenshots are donations the Gates Foundation made in 2016 and 2018.
13. Pfizer Vaccines Coming To Canada/U.S.
Pfizer has already applied for permission to begin distributing in Canada and the United States, and they very likely will get it. If it's anything like what happened with GlaxoSmithKline, they'll be indemnified as well. Even if Canada were to set up a compensation scheme, it will never fully make up for the harm done.
And this point is critical: the vaccines haven't even been fully tested. They'll be doing more long term studies as the years go on. This is not the same thing as having vaccines ready.
As Tam says: vaccines normally take a decade or more. But here, just a few months apparently. And all for something with a mortality rate approximately that of the flu.
What about long term problems like premature death? Sterilization? Paralysis? Pain? Disfiguration? Unfortunately, a lot of that won't become clear for a few years at least. Consequently, people will have to hope and pray.
Pfizer's Vaccine Promoted On CBC News
Lobbying Commissioner's Office In Canada
Lobbying Registry Of Ontario
Manitoba Provincial Lobbying Registry
Alberta Lobbyist Registry
Pfizer Lobbying The Federal Government On Vaccines
Goldy Hyer Ex-Pfizer Lobbyist In Ottawa
Goldy Hyer's LinkedIn Page
M-132, Parliamentary Study On International Vaccines
Section 30.1 Of Canada Food And Drug Act
Interim Order Allowing CV Vaccines To Be Sold In Canada
UK To Allow Certain Vaccines Deployed In Country
https://archive.is/wTXun
CV-19 To Be Added To UK Vaccine Compensation Scheme
https://archive.is/fHGKZ
GSK Indemnified Against Damages For H1N1 Vaccines In 2009
Pfizer Clinical Information
Pfizer And Violation Tracker Documentation