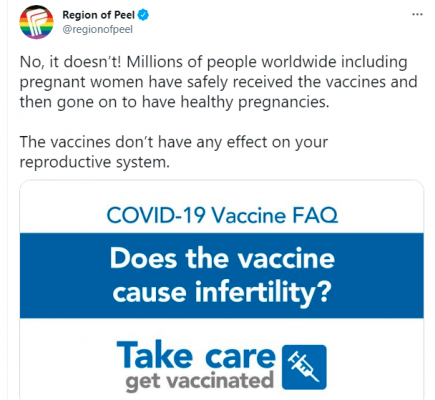 Let's do a little math here: a normal pregnancy is 9 months.
These so-called "vaccines" started being injected back in December 2020, and this tweet comes in June 2021. That is about 6 months difference. By this logic, there wouldn't have been enough time for women to have taken this "concoction", gotten pregnant, and then had full term pregnancies.
Also, the quote, "millions of people including pregnant women" seems nonsensical. Who else gives birth?
Even if there had been some, Peel Health lies by omission by not mentioning the miscarriages or unintended abortions that have resulted from drug.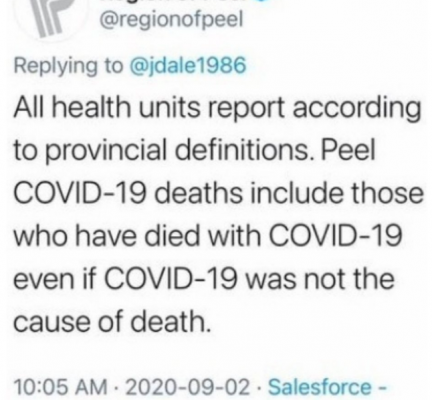 Like so many jurisdictions, Peel dishonestly conflates "dying with" and "dying from". Setting aside the fact that this so-called virus has never been isolated, this is extremely dishonest.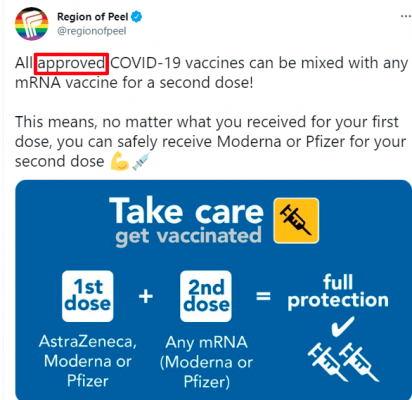 Peel deliberately misrepresents the status of these "vaccines". Currently, they have interim authorization under an emergency order, but are not approved. This cannot be a mistake in wording.
These people are not to be trusted.
(1) https://twitter.com/regionofpeel/status/1408789646046281730
(2) https://twitter.com/regionofpeel/status/1408365853360357379
(3) https://twitter.com/TOPublicHealth/status/1275888390060285967
(4) https://www.laws-lois.justice.gc.ca/eng/acts/F-27/page-8.html#h-234517
(5) https://www.canada.ca/en/health-canada/services/drugs-health-products/covid19-industry/drugs-vaccines-treatments/interim-order-import-sale-advertising-drugs.html#a2.3
(6) https://covid-vaccine.canada.ca/info/pdf/astrazeneca-covid-19-vaccine-pm-en.pdf
(7) https://covid-vaccine.canada.ca/info/pdf/janssen-covid-19-vaccine-pm-en.pdf
(8) https://covid-vaccine.canada.ca/info/pdf/covid-19-vaccine-moderna-pm-en.pdf
(9) https://covid-vaccine.canada.ca/info/pdf/pfizer-biontech-covid-19-vaccine-pm1-en.pdf