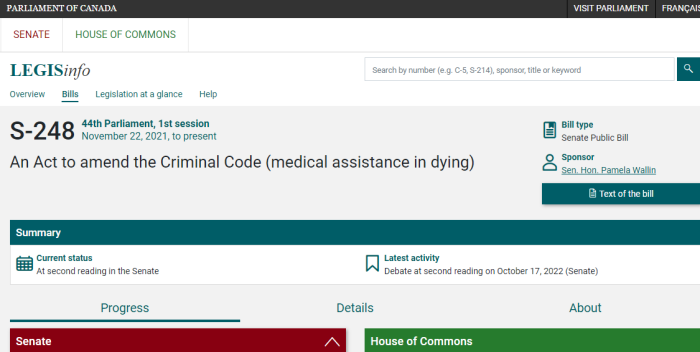 Remember how people were warning that assisted suicide (medical assistance in dying or MAiD) wouldn't be the limited measure that was initially laid out? Those alarmists worried that safeguards and conditions would be rolled back to further expand this "procedure".
Well, here we go again. Senate Bill S-248 would allow people to enter into contracts that would permit the euthanasia, even if the person isn't capable of giving that final consent.
Supporters of MAiD had always claimed that the patient would always have the option to change their mind, and to back out. This would allow for contemplation, and for cooler heads to prevail.
From the description of the Bill:
This enactment amends the Criminal Code to
.
(a) permit an individual whose death is not reasonably foreseeable to enter into a written arrangement to receive medical assistance in dying on a specified day if they lose the capacity to consent to receiving medical assistance in dying prior to that day; and
.
(b) permit an individual who has been diagnosed with a serious and incurable illness, disease or disability to make a written declaration to waive the requirement for final consent when receiving medical assistance in dying if they lose the capacity to consent to receive medical assistance in dying, are suffering from symptoms outlined in the written declaration and have met all other relevant safeguards outlined in the Criminal Code.
Of course, the usual questions will come up. Did the person fully understand and support this decision? Was their undue influence? Did they ever change their mind? How do we determine whether or not they are capable of giving that final go-ahead?
There is still a provision that the person can speak or gesture to indicate that they no longer wish to go through with this. However, if they are incapacitated, that obviously won't help.
This Bill was brought by Pamela Wallin. A decade ago, she became infamous for playing fast and loose with her expenses and got suspended, along with Mike Duffy and Patrick Brazeau.
In her capacity as a Senator, Wallin has had some interesting visitors recently.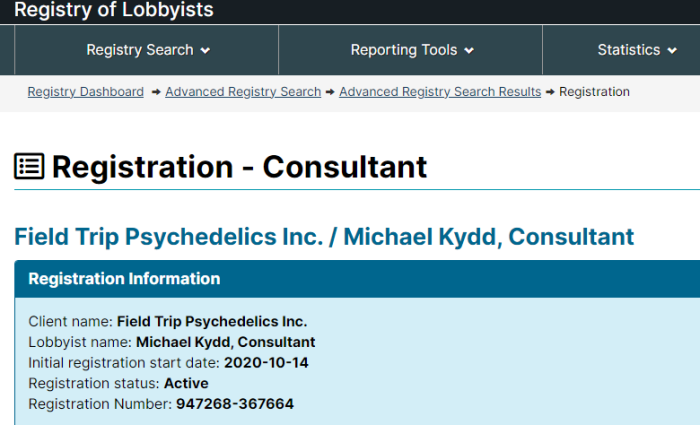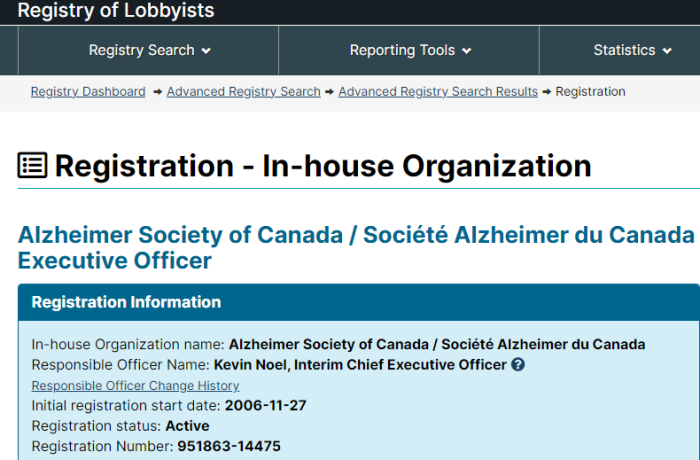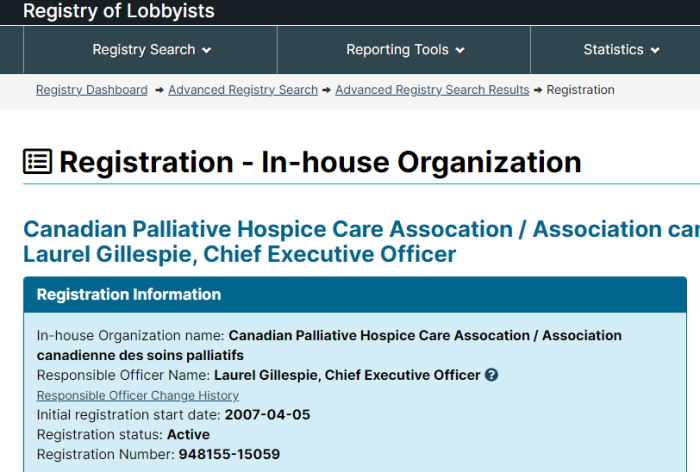 Wallin brought this Bill on June 2, 2022. The day before, the Alzheimer Society of Canada had paid a visit. Among the topics listed in their lobbying profiled was: "Parliamentary review of medical assistance in dying with respect to advance requests". In other words, go ahead, even if final consent can't be obtained.
Field Trip Psychedelics Inc. has also been in touch with Wallin. This was concering the: "regulation of psilocybin-assisted psychotherapy that would give Canadians access to medical, non-recreational, psilocybin therapy."
The Canadian Palliative Hospice Care Assocation also has contacted Wallin. Although their profile does mention end of life care, it doesn't specify assisted suicide.
In any event, these are probably just coincidences, right?
Shouldn't be any surprise that Wallin brought this Bill. But seriously, how far back do we keep pushing the line, or is there a limit?
(1) https://www.parl.ca/legisinfo/en/bill/44-1/s-248
(2) https://www.parl.ca/DocumentViewer/en/44-1/bill/S-248/first-reading
(3) https://www.cbc.ca/news/politics/senate-moving-to-suspend-pamela-wallin-mike-duffy-1.2101305
(4) https://lobbycanada.gc.ca/app/secure/ocl/lrs/do/cmmLgPblcVw?comlogId=533156
(5) https://lobbycanada.gc.ca/app/secure/ocl/lrs/do/vwRg?cno=367664&regId=905218&blnk=1
(6) https://lobbycanada.gc.ca/app/secure/ocl/lrs/do/cmmLgPblcVw?comlogId=533156
(7) https://lobbycanada.gc.ca/app/secure/ocl/lrs/do/vwRg?cno=14475&regId=923718&blnk=1
(8) https://lobbycanada.gc.ca/app/secure/ocl/lrs/do/cmmLgPblcVw?comlogId=523500
(9) https://lobbycanada.gc.ca/app/secure/ocl/lrs/do/vwRg?cno=15059&regId=917004&blnk=1