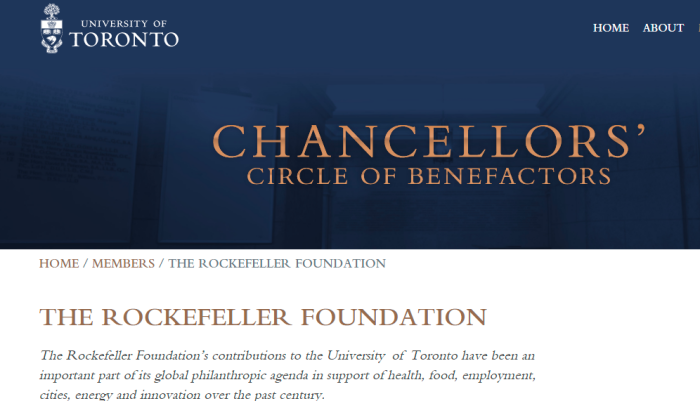 [Reprinted without permission]
The Rockefeller Foundation's contributions to the University of Toronto have been an important part of its global philanthropic agenda in support of health, food, employment, cities, energy and innovation over the past century.
Established in 1913, the Rockefeller Foundation has disbursed more than US$17 billion in today's dollars. Among its achievements, the foundation played a role in the founding of the field of public health, developed vaccines for diseases such as yellow fever and malaria, and led a global transformation of agriculture that has saved millions of lives.
Created by American industrialist John D. Rockefeller, the foundation is also a major supporter of educational institutions. It established the London School of Hygiene and Tropical Medicine, and schools of public health at both Harvard and Johns Hopkins Universities. It became a major benefactor of the University of Toronto following the discovery of insulin in 1921 by Frederick Banting and Charles Best.
The following year, the foundation donated several million dollars to U of T for a chair of surgery and to fund construction of anatomy and pathology labs. The foundation also helped establish the School of Hygiene, which housed the Departments of Hygiene and Preventive Medicine, Public Health Nursing, Epidemiology and Biometrics, and Physical Hygiene, as well as a Division of Industrial Hygiene. It incorporated the existing Connaught Laboratories, then a global leader in the development and manufacture of vaccines.
In 1933, further contributions helped create the School of Nursing, transforming the program at U of T from a diploma course for existing nurses into a fully-fledged bachelor's degree program in a new departmental building at Queen's Park Crescent. Other Rockefeller gifts helped found programs in Chinese Studies in 1934, and the Department of Slavic Studies in 1949.
The foundation's leadership in global philanthropy for more than a century has had a tremendous impact. Its support for education and research at U of T has played a major role in building our impressive global legacy.
Certainly not the only major donor. However, no one else has given anywhere close to $17 billion places like the University of Toronto (adjusted for inflation). Check out other major names. Correction: an earlier interpretation of the announcement thought it was $17B exclusively to this school.
Kind of makes one wonder who financed the various outlets at the school, such as the Centre for Vaccine-Preventable Diseases, the WHO Collaboration Centre.
One notable set of donors are William (Bill) Graham and Catherin Graham. Bill is a former Defense Minister of Canada, former Foreign Affairs Minister, and former Interim Leader of the Liberal Party of Canada. In total, they have contributed from $10.4 million.
This is quite the rabbit hole, but a few points to consider:
While this may be coincidental, the U.S. Federal Reserve came into existence in 1913. This led to the latest iteration of debt based currency, and debt slavery in that country.
The Rockefeller Foundation recently announced a $13.5 million grant, mostly for the U.S., to be spent on combatting misinformation.
The London School of Hygiene and Tropical Medicine is listed as being founded by Rockefeller. From their own website: "The Rockefeller Foundation invented an international health system virtually overnight in 1914, simultaneously launching a pilot project throughout Central America and the British Caribbean to treat hookworm disease and lay the foundations of permanent departments of health under the auspices of its International Health Board."
The LSHTM, much like Imperial College London, and the Vaccine Impact Modelling Consortium, receive heavy financing from the Bill & Melinda Gates Foundation.
European Commission
European Federation of Pharmaceutical Industries and Associations (EFPIA)
Innovative Medicines Initiative (IMI)
GlaxoSmithKline
Merck
University College London
Johnson & Johnson
UNICEF
The Vaccine Confidence Project, headed by Heidi Larson, is run by the LSHTM. Unsurprisingly, pharma companies are the biggest donors. After all, VCP is generating newer and larger markets for their products.
Johns Hopkins University has been running pandemic "scenarios" for many years. Makes one wonder how much of any of this is actually real.
In 2016, the ID2020 group was started. Among its initial partners are the Rockefeller Foundation, Microsoft, and GAVI, the Global Vaccine Alliance.
Rockefeller founded (along with others), the Climate Bonds Initiative. And this is hardly the only organization. Those carbon taxes people hate paying are going to make a limited number of people very rich.
And as mentioned before, UofT is structured as a charity.
Some interesting bits of information that most people probably never think about.
(1) https://www.chancellorscircle.utoronto.ca/members/the-rockefeller-foundation/
(2) https://archive.is/8r2eH
(3) Wayback Machine
(4) https://www.utoronto.ca/news/u-t-opens-groundbreaking-centre-strengthen-vaccine-confidence-through-collaboration
(5) https://www.dlsph.utoronto.ca/who-collaborating-centre-on-health-promotion/
(6) https://www.centerforhealthsecurity.org/our-work/events-archive/2001_dark-winter/index.html
(7) https://www.centerforhealthsecurity.org/our-work/events-archive/2005_atlantic_storm/index.html
(8) https://www.centerforhealthsecurity.org/our-work/events/2018_clade_x_exercise/index.html
(9) https://www.centerforhealthsecurity.org/event201/
(10) https://canucklaw.ca/wp-content/uploads/2021/07/Rockefeller.Foundation.lockstep.2010.pdf
(11) https://www.rockefellerfoundation.org/news/the-rockefeller-foundation-commits-13-5-million-in-funding-to-strengthen-public-health-response-efforts/
(12) https://id2020.org/alliance
(13) https://www.lshtm.ac.uk/newsevents/events/rockefeller-foundation-parasitism-and-peripheral-origins-global-health
(14) https://www.vaccineconfidence.org/
(15) https://www.vaccineconfidence.org/partners-funders
(16) https://canucklaw.ca/cv-24-gates-financing-of-imperial-college-london-and-their-modelling/
(17) https://canucklaw.ca/cv-24b-london-school-of-hygiene-tropical-medicine-more-modelling-financed-by-gates/
(18) https://canucklaw.ca/cv-24c-vaccine-impact-modelling-consortium-more-bogus-science/
(19) https://www.climatebonds.net/about/funders