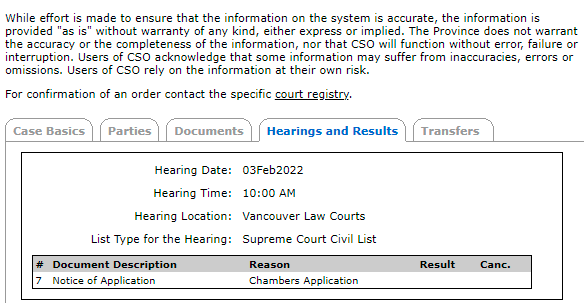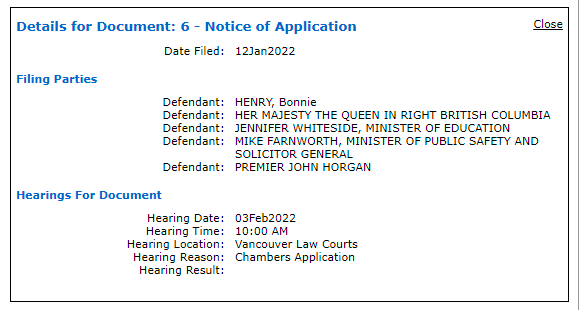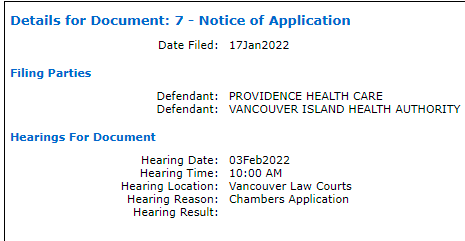 This is a follow-up to the Action4Canada lawsuit, filed in B.C. Supreme Court in Vancouver, back in August 2021. This comes after a year of begging and panhandling for money.
So, did the donors get their money's worth? Not at all.
Far from being the work of legal experts, the final product was nearly 400 pages and extremely disjointed. It demanded millions of dollars, cited non-Canadian laws, demanded international remedies, went on tirades against non-parties, and was mostly comprised of irrelevant material. This Claim wasn't just poorly done, but must have taken considerable effort to mangle in such a way. See the earlier review on exactly what was wrong with it.
As an extra layer of absurdity, the lawyers who wrote this piece of work have about 70 years of combined experience between them. This wasn't done by Articling students or interns.
In a move that was entirely foreseeable, the Defendants filed Applications to strike out the Statement of Claim in its entirety. It's also alleged that the Notices of Liability available to download were being used to harass public officials, and drive up donations.
The hearing was supposed to take place on February 3rd, concerning those Applications. It was expected to last most of a day.
That got pushed back to April 5th, due to an alleged serious illness from counsel.
However, that April 5th hearing never happened. According to the Court staff, the hearing has been postponed indefinitely. There is currently no date set down to review the Application. There's also no indication or tentative date as to when things will progress.
It's unclear why Lawrence Wong can't represent the Plaintiffs for the Application. He is a B.C. lawyer, and was called to the Bar in 1987. Presumably he's capable of handling this.
To avoid confusion here: this is just an attempt by the Attorney General and others to get the case tossed. It's not a Trial, or any real progress in anti-lockdown challenges.
Also, striking pleadings is not the same as dismissing a case. Dismissing means terminating a case on its merits, while striking refers to serious defects with the documents themselves. Quite simply, the Attorney General's argument is that the case is so convoluted, confusing, and incoherent, that it would be a waste of everyone's time to go any further.
And they're not wrong.
Is it difficult to meet the minimum threshold? Not really, as long as a few Rules of Civil Procedure are followed for all B.C. cases.
Rule 3-1 — Notice of Civil Claim
Notice of civil claim
(1) To start a proceeding under this Part, a person must file a notice of civil claim in Form 1.
.
Contents of notice of civil claim
(2) A notice of civil claim must do the following:
.
(a) set out a concise statement of the material facts giving rise to the claim;
(b) set out the relief sought by the plaintiff against each named defendant;
(c) set out a concise summary of the legal basis for the relief sought;
(d) set out the proposed place of trial;
(e) if the plaintiff sues or a defendant is sued in a representative capacity, show in what capacity the plaintiff sues or the defendant is sued;
(f) provide the data collection information required in the appendix to the form;
(g) otherwise comply with Rule 3-7.
Rule 3-7 — Pleadings Generally
Content of Pleadings
.
Pleading must not contain evidence
(1) A pleading must not contain the evidence by which the facts alleged in it are to be proved.
.
Documents and conversations
(2) The effect of any document or the purport of any conversation referred to in a pleading, if material, must be stated briefly and the precise words of the documents or conversation must not be stated, except insofar as those words are themselves material.
.
When presumed facts need not be pleaded
(3) A party need not plead a fact if
(a) the fact is presumed by law to be true, or
(b) the burden of disproving the fact lies on the other party.
This isn't hard. Broadly speaking, a lawsuit must do 3 things:
[1] Briefly set out the facts as alleged
[2] Set out what remedies are being sought
[3] Briefly list what important laws will be relied on
Instead of following these simple rules, a 391 page mess was dropped on the Courts last year. Even someone researching for the last 2 years would have considerable difficulty following along.
Considering how badly this dumpster fire of a "Claim" was done, the response from the Defendants was inevitable. Why litigate a case when they can just get it struck out?
Rule 9-5 — Striking Pleadings
.
Scandalous, frivolous or vexatious matters
(1) At any stage of a proceeding, the court may order to be struck out or amended the whole or any part of a pleading, petition or other document on the ground that
.
(a) it discloses no reasonable claim or defence, as the case may be,
(b) it is unnecessary, scandalous, frivolous or vexatious,
(c) it may prejudice, embarrass or delay the fair trial or hearing of the proceeding, or
(d) it is otherwise an abuse of the process of the court,
.
and the court may pronounce judgment or order the proceeding to be stayed or dismissed and may order the costs of the application to be paid as special costs.
This concept isn't unique to B.C. Ontario has similar provisions with Rule 21 and 25.11, while the Federal Courts have Rule 221. They all amount to essentially the same thing.
And for clarity, the Government isn't asking the case be thrown out because there are typos, mistakes, or that it's sloppy overall. These kinds of cases are sent ahead all the time. No, the Application says that the Claim is so incomprehensible, rambling and scattered that it's impossible to determine the case that must be made. They also allege that the Claim contains many, many pages which are completely irrelevant.
Again, they're not wrong.
A cynic may wonder at this point if the goal is just to endlessly ask for extensions. That way, the Application to strike will never be heard, and the case will technically remain open. The donations can keep flowing in.
Let's not kid ourselves here: this suit has no possibility of ever making it to Trial. There's no amount of amendments or rewrites that will fix what's wrong with it.
There have been rumours circulating since last Summer about Affidavits of evidence. Supposedly, these are several thousands of pages in length. This isn't true at all. However, the statements may have been spread in order to placate nervous donors.
Any member of the public can call any Canadian Court — during business hours — and ask to see what documents are in a case. These Affidavits haven't been filed for any of these suits, and it seems doubtful they exist at all.
Also: remember that July 6, 2020 case with Vaccine Choice Canada? This is the one where no Defences were ever filed, but no one ever sought Default Judgement. You don't hear about that anymore, nor the one from October 2019. You don't hear about the Police On Guard case either.
In other news, there has been an update with regards to Kulvinder Gill and Ashvinder Lamba. These are the doctors who tried to bankrupt 2 dozen people, mostly over mean words on Twitter. After their case was (predictably) dismissed as a SLAPP, the Defendants are alleging that they spent some $1.3 million obtaining that Judgement. While that sounds high, it works out to about $55,000 each, which is plausible. Anyhow, Notice of Appeal has been served, and it looks just as frivolous as the original Claim.
Interesting priorities. The Gill/Lamba case is being appealed, despite it being a matter between private parties, and having no outcome on the public. Meanwhile, anti-lockdown cases are dormant.
COURT DOCUMENTS
(1) A4C Notice of Civil Claim
(2) A4C Response October 14
(3) A4C Legal Action Update, October 14th 2021 Action4Canada
(4) A4C Notice of Application January 12
(5) A4C Notice of Application January 17
(6) A4C Affidavit
(7) A4C Response VIH-Providence January 17
(8) A4C Response to Application BC Ferries January 19
(9) Notice of Appeal and Appellants' Certificate – Gill
(10) https://www.canlii.org/en/on/onsc/doc/2022/2022onsc1279/2022onsc1279.html
REVIEW
(A) https://canucklaw.ca/action4canada-statement-of-claim-fatally-defective-will-never-make-it-to-trial/
(B) https://canucklaw.ca/delay-prevents-action4canada-case-from-being-immediately-thrown-out/
(C) https://www.bclaws.gov.bc.ca/civix/document/id/complete/statreg/168_2009_00
(D) https://canucklaw.ca/vaccine-choice-canada-lawsuit-fatally-defective-will-never-make-it-to-trial/
(E) https://canucklaw.ca/another-toronto-court-challenge-but-will-this-one-actually-go-anywhere/
(F) https://canucklaw.ca/wp-content/uploads/2020/10/vcc-soc-ontario-redacted-october-24-2019.pdf