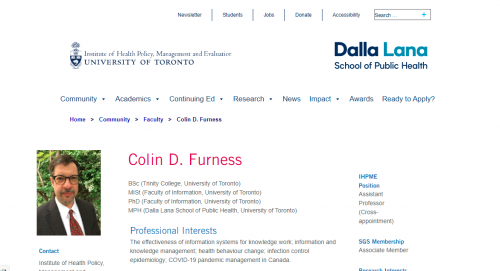 This article is going to be different. Friday, July 9, I had a talk with University of Toronto Professor Colin Furness. Although our views are miles apart on a lot of this, it's worthwhile to get another perspective.
This meeting came about after finding his name listed as an advisor for a firm called Sapphire Health. This company is currently working on a model to implement AI (artificial intelligence) into health records. However, it seems that this listing was done in error, as he personally knew the founder, and had talked on a social basis.
His recent work covers "the effectiveness of information systems for knowledge work; information and knowledge management; health behaviour change; infection control epidemiology; COVID-19 pandemic management in Canada."
In any event, it's nice to get outside the echo chamber once in a while.