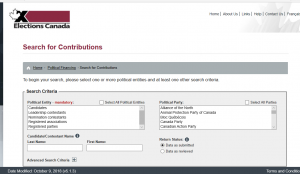 ---
Note: After talking with Elections Canada, and discussing time limits to file, it seems fair that portions of this get changed. I had some incorrect information last time. Furthermore, it seems wrong to go harder on one side than another.
---
1. Important Links
CLICK HERE, to search donations to politicians and parties registered with Elections Canada
CLICK HERE, for portions of Canada elections act.
This piece focuses on who is behind the decisions.
2. Disclosure Laws
Quarterly returns
433 (1) If a registered party's candidates for the most recent general election received at that election at least 2% of the number of valid votes cast, or at least 5% of the number of valid votes cast in the electoral districts in which the registered party endorsed a candidate, the registered party's chief agent shall, for each quarter — in respect of a fiscal period of the registered party — that follows that general election, beginning with the quarter that immediately follows that general election and ending with the quarter in which polling day at the next general election is held, provide the Chief Electoral Officer with a return that includes the information required under paragraphs 432(2)(a) to (d), (i) and (l).
Marginal note:
Period for providing return
(2) A quarterly return shall be provided within 30 days after the end of the period to which it relates.
Whereas others:
Marginal note:
Period for providing documents
432(5) The documents referred to in subsection (1) shall be provided to the Chief Electoral Officer within six months after the end of the fiscal period.
So there are different regulations depending on how established the party is.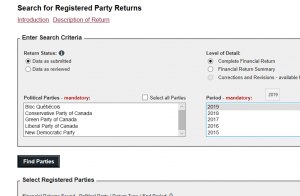 Elections Canada currently provides access to quarterly reports for 5 parties: CPC, LPC, NDP, GRN, and BQ.
3. Current Fundraising Information?
Search the Conservative Party of Canada for donations from January 1, 2019 to July 4, 2019 on Elections Canada registry. You will get 12,629 individual donations.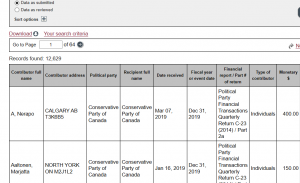 Similarly, check the Liberal Party of Canada, and you will see 13,127 contributions for that same 6 month period.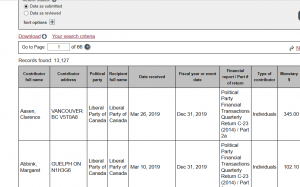 The New Democratic Party lists 3096 individual donations in those same 6 months.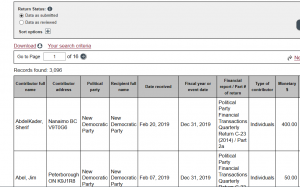 The Green Party of Canada lists 983 individual donations in the same 6 months (January to July 2019)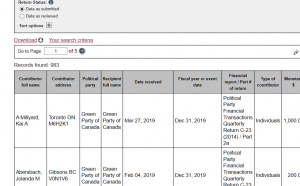 The People's Party of Canada has no registered donations at all.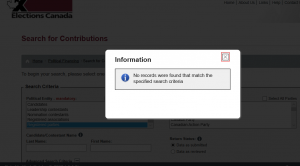 However, the People's Party of Canada, despite being registered since January 2019, and boasting of enormous fundraising within hours of being able to issue tax receipts. If it can actually get the 2% threshold in the next election, quarterly reports will be required from then on.
In fairness, there are different standards for smaller parties than big ones. Parties who have actually participated with some electoral success are subjected to shorter reporting times.
4. Conservative Party Fundraising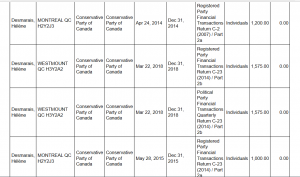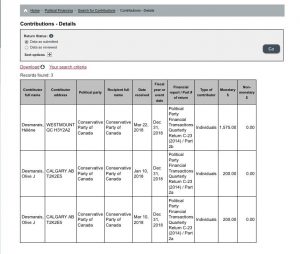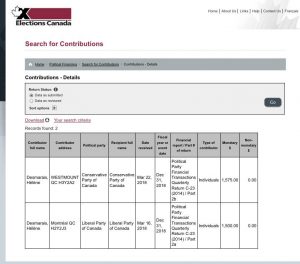 Worth a note that Canada's most influential family is known to contribute the Conservative Party. The above are just a few of the donations.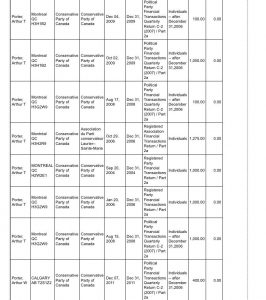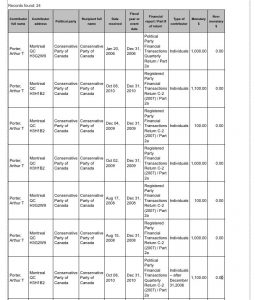 Arthur Porter has been a regular contributor to the Conservative Party. However, his controversial appointment to the SIRC quite understandably made headlines.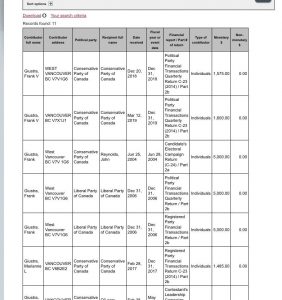 These are from Frank Gustra, a partner of the American "charity", the Clinton Foundation. Gustra has many questionable ties to the Clintons.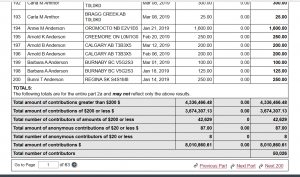 The 2019 1st quarter report cites 8,010,860.61 in total revenue from 50,026 donors. Approximately $160/donation, although a lot of the names come up. However, there are a number of incidents which make the fundraising seem dodgy.
Conservative scandals:
CLICK HERE, for Senators Mike Duffy, Pamela Wallin, and Patrick Brazeau suspended over their own illegal spending. (Not fundraising, but still disgusting)
CLICK HERE, for Dean Del Mastro, criminally charged over Elections Act breaches.
CLICK HERE for Doug Ford's $1250/plate cash-for-access got attention.
CLICK HERE for Andrew Scheer's cash-for-access.
CLICK HERE, for Scheer's hypocrisy on cash-for-access.
CLICK HERE, for the allegedly rigged Conservative nomination in 2017.
5. Liberal Party Fundraising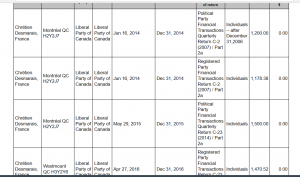 France Chretien Desmarais, daughter of Jean Chretien, has been known to donate to the LPC. Also worth noting that both Trudeau Jr. and Sr., and Paul Martin all have connections to the Desmarais family.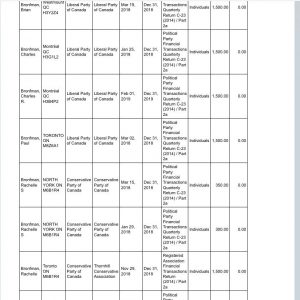 Paul Bronfman, who has suspected ties to the Liberal Party, is also a regular donor.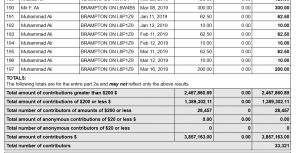 In the first quarter of 2019, the Liberals took in $3,857,163.00 from 33,321 donors, or an average of $116/donation. But like the Conservatives, there are plenty of corrupt incidents with the Liberals. Here are just a few.
Some Liberal Scandals:
CLICK HERE for Trudeau's cash for access scandal.
CLICK HERE, for Joe Volpe taking donations from dead people.
CLICK HERE, for Trudeau not fixing cash-for-access
CLICK HERE, for Kathleen Wynne refusing to ban cash-for-access.
CLICK HERE, for Trudeau getting an illegal vacation form Aga Khan.
CLICK HERE, for illegal corporate donations to Liberals.
CLICK HERE, for Trudeau charging charities $10-$20K per speech.
CLICK HERE, collusion between Ontario Liberals and teachers' union.
And there's this, which is arguably vote rigging.
CLICK HERE, on Bill C-76. Among other things it is supposed to stop interference by preventing foreign media from influencing Canadians. It also makes it easier for foreigners to vote in Canadian elections by dropping photo ID requirements.
6. NDP, Green Fundraising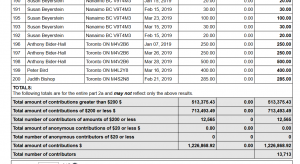 In the first quarter of 2019, the NDP took in 1,226,869 from 13,713 donors, or an average of $90/donation
While there seems to be significantly less corruption in the NDP than the CPC or LPC, it is not without problems.
CLICK HERE, for illegal union donations.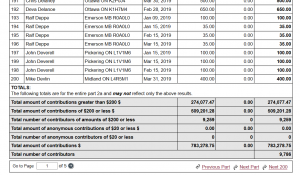 In the first quarter of 2019, the Greens took in 783,278 from 9,786 people, or $80/donation
Smaller parties, such as those receiving less than 2% in a general election, are required to file annual reports, which is much less of a burden than quarterly.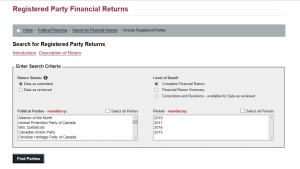 7. People's Party Fundraising
Although it is denied that Bernier's former employers are involved in the start-up of the new party, there are some interesting connections worth pointing out.
CLICK HERE, for Charles Koch Foundation, Economic Freedom
CLICK HERE, for the Atlas Network.
CLICK HERE, for the Fraser Institute.
CLICK HERE, for the Montreal Economic Institute.
CLICK HERE, for MEI Board of Directors.
CLICK HERE, for Maxime Bernier's PPC profile page.
CLICK HERE, for MEI policy "on prosperous tomorrow".
CLICK HERE, for the Institute of Humane Studies, which Charles Koch sits on the Board of Directors.
CLICK HERE, for Michel Kelly Gagnon studies at Institute for Humane Studies.
CLICK HERE, for CPC's patronage appointment of Michel Kelly-Gagnon, a former co-worker of Maxime Bernier at MEI.
(Charles Koch Foundation. It sponsors many things, including economic freedom and liberalized/free trade globally)

(The Atlas Network, which has 13 partners across Canada)

(6 of Atlas' partners, which includes Fraser Institute, and Canadian Taxpayers Federation)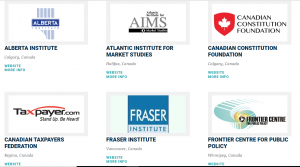 (6 other Atlas partners, including Montreal Economic Institute. The 13th partner is World Taxpayer's Federation)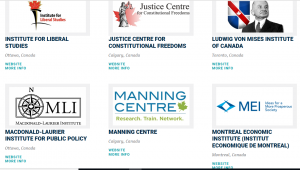 (Helene Desmarais is Chairwoman of the Montreal Economic Institute. Her husband is Paul Desmarais Jr., co-owner of Power Corp)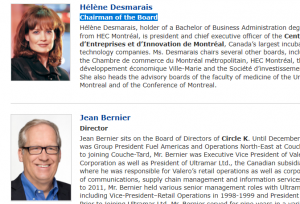 (From Maxime Bernier's Profile Page, MEI Executive VP)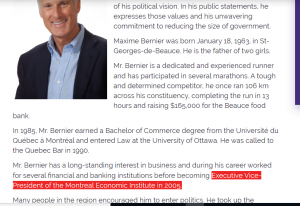 (Helene Desmarais donates to Bernier's 2008 re-election, and to his 2017 race for CPC leadership)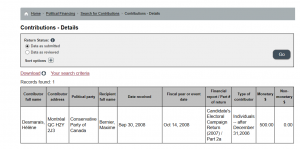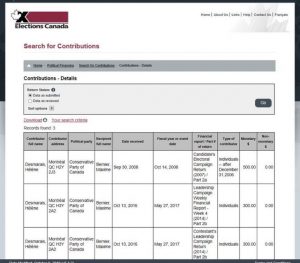 (PPC Spokesman Martin Masse also worked for MEI)

(Board of Directors For Institute For Humane Societies)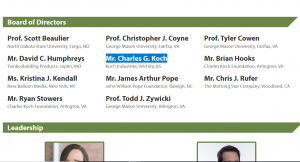 (Source: Atlas. MEI patronage appointment by new Industry Minister)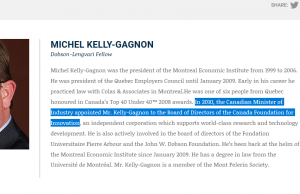 The connections to Atlas and Koch are there, at least from his time immediately prior to politics. It will be interesting to see what those donation reports look like. It is also worth asking whose policies are promoted.
8. Who Is Behind Them?
It is difficult not to be jaded in this political system.
There are donation limits, and those limits theoretically keep the game clean. However, there is an untold amount of cronyism, nepotism, and cash-for-access that thoroughly corrupts politics.
Why obsess over election contributions? Quite simply, I want to see which "public figures" are bought and paid for, and by whom. Checking out their financials is a much better representation (in my opinion) than their actual platform and promises.