(Trudeau, speaking to the media)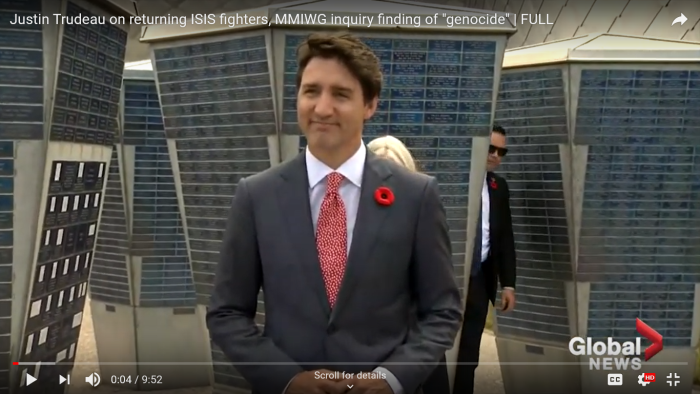 (1948 Convention On Prevention and Punishing Genocide)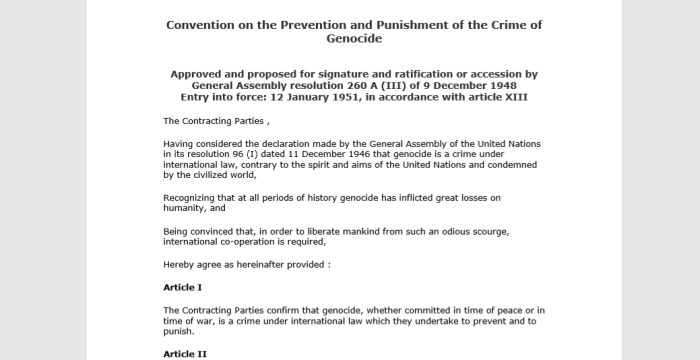 (Canadians encouraged to have less children)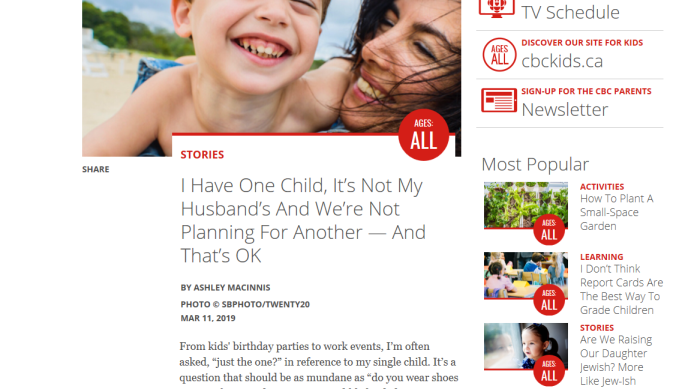 (Russian Pres. Putin: woke on the myth of civic nationalism. "We may be a multiethnic country, but we are one civilization. We are Russian, first and foremost.")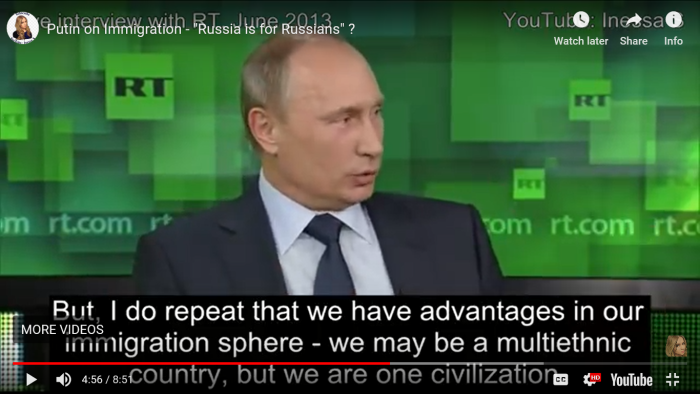 (Al Quds in Toronto: We execute gays, and Canada will at some point follow Sharia law. We are making babies. Your population is going down the slumps).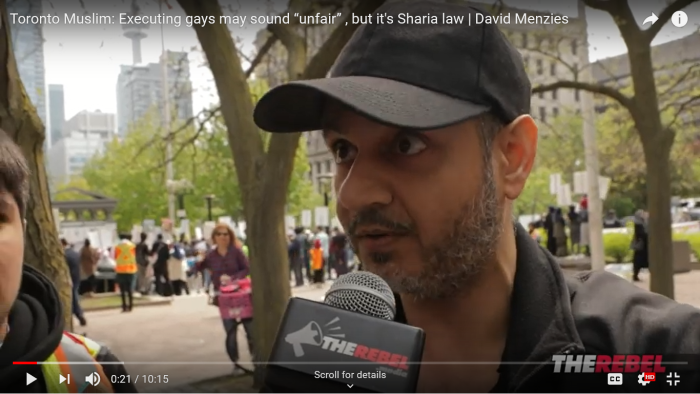 Canadian Prime Minister Trudeau is in the news again. This time the MMIWG Inquiry (Missing or Murdered Indigenous Women & Girls) Inquiry has laid accusations of genocide against Canada, for doing nothing to prevent targeting killings of one group of people.
Apparently, Trudeau believes that the findings amount to a pattern of genocide committed against Indigenous women and girls. In an effort to virtue signal, this had lead to admissions that Canada "does" engage in genocidal practices.
As such, it is now reasonable to ask: will the UN and other foreign bodies be able to investigate Canada for genocide? Will this lead to an even bigger erosion of our sovereignty? Sadly, this is not where this article is heading. Sorry for misleading you.
Strangely, this led to another thought: What if Canada actually "did" commit genocide, but in an entirely different way? What if mass migration, multiculturalism, forced diversity and speech codes actually led to the destruction of a nation and its people?
The article looks at the actual 1948 UN Convention On Prevention and Punishing Genocide. It will unironically be compared to some existing laws and practices in Canada. This should be interesting.
1. Important Links

(1) https://www.mmiwg-ffada.ca/final-report/
(2) https://www.mmiwg-ffada.ca/wp-content/uploads/2019/06/Final_Report_Vol_2_Quebec_Report-1.pdf
(3) https://www.un.org/en/genocideprevention/documents/atrocity-crimes/Doc.1_Convention%20on%20the%20Prevention%20and%20Punishment%20of%20the%20Crime%20of%20Genocide.pdf
(4) https://canucklaw.ca/cbc-propaganda-14-lets-replace-the-canadian-population/
(5) https://laws-lois.justice.gc.ca/eng/acts/c-18.7/page-1.html#h-3
(6) Dumping Feminism And Multiculturalism
(7) https://www.ourcommons.ca/Parliamentarians/en/members/Iqra-Khalid(88849)/Motions?documentId=8661986%2520
(8) http://ap.ohchr.org/documents/E/HRC/resolutions/A_HRC_RES_7_19.pdf
(9) https://www.fmreview.org/sites/fmr/files/FMRdownloads/en/FMRpdfs/Human-Rights/cairo.pdf
(10) https://canucklaw.ca/the-cairo-declaration-on-so-called-human-rights/
2. Quotes From UN Convention On Genocide

Having people killed or go missing is horrible, no doubt about it. However, it is not the only way to breach the Convention on Preventing and Punishing Genocide. See the following sections.
Article I
The Contracting Parties confirm that genocide, whether committed in time of peace or in time of war, is a crime under international law which they undertake to prevent and to punish.
Article II
In the present Convention, genocide means any of the following acts committed with intent to destroy, in whole or in part, a national, ethnical, racial or religious group, as such:
(a) Killing members of the group;
(b) Causing serious bodily or mental harm to members of the group;
(c) Deliberately inflicting on the group conditions of life calculated to bring about its physical destruction in whole or in part;
(d) Imposing measures intended to prevent births within the group;
(e) Forcibly transferring children of the group to another group.
Article III
The following acts shall be punishable:
(a) Genocide;
(b) Conspiracy to commit genocide;
(c) Direct and public incitement to commit genocide;
(d) Attempt to commit genocide;
(e) Complicity in genocide.
Article IV
Persons committing genocide or any of the other acts enumerated in article III shall be punished, whether they are constitutionally responsible rulers, public officials or private individuals.
Article V
The Contracting Parties undertake to enact, in accordance with their respective Constitutions, the necessary legislation to give effect to the provisions of the present Convention, and, in particular, to provide effective penalties for persons guilty of genocide or any of the other acts enumerated in article III.
Article VI
Persons charged with genocide or any of the other acts enumerated in article III shall be tried by a competent tribunal of the State in the territory of which the act was committed, or by such international penal tribunal as may have jurisdiction with respect to those Contracting Parties which shall have accepted its jurisdiction.
Article VII
Genocide and the other acts enumerated in article III shall not be considered as political crimes for the purpose of extradition.
The Contracting Parties pledge themselves in such cases to grant extradition in accordance with their laws and treaties in force.
Although killing and mass executions are an obvious and overt form of genocide, there are more subtle ways. Government, media and private organizations can work together in ways to bring about a group's destruction "over time". As will be demonstrated, there are ways to erase groups that don't involve firing a shot.
Keep in mind, Article 2 refers to "bring out the destruction, in all or in part" of a national, ethnical, racial or religious group. This will be demonstrated in the coming sections.
3. Replacement Migration

This topic was covered in an earlier article, shown here, but the topic is worth bringing up again. While the Government is not explicitly calling for the replacement of the Canadian population, it does push 2 competing narratives:
(A) Canadians should have less children.
(B) Canada needs more mass migration.
Here is the contrast from the previous article.
(CBC wants less Canadian children)
(a) https://www.cbc.ca/parents/learning/view/i-have-one-child-its-not-my-husbands-and-were-not-planning-for-another-and
(b) https://www.cbc.ca/radio/thecurrent/the-current-for-august-20-2018-1.4791395/smaller-families-are-pushing-the-middle-child-into-extinction-study-suggests-1.4793682
(c) https://www.cbc.ca/news/opinion/chip-joanna-gains-pregnancy-1.4481165
(d) https://www.cbc.ca/parents/learning/view/the-real-reason-i-have-only-one-child
(e) https://www.cbc.ca/radio/day6/episode-194-tv-news-in-israel-and-gaza-rise-of-the-no-mos-and-more-1.2905673/no-mos-women-who-aren-t-having-children-1.2905664
(f) https://www.cbc.ca/parents/learning/view/im-not-teaching-my-daughter-to-be-polite
(g) https://www.cbc.ca/news/canada/british-columbia/emissions-reduction-choices-1.4204206
(and in case you think CBC just wants less children in general)
(a) https://www.cbc.ca/radio/thesundayedition/the-sunday-edition-for-february-24-2019-1.5029453/how-did-multiculturalism-become-so-central-to-canada-s-identity-1.5029456
(b) https://www.cbc.ca/radio/thecurrent/the-current-for-january-24-2019-1.4989844/always-a-way-to-go-around-border-walls-create-insecurity-not-remove-it-says-expert-1.4989854
(c) https://www.cbc.ca/radio/thesundayedition/the-sunday-edition-december-24-2017-1.4451296/why-nothing-will-stop-people-from-migrating-1.4451437
(d) https://www.cbc.ca/news/thenational/national-today-newsletter-migrant-deaths-creed-fire-calif-1.4911425
(e) https://www.cbc.ca/news/world/hungary-soros-analysis-lawrynuik-1.4725089
(f) https://www.cbc.ca/news/world/hungary-orban-parliament-session-1.4651185
(g) https://www.cbc.ca/news/politics/alexander-scheer-trudeau-un-compact-1.4932698
(h) https://www.cbc.ca/radio/thesundayedition/the-sunday-edition-october-14-2018-1.4858401/canada-s-population-needs-to-be-100-million-by-2100-1.4860172
The above are just a small sample of what the CBC, our state funded broadcaster, has been putting out. While calling for Canadians to have fewer (or no) children, our government also advocates for increased immigration to cover for "declining birthrates".
It is untrue that Canada was "always multicultural". In the 1971 census, the population was 96% European descent. This "multiculturalism" is a phenomenon of the last 50 years. This was imposed on the population, without any democratic consent.
While CBC is an easy target, it should be noted that politicians of all political parties promote mass migration of very different people, from very different backgrounds and cultures. Diversity is our strength, so the saying goes.
Is this not pushing for the destruction of a group of people? Or is anything and anyone Canadian who wants to be?
4. 1988 Multiculturalism Act

Section 3 of the Act is the most interesting for the purposes of this article. Here it is, in its entirety:
3 (1) It is hereby declared to be the policy of the Government of Canada to
(a) recognize and promote the understanding that multiculturalism reflects the cultural and racial diversity of Canadian society and acknowledges the freedom of all members of Canadian society to preserve, enhance and share their cultural heritage;
(b) recognize and promote the understanding that multiculturalism is a fundamental characteristic of the Canadian heritage and identity and that it provides an invaluable resource in the shaping of Canada's future;
(c) promote the full and equitable participation of individuals and communities of all origins in the continuing evolution and shaping of all aspects of Canadian society and assist them in the elimination of any barrier to that participation;
(d) recognize the existence of communities whose members share a common origin and their historic contribution to Canadian society, and enhance their development;
(e) ensure that all individuals receive equal treatment and equal protection under the law, while respecting and valuing their diversity;
(f) encourage and assist the social, cultural, economic and political institutions of Canada to be both respectful and inclusive of Canada's multicultural character;
(g) promote the understanding and creativity that arise from the interaction between individuals and communities of different origins;
(h) foster the recognition and appreciation of the diverse cultures of Canadian society and promote the reflection and the evolving expressions of those cultures;
(i) preserve and enhance the use of languages other than English and French, while strengthening the status and use of the official languages of Canada; and
(j) advance multiculturalism throughout Canada in harmony with the national commitment to the official languages of Canada."
Throughout, the Act refers to Canada's "multicultural history". This is a complete rewrite of history. For over 100 years, Canada had been built largely as a British colony, with heavy French regions in the east. There are also great swaths of land which belong to various Indigenous groups, and many treaties are still discussed today.
This leaves out that the more extra cultures who gain prominence, the host(s) become diluted and weakened. They become just one of many.
(I) and (J) are nonsensical. They want to promote languages "other than" English and French, while strengthening the status of the official languages. Newsflash, of you promote "other" languages, it leads to the weakening of the status of English and French.
Missing from Section 3 (or any section) is a description of what Canada actually is. All this says is that it is a "collection of identities". We are told repeatdly that "diversity is our strength", but with no explanation of how so.
This part, while nice, omits a crucial detail: how does a group preserve their language and culture? Simple, get like people together, form an enclave, and preserve their identity. This type of legislation directly leads to balkanization.
5. Destruction of Religious Groups
Let's address the elephant in the room: Islam. Liberal idiots seem to believe we can co-exist with a group whose stated (and practiced) goals are the destruction of anyone who doesn't share their beliefs.
Despite plenty of available evidence, Liberals believe that mass Islamic migration and nurturing the growth of Islam is somehow "showing diversity and tolerance".
Look familiar?
M103 – Systemic racism and religious discrimination
That, in the opinion of the House, the government should: (a) recognize the need to quell the increasing public climate of hate and fear; (b) condemn Islamophobia and all forms of systemic racism and religious discrimination and take note of House of Commons' petition e-411 and the issues raised by it; and (c) request that the Standing Committee on Canadian Heritage undertake a study on how the government could (i) develop a whole-of-government approach to reducing or eliminating systemic racism and religious discrimination including Islamophobia, in Canada, while ensuring a community-centered focus with a holistic response through evidence-based policy-making, (ii) collect data to contextualize hate crime reports and to conduct needs assessments for impacted communities, and that the Committee should present its findings and recommendations to the House no later than 240 calendar days from the adoption of this motion, provided that in its report, the Committee should make recommendations that the government may use to better reflect the enshrined rights and freedoms in the Constitution Acts, including the Canadian Charter of Rights and Freedoms.
Islam does not permit the survival of non-muslims. To help achieve this goal, efforts are being made to shut down and ban criticism of Islam. But hey, diversity is our strength.
6. Erasing Our Heritage

Removing the statue of our nation's founder is a pretty overt symbol of our nation being established.
Naming a park in Winnipeg, MB, after an Islamic warlord named Jinnah (hence Jinnah Park), to celebrate the Muslim takeover of half of India is another symbol of our history being erased.
There are too many cases to cite, but those are a few recent and obvious ones. Canadian history is being erased.
7. Is Multiculturalism & Mass Migration "Genocide"?

Let's go through the list
Founding people of a nation are replaced.
Culture is replaced in favour of "multiculturalism".
Common language becomes just one of many.
Main religion (Christianity) is removed, often through violence.
Heritage and history are removed.
The ironically named "Conservatives" do nothing to actually conserve what our nation is. As such, they are complicit in its breakdown.
Yes, it is fair to say that Canadian laws are in fact leading to the genocide of certain groups in Canada. But hey, diversity is our strength.
8. What Was IN MMIWG Report Anyway?

It would not be fair to readers to not at least address this topic.
The conclusions of the MMIWG Report is that these victims are not given the care and seriousness they should have.
1.1. The National Inquiry's Mandate The Government of Canada and the Government of Quebec entrusted a very broad mandate to the National Inquiry into Missing and Murdered Indigenous Women and Girls, for Quebec.
First, according to Order 711-2016 that created the provincial commission of inquiry, the National Inquiry had to "investigate" and "report on" two main topics: the systemic causes of all forms of violence, and the institutional policies and practices implemented in response to the violence against Indigenous women and girls. To that end, the National Inquiry's mandate included reviewing the factors that could be associated with the relationships between public services under Quebec's constitutional jurisdictions, including police forces, health facilities, social and educational services, and Indigenous people more generally.
In addition, the National Inquiry had a mandate to "make recommendations." These recommendations had to focus on two objectives: to propose concrete and sustainable actions to be implemented to prevent situations of violence against Indigenous women, girls, and 2SLGBTQQIA people, and to significantly improve the quality of relationships between Indigenous people and public services.
Noticeably absent is any mention of "solving the cases" of these women and girls. In fact, the mandate is not about solving any of these murders or disappearances.
In fact, it is a report about various "marginalization" that these women face. Very little of it has anything to do with the cases of the missing/murdered women.