Vladimir Lenin is famously quoted as saying that the best way to control the opposition is to lead it ourselves. While there have been many who fit the description in the last 2 years, Interim CPC Leader Candice Bergen has become the latest iteration of it.
Despite pretending to stand with the truckers protesting against the medical martial law measures, Bergen tells them to "go home". This comes despite this so-called opposition party essentially doing nothing for the last 2 years. It's an attempt to neutralize real resistance.
Over the last few weeks, the trucking "convoys" in Canada have made international news. That said, Bergen wants to shut it down and gives vague words about fighting for them.
And right now, no one in Canada embodies controlled opposition like Candice Bergen, or the "Conservative" Party of Canada. They object over nitpicky details of Trudeau's tyranny, but not over ideology. And there's been deafening silence over the lockdowns imposed by Provinces. Interestingly, there's often feigned outrage over human rights abuses abroad, but never locally.
To make this clear: Candice Bergen and the CPC don't actually call for the ending of all Federal martial law measures by February 28. Instead, it's just a motion to generate some plan — any plan — by February 28. It could be a plan that lasts for 10 or 20 years, but as long as it's submitted by February 28, it would comply with the demands of this motion.
Moreover, even if a "plan" were submitted by February 28, there is no guarantee whatsoever that it would be meaningful, or not subject to changes.
This comes from the playbook of "Operation Trust", a 1920s plan to protect the Bolsheviks. The idea was to placate Russians into doing nothing to take back their country, but convincing them that a military operation was already underway. The same principle was used for Q-Anon.
Bergen never addresses fundamental problems like Health Canada or PHAC had been implemented for population control measures. She never addresses that Bill C-12, the 2005 Quarantine Act, was written by WHO, or that the International Health Regulations are legally binding. She discusses nothing of substance, which sums up what her party is.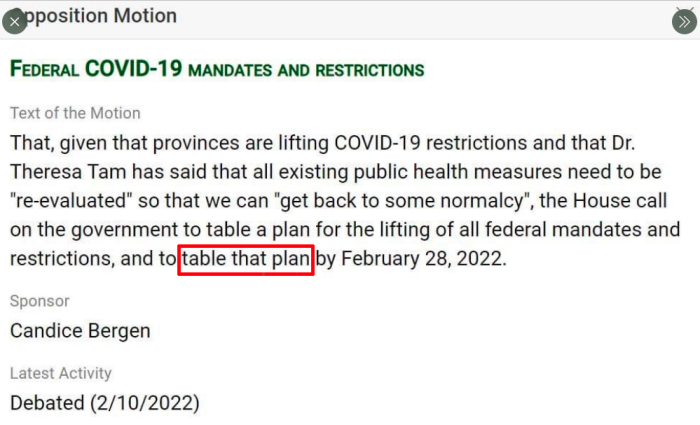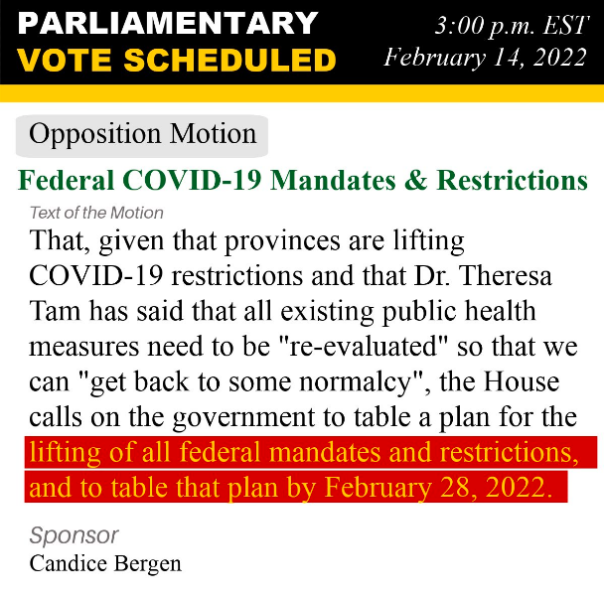 It really shouldn't surprise anyone at this point. After all, Bergen was the Deputy Leader of the CPC when Erin O'Toole was in charge. Presumably, she didn't find his actions that abhorrent.
Also, a quick look at some of the organizations Bergen has been in touch with suggest she might have been influenced by other groups. These includes big pharma, who don't have the best interests of Canadians at heart.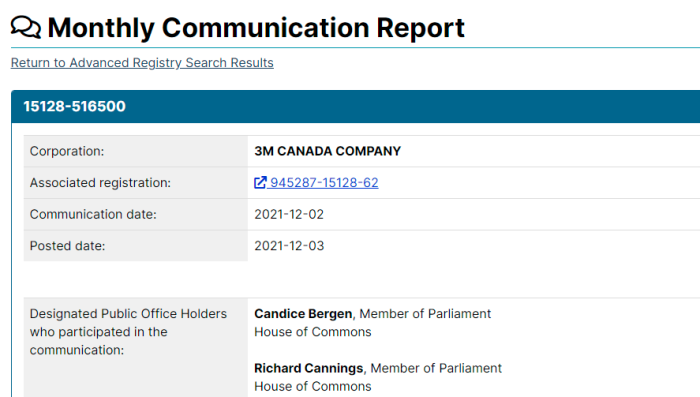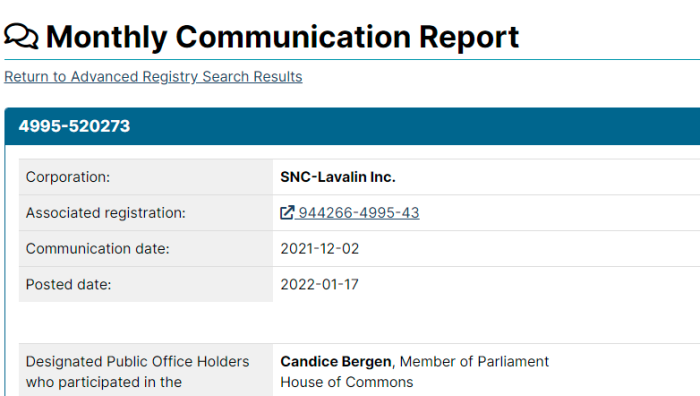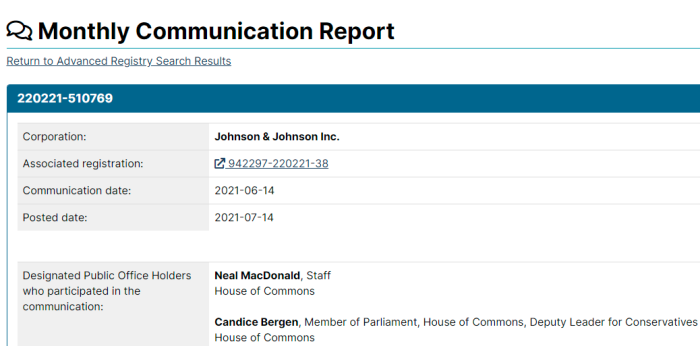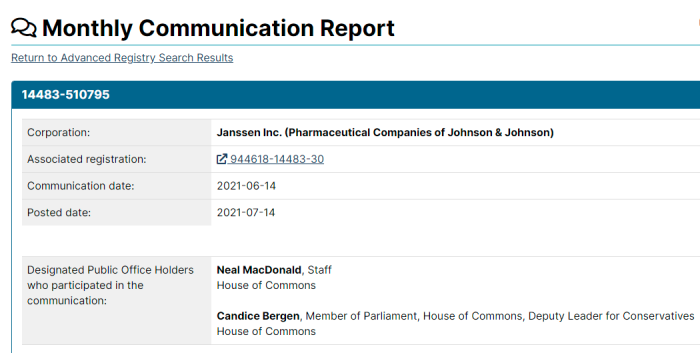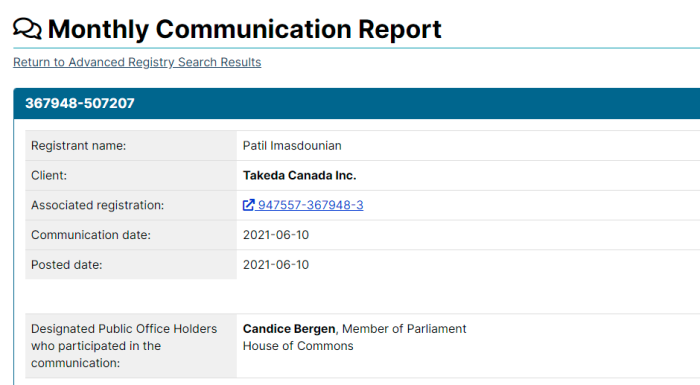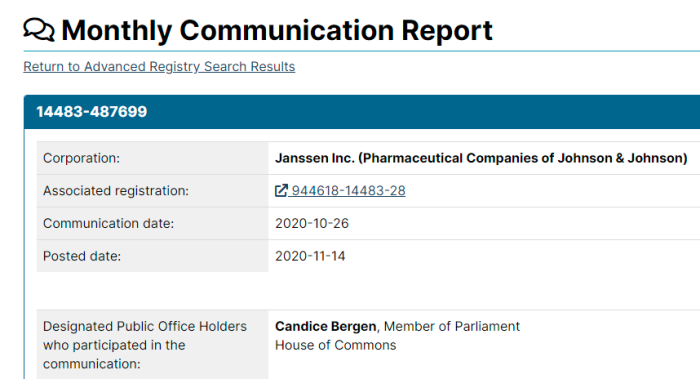 Unfortunately, the hoopla over tossing out Erin O'Toole seems to be for nothing. Bergen was Deputy Leader at that time, and even now, doesn't really oppose anything. Both O'Toole and Bergen are globalist shills. However, he was far more overt about it, and she may get a pass as a result.
While this article may come across as being negative and a buzzkill, it's important for Canadians to know what's actually being proposed. Words matter, and these are meaningless.
Trusting her in any way is a serious mistake.
(1) https://twitter.com/CandiceBergenMP/status/1492608106295177219
(2) https://twitter.com/BlakeRichardsMP/status/1492922192937500673
(3) https://twitter.com/CPAC_TV/status/1493372451639726093
(4) https://lobbycanada.gc.ca/app/secure/ocl/lrs/do/cmmLgPblcVw?comlogId=516500
(5) https://lobbycanada.gc.ca/app/secure/ocl/lrs/do/cmmLgPblcVw?comlogId=520273
(6) https://lobbycanada.gc.ca/app/secure/ocl/lrs/do/cmmLgPblcVw?comlogId=510769
(7) https://lobbycanada.gc.ca/app/secure/ocl/lrs/do/cmmLgPblcVw?comlogId=510795
(8) https://lobbycanada.gc.ca/app/secure/ocl/lrs/do/cmmLgPblcVw?comlogId=507207
(9) https://lobbycanada.gc.ca/app/secure/ocl/lrs/do/cmmLgPblcVw?comlogId=487699
(10) https://canucklaw.ca/health-canada-initially-created-for-population-control-measures/
(11) https://canucklaw.ca/cv-62g-public-health-agency-of-canada-created-as-branch-of-who-bill
(12) https://canucklaw.ca/cv-62c-the-2005-quarantine-act-bill-c-12-was-actually-written-by-who/
(13) https://canucklaw.ca/cv-62-who-legally-binding-international-health-regulations-ihr/