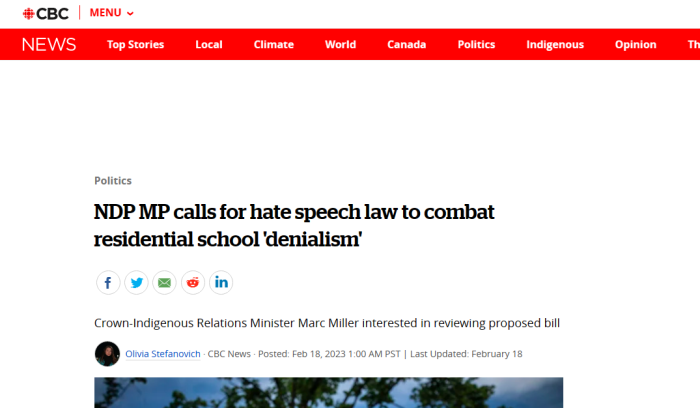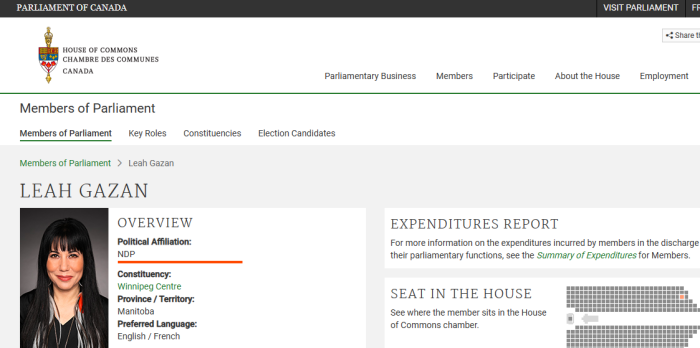 This was announced a few weeks back, and it would have been worth watching to any of the free speech warriors in power challenge this proposal. But that doesn't seem to be the case.
Last Fall, Winnipeg Member of Parliament Leah Gazan (N.D.P.) pushed a Motion to formally recognize what happened at Residential Schools as a "genocide". There was no opposition to the Motion, and it appeared to be coordinated between all parties.
However, that apparently wasn't enough. Now, Gazan is interested in advancing a Bill to make it a hate crime to deny the genocide in the declaration that she helped advance. Presumably this would impact the Human Rights Code of Canada, but could also be applied to the Criminal Code.
NDP MP Leah Gazan, who got the House of Commons last October to unanimously recognize that genocide occurred at residential schools, now wants to take the issue a step further by drafting legislation to outlaw attempts to deny that genocide and make false assertions about residential schools.
"Denying genocide is a form of hate speech," said Gazan, who represents the riding of Winnipeg Centre.
"That kind of speech is violent and re-traumatizes those who attended residential school."
Gazan's proposal is causing controversy, even among those who want the facts about residential schools widely known. But the Office of Crown-Indigenous Relations Minister Marc Miller said he would be interested in reviewing the proposed legislation.
"Residential school denialism attempts to hide the horrors that took place in these institutions," Miller's office told CBC News.
This of course flies in the face of the maxim that the best way to counter bad speech is with better speech. It's unclear whether any such Bill would lead to criminal charges and/or prison sentences for people who violate it.
Gazan's other legislative efforts include Bill C-223, a guaranteed living income, or U.B.I. She has twice pushed Bill C-232, to create a climate emergency action framework". She also supports creating a separate notification system for missing Indigenous women. She has also spoken out in favour of decriminalizing sex work (a.k.a. prostitution).
Of course, the precedent for criminalizing "denialism" in Canada has already been set. Kevin Waugh of Manitoba introduced Bill C-250, which would have put Holocaust deniers in prison for up to 2 years.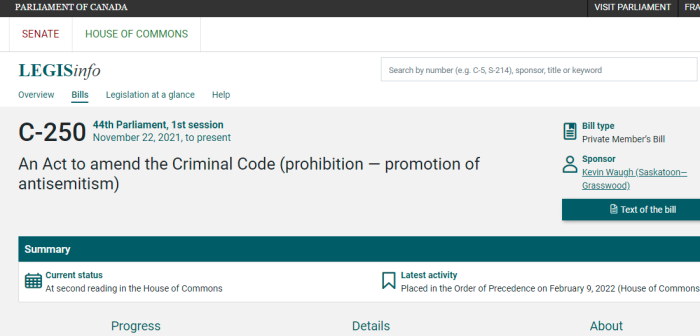 Far from being shocked by this, the Conservative Party of Canada celebrated efforts by one of their M.P.s to criminalize discussion on a controversial topic. Waugh brought Private Member's Bill C-250, to do just that. It was ultimately abandoned when near identical provisions were put into Bill C-19, an omnibus budget Bill.
As such, it isn't really a surprise that the "Official Opposition" isn't pushing back on efforts to ban denialism of Residential Schools. But will any such legislation actually pass? Who knows?
It's also uncertain to what degree disagreement would be permitted. It's not specified whether outright denial would be required to constitute hate speech, or just questioning details within.
(1) https://www.ourcommons.ca/Members/en/Leah-Gazan(87121)
(2) https://twitter.com/LeahGazan/status/1585726302044229632
(3) https://www.cbc.ca/news/politics/should-residential-school-denialism-declared-hate-speech-1.6744100
(4) https://twitter.com/CityNewsTO/status/1628425241717538816
(6) https://toronto.citynews.ca/2023/02/22/red-dress-alert-for-missing-indigenous-women/
(7) https://www.cbc.ca/news/politics/house-motion-recognize-genocide-1.6632450
(8) https://www.parl.ca/legisinfo/en/bill/44-1/c-223
(9) https://www.parl.ca/legisinfo/en/bill/43-1/c-232
(10) https://www.parl.ca/legisinfo/en/bill/43-2/c-232
(11) https://twitter.com/LeahGazan/status/1630956370244542464
HOLOCAUST DENIAL PUNISHABLE BY PRISON TIME:
(1) https://www.parl.ca/legisinfo/en/bills
(2) https://www.parl.ca/legisinfo/en/bill/44-1/c-19
(3) https://www.parl.ca/DocumentViewer/en/44-1/bill/C-19/third-reading
(4) https://www.parl.ca/legisinfo/en/bill/44-1/c-250
(5) https://www.ourcommons.ca/Members/en/kevin-waugh(89084)
(6) https://lobbycanada.gc.ca/app/secure/ocl/lrs/do/cmmLgPblcVw?comlogId=521753
(7) https://lobbycanada.gc.ca/app/secure/ocl/lrs/do/vwRg?cno=111&regId=917368&blnk=1
(8) https://twitter.com/Paulatics/status/1537078472820006915
(9) https://sencanada.ca/en/senators/simons-paula/interventions/581135/47#hID
(10) https://www.youtube.com/watch?v=7iNiV2uAsQg&feature=youtu.be