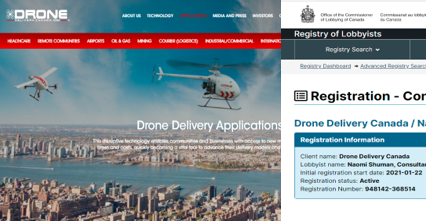 Drones are about to become far more common and not just in Canada. Companies and countries are seeing what options there are in using this technology, but only for "safe" purposes.
One company, Drone Delivery Canada is trying to change the laws here so that it can carry larger loads, and for longer distances. They seem to think that drone use is going to become mainstream very soon.
While most of the applications specified by Drone Delivery Canada seem harmless enough, a few of are sure to raise eyebrows:
HEALTHCARE
The current situation as related to COVID-19, as unfortunate and challenging as it is, demonstrates that delivery drones are an ideal solution to limit person-to-person contact in healthcare. Drone Delivery Canada is committed to helping Canada effectively manage the current situation and potentially help stop the pandemic, especially in remote communities.
Of course, if people weren't able to get certain supplies (such as for being forcibly quarantined), this could also serve as a form of prisoner feeding system. Depending on the setup, it could reduce the chances people have to break out.
OTHER APPLICATIONS
While our focus is predominantly on moving cargo, Drone Delivery Canada has proven experience in carrying specialized electronic equipment. Payloads can also be specialized cameras, sensors or other instruments for various applications such as – infrastructure inspection, military (C3I – command, control, communications, intelligence), border security, crowd monitoring, mining, oil & gas, surveying, mapping, crop spraying, etc.
These drones can be used to carry specialized equipment, such as cameras, and can be used for military and intelligence gathering. It could also serve in crowd monitoring. While this may sound paranoid, such a thing is already underway elsewhere.
Worth noting: G4S, the firm Brian Pallister hired for Manitoba, also has its foot in the door as far as using drones. The company's services include intelligence gathering, and arrest and detention.
While these drones (above) supposedly aren't equipped with facial recognition, it wouldn't be too hard to implement it. Even without it, the idea of this kind of surveillance is downright nefarious and creepy. These people are unknowingly (or maybe knowingly) helping force a police state.
Even if Drone Delivery Canada (and similar companies) were using these drones primarily for deliveries, it would still require a vast surveillance apparatus to ensure that they were being delivered where they should be. Also, wouldn't it potentially put many people out of work, as their jobs become obsolete?
DDC describes drone delivery itself as a "disruptive technology". They seem to be aware of the impacts this could potentially have.
In June 2019 DDC and Air Canada reached an agreement, which would see the airliner promoting the drone company. Tim Strauss is both an Advisor for DDC, and a Vice President for Air Canada.
Incidently, the Canadian Government has put out several tenders recently, looking for suppliers to bid on drone construction. However, that's probably nothing to worry about.
Recently, Jason Kenney was forced to cancel a proposal to have drones surveilling Albertans on vacation. He claimed it was all a mistake, and he never intended to spy on anyone.

Collaborating with international partners
Canada's drone industry is part of a broader aviation network, which requires collaboration to support innovation, and ensure the safety of our aviation system. Transport Canada works with other state civil aviation agencies from around the world to share information, align Canadian drone policy, and share best practices.
.
For example, Transport Canada has a strong relationship with the United States Federal Aviation Administration, and has signed a Memorandum of Understanding to share results of RPAS research, such as the effects of icing conditions on drones, given the Canadian climate. Transport Canada is also a participant in the FAA's International Roundtable on RPAS research which brings together multiple civil aviation authorities and academic institutions from around the world to share information.
The Canadian Government has formed a "Drone Advisory Committee", to help it understand impacts and potential for flying these everywhere. DDC is on the committee. This is also happening internationally. What a coincidence that we had a global pandemic and needed to "reset" society. And unmanned aircraft has been a topic of discussion for a long time.
A quick look at Sussex Strategy Group, the firm lobbying for Drone Delivery Canada, shows that it has plenty of political ties. This shouldn't be too surprising.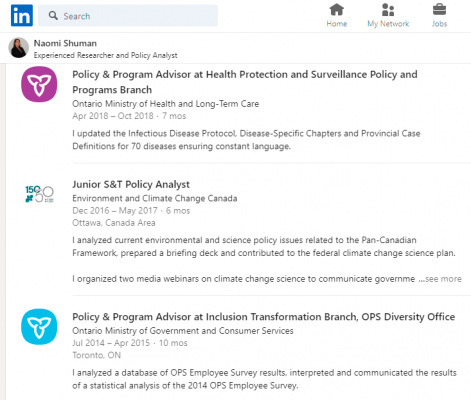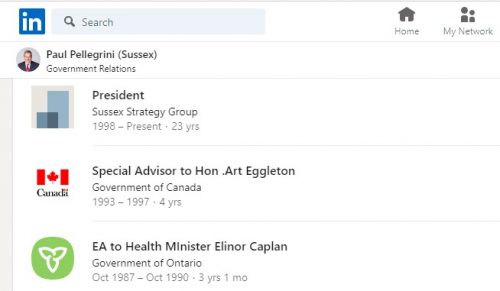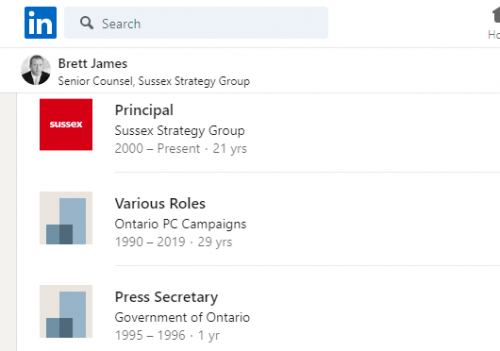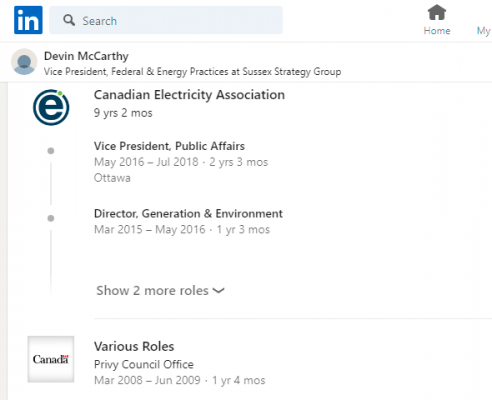 This is how things are done in Canada. Simply hire political cronies to make the magic handshake, and suddenly, your proposal gets approved.
As for having everything delivered by drones, it's not like that was predicted by the World Economic Forum, several years ago. You'll own nothing, and you'll be happy. And this seems to be where things are going.
(1) https://dronedeliverycanada.com/
(2) https://dronedeliverycanada.com/applications/
(3) https://dronedeliverycanada.com/about-us/
(4) https://aircanada.mediaroom.com/2019-06-04-Air-Canada-and-Drone-Delivery-Canada-Corp-Announce-a-Sales-Agency-Agreement
(5) https://lobbycanada.gc.ca/app/secure/ocl/lrs/do/vwRg?cno=368514&regId=908727
(6) https://www.youtube.com/watch?v=F5skCHHijcY
(7) https://www.youtube.com/watch?v=NdeCV8FesAs
(8) https://buyandsell.gc.ca/
(9) https://buyandsell.gc.ca/procurement-data/tender-notice/PW-21-00959355
(10) https://buyandsell.gc.ca/procurement-data/award-notice/PW-QCL-056-18152-001
(11) https://buyandsell.gc.ca/procurement-data/tender-notice/PW-QCL-056-18152
(12) https://buyandsell.gc.ca/procurement-data/tender-notice/PW-21-00954577
(13) https://calgarysun.com/news/local-news/after-drawing-flak-province-cancels-plan-to-monitor-campers-with-drones/wcm/52b24f78-f6ee-4269-b98e-1337445cbef6
(14) https://tc.canada.ca/en/aviation/drone-safety/drone-innovation-collaboration
(15) http://jarus-rpas.org/
(16) https://www.youtube.com/watch?v=73K6TrkVGKE
(17) https://www.linkedin.com/in/naomishuman/
(18) https://www.linkedin.com/in/paul-pellegrini-sussex-4853ba27/
(19) https://www.linkedin.com/in/brett-james-0442482/
(20) https://www.linkedin.com/in/devin-mccarthy-9676543b/
(21) https://canucklaw.ca/cv-25c-brian-pallister-hires-intelligence-detention-firm-g4s-for-security-in-manitoba/
(22) https://canucklaw.ca/cv-25d-meet-capital-hill-group-the-lobbying-firm-pushing-for-g4s-contracts/