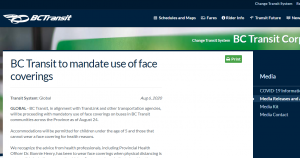 1. Important Links
(1) https://www.bctransit.com/media/releases-and-advisories?nid=1529710083644
(2) http://archive.is/sjqEg
(3) https://www.cbc.ca/news/canada/british-columbia/bc-doctor-mandatory-mask-rules-court-injunction-1.5659495
(4) https://www.youtube.com/watch?v=xzyoWyqBM8k&feature=youtu.be&t=57
2. It's Not About Science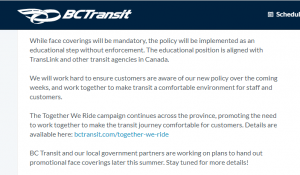 We recognize the advice from health professionals, including Provincial Health Officer Dr. Bonnie Henry, has been to wear face coverings when physical distancing is not possible including on transit vehicles. Customers have indicated making the use of face coverings mandatory will create a more comfortable environment.
While face coverings will be mandatory, the policy will be implemented as an educational step without enforcement. The educational position is aligned with TransLink and other transit agencies in Canada.
We will work hard to ensure customers are aware of our new policy over the coming weeks, and work together to make transit a comfortable environment for staff and customers.
3. Bonnie Henry
"Transit is an important service for many British Columbians. BC Transit's decision to make masks mandatory on their vehicles will help make transit safer for fellow passengers. Find one that's comfortable, and make time to get used to wearing them and taking them on and off as needed. Those of us who are able should be using masks on transit all the time. I do and I expect others to as well."
.
Provincial Health Officer Dr. Bonnie Henry.
4. Claire Trevena
"Across British Columbia, our response to the COVID-19 pandemic has been rooted in public health. Public transit continues to be an essential service that people rely on, and we appreciate the work of our transit operators to keep these services running throughout the pandemic response and recovery. Knowing your fellow bus passengers will also be wearing a non-surgical mask or face covering will help boost people's confidence in choosing transit while contributing to a welcoming and safe environment on our buses."
.
Minister of Transportation and Infrastructure Claire Trevena
Wearing masks will make people FEEL more comfortable, and boost their confidence. In other words, this is entirely about feelings.
5. Erinn Pinkerton
"The implementation of a mandatory mask policy is in response to feedback from our customers. I am pleased to have the support of TransLink, Dr. Bonnie Henry and the Province of BC to implement this policy that will make transit more comfortable for our customers."
.
Erinn Pinkerton, BC Transit President and Chief Executive Officer
This is response to feedback form riders, and to make the ride more comfortable. In other words, BC Transit is imposing this because of feelings, not because of any scientific or medical reasons.
6. CBC Coverage Of Declaration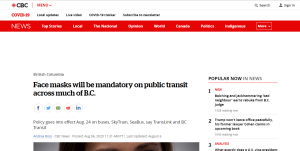 The new policy will apply to anyone riding the bus, SkyTrain or SeaBus in Metro Vancouver, and on buses operated by BC Transit outside of the region — but there will be some exemptions.
In a statement, TransLink said the move is "essential" to ensuring people feel confident riding transit as the province's economy reopens and more people resume commuting.
"It's imperative that our customers … feel safe so that we can recover our ridership over time," TransLink CEO Kevin Desmond told reporters Thursday.
"We want to ensure that we continue to do our part to minimize any potential for community transmission on public transit."
In its typical style, CBC doesn't seem to ask any tough or critical questions about this policy. Reporters also don't pick up on the policy being founded on "comfort" or "rider feedback".
http://archive.is/5B4xa
7. Bonnie Henry: Masks Are About Respect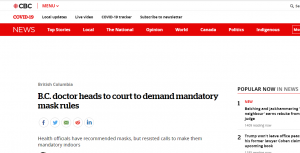 In Thursday's daily COVID-19 briefing, Henry addressed Li's application, describing mandatory mask policies as a "heavy handed" approach to public health that she is not considering at this point. She said wearing a mask is a sign of courtesy and respect, but it remains the least effective method of preventing transmission of the virus, behind measures like physical distancing, limits on crowd size and good hygiene.
On July 23, Bonnie Henry responded to a court action filed in Chilliwack that demanding the Province force masks on everyone.
8. Bonnie Henry: No Science In What We Do
Bonnie Henry, the BC Provincial Health Officer, repeatedly jokes that there is no science behind limiting group sizes to 50 people. But then she goes ahead and does it anyway. One then reasonably has to ask: is there any science behind wearing the masks? Or is it really all about comfort and "feeling" better?
Or is it just part of following the Lockstep Narrative?