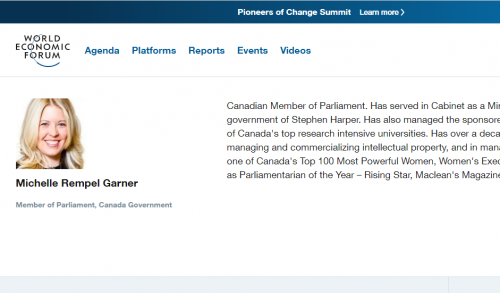 This is a new level of moral relativity. Apparently, authorities detaining people for 14 days under the false pretense of public safety is okay. The forcible confinement is not the issue. Nor is the nasal rape that comes in the form of PCR tests. However, the entire experience is suddenly a human rights violation if a sexual assault is committed during that time.
1. Rempel Supports House Arrest In Principle
https://twitter.com/GregMcLeanYYC/status/1358115105683066881
This is from February 6, 2021. At the 28 second mark, Michelle Rempel-Garner explicitly states that everyone (presuming her party included), supports the idea of forcing people into their homes for 14 days at a time.
In her usual "Canada last" ways, she does ask for exemptions for Temporary Foreign Workers from quarantine, at a time when unemployment in Canada is still extremely high.
To reiterate, the "Official Opposition" doesn't have a problem with imprisoning people. Their complaints are limited to some of the details of implementing such policies.
2. Fake Outrage Over Assault In Quarantine
https://twitter.com/MichelleRempel/status/1365032919866118147
On February 25, Rempel pretended to be outraged that people coming into Canada were being forced into quarantine against their will, and not knowing where they are going. Keep in mind, on February 6, she was okay with this, according to her own statement.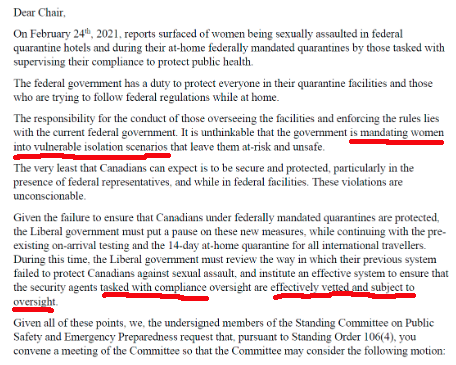 Does any of this mean that Conservatives now have a problem with this sort of confinement? Keep in mind, it would be illegal in any other circumstances. No. Instead, all that is asked is for a review, and to do a better job of vetting the guards holding them prisoner.
"The Liberal government must take action now. We call for the Liberals to suspend the hotel quarantine requirement until they have put measures in place to ensure the safety of Canadians and institute a system for verifying at-home quarantine that doesn't involve security agents who have not been properly vetted. During this necessary pause, the federal government should continue with on-arrival testing and the 14-day at-home quarantine for all international travelers to protect the public health of Canadians."
Even in her statement, there is no principled objection to the quarantine camps themselves (or internment camps). There is no objection to forcing people into house arrest. In fact, they seem content to re-establish these detention centers once better screening methods are in place.
The National Post mentioned that there was a call to suspend the program, which is not the same thing as cancelling it altogether.
3. Vaccine Agenda: They're All In It Together
(See 1:30 mark in this, or original video). Trudeau claims that "normalcy will not return without a vaccine that is widely available, and that could be a very long way off".
https://twitter.com/erinotoole/status/1356966419934683138
This is Erin O'Toole, the leader of the so-called "Conservative" Party of Canada, which claims to be the main opposition to Trudeau. Problem is: they don't actually oppose anything ideologically. They whine about vaccines and tests not arriving fast enough, but don't object on moral or ethical grounds.
There's no way to describe this other than as a dog and pony show. These "leaders" are just going through the motions.