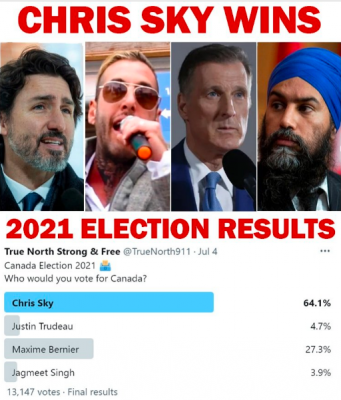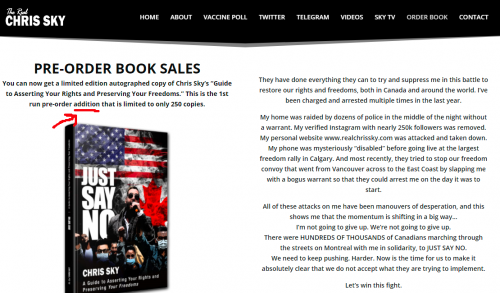 Canada's favourite human rights advocate, Chris Saccoccia, a.k.a. Chris Sky, has publicly announced that he will be on the speaking circuit for the next few years.
Sky wasn't allowed to speak at a Canada Day rally a few years ago. He was silenced. Now, he's fighting back, with a global tour to condemn censorship, and promote viewpoint diversity.
Sky apparently has a new interest in his life, an international banker. That will definitely be worth keeping an eye on. Sky is reported to have bragged that he'll end up being the Finance Minister some day. He may even become Prime Minister one day, if Twitter polls are at all reliable.
Recently, he privated his Instagram account, which was filled with compromising photos. Obviously, this was proof that he was being silenced.
CBC had requested an interview concerning Sky's ongoing criminal court case. Sky declined, citing it as proof that he was being silenced.
Sky hit alternative outlets like Rebel Media and Raging Dissident to explain to the public how much he was being silenced.
He also took to Twitter, Instagram, YouTube, Facebook, and various other social media platforms to express how he was being silenced.
Furthermore, he'll be flying around the country and speaking to international media figures in the coming months. He's expected to outline in great detail how he's being silenced.
Critics of lockdowns have complained that while Sky speaks a lot of truth, his behaviour and antics are quite a turn off to normies. Obviously, trying to make it look respectable is censorship.
Sky confirmed that he will be putting out his new book "The Sky's The Limit". He stated that Sky was a reference to Sky Homes, the residential construction empire run by his father, Art Saccoccia. It's a touching salute to what dad has accomplished.
However, it's unclear who will be authoring that book. Rumour has it that the ghostwriter of "Just Say No" is unavailable to take on new projects for now. The last pre-order "addition" was limited to 250 copies.
You're doing God's work, Chris.