Being in politics is tricky when one also has certain business interests. And the Ford Family owns an outfit called Deco Labels, which mass produces a variety of stickers and packaging.
Doug Ford, while a City Councillor in Toronto, illegally put the interests of 2 of his clients: (a) Apollo Health & Beauty Care; and Moore Canada, Inc., d.b.a. R.R. Donnelley and Sons, over his professional obligations. That is what Valerie Jepson, the Integrity Commissioner of the time, concluded.
Rebel News did an interesting video back in March about Doug Ford, Deco, and potential conflicts of interest, but the problem is much older than this.
Years back, Ford compromised his position on Toronto City Council to aid his business interests with Deco. Now, there are legitimate questions as to whether he's compromising his position as Ontario Premier.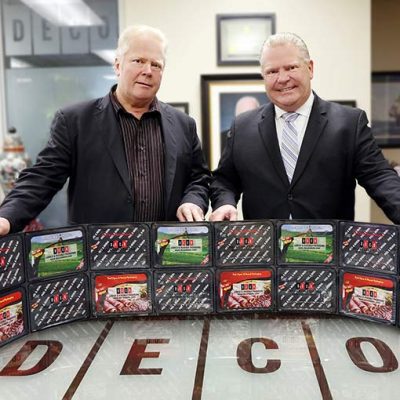 Deco Labels was founded in 1962 by Doug Ford Sr.
The complaint against Doug Ford was filed in 2014. By the time the investigation concluded, he was no longer on the City Council. Here is the short version of it.
Between May and July 2014, three members of the public filed complaints alleging that then Councillor Doug Ford contravened various provisions of the Code of Conduct for Members of Council (the "Code of Conduct" or the "Code"). All of the complaints raised concerns about the now former Councillor's activities with City officials in relation to two companies: Apollo Health and Beauty Care, Inc. ("Apollo"), and Moore Canada, Inc., d.b.a. R.R. Donnelley and Sons ("Donnelley"). Both companies are clients of the Councillor's family's printing company, Deco Labels and Tags Ltd., Deco Adhesive Products (1985) Ltd., and/or Doug Ford Holdings Inc. ("Deco").
The issues in the complaints related to the same set of circumstances and were therefore investigated jointly and are reported in a single report.
The complaints alleged that Councillor Ford contravened Article VIII (Use of Improper Influence) of the Code of Conduct. One of the three complaints alleged that Councillor Ford contravened Article V (Confidential Information), Article XI (Business Relations) and Article XIII (Conduct Respecting Lobbyists). All articles of the Code of Conduct were considered in the investigation.
After an investigation, the Integrity Commissioner concluded that former Councillor Doug Ford contravened Article VIII (Use of Improper Influence) when he arranged meetings and made inquiries with City staff on behalf of Apollo and Donnelley, clients of Deco. The Commissioner also concluded that Councillor Doug Ford contravened Article IV (Gifts and Benefits) of the Code of Conduct for accepting a gift from Apollo.
Councillor Doug Ford is no longer a member of City Council. Therefore, the Commissioner makes no recommendation as to penalty or remedial action.
The full report is available, and it lays out the story in even greater detail.
It's interesting that the Toronto media was willing to cover Ford's actions back then, but now he seems to get a pass. Perhaps the media subsidies played a role.
As a bit of an aside, it seems that Ford didn't always respect Medical Officers of Health as "experts". Janet Leiper, the Integrity Commissioner in 2012, recommended a reprimand for Ford's comments. He publicly asked why an MOH still had a job for opinions held over an exercise promotion initiative. However, Ford said "sorry", and that was enough. And the MOH Ford insulted? David McKeown now is part of the Ontario Science Table.
Things aren't always what they seem.
(1) https://www.toronto.ca/city-government/accountability-operations-customer-service/accountability-officers/integrity-commissioner/reports/reports/investigation-reports-to-council/
(2) https://www.toronto.ca/legdocs/mmis/2016/cc/bgrd/backgroundfile-99041.pdf
(3) Doug Ford Dec 2016 Deco Background File-99041
(4) https://www.toronto.ca/legdocs/mmis/2016/cc/bgrd/backgroundfile-99042.pdf
(5) Doug Ford Dec 2016 Deco Report File-99042
(6) http://app.toronto.ca/tmmis/viewAgendaItemHistory.do?item=2016.CC23.8
(7) https://archive.is/t5iD9
(8) https://www.toronto.ca/legdocs/mmis/2013/cc/bgrd/backgroundfile-56217.pdf
(9) https://www.toronto.ca/legdocs/mmis/2013/cc/bgrd/backgroundfile-56219.pdf
(10) https://www.toronto.ca/legdocs/mmis/2012/hl/bgrd/backgroundfile-46483.pdf
(11) https://decolabels.com/
(12) https://decolabels.com/about-us/history/
(13) https://torontosun.com/2016/12/08/doug-ford-violated-city-councils-code-of-conduct