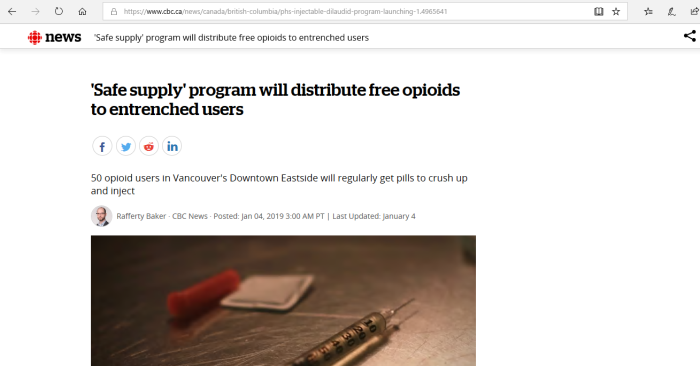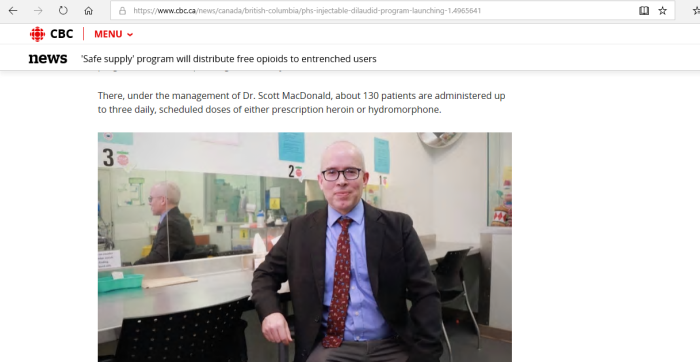 (An alternative to drug treatment: just give free drugs, but do it "safely")
CBC, a.k.a The "Communist Broadbasting Corporation", or the "Caliphate Broadcasting Corporation", is a government funded "news" organization. It receives about $1.5 billion annually to spew out anti-Canadian stories. Taxpayers don't get a say in the matter.
CLICK HERE, to reach the CBC Propaganda Masterlist. It is far from complete, but being added to regularly.
This current masterpiece touts the value of state-funded narcotics as a way to "reduce harm" and to save lives.
No, this doesn't mean methodone, or any treatment designed to wane users off their addiction. It doesn't mean treatment in the hopes of getting people back into society as functioning adults.
This simply is about providing narcotics to users free of charge as a "harm reduction" policy. Furthermore, medical staff are employed (again, at taxpayer expense), to administer this program. Let's go through the article.
CLICK HERE, for the CBC article itself.
"Carissa Sutherland's history with drugs is a lot like many others in Vancouver's Downtown Eastside.
.
The 29-year-old started about 10 years ago with morphine and hydromorphone pills marketed under the brand name Dilaudid or "Dilly" as it's known on the street.
.
"I kind of just progressed more and more, and then I couldn't get Dillies very much — or they were more expensive than heroin, so that I ended up just doing heroin," said Sutherland, who soon added methamphetamine to the mix.
.
For her, an especially low point came when she overdosed, alone, in a Wendy's bathroom about two years ago. Luckily, someone found her, and her life was saved."
This is saddening to hear, but perhaps trying another solution would be better. Switching to heroin simply because it's cheaper is asking for trouble.
"Now, a "safe supply" program for people in Sutherland's situation is launching in the neighbourhood.
.
Operated by the Portland Hotel Society (PHS) out of its Molson Overdose Prevention Site (OPS), the pilot program will distribute free Dilaudid pills for 50 patients.
.
The hydromorphone pills, which are manufactured to be taken orally, will be crushed up and rendered as an injectable drug, just like heroin. It's the first time in Canada that opioids will be prescribed in this way and an idea that came directly from the street."
Okay, these pills are designed to be taken orally, but instead will be crushed up so they can be injected. Absurd, it means taking prescription medication and knowingly not using it in its intended form. This is harm reduction? Is there medical research?
Not hearing any sort of plan on actual treatment for these people, but perhaps that will come later in the article.
"According to Coco Culbertson, who is overseeing the program for PHS, the dosage will be prescribed by a physician, and participants will be able to get up to five doses per day, to be injected under the supervision of PHS staff and volunteers.
.
Culbertson said the pills, which are worth about 36 cents when bought legally, cost drug users $20 – $30 on the street. According to Sutherland, a user on the street can make up to four or five pick ups per day to support a habit, sometimes buying multiple pills each time.
.
"We're really looking for our "hard target" folks that are experiencing repeated overdose and that are subject to a toxic drug supply on the street," said Culbertson, who added that there's already a list of about 75 people for the program, which starts on Tuesday."
A physician will be prescribing these pills, to be taken orally. Yet he knows that they will be crushed up and used in injection form. This person's medical license should be revoked.
You are worried about a toxic drug supply on the street? Did it cross your mind that perhaps these pills, when injected (again, not their intended form) may be toxic?
Still no mention of any treatment program. Instead, the public will be funding not only drugs for illicit purposes, but medical staff to "safely" administer?!?!
""This is safe. It's effective. It's cost effective. It reduces mortality, reduces crime — both violent crime and property crime — and it reduces the burden on taxpayers," said MacDonald, who believes the facility's pharmacy could distribute injectable doses for as many as 800 people across the region. "
(a) It's cost effective? How so? It forces the public to may both "material and labour" to continue a drug addict's spiral?
(b) It reduces crime? Perhaps, if you view legalizing illicit drug use as a form of reducing crime, you are correct, in a morbid sort of way.
(c) 800 people across the region? Does it occur to you that this will not stop people who have drug problems, rather, it will encourage others to get drugs for free.
(d) Still no mention of any plan to get these addicts back into society.
"'Safe supply'
Sutherland's life has taken a dramatic turn for the better since her overdose. She's still a regular drug user, but for the past year and a half, she's been injecting under supervision at Molson OPS
She quickly started volunteering there and now Sutherland's on the payroll as a peer support worker. She's taken part in reversing dozens of potentially fatal overdoses. She's also found housing through PHS.
But despite the more stable life, the drugs have still put her in risky situations. Sutherland is hoping that will disappear if she's accepted in the new 'safe supply' program.
"I'm hoping that once I get on the Dilly program, I won't have to do that — I won't have to go boost from stores — or steal from stores or sell things to get money to get drugs," she said.
For her, she says, safe supply doesn't just mean drugs that won't contain unknown amounts of deadly fentanyl, it also means a drug supply that leads to a much safer lifestyle."
(I) That is the end of the article, and not one mention about getting drug addicts any real sense of a life.
(II) No talk whatsoever about weaning them off drugs, or any long term treatment plan. It all seems to be about state-funded use forever.
(III) Okay, public pays for drugs, pays for medical staff, and now putting actual drug users on the payroll?
How is it that this is being allowed? All without any sort of public mandate?
Don't get the wrong idea. People with drug problems do need to have them addressed. However, this is not the solution. Actual treatment is the solution, and getting them off the drugs is what we should be focusing on. Continuing to supply and fund hard drug use seems to be kicking the can down the road.
Every "medical professional" involved in this needs to have their license revoked. This is blatant malpractice, and neglect for patient well being.
One final thought: could actual drug dealers take advantage of this? (Yes, this is being flippant), but the dealer wouldn't be drug dealers, they would merely be practicing without a license.