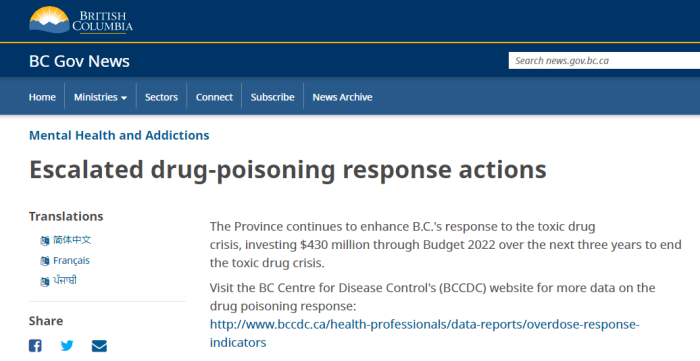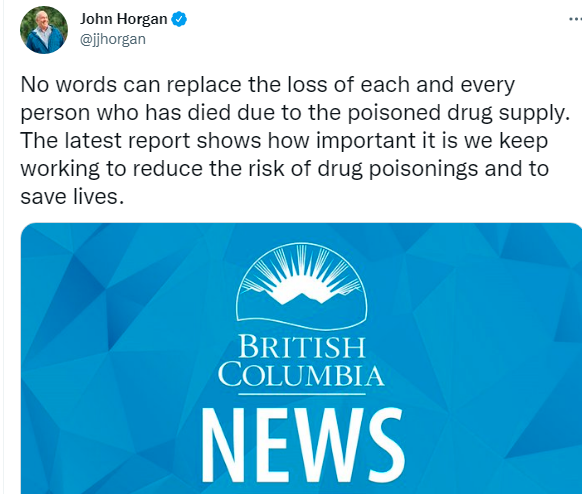 This article is going to be a little disjointed, but the purpose is to show how convoluted and illogical drugs policies are becoming in the Province of British Columbia.
Decriminalization
B.C. is the first province in Canada to receive a three-year exemption from the federal government to remove criminal penalties for people who possess small amounts of illicit drugs for personal use. Decriminalization of people who use drugs will reduce the fear and shame that keeps people silent and leads so many to hide their drug use and avoid treatment and support. Reducing the stigma of drug use is a vital part of B.C.'s work to build a comprehensive system of mental health and substance use care. Decriminalization will become effective Jan. 31, 2023, and the Province will work with a broad cross-section of partners to make sure police are trained and health authorities are prepared for this change.
The B.C Government got a 3 year exemption from Ottawa for possession of narcotics — any narcotics — that are in small enough quantities, and for personal use.
The (outgoing) Premier sent his condolences for deaths that resulted from a poisoned supply. Of course, it's a bit rich considering that these drugs are poison to begin with. Perhaps they were just killing off the customers too quickly.
Just 2 years ago, Horgan actually recommended staying home and smoking pot as a way to stay safe during the so-called pandemic. There was even a "Good Times" website up in the Summer of 2020. It's since been removed, but the archived version is still available.
The BCCDC, or B.C. Centre for Disease Control, has guidelines surrounding illicit drug use. Note: it doesn't appear that stopping is a major objective. Here's an archived version of it.
Some initiatives to combat drug abuse include:
Decriminalization
Access to prescribed safer supply, a Canadian first
Overdose prevention and supervised consumption services
Lifeguard App
Take-home naloxone kits
New beds for addictions and recovery care
Expanded scope of nursing practice, a Canadian first (RN prescriptions)
Expanded opioid agonist treatment
Now, there are also programs at various stages for emergency responses and expanded treatment options. However, considering the efforts untaken to expand drug use in this Province, efforts to stop the problem seem insincere.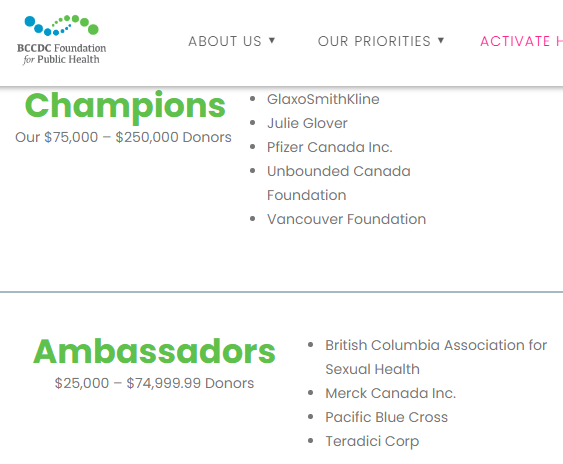 Of course, the BC Centre for Disease Control is compromised, to put it mildly. The BCCDC Foundation is a registered charity, and gets major tax breaks. Its donors include drug companies, creating a serious conflict of interest. (Archive here). Should the organizations impacting public policy be getting donations from the same companies who profit from — vaccine mandates?
Champions
Our $75,000 – $250,000 Donors
GlaxoSmithKline
Julie Glover
Pfizer Canada Inc.
Unbounded Canada Foundation
Vancouver Foundation
Ambassadors
$25,000 – $74,999.99 Donors
British Columbia Association for Sexual Health
Merck Canada Inc.
Pacific Blue Cross
Teradici Corp
Allies
$5,000 – $24,999.99 Donors
AbbVie Canada Corp.
Associated Canadian Theological Schools Society
BC Teachers' Federation
Ben and Lilac Milne
BlueSky Properties
Chef Ann Kirsebom's Gourmet Sauces / BBQ Ltd.
Connor, Clark & Lunn Foundation
Gilead Sciences Canada Inc.
Imperial Medical Group Inc.
Leith Wheeler Investment Counsel Ltd.
LifeLabs
London Drugs Limited
Orbis Investments Canada Ltd.
Sanofi
Vancouver Dispensary Society
Vard Electro Canada Inc.
Just a thought: but perhaps the pharma money that the BCCDC Foundation receives contributes to the fact that it's so pro-pharma. This cannot be ignored. Nor can the charity status of the B.C. Provincial Health Services Authority.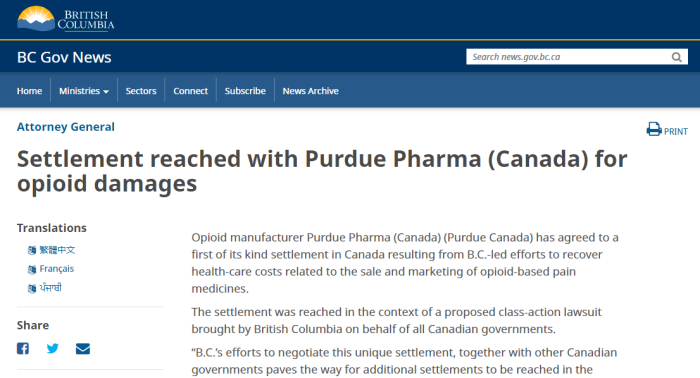 In 2018, B.C. began a class-action lawsuit on behalf of all federal, provincial and territorial governments in Canada and enacted the Opioid Damages and Health Care Costs Recovery Act. The aim of the class action and legislation is to recover health-care costs that resulted from wrongful conduct of opioid manufacturers, distributors and their consultants.
B.C. alleges that opioid manufacturers, distributors and their consultants engaged in deceptive marketing practices with a view to increase sales, resulting in increased rates of addiction and overdose. Purdue Canada is one among over 40 manufacturers and distributors named in the class action commenced in 2018 and scheduled for a certification hearing in the next year.
The proposed settlement with Purdue Canada has been agreed to by all federal, provincial and territorial governments and totals $150 million in monetary benefits, plus additional benefits including access to information and documents relevant to the lawsuit. This settlement was reached very early in the litigation process, before the allegations against Purdue Canada have been proven in court. This is the largest settlement of a governmental health claim in Canadian history. The proposed agreement is still subject to final approval by the courts, expected in the next few months.
At the end of June 2022, the B.C. announced a proposed $150 million settlement with Purdue Canada over its business practices.
Taxpayers are on the hook for the extra health care costs, and it seems unlikely that court rulings will come close to compensating the public. Of course, this only speaks to the financial burdens, not the societal and personal losses.
This is pretty convoluted to think that drug laws are getting watered down, resulting in easier access to drugs. Meanwhile, society is plagued by the results of legal drugs (opioids). It's not just deaths, but ruined lives and families that are the collateral damages.
Will this settlement result in these pharmaceuticals being taken off the market, at least for the most part? Or will these court actions simply be viewed as the cost of doing business?
It's difficult to see that the Government here is serious about ending drug problems in this Province. Then again, maybe the goal is not to stop it, but just to control it.
(1) https://twitter.com/jjhorgan/status/1559588217208184832
(2) https://twitter.com/jjhorgan/status/1294762295348715520
(3) https://goodtimes.gov.bc.ca/
(4) https://archive.ph/naVsZ
(5) http://www.bccdc.ca/health-info/diseases-conditions/covid-19/priority-populations/people-who-use-substances
(6) https://archive.ph/AVbNY
(7) https://news.gov.bc.ca/factsheets/escalated-drug-poisoning-response-actions-1
(8) http://www.bccdc.ca/health-professionals/data-reports/substance-use-harm-reduction-dashboard
(9) https://www2.gov.bc.ca/gov/content/life-events/death/coroners-service/statistical-reports
(10) https://www2.gov.bc.ca/assets/gov/birth-adoption-death-marriage-and-divorce/deaths/coroners-service/statistical/illicit-drug-type.pdf
(11) https://canucklaw.ca/bc-centre-for-disease-control-foundation-is-registered-charity-with-pharma-funding/
(12) https://bccdcfoundation.org/our-donors/
(13) https://archive.ph/bg8cd
(14) https://news.gov.bc.ca/releases/2022AG0044-001031